Australia Travel Blog 2021
For easy accessibility, our Australia travel blog has all our Australia travel content on one page. Just select the post you need from one of our many informative Australian travel articles.
Australia is our home country and over the years we have lived in destinations around Australia. As Australian travel bloggers we have been fortunate to travel across Australia exploring the beauty and character of this great land.
We have amassed a wealth of information while travelling around Australia and want to pass this knowledge on to you in our Australia travel blog section.
The first thing to decide is where you want to go when planning to visit Australia. Be aware that the nation is massive being the 6th largest country in the world. When comparing Australia to other countries you will find that it is not much smaller than the USA and a large chunk of Europe fits comfortably within its realms.
Australia is a land of contradictions, fertile farming lands to red desert, mountain ranges to endless coastline, snowfields to tropical rainforest and modern city to quiet country towns. With each changing vista you will be captivated by the vastness and diversity of this great southern land.
Each Australian state or territory has its own unique character and how much you explore will depend on your length of stay. For those on a tight timeframe we advise choosing one state or territory as distances between attractions can be huge.
Most people tend to visit east coast Australia, as it is more densely populated. It is home to the capital cities of Sydney, Melbourne and Brisbane with each city having its own distinct personality.
Cost of Travel within Australia
The comment we hear a lot during our travels is that it is expensive to travel within Australia. This unfortunately is true; it is one of the most expensive countries in the world. The cost of travel is often a determining factor as to why many Australians choose to take annual holidays overseas without first fully exploring their own country.
We have travelled extensively throughout Australia by car, plane and sometimes bus. By far the most popular choice is driving. This mode of transport if you have the time provides the flexibility of visiting more destinations especially in rural Australia, which is not always accessible by plane, Bus, or train.
Flying between capital cities is well catered for and there are often cheap deals available providing you have the flexibility to plan travel in off peak seasons. Peak seasons for travel in Australia coincide with the various state and territory school holiday terms. If you are planning Australia travel and can travel outside of these peak periods you will save money on accommodation and flights.
To fully explore this vast continent a road trip around Australia can be an adventure of a lifetime. Classic road trips such as the great ocean road in Victoria, crossing the Nullarbor, driving from Darwin to Perth, or exploring the west Australia coastline between Perth and Exmouth are experiences like no other and take you through scenery that will take your breath away. With this type of trip, the biggest expenses are.
Fuel
Accommodation
Food
Attraction entrance fees
To save expenses many road travellers choose to say at caravan parks which tend to be the cheapest places to stay. Caravan parks in Australia are plentiful and offer a range of accommodation styles including powered and unpowered camp sites, Self-contained cabins, Caravan, and motor home sites and most have well equipped camp kitchens for food preparation. Our camping essentials guide has handy tips and suggestions for those staying at the Caravan Park camp sites. Eating out all the time will cut into your travel budget so self-catering at camp kitchens are a must to save money.
Saving on Car and Motorhome rentals
Given the vast distance between major cities, it is common for car and camper van rental companies to rent vehicles to customers travelling between cities one way. Often these vehicles will need to be returned to their home base and the rental companies will sometimes offer serious discounts for people to drive them back. So, it can be worth exploring this option.
Hotels, Motels, Resorts
Again, travel in off peak is always the cheapest. However, if this is not an option booking in advance is your best option for securing that special deal. Our Accommodation page has a list of many popular booking sites for finding deals.
Bus and train travel in Australia
Unlike UK or European countries, where bus and train travel are often cheaper than flying, that is not always the case in Australia. So, it will pay to compare bus and trains journey costs with discount air carriers such as Jetstar and Rex. For those wanting to travel through the centre of Australia by train the Ghan train from Adelaide in South Australia to Darwin in the Northern Territory and return, is a journey like no other where you get to travel through the vast outback in comfort. This 3-day train journey is so popular it is often booked out well in advance. It is known as one of the world's great train experiences and is on our bucket list. Click here to learn more about the Ghan and its history.
Weather when planning a road trip around Australia
Australia's seasons are opposite to the Northern Hemisphere. Summer is from December to February, autumn is between March and May, winter from June to August and September to November is spring.
Northern Australia
Australia has a diverse range of climates from a hot humid zone in the north of Australia between the Northern Territory, the northern section above Broome in West Australia and tropical Queensland. This region is hot all year round and experiences a wet season between November and February. Temperatures can reach the late 30 °C to mid-40 °C
Central Australia
Inland Australia including Alice Springs and Uluru, one of best places to travel in Australia, has extremely high summer temperatures, a dry summer and prolonged drought is common. The northern part of central Australia has a hot, dry summer and mild winter.
Southern Australia
Much of southern coastal Australia from Melbourne, Adelaide through to Perth have a warm temperature, and rainfall is predominantly in winter with a low summer rainfall. The winter is cool, with average annual low temperatures of 5°C. The summer is warm but with a low humidity.
Tasmania, Canberra, and the ACT are all high mountain areas. As is the Granite Belt of South East Queensland, the high areas of the New South Wales tablelands (Armidale, Glen Innes), the Southern Tablelands of New South Wales and the high areas of Victoria.
In these regions expect cold winters with heavy frosts during the cooler months. Summers are warm with mild, average annual low temperatures of – 5°C to 0°C. The Alpine areas of Australia including the snowy mountains of NSW experience snow and skiing is the major winter tourist attraction. The ski season is approximately June to August.

Australia Travel Blog – States and Territories Guides
As well as general Australia travel advice on this Australia Travel Blog page we also have a Queensland Travel Planning Facebook Group. This group is particularly useful for anyone planning a trip in Queensland and you are welcome to join. It is a great resource to enable you to ask questions. Please join us to help you prepare for your visit.
Queensland Travel
Queensland is our home state, and we think one of the best places to visit in Australia. Known as Australia's sunshine state, Queensland is home to the warm sandy beaches of the Gold and Sunshine Coasts and the romantic islands of the Great Barrier Reef. Often voted as one of the best places to visit in Australia.
The Wide Bay region of Queensland including Bundaberg, Hervey Bay, and Fraser Island are popular sites for beach camping in Queensland.
Hervey Bay is also famous for its yearly humpback whale migration and widely regarded as the whale watching capital of Queensland. The population swells during July and October each year as visitors flock to the area to view the whales.
The beautiful beaches of Bundaberg are popular destinations for travellers to stay when driving up the Queensland coastline from Brisbane to Cairns.
Our guide to attractions in Bundaberg has in-depth information on local attractions and accommodation reviews. Further north is the central regional city of Rockhampton and Yeppoon which has daily access to Great Keppel Island.
Queensland's changing landscape will take you through the lush tropical rainforests of the north, character filled outback towns of the west such as Longreach, the birthplace of Qantas, Winton where you can take a step back in time and learn about Australia's Dinosaur past at the Age of Dinosaurs museum, to Emerald where you can try your hand at fossicking for sapphires at the nearby gem fields.
Brisbane, Queensland's sleek modern capital has plenty of nearby attractions and daytrips including one of Australia's top holiday playgrounds the Gold Coast, which is 60 minutes commute from Brisbane. No travel in Australia would be complete without a stay at one of the many beaches of the Gold Coast.
Northern Territory Travel
A visit to the top end as the locals call it will have you captivated by the beauty of its rugged terrain.
The main tourist attractions of the Northern Territory visited by thousands of tourists each year are Uluru (Ayers Rock) and Kakadu National Park. However, there is so much more to see in the Northern territory. With Darwin as our starting point, we completed an epic road trip which you can read about in our Darwin to Perth post where we got to see the stunning scenery of the Katherine Gorge and the spectacular Kimberly Ranges. A journey we will never forget.
The capital Darwin has an array of attractions including the Mindil Beach Sunset Markets where you can enjoy a large selection of international dishes from over 60 stalls, to watching the sun go down with a sunset cruise on Darwin Harbour.
Popular Northern Territory tourist destinations and towns include:
Katherine
Katherine Gorge
Alice Springs
Uluru
Kings Canyon
Devils Marbles
Litchfield National Park
Kakadu National Park
West Australia Travel
Being the largest state in the country, West Australia takes time to fully explore. The capital Perth is also the most remote capital city in Australia and one of our favourite cities. One of the best ways to see the stunning beauty of the city is on a Swan Valley wine cruise, while sampling wines of the region. No stay would be complete without visiting the turquoise waters of the famous Cottesloe Beach, it's the perfect place to relax with a cocktail while taking in the sunset over the Indian Ocean.
We spent 2 months travelling the length of the West Australia from Kununurra near the border of Norther Territory then across to Derby and down the coastline from Derby in the far north. Spending time at Broome, Port Headland, Exmouth, Denham and Monkey Mia, Kalbarri, Perth, Busselton, Margaret River and Albany. Before making our way to Norseman and across the Nullarbor to South Australia.
Trying to pick a favourite destination in West Australia is difficult. We fell in love with WA and feel we will return. Memorable moments include watching the sun go down over cable beach in Broome, Dolphin feeding at Monkey Mia and swimming in aqua waters of Turquoise Bay near Exmouth, which is often voted as one of the best beaches in Australia. Our article on what to see and do in Exmouth has detailed information on the multiple nearby attractions plus how to plan a swim with Whale Sharks.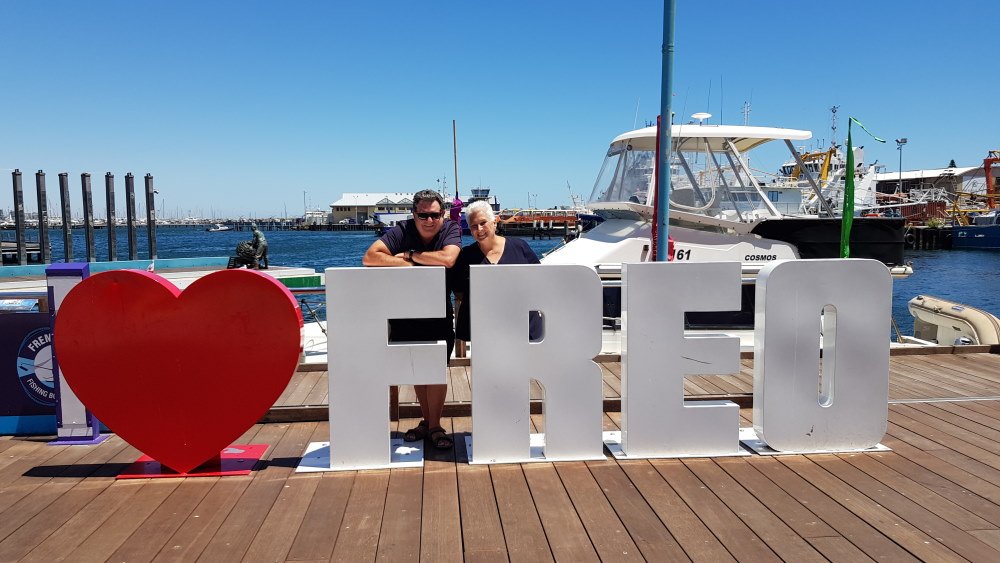 South Australia Travel
Adelaide, the capital of South Australia is a culture and foodie lover's dream. The city has a vibrant entertainment and beach scene that will leave you coming back for more. Plan to spend at least 3 days to fully take in everything it has to offer. For longer stays check our article on best weekend getaways for more travel inspiration.
South Australia is of course well known for its wine regions such as Barossa, McLaren Vale, Clare Valley, Coonawarra, and Adelaide Hills. We had the pleasure of sampling many of the region's wines during our 7-night cruise down the Murray River on the PS Murray Princess. This majestic sternwheeler is one of the largest of its kind in the Southern Hemisphere. You can read more about cruising the Murray River on our detailed cruise review of the PS Murray Princess.
Adelaide is also the starting point for the epic rail journey on the Ghan, which will take you through the centre of Australia to Darwin.
Leaving Adelaide heading north toward Northern Territory you will find the charming town of Coober Pedy. This opal mining town is unique as many of the homes are underground. Spending a night in one of these underground hotels is something special that you won't soon forget.
Other notable places of interest worth visiting in South Australia include:
Kangaroo Island
Flinders Ranges
Woomera
Eyre Peninsula
Mount Gambier
Innes National Park, Yorke Peninsula
Victoria Travel
Melbourne the capital of Victoria would have to be the arts capital of Australia. The city boasts a fantastic range of arts festivals, live music venues and theatre. Couple this with a thriving food scene and you will discover why Melbourne is one of the most popular places to visit in Australia.
A highlight for travellers to Victoria is taking the drive along the Great Ocean Road. This journey of over 600 Km will take you through some of the most scenic coastline in Australia. Along the way you will pass through picturesque landscapes including the towering limestone stacks of the 12 Apostles plus a host of natural attractions and townships. Plan 3 days to take the trip between Torquay and Allansford.
Other must-see places in Victoria include Phillip Island, where you can spot penguins and Sovereign Hill where you can revisit Victoria's gold mining past.
For those also looking to visit Tasmania, a popular choice for a self-drive Tasmania getaway is to take the Spirit of Tasmania that's departs from Melbourne to Devonport. The ferry departs most days and provides transport for cars, caravan's, Motorhomes etc. More information on the Spirit of Tasmania fares, timetables and pricing can be found here.
Tasmania Travel
Hobart is the capital of Tasmania and is famous for its charming 19th Century architecture and colourful Salamanca Markets. History buffs can take a step back in time into Australia's convict past at Port Arthur.
Nature lovers can savour the dramatic panoramas of Cradle Mountain or walk in primeval forests that showcase the best of Australia's natural wonders.
With a reputation as having some of the best scenery in Australia to get the most out of Tasmania a self-drive holiday would be our recommendation.

Australian Capital Territory Travel
Canberra is the nation's capital and here you can visit such national treasures as Parliament House, the Australian War Memorial, and the National Carillon.
Enjoy an early morning balloon flight over Canberra, sip a local brew at the Capital Brewing Co. or keep a lookout for emus and wallabies at Tidbinbilla Nature Reserve.
Visitors are often surprised by just how much there is to see and do in Canberra and although not one of Australia's most popular holiday destination it has a lot to offer. Especially for those interested in Australian's national history.
Top attractions to visit include:
Australian War Memorial
New Parliament House
Old Parliament House
National Gallery of Australia
National Portrait Gallery of Australia
National Library of Australia
Australian National Botanic Gardens
National Museum of Australia
National Zoo and Aquarium
Royal Australian Mint
Lake Burley Griffin
New South Wales Travel
The state of New South Wales has a multitude of attractions, immerse yourself in the natural beauty of the Blue Mountains, enjoy the food and wine scene of the Hunter Valley or hit the ski slopes of the Snowy Mountains. There is so much to see in Australia's most populated state.
Sydney, Australia's largest city, is often the first port of call for international arrivals into Australia. Sydney Harbour is one of the most spectacular harbours in the world and one of the best ways to see it is by taking a harbor cruise. With views of the Sydney Opera House and the Sydney Harbour Bridge a cruise is the perfect introduction to the best of Sydney Australia.
New South Wales also caters well to the Caravan and camping enthusiasts with many state parks, hiking, and bushwalking trails. For beach getaways New South Wales is home to many of the top-rated beach holiday destinations in Australia. Our article on Best Camping in NSW has personal reviews for those planning a camping getaway in New South Wales.
Australia Travel Blog – Summary
As Australian Travel Bloggers we will be continually travelling throughout Australia until the international borders reopen. Our plans are to visit as much of Australia as possible researching content we will pass onto our readers.
We will be updating this page continuously with new content to make this Australia Travel Blog page a comprehensive source of Australia travel advice.