Perth would have to be one of the most picturesque cities in Australia. Skyscrapers dominate the foreshore with names such as BHP and Rio Tinto proclaiming the wealth of Western Australia. Of course, Perth's most decorative feature would have to be the Swan River and one of the best ways to explore it is by taking a Swan Valley Gourmet Wine Cruise with Captain Cook Cruises.
So, come along with us as we make our way up the Swan River to Sandalford Estate Winery on this fabulous cruise.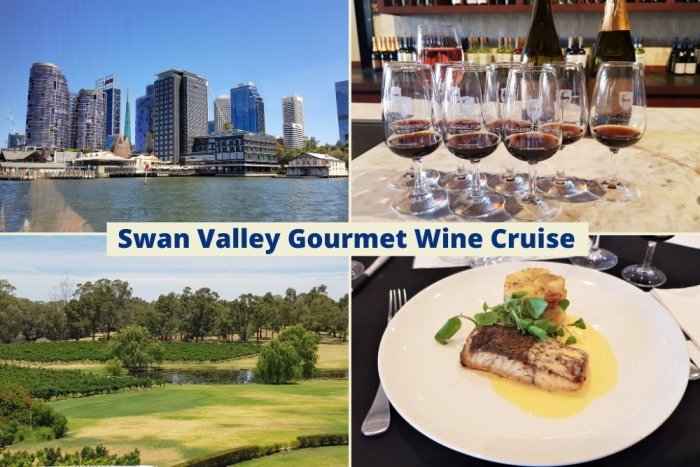 This post may contain affiliate links, which means we may receive a commission, at no extra cost to you, if you make a purchase through a link. Please see our full disclosure for further information.
Elizabeth Quay Attractions
The Swan Valley Gourmet Wine Cruise leaves from Pier 3 at the Barrack Street Jetty in the centre of Perth.
To get there we walked through Elizabeth Quay and admired iconic Perth attractions such as the Elizabeth Quay Carousel, the Spanda sculpture and the Elizabeth Quay Bridge which offers scenic views of the Swan River and links the promenades, the island, and Barrack Street Jetty.
We marvelled at the stylish beauty of the Ritz Carlton Hotel and the uniquely designed Bell Tower before continuing to Pier 3.
Pier 3 Barrack Street Jetty
Once at Pier 3 we checked in at the Captain Cook Cruises ticket office and waited for our Swan Valley Gourmet Wine Cruise to begin. The cruise departs from Barrack Street Jetty at 9:45am and returns at 5pm. All passengers must be onboard 10 minutes prior to departure.
The Swan Valley Wine Cruise Begins
We were filled with excitement as our boat the Lady De Vine pulled away from the dock. The skyscrapers of Perth CBD loomed large from above and the Swan River stretched out before us.
Water birds watched with interest as we sailed past the West Australian Rowing Club, which was built in 1905 and is one of Australia's oldest continually operated rowing clubs.
We admire the high rise buildings and palm trees that line Riverside Drive and we saw the first of the many boats that call the Swan River home.
Onboard it was time to relax and watch the river float by with a morning tea of coffee, tea and homemade muffins.
Swan River Attractions
The journey up the Swan River not only allows you to see the million-dollar homes that line the shore, spot animal and birdlife or watch the locals enjoying the river's peaceful backwaters, but you also pass many of Perth's popular attractions.
Heirisson Island
We sailed past Heirisson Island, an area which was an important river crossing point for the native Noongar people. The shallow waters enabled the Noongars to wade across the river.
Here you will find a life size statue of Yagan, a Whadjuk Noongar warrior. Yagan was a leader and resistance fighter during the early years of the Swan River Colony. You can learn more about Yagan's story during your Swan Valley Gourmet Wine Cruise.
The WACA Grounds
Cricket enthusiasts will be happy to see the lights of the WACA cricket grounds. During our cruise I was surprised to learn that the WACA has a 999-year lease which is set to expire in 2888.
Crown Casino & Crown Metropol Hotel
Flanked by the sleek lines of the Crown Towers Perth, the Crown Casino and Crown Metropol Hotel stand almost pyramid like in appearance, a welcoming sight that invites you to come and visit.
Matagarup Bridge – Swan River Pedestrian Bridge
The Matagarup Bridge is an elegant pedestrian bridge which gives access to the Perth Stadium and connects Burswood to East Perth. The bridge has light and dark arches that are shaped like two flying swans with the arches representing the wishbones.
Perth Stadium
Also known as Optus Stadium, Perth Stadium is the scene of many much loved sporting events and concerts.
Cruise Wine Tasting & Cheeseboard
Soon it was time for the wine tasting to begin and what better way to start than with a cheeseboard. After learning the 5 s' of wine tasting, sight, swirl, sniff, sip and savour we got down to trying our first wine out of a selection of four.
Cheeseboard
Blue Cow Double Cream Brie
Blue Cow Capel Club Cheddar
Cacciatore Salami
Dried Figs
Water Crackers
Wine Tasting Notes
Frog Song Sauvignon Blanc – Windfall Wine Estate Wilyabrup WA
Four Jacks Late Harvest – PEOS Estate Manjimup WA
Collection Cabernet Merlot – Driftwood Estate Margaret River
Rose & Thorns Shiraz – Byron & Harold Estate Great Southern Region WA
Swan River Life
We settled back and made our way through the quieter reaches of the Swan River. Luxury boats stood docked on private jetty's with pathways leading to equally luxurious homes.
Kayakers make their way silently downstream. Dogs dash in and out of the water with tongues flying as they play with their doggy friends at the dog park.
We spot a pod of dolphins gracefully racing each other taking turns to glide in and out the water. Gnarled trees bend awkwardly into the river, a haven for birds fishing in the shallows.
Neat rows of grapevines appear through the wetland, a tell-tale sign that we have almost arrived at Sandalford Estate.
Sandalford Estate Winery
Disembarking at Sandalford Estates private jetty we took a short walk past lush vineyards and beautiful landscaped gardens. Upon reaching the Sandalford Estate we were introduced to Tania our guide for our exclusive behind the scenes tour of the winery.
Brief History of Sandalford Estate
The first owner of Sandalford was John Septimus Roe, WA's first Surveyor General. In 1840 Queen Victoria granted Roe 4,000 acres of land at Caversham on the Swan River to honour his 57 years of service to the Commonwealth.
John Septimus Roe experimented with a variety of table grapes including muscats, malagas, frontignacs and chasselas. The first harvest of grapes at Sandalford Estate took place in 1842.
Over time, table grapes turned into a fledgling wine industry which was to become the foundation for the award winning wines you see today.
In 1970 the Roe family purchased a property at Wilyabrup in the Margaret River region and planted 300 hectares of vines.
Sandalford Estate stayed in the Roe family until 1991 when the Prendiville family purchased Sandalford Wines. The Prendiville family have a vision of producing wines with distinction and making Sandalford the finest destination for tourism, dining, weddings and concerts.
Behind the Scenes Tour
A short video introduced us to the Sandalford Estate, the Prendiville family and the senior winemaker Hope Metcalf. Then it was time for our guide Tania to take us on a tour of the winery.
We were taken to the red shed where the red wines are fermented in metal holding tanks and Tania explained the intricate fermenting process. Here we learnt that white and red wines must be stored at different temperatures as the fermenting process varies from red to white.
Tania took us to a room filled with French oak barrels. These barrels are highly prized by wine makers and a collection this large is worth millions of dollars. The ultra-premium Prendiville Reserve range of wines are matured in French oak barrels.
Tania was a fabulous tour guide, and we enjoyed our tour. We came to appreciate the amount of work and knowledge that goes into making wine.
Sandalford Wine Tasting
We were taken to a private dining room for our wine tasting. On the table wine glasses glistened and a colourful array of wines were waiting to be tasted.
There were six wines to each guest and there was a scoring sheet to evaluate the colour, nose and palate. Tania explained how to make the evaluation and what score you get depends on your personal taste in wine.
There was a selection of white, rose and red wines from Sandalford's Margaret River vineyard. Here are the wines we tasted during our Swan Valley Gourmet Wine Cruise.
Estate Reserve Sauvignon Blanc Semillon
Estate Reserve Verdelho
Margaret River Chardonnay
Margaret River Rose
Margaret River Cabernet Merlot
Estate Reserve Shiraz
Lunch at the Sandalford Estate
Lunch consisted of an entrée, a choice of one main meal and your favourite glass of wine from the tasting.
For those with a sweet tooth a dessert buffet and afternoon tea are held onboard the Lady De Vine on the return journey to Perth.
Entrée
Artisan Rolls with Butter
Tasmanian smoked salmon, saffron labne, gin cured cucumber & pickled onions
Main
Humpty Doo barramundi, crushed potato & chorizo cake with chardonnay butter sauce
Free range chicken breast, pistachio & cranberry quinoa with spiced tomato chutney
Over the Moon organic feta ravioli, kale, caramelised pumpkin with preserved lemon cream
Dessert – served on the return cruise
Gourmet cake selection
Assortment of fresh fruit
Tea & freshly brewed Yahava coffee
Cellar Door & Gift Shop
After lunch it was time to head over to the gift shop where we were given more wines to sample including sparkling wine and the much sort after Prendiville Reserve range of wines.
You can buy your favourite wines for discounted prices and there are a great selection of gifts including wine glasses and decanters, cheeseboards, and wine totes.
The Return Journey to Perth
We said goodbye to Sandalford Estate and reboarded the Lady De Vine at 2:45pm for our return trip to Perth. Again, it was time to enjoy the pleasures of the Swan River. Those wanting dessert took time to sample the selection of gourmet cakes and fresh fruit.
We relaxed and chatted with newfound friends while enjoying a glass of bubbles from the all-inclusive beverages that were available onboard. Crew members Lauren and Jessica entertained us with a fantastic selection of songs until we reached the Barrack Street Jetty.
Last Words on Swan Valley Gourmet Wine Cruise
We had a wonderful time on our Swan Valley Gourmet Wine Cruise with Captain Cook Cruises. The cruise is a fun way to explore the sights, learn the history and get a feel of what it is like to be a Perth local.
If you are visiting Perth, love wine and are a foodie this cruise should be on your list of things to do in Perth.
See the highlights of our cruise on the video below.
Have you been on Swan Valley wine tours? Have you been on a Captain Cook Cruise from Perth? Feel free to leave a comment we would love to hear about your experiences.
You may also be interested in our review of the PS Murray Princess Cruise in South Australia.
PIN THIS TO YOUR TRAVEL PINTEREST BOARDS ↓
Cruise Contact Information:
CAPTAIN COOK CRUISES
www.captaincookcruises.com.au
T 08 9325 3342
Disclosure: We were guests of Captain Cook Cruises who provided the Swan Valley Gourmet Wine Cruise. As usual all opinions are our own.