Exmouth on the North West Cape of Western Australia is one of the most unforgettable places on the planet. The town is a steppingstone to the Ningaloo Coast World Heritage Area which is a region of coral reefs, unspoilt turquoise beaches, and the wild beauty of the Cape Range National Park.
Exmouth is the place to tick off some of the world's most unique experiences. If swimming with whale sharks and humpback whales or scuba diving the coral gardens of Ningaloo Reef are on your bucket list, Exmouth is the place to visit. Here is our list of the best things to do in Exmouth WA.
This post may contain affiliate links, which means we may receive a commission, at no extra cost to you, if you make a purchase through a link. Please see our full disclosure for further information.
Best time to visit Exmouth
When planning a trip to Exmouth it is important to realise that many attractions are seasonal. Whale sharks visit the Ningaloo Reef between March and August, whales migrate to the area from June to November and the turtle nesting season is between November and March. We stayed at Exmouth during our journey down the West Australian coastline as part of your Darwin to Perth trip and so glad we took the time to visit as the region has so much to offer.
The GAMEX Fishing Tournament takes place each March and wildflower season runs from June to October.
Exmouth Weather
Another factor to consider when planning a trip to Exmouth is the weather. During summer average temperatures can reach over 40 Celsius (104 F) while average winter daytime temperatures are a comfortable 25 Celsius (77 F).
Summer days have been known to reach up to 48 Celsius (118 F) and winter nights can reach as low as 11 Celsius (51 F). While you can holiday in Exmouth year round the most pleasant time to visit is between May and September.
Unforgettable Exmouth Experiences
Exmouth is home to a range of once in a lifetime encounters and the best way to experience them is through one of these exceptional Exmouth tours. These include some of the most memorable things to do in Exmouth.
Whale Shark Tour Exmouth
One of the top Exmouth things to do is to take a whale shark tour. Imagine swimming with these majestic creatures in the crystal clear waters of the Ningaloo Reef. There are a range of tours to choose from, here are just two of our favourites.
Ningaloo Whale Shark Swim on a Luxury Sailing Catamaran
Experience the thrill of spotting a whale shark during a catamaran sail within this spectacular world heritage listed area.
Swim at a safe distance from these gentle giants while a professional photographer takes photos from above and below the water as a memorable keepsake of this truly magical experience.
Spend a day relaxing on deck, snorkelling, kayaking or paddle boarding and maybe catch a glimpse of manta rays, dolphins and dugongs along the way.
Enjoy morning and afternoon tea, a buffet lunch, and a glass of bubbly as you explore the Ningaloo Reef on this luxury catamaran.
Click here for Whale Shark Swim tours and reviews.
Ningaloo Whale Shark Swim Eco-Tour
This is just one of the eco whale shark tours Exmouth has to offer. The full day tour explores the beautiful Ningaloo Coast and sails through picturesque reefs to the best snorkelling spot in a sheltered lagoon.
See a vast array of natural corals and observe hundreds of colourful fish in their natural habitat. Swim with whale sharks on the Ningaloo Reef and encounter curious manta rays as they glide past the catamaran.
While onboard enjoy a complimentary lunch and afternoon tea or take time to relax on deck and continue your search for marine life.
Click here for Ningaloo Whale Shark Swim Eco-Tour pricing and reviews.
Exmouth Whale Watching Tours
Being able to get up close and personal to one of the world's largest creatures makes for a thrilling encounter. Exmouth has a selection of whale watching tours and humpback whale swims. Here is our top choice.
Ningaloo Humpback Whale Swim & Reef Snorkel from Exmouth
Start the day with a morning snorkel on the Ningaloo Reef. While snorkelling a spotter plane will start the search for the best pod of whales to maximise your chance of swimming with Humpback whales.
Take to the water with your experienced guide and delight at the thrill of being so close to such a large mammal.
Savour a delicious buffet lunch and refreshments that are available throughout the day. Take time to spot the dolphins, dugongs, manta rays, orcas and turtles that call the Ningaloo Reef home.
Finish the day with a complimentary glass of champagne or beer as you make your way back to the marina.
Click here for Humpback Whale Swim reviews and pricing.
Scuba Diving Tours from Exmouth
One of the best ways to marvel at the diversity of the reef is to take an Exmouth scuba diving tour. These tours are perfect for divers with previous diving experience.
Scuba Diving in Ningaloo Reef – Full-Day from Exmouth
After a quick briefing, embark on one of the most exciting scuba dives on the Ningaloo Reef. This stunning reef is listed as a UNESCO World Heritage Site and extends for over 260 kilometres along the coast of Western Australia.
This is the nearest point to the continental shelf and has an overwhelming variety of marine life and fish within its pristine waters. After visiting two sensational dive sites enjoy lunch on board the boat before making your way back to land.
Click here for Scuba diving tours and reviews.
Best Beaches Exmouth
Exmouth is the epicentre of Western Australia's North West Cape and the gateway to the bright sands and crystal clear waters of the Ningaloo Coast.
Be prepared to drive as the beaches and attractions of the region take in a 155 km radius that spans from Yardie Creek to Coral Bay. There are so many beaches to explore and here are just a few of our favourites.
Turquoise Bay
Turquoise Bay is the jewel in the crown of the Cape Range National Park beaches. This exquisite stretch of beach has been ranked amongst the top three Australian beaches by Trip Advisor and once you see the white sand and turquoise waters for which the bay is named you will understand why.
As you enter the beach you will find information boards that give insight into the environment, reef formations and marine creatures in the area. While there you can relax on the beach, swim or snorkel the fish filled coral gardens of the lagoon.
Turquoise Bay is located 63 km from Exmouth in the Cape Range National Park. You will need to pay an entry fee into the Park, prices will depend on whether you need a day pass or camping fee.
Exmouth Town Beach
If you are looking for a beach that is closer to town look no further than Town Beach. The beach is in the centre of town and a short walk from Exmouth Marina.
The best time to swim is at high tide and the beach is ideal for morning walks. The coral and shell rich sand make Town Beach the perfect place for beachcombing. There are shaded picnic areas with barbeques, four wheel drives and dogs are permitted on the northern section of Town Beach.
Bundegi Beach
Bundegi Beach is 12 km from Exmouth and marks the beginning of The Ningaloo Marine Park and World Heritage Area. The beach is framed by the VLF towers that stand tall against the sky, the second tallest structures in the Southern Hemisphere.
Bundegi Beach is a great place for snorkelling, swimming and enjoying the sun. You can relax with a coffee, breakfast or lunch at The Beach Shack which is located at the entrance to the beach. Boating enthusiasts can launch their boats at Bundegi Boat Ramp at the southern end of the beach.
Lakeside
Located 56 km from Exmouth, Lakeside is a fantastic spot for snorkelling. To get to Lakeside take the Milyering Discovery Centre turnoff and continue down the road. From the carpark turn left at the beach and walk 500 metres south.
As you walk along the water's edge you may get lucky and spot a couple of friendly stingrays. A thrilling sight and one we will never forget.
Pass the first Sanctuary Zone marker before entering the water. Between the shore markers and two yellow buoys you will find large coral brommies. Here you will discover spectacular coral formations that are home to turtles and reef fish.
Exmouth Attractions
Not only does Exmouth have a host of natural wonders but also a rich history. The first documented European landing was by Dutch Captain Williem Janz on the Mauritius in 1618. These treacherous waters have claimed ships and WWII turned the region into a strategic outpost.
Exmouth has many secrets to reveal, so come along with us as we show you the top things to do in Exmouth Western Australia!
The Big Prawn
Located in the centre of town the Big Prawn pays tribute to the prawn fishery and the Kailis family who were influential in starting the industry in Exmouth.
The Big Prawn once stood at the entrance to MG Kailis Gulf Fisheries factory at Learmonth and was donated to the town of Exmouth by the Kailis family in 2013.
The Ningaloo Centre
The Ningaloo Centre has three engaging visitor galleries which showcase the ecology, history and personality of the region.
Here you can discover more about the Ningaloo Reef and the Cape Range National Park. While there visit the marine aquarium and meet a unique range of fish. Or enter the cyclone room and experience the intensity of Cyclone Vance.
Click here for skip the line Ningaloo Centre admission tickets.
VLF Towers
The VLF Towers dominate the landscape and can be seen long before you reach them. Driving beneath these colossal towers is breathtaking and ignites the imagination.
The Harold E Holt Communications Station is home to the world's largest VLF (Very Low Frequency) Transmitters. These massive manmade structures stand at an impressive 387.6 metres and are the second tallest in the Southern Hemisphere.
The towers were built in 1967 by agreement with the US and Australian governments due to the heightening Cold War. In 1992 American and Australian defence forces withdrew their military personnel from Exmouth leaving the VLF communications station in the hands of private contractors.
Vlamingh Head Lighthouse
One of the most popular things to do in Exmouth is to visit the Vlamingh Head Lighthouse. The lighthouse is the ideal place to take in sweeping views of the jewel like coast and wild beauty of the Cape Range National Park.
From the lookout you will be surprised by the sheer size of VLF Towers as they stand out against the countryside. For the history buff the lighthouse is the place to learn more about the part Exmouth played during the second world war.
Vlamingh Head Lighthouse is one of the best places to spot humpback whales during their migration between June to November.
The Mildura Wreck
The wreck of the SS Mildura is 17 km from Exmouth. This former cattle steamer was shipwrecked in 1907 and the disaster led to the construction of the Vlamingh Head Lighthouse.
The remains of the SS Mildura can clearly be seen from the foreshore and was used for bombing practice during WWII.
Cape Range National Park
The Cape Range National Park covers a massive 50,581 hectares and is home to a large variety of wildlife that includes kangaroos and wallabies, emus, dingos, lizards and an abundance of birdlife.
These rugged limestone ranges house numerous canyons and rocky ochre outcrops. There are several scenic drives including the Charles Knife Gorge and Shothole Canyons.
The Charles Knife Gorge road is 21 km from Exmouth. This mostly unsealed road is suitable for two wheel drive vehicles and takes you over razorbacked ridges where you can look down over the stunning views of the multicoloured gorges.
The Shothole Canyon is a four wheel drive track which takes you through the dry creek beds of the gorge floor. After following the 15 km track stop off at the picnic area and hike the short walking trail.
Entry fees apply when entering the Cape Range National Park.
Exmouth Tours
Ningaloo Centre Aquarium
The Ningaloo Aquarium and Discovery Centre is a fascinating place to visit. Learn about the ecology of Australia's second largest reef and meet some of the marine life that call the Ningaloo Reef home.
The Discovery Centre will take you on an interactive journey through the arid landscapes of the Cape Range National Park. Learn about the region's military history and the importance of Exmouth as a US Naval base.
The Ningaloo Aquarium and Discovery Centre is a popular place to visit especially during peak season such as Christmas and school holidays. To avoid disappointment, make sure to prebook a skip the line ticket prior to leaving home.
Click here for Ningaloo Centre Aquarium skip the line tickets.
Fishing Charters Exmouth WA
One of the most popular things to do in Exmouth is to wet a line and go fishing. When it comes to fishing trips Exmouth has a lot to offer with a choice of beach fishing, reef fishing, sport and game fishing.
If you are a keen fisherman, the best time to visit Exmouth is during March when Exmouth hosts the GAMEX Fishing Tournament.
Montebello Island Fishing Charters
There are several boat trips from Exmouth but for the ultimate in Exmouth fishing tours you cannot go past Montebello Island Fishing Charters 5 day fishing trip.
The fishing charter leaves from Exmouth Marina boat ramp and includes 5 days fishing around the beautiful beaches, bays and lagoons of the Montebello Islands.
The Montebello Islands are a fisherman's paradise home to a huge range of fish including Red Emperor, Coral Trout, Cod, Groper, Spanish Mackerel, Sail Fish and Marlin. The surrounding reef systems and mangroves play host to crayfish and mud crabs.
During the fishing trip all fishing gear is supplied, and five breakfasts, lunches and dinners are included in the price of the charter.
Click here for fishing charter reviews and pricing.
Best Accommodation in Exmouth
When looking for accommodation Exmouth Australia has a range of styles that will suit most holiday makers needs. From luxury to budget, here are our top choices of Exmouth hotels and holiday parks.
Holiday Accommodation Exmouth WA
When planning your Exmouth holiday, it is important to prebook hotels well in advance as Exmouth gets extremely busy during school holidays and public holidays such as Christmas.
Mantarays Ningaloo Beach Resort
The Mantarays Ningaloo Beach Resort has a selection of rooms, apartments and bungalows from Standard King Room to 1, 2 or 3 Bedroom Apartments with a choice of views.
Located amid a beachside setting these spacious and modern hotel rooms, apartments and bungalows welcome singles, couples and families to experience the beauty of the Ningaloo Coast.
Relax with a coffee or evening drink at the Mantaray's Beach Lounge & Bar and enjoy a delicious brasserie seafood dinner at Mantaray's Restaurant.
This exclusive resort is located on Sunrise Beach in the Exmouth Marina and is owned and operated by the Novotel Hotel Group.
Click here for pricing and reviews of Mantarays Ningaloo Beach Resort.
Ningaloo Lodge Exmouth
This guest house is in the heart of Exmouth. There are a choice of rooms including Standard Twin Rooms and Queen Rooms.
Although the rooms are small, they are clean and feature a desk and bar fridge. There is a well equipped shared kitchen, games room, laundry facilities, pool and outdoor area. Airport shuttle services are available.
Click here for reviews and pricing of Ningaloo Lodge Exmouth.
Caravan Parks in Exmouth WA
Although there is a choice of caravan parks in Exmouth our favourite would have to be the RAC Exmouth Cape Holiday Park which is part of the Big4 Holiday Parks group.
RAC Exmouth Cape Holiday Park
The RAC Cape Holiday Park Exmouth has a choice of accommodation including a selection of different cabin styles, ensuite powered, powered and non-powered caravan and camping sites.
Cabins Styles
Double Rooms feature queen bed, private bathroom, tea & coffee making facilities, dining area and balcony with outdoor furniture.
The One Bedroom Family Cabin with Shared Bathroom features a double bed and two single bunks. The room has air-conditioning, kitchen with a fridge, stove top and microwave, TV and DVD player. The balcony has an outdoor dining area and guests have access to the shared holiday park bathroom and facilities.
The Studio Room features a double bed and futon bed, kitchen with microwave, fridge and tea & coffee making facilities. There is a private bathroom and balcony with outdoor furniture.
Click here for pricing and reviews of RAC Cape Holiday Park Exmouth.
Things to do in Coral Bay
This small laid back township sits right on the shore of the Ningaloo Reef and is home to vibrant coral gardens, perfect for swimming and snorkelling.
The distance from Coral Bay to Exmouth is 152 km, making Coral Bay easily accessible for a day trip or stop over.
Coral Bay Accommodation
When booking Coral Bay accommodation, it is important to remember that this is a tiny resort town and rooms fill up quickly, prebooking hotel rooms in advance is a must.
Ningaloo Reef Resort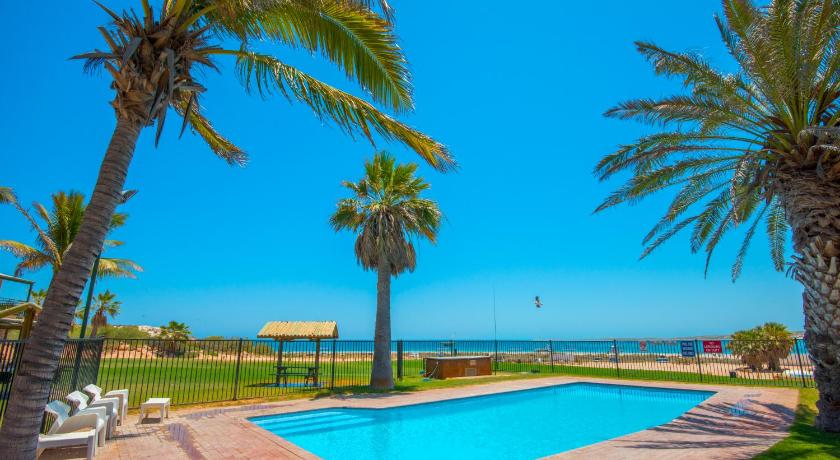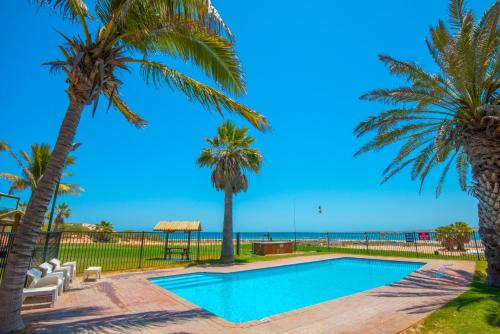 The Ningaloo Reef Resort is located right on the beach and features One Bedroom Apartments with a choice of ocean, garden and pool views.
The Apartments have a double bed, bunk bed and sofa bed in the living room. There is a dining room, kitchen with stovetop, microwave and fridge. Rooms have a private bathroom, balcony or patio with outdoor furniture.
Click here for pricing and reviews of Ningaloo Reef Resort.
Coral Bay 2-Hour Coral Viewing and Snorkelling Tour
This 2 hour Coral Bay glass bottom boat tour takes you to two different reefs onboard a glass bottom boat. Take time to snorkel as you cruise between sites or view the exquisite coral gardens and marine life from onboard the boat.
Getting to Exmouth
There is a choice of transport options to Exmouth including car, bus and flights. Which style you choose will depend on the amount of time you have to travel.
When driving to Exmouth it is important to remember that the region is remote and there are vast distances between communities.
What are the drive times to Exmouth?
If you drive Perth to Exmouth be prepared for a 1,253km journey. The drive time from Perth to Exmouth should take around 13 hours. Other popular Western Australian destinations to Exmouth include.

Carnarvon to Exmouth distance – 366 km (around 3 hour 40 min drive)
Denham to Exmouth distance – 683 km (roughly 6 hours 45 min drive)
Geraldton to Exmouth distance – 836 km (about 8 hours 30 min drive)
Broome to Exmouth distance – 1,373 km (approx. 14 hour drive)
Are there flights to Exmouth WA?
Yes. The quickest option is to fly Perth to Exmouth. With direct flights, Perth to Exmouth travel could not be easier.
Perth to Exmouth Flights:
There are daily flights to Exmouth from Perth with a flight time of 2 hours. The return flight from Exmouth to Perth takes 1 hour and 50 minutes. Flights from Perth to Exmouth land at Exmouth's Learmonth Airport which is a 37 km from the township of Exmouth.
Exmouth Airport Transfers:
To get from Learmonth Airport to Exmouth you can either take the Exmouth Bus Charter shuttle bus or hire a car.

Exmouth Airport Shuttle Bus

Exmouth Bus Charter operate door to door airport transfers to many locations across Exmouth in airconditioned comfort. Make sure to prebook in advance as bookings are essential.

Car Hire Exmouth Airport options:
If you are looking at car hire in Exmouth there is a choice of Europcar and Avis car rental. Exmouth Airport has a pickup and drop off service at the terminal.
In there a Bus from Perth to Exmouth?
Yes. Integrity Bus Lines operate bus services between Perth and Exmouth with a journey time of 17 hours and 45 minutes.
Last words on things to do in Exmouth WA
Exmouth is the gateway to some of Australia's most spectacular natural beauty and the location of unforgettable lifetime experiences.
We fell in love with the beauty of Exmouth, it is a place everybody should visit at least once in a lifetime.
Have you been to Exmouth? Drop us a line we would love to hear about your experiences!
Travelling south along the WA coastline? You may also be interested in our article on what to see and do in Kalbarri.
PIN THIS TO YOUR TRAVEL PINTEREST BOARDS ↓