When planning a trip within Australia Cairns often comes to mind. With a host of attractions sitting on its doorstep it's not surprising that Cairns is one of Australia's most popular tourist destinations. If you have Cairns on your bucket list, make sure to read this review on where to stay in Cairns Australia.
This post may contain affiliate links, which means we may receive a commission, at no extra cost to you, if you make a purchase through a link. Please see our full disclosure for further information.
What to do in Cairns
When visiting you will find an interesting variety of attractions in Cairns. The city is framed by majestic mountains which conceal the pretty town of Kuranda.
You can enjoy a range of beach activities in Cairns when you visit the sundrenched beaches of Palm Cove and Trinity Beach.
The city is also a steppingstone to Port Douglas, Cape Tribulation and the natural wonders of the Great Barrier Reef and Daintree Rainforest.
Best Places to Stay in Cairns
Finding the best place to stay in Cairns will depend on your budget and preferred style of accommodation. To help you plan where to stay in Cairns we have put together a good selection of Cairns accommodation which include resorts, hotels, apartments and family friendly hotels.
We have also included accommodation at the popular Cairns beaches of Palm Cove and Trinity Beach.
Luxury Hotels in Cairns
If you are a luxury traveller there are lots of options when it comes to 5 star hotels Cairns. When choosing where to stay in Cairns popular preferences include hotels that are close to Cairns Marlin Marina or within easy reach of Cairns Esplanade.
Marlin Marina Accommodation
Marlin Marina accommodation in Cairns is a good option for anyone wanting to be near the Reef Fleet Terminal for Great Barrier Reef cruises, the Reef Hotel Casino and Convention Centre. The area is also a vibrant restaurant precinct and entertainment hub.
The Shangri-La The Marina Cairns is in one of the most picturesque locations overlooking the Marlin Marina and showcases panoramic views of the city and Trinity Bay. The hotel is within walking distance to the Reef Fleet Terminal which offer cruises of the Great Barrier Reef.
Room styles include deluxe rooms, club rooms and suites with either private balcony or terrace. Each room is attractively decorated with artworks that convey the natural beauty of Queensland's far north.
You can discover the flavours of Tropical North Queensland in The Backyard Restaurant or relax by the pool with a cocktail and light snack at the Poolside Bar.
The Pullman Reef Hotel Casino sits at the heart of the entertainment hub, The Reef Hotel Casino. Here you can enjoy all the good things in life, fine dining restaurants, live shows and of course all the excitement of the casino.
With a magnificent glass domed roof that has become a city landmark, this 5 star hotel takes pride and place by the Trinity Inlet and is a short walk to the Convention Centre and the Reef Fleet Terminal which is a departure point for Great Barrier Reef day trips.
Having won many best hotels Cairns awards the Pullman Reef Hotel Casino offers a wide variety of accommodation styles which include a choice of superior, deluxe and Presidential guest rooms and suites.
The rooms are decorated in a light and airy contemporary theme and feature personal Nespresso coffee machine, executive style mini bar and jacuzzi style spa bath. The hotel has a pool and fitness centre.
The Pullman Cairns International is in the centre of the city and a short walk to the Convention Centre, Cairns Pier and Great Barrier Reef cruise terminal.
There is a good choice of superior and deluxe rooms, executive and Presidential suites which feature either rejuvenated or classic luxury décor. Each room has a large balcony with either harbour or hinterland views. Other room options include interconnecting and disabled rooms. Other hotel facilities include pool and fitness centre.
Sample the best of Tropical North Queensland produce at Coco's Kitchen and Bar or revitalise at the Vie Spa.
The Hilton Cairns sits in a picturesque waterfront location and is a 2 minute walk to the Reef Fleet Terminal and cruises to the Great Barrier Reef.
The Hilton offers stylish modern rooms with private balconies that showcase stunning views of the Trinity Inlet, the CBD or the lush mountain ranges that frame Cairns.
By day relax and enjoy the tropical sun by the hotel's lagoon style pool. In the evening dine al fresco at water's edge at the Hilton Cairns award-winning restaurant Mondo on the Waterfront.
Luxury Hotels Cairns Esplanade
Cairns Esplanade is another good place to stay in Cairns and you will find several 5 star luxury Cairns Esplanade hotels and apartments lining the foreshore.
The Crystalbrook Riley has a chic contemporary décor which reflects our modern lifestyle. The hotel has a philosophy of responsible luxury which excludes the use of plastic straws, water bottles and room key cards to name a few.
Located on the Esplanade, the Crystalbrook Riley has a selection of rooms and suites which have a mix of urban, resort and sea views. Rooms feature a Nespresso coffee machine and Apple iPad control centre.
The hotel is home to Cairns' highest rooftop bar, and you can enjoy the taste of the Mediterranean at Rocco restaurant. Take time to relax with a spa treatment at Eleme Day Spa or soak up the sun by the large lagoon pool.
Like its sister hotel Crystalbrook Riley, Crystalbrook Flynn shares the philosophy of responsible luxury and has eliminated the use of water bottles, plastic straws and room key cards.
The Crystalbrook Flynn is an elegant hotel with an interesting collection of rooms and suites which cater to singles, couples and families. These modern rooms are filled with warmth, colour and have either city, harbour or sea views.
The hotel has a vibrant food and drink scene, you can dine on gastro pub favourites at Boardwalk Social or scrumptious Italian delights at Flynn Italian.
When looking for apartments in Cairns look no further than Vision Apartments. This 5 star apartment complex is situated on Cairns Esplanade and is 100 metres from restaurants, shops and entertainment.
Vision Apartments Cairns have a choice of spacious 2 and 3 bedroom apartments and penthouses with mountain, Cairns Esplanade or Coral Sea views. Apartments have an open plan living and dining area with fully equipped kitchen, laundry facilities and a balcony or patio for alfresco dining.
The apartments feature two swimming pools, outdoor barbeque area and fitness centre.
Family Accommodation Cairns
Cairns is an expensive city and may come as a challenge when searching for the cheapest accommodation in Cairns. Whether you are on a budget or wanting to stretch your family travel dollar further we give you two great options for where to stay in Cairns.
Palm Royale Cairns is 10 minutes' drive from central Cairns and across the road from Raintrees Shopping Centre.
The hotel has a Mediterranean inspired décor and feature king, triple and family rooms with either pool or garden views. Rooms have a fridge and tea and coffee making facilities. The Palm Royale Cairns features 2 swimming pools and a spa pool.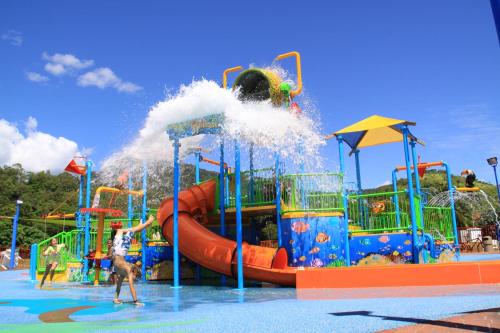 Wondering where to stay in Cairns with kids? The Cairns Coconut Holiday Resort is one place the kids are going to love as it has its own water park, mini golf and tennis courts.
The resort is 7 minutes' drive from the centre of Cairns and has a selection of cabins which range from studio to luxury 2 bedroom villas, each with its own fully equipped kitchen. The resort also has a caravan park and camping sites.
Accommodation Cairns Beaches
An alternative to staying in Cairns is to stay at one of the nearby beaches. Imagine relaxing on a tropical palm tree lined beach and waves gently lapping golden sands. If that kind of holiday appeals to you why not consider Palm Cove or Trinity Beach.
Palm Cove
Palm Cove is 25 km north of Cairns and is named after the palm trees that line its beach. This picturesque beach is framed by the Palm Cove Jetty and is famous for its restaurant and café culture. Palm Cove is home to many luxury resorts and is a popular place to stay when visiting Cairns.
Whether taking a romantic getaway or family holiday the Alamanda Palm Cove by Lancemore has all the charm of a tropical island paradise without leaving the mainland.
Alamanda Palm Cove by Lancemore is the only resort in Palm Cove to have unrestricted access and overlooks the golden sandy beach, swaying palm trees and turquoise waters of the Coral Sea
This luxury Palm Cove accommodation has a collection of 1 to 4 bedroom apartments with either beachfront, pool or beach views. The apartments are styled in a modern tropical décor and feature top quality kitchen appliances.
The resort boasts three beautiful pools including an adult only pool. There is an award winning day spa which has a range of wellness and relaxation treatments, and you can indulge your inner foodie at Nu Restaurant.
The Alamanda Palm Cove by Lancemore is 25 minutes' drive north of Cairns and is just metres from the Esplanade of Palm Cove.
Overlooking a natural lagoon and set amid tropical gardens, Sanctuary Palm Cove houses a range of luxurious apartments which are a short 100 metres from the beach and the restaurants of Palm Cove village centre.
These spacious modern apartments are architecturally designed to showcase Palm Coves tropical climate by capturing ocean breezes and creating an indoor-outdoor lifestyle. This home away from home features a gourmet kitchen with granite benchtops and European appliances.
The grounds include a 25 metre lap pool which is heated in the winter, a children's wading pool and barbeque facilities which are set in beautiful tropical surrounds.​
If you are looking for 5 star luxury the Pullman Palm Cove Resort & Spa pulls out all the stops with a range of stunning apartments. Available are studio apartments and a selection of 1 to 3 bedroom apartments which have fully equipped kitchens and a choice of swim out, rooftop spa and plunge pool configurations.
You can relax in the Lagoon Bar or sample Asian inspired cuisine or the degustation menu for two at the Temple of Taste restaurant. The resort has 3 swimming pools, and you can relax with a wellness or beauty spa treatment at the Vie Spa.
The Pullman Palm Cove Sea Temple Resort & Spa is located at the southern end of Palm Cove beach and is a 25 minute drive from Cairns.
Trinity Beach
Trinity Beach is 20 km north of Cairns in Tropical Far North Queensland. The area has a laid back vibe with the beachfront playing host to a variety of self-contained holiday apartments. Unlike upmarket Palm Cove, the beach has a relaxed and casual beach loving atmosphere.
As you walk into reception you will be welcomed by the rich tropical ambiance of the Sea Change Beachfront Apartments. These 5 star award winning apartments overlook the beautiful Coral Sea at Trinity Beach.
There is an assortment of modern 1 to 4 bedroom apartments which are generous in size and have a full kitchen with espresso machine, separate lounge and dining room, marble bathroom with spa bath, laundry facilities and private balcony.
Within the tropical gardens is an outdoor swimming pool, covered spa area and barbecue facilities.
The Sea Point on Trinity Beach is a minutes' walk from the beach and have an mixture of 1 and 2 bedroom apartments, 1 and 2 bedroom deluxe beachfront apartments or 3 and 4 bedroom penthouses.
These spacious open plan apartments have a modern décor with full kitchen, separate lounge area and laundry facilities. The deluxe apartments are wheelchair-friendly and feature an accessible bathroom. The balconies are equipped with barbecues to make the most of the tropical evenings.
The grounds are surrounded by lush gardens and feature a large saltwater pool and children's wading pool.
The Vue Apartments Trinity Beach have stunning views of Trinity Beach and the Coral Sea. This luxury 5-star waterfront resort has direct beach access and boasts an infinity pool with ocean views.
There are a range of apartment styles that include 1 to 4 bedroom apartments and penthouse. The apartments have a light and airy contemporary décor and are self-contained with gourmet kitchens and spacious living areas. Bedrooms are comfortable and feature designer linens.
All apartments have large private balconies with striking views of the Coral Sea. The Vue Apartments are in a good location within walking distance to the beach, pubs and restaurants.
Last Words on where to stay in Cairns Australia
If you are heading off on a Cairns adventure, we hope this article has helped you decide where to stay in Cairns Australia. Cairns really is a beautiful city and steppingstone to some of the most unique attractions in Queensland.
If you have time, why not have the best of both worlds? Spend a few days in Cairns to visit the attractions at Kuranda and Great Barrier Reef before heading to Palm Cove or Trinity Beach to unwind and recharge.
Or maybe take your holiday a little further up the highway to Port Douglas, the Daintree Rainforest and Cape Tribulation. The options are endless, and I am sure you will fall in love with Tropical North Queensland just like we have.
Have you been to Cairns? Where did you stay and what did you like about the city and its attractions? We would love to hear from you so feel free to leave a comment.
PIN THIS TO YOUR TRAVEL PINTEREST BOARDS ↓