Planning a trip to Port Douglas? This popular destination is well known for its laid back tropical beach vibe and a lifestyle that celebrates all the good things in life. When arranging Port Douglas holidays one of the first things to do is to choose the best Port Douglas luxury accommodation.
In this article we review a variety of Port Douglas accommodation to assist in making your dream Port Douglas luxury escapes a reality.
This post may contain affiliate links, which means we may receive a commission, at no extra cost to you, if you make a purchase through a link. Please see our full disclosure for further information.
Port Douglas Getaways
We begin our luxury accommodation Port Douglas wish list with the Thala Beach Nature Reserve. If you are looking to unplug and retreat from the rat race the Thala Beach Nature Reserve may be the ideal hideaway for you.
The Thala Beach Nature Reserve is a 15 minute drive south of Port Douglas. Here you will find an ecofriendly resort which takes full advantage of the area's natural tropical environment. Enclosed within a rainforest canopy are a collection of private timber bungalows which feature either ocean, mountain, or forest views.
Thala Beach Nature Reserve is one of the most unique resorts Port Douglas has to offer with a stunning backdrop that highlights the secluded beaches and coves of the Coral Sea. The resort is the place to relax and rediscover the joys of nature as you share your environment with a variety of Australian wildlife living happily in their natural habitat.
There are a range of rooms with the most impressive being the Sandpiper Suite which has spectacular views of the Coral Sea and its pristine beaches. Also onsite is the Osprey's Restaurant which serves a delicious selection of modern Australian cuisine.
Port Douglas Accommodation 5 Star Luxury
If you are looking for 5 star luxury accommodation in Port Douglas you won't be disappointed as the town has a large selection of accommodation styles which include resort hotels, apartments and holiday homes.
Creating the perfect Port Douglas holiday begins with choosing the best accommodation in Port Douglas to suit you and your family. Here is our list of the best resorts, Port Douglas hotels and holiday rentals.
The king of Port Douglas luxury resorts would have to be the Sheraton Grand Mirage Resort, Port Douglas. The resort skims the Coral Sea foreshore and is surrounded by leafy tropical gardens, 2 hectares of sparkling lagoon pools and for the golf enthusiast the 18 holes of the Mirage Country Club Golf Course.
If you are looking for Port Douglas resorts on the beach, you will find that the Sheraton Grand Mirage Resort is one of the only resorts with direct access to the famous Four Mile Beach.
There are a variety of rooms, suites and villas to choose from with views of peaceful gardens or crystal clear blue lagoons. There is a wide range of room styles which can include hotel rooms with swim out balconies and 4 bedroom villas with fully equipped kitchens.
The resort has a bright and airy tropical décor with a selection of restaurants and cafes which highlight the flavours of Tropical North Queensland. Other facilities include the Kaia Day Spa which offers an array of wellness and spa treatments.
The Sheraton Grand Mirage Resort, Port Douglas is 2km from the centre of Port Douglas and 200 metres from Four Mile Beach.
For the best in 5 star accommodation Port Douglas, click below for the latest Sheraton Grand Mirage Resort, Port Douglas accommodation deals.
The resort is one of the best hotels in Port Douglas for its extensive range of luxury accommodation options. Set amid lush tropical gardens the crystal clear waters of the pool meander through the resort creating a welcoming atmosphere.
The Pullman Hotels Port Douglas is a stylish haven that gives the choice of studio spa hotel rooms, 1-3 bedroom apartments with options for plunge pool, penthouse and swim out apartments.
Sea Temple Port Douglas showcases the ultimate in luxury, the 3 bedroom villa. Inside you will find spacious living areas and bedrooms with the master featuring a king sized spa. The villa has a fully equipped kitchen and coffee machine. Outside there is a private plunge pool and entertainment area with outdoor dining & BBQ facilities.
This Accor Port Douglas resort is home to the Aluco Restaurant and Bar which showcases the fresh tastes of the region in a gorgeous poolside setting.
The Pullman Port Douglas Sea Temple Resort and Spa is 4.9km from Macrossan Street and 300 metres from Four Mile Beach.
For romantic getaways Shantara Resort Port Douglas is a peaceful place to stay. As soon as you enter the resort you will find an oasis of tranquillity, a place to recharge and enjoy all that Port Douglas has to offer.
This unique adult only Port Douglas luxury accommodation features a range of room styles from studio apartment with kitchenette to 1 bedroom apartments with full kitchen. There is a choice of balcony rooms overlooking the pool, swim out rooms with shared deck and rooms with private pool access and hot tub.
The resort features 2 lagoon style swimming pools and an undercover entertainment and barbeque area. The Shantara Resort Port Douglas is a ten minute walk to the restaurants and cafes of Macrossan Street and 300 metres from Four Mile Beach.
Luxury Port Douglas Apartments
If you are interested in a self-catering holiday there are a fantastic variety of Port Douglas apartments to suit your needs. Whether you are travelling with a group of friends, as a couple or with your family get ready to be impressed by this great selection of Port Douglas 5 star accommodation.
When thinking of luxury these spectacular Port Douglas villas instantly spring to mind. When walking into the Niramaya Villas and Spa you will be instantly struck by a modern décor that has subtle hints of Balinese elegance.
Surrounded by lakes and lush gardens you will find a selection of 1 to 5 bedroom villas with indoor outdoor living spaces that embrace the regions tropical climate. Each villa comes with its own private plunge pool and patio with a barbeque.
Niramaya Villas are a 5-minute drive from Port Douglas and a 10 minute walk to Four Mile Beach.
The Saltwater Luxury Apartments can be found in the vibrant entertainment hub of Port Douglas, Macrossan Street. Surrounded by restaurants, cafes and shops the apartments are the perfect base to enjoy your Tropical North Queensland holiday.
There is a choice of 1 to 3 bedroom apartments and a 2 bedroom penthouse apartment that include a fully equipped kitchen and laundry facilities.
The Saltwater Luxury Apartments are a three storey walk-up complex with upper floors that showcase picturesque views of Port Douglas and the hinterland. Four Mile Beach is 550 metres from the Saltwater Luxury Apartments.
With Macrossan Street and Four Mile Beach just a short walk away you would be hard pressed to find a better apartment location in town.
The Mandalay Luxury Beachfront Apartments have a variety of spacious apartment styles which include 1 to 3 bedroom apartments and 3 bedroom deluxe & executive apartments. Each apartment has full kitchen and laundry amenities.
The private patios and balconies are enclosed by greenery which provide a cool welcoming atmosphere. The apartment grounds boast a tennis court, swimming pool and has barbeque facilities. The upper floor apartments are accessible by stairs only.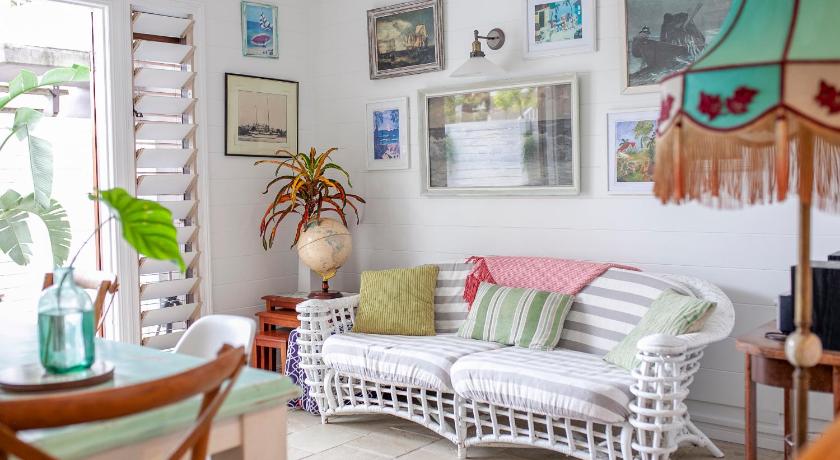 This charming cottage has a warm welcoming feel and is beautifully decorated with a beach and tropical themed décor. The cottage exudes a relaxed vibe where life is centred around the garden, swimming pool and barbeque area.
This 3 bedroom apartment caters for 6 people and has a full kitchen, laundry facilities and upper floors are accessed by stairs.
Macrossan Street is 1.1km and Four Mile Beach 500 metres away from Pandanus Cottage.
Port Douglas Family Accommodation – Port Douglas Holiday Homes
When choosing the best family accommodation Port Douglas has you covered with these beautifully appointed Port Douglas holiday rentals.
Pineapple Petes Beach House is the epitome of style when it comes to Port Douglas holiday houses. From the moment you walk through the door you will be surrounded by a quiet luxury that is instantly welcoming, inviting you to relax and feel at home.
The house is perfect Port Douglas accommodation for families and features 4 airconditioned bedrooms. For the ultimate in luxury, you can either bathe in the sumptuous outdoor bathroom or choose from the other 3 bathrooms available.
To create those family feasts, you will find a fully equipped kitchen with Italian appliances, coffee machine and dishwasher. The house is light and airy with spacious dining and living area.
There are barbecue facilities and pool with indoor outdoor spaces to unwind and reconnect as a family. Pineapple Pete's Beach House is 3.3 km drive from the centre of Port Douglas and 3 minutes' walk to Four Mile Beach.
Chez Brolga would have to be one of the most popular holiday house rentals in Port Douglas and boasts 5 airconditioned bedrooms, a dining area and formal lounge, media room and alfresco areas.
Outside you can enjoy sunny days by the pool or fun filled nights around the barbecue. Central Port Douglas is a 5 km drive and Four Mile Beach is a 1.8 km drive from this much loved family home.
Planning your Port Douglas Luxury Accommodation stay
Does Port Douglas have an Airport?
Port Douglas doesn't have an airport, the closest airport is at Cairns which is 1 hours' drive away.
How far is Port Douglas from Cairns?
The Cairns Port Douglas distance is 66km and takes around 1 hour to drive on the Captain Cook Highway.
Can you get Cairns to Port Douglas transfers?
Yes, you will find that many hotels and resorts provide airport shuttles.
Last Words on Port Douglas Luxury Accommodation
We hope this article on Port Douglas luxury accommodation has helped you find the best place to stay in Port Douglas. Once there you will discover a charming town which is set amid some of the most spectacular scenery in Queensland.
Port Douglas is the gateway to Cape Tribulation and the World Heritage listed Daintree Rainforest and Great Barrier Reef. Enjoy your stay in Port Douglas, we fell in love with the region and I'm sure you will too! No visit to Post Douglas would be complete without taking day trips to many of the nearby world renowned attractions.
You may also be interested in our article on Cairns accommodation.
Have you been to Port Douglas? We would love to hear about your stay, feel free to leave a comment.
PIN THIS TO YOUR TRAVEL PINTEREST BOARDS ↓