Longreach Queensland conjures up images of a dry and dusty outback but if you look deeper you will find a landscape full of life. The region is surrounded by a sea of grass which was once considered a pastoral Eldorado, the life's blood of the booming sheep industry that was to make Australia rich.
The early settlers to the area were a tough bunch enduring drought, flood, and isolation. Such grit formed an outback strength of character that inspired grand ideas in the face of a changing world. Longreach is proud of its pioneering past and pays tribute to this fearless outback spirit. So, come along with us as we show you the best attractions in Longreach Queensland.
This post may contain affiliate links, which means we may receive a commission, at no extra cost to you, if you make a purchase through a link. Please see our full disclosure for further information.
Where is Longreach
Longreach is an outback town that sits on the long reach of the Thomson River in Central West Queensland Australia.
The distance from Brisbane to Longreach is 1,179km and takes around 13 hours by car depending on which route you take.
Emerald is the largest town before Longreach and is the place to pick up any last minute needs from the larger chain stores in town. The distance from Emerald to Longreach is 416km with a drive time of around 4 hours and 20 minutes.
The closest coastal city to Longreach is Rockhampton. The distance between Longreach and Rockhampton is 686km with a drive time of around 7 hours and 20 minutes.
Longreach Map
Longreach QLD Weather
Longreach weather can often fluctuate between drought and flood with most rain falling during the summer months. We visited during July & August (the Australian winter) and enjoyed glorious sunny days and clear chilly nights which were perfect for stargazing.
Many southern Australians choose to visit during the winter months to escape the bitter winters of their home region. The best time to visit Longreach is during the cooler months between April and October.
Although the average maximum temperature in summer (December to February) is between 36-37 Celsius it is not unusual for temperatures to reach the mid to late 40 Celsius. During summer, the minimum overnight temperature is between are 22-23 Celsius.
Average maximum temperature during winter (June to August) are between 23-26 Celsius. The minimum overnight temperature in winter is between 7-8 Celsius.
Today's Longreach
Longreach is a pretty town with an old world charm which is made even more welcoming by its friendly residents. As you walk along the streets you will be surprised find that most of the streets are named after land and water birds.
The Town has many historical buildings one being the Longreach Railway Station. The railway played an important part in Longreach's development. Transportation of livestock and delivery of supplies were vital to the townsfolk and people of the region. Today you can relive this epic train journey from Brisbane to Longreach in luxury on the Spirit of The Outback.
These days the main industries of Longreach are cattle, sheep, and tourism. There are lots of things to do in Longreach Australia but by far the most popular attractions in Longreach are the Qantas Founders Museum and the Australian Stockman's Hall of Fame.
Top Attractions in Longreach QLD
Longreach brings the history of outback Queensland to life, here you will meet a cast of characters with life stories that could easily be turned into an adventure blockbuster movie.
Here are our suggestions on what to do in Longreach Australia.
Longreach Tours and Attractions
There are a range of Longreach tours and attractions that can be done independently or by taking a tour. Things to think about when deciding your choice of attractions in Longreach are the length of your stay, budget and whether you are visiting on a weekend.
One thing for certain these Longreach attractions get busy so always book ahead to avoid disappointment.
Australian Stockman's Hall of Fame
One of the top attractions in Longreach QLD would have to be the Australian Stockmans Hall of Fame and Outback Heritage Centre in Queensland.
Take a step back in time to learn about Australia's unsung pioneering heroes as you walk through the five themed galleries that delve into the outback heritage of the local indigenous tribes, explorers and stockmen. Discover the triumphs and hardships of this tough breed of individuals who shaped this great land.
The Australian Stockman's Hall of Fame opening hours:
The Hall of Fame is open 7 days a week between 9am to 3pm and bookings are essential.
Qantas Founders Museum – A popular Longreach attraction
When you drive into Longreach you will be greeted by a flying kangaroo which takes pride and place on the tail of a Qantas jumbo jet. Welcome to the Qantas Founders Museum Longreach!
The Qantas museum Longreach would have to be one of the most popular Longreach tourist attractions and pays tribute to the "Queensland and Northern Territory Aerial Services," which today is better known as Qantas Australia.
Qantas was founded in Winton in 1920 by Hudson Fysh, Paul McGinness and Fergus McMaster. The airlines first aircraft was an AVRO 504K and there is a replica of this plane on display within the museum. Qantas was relocated to Longreach in 1921 and to Brisbane Queensland in 1930.
Qantas jumbo jets introduced generations of Australians to the world and it is just one of the Qantas aircraft on display telling the story of Australia's national airline.
At the undercover Air Park, you can join a guided tour of a DC3, the Super Constellation, a Boeing 707 and Boeing 747. The tour is informative, funny and it is a chance to get up close and personal with these iconic Qantas planes.
For an extra fee you can do a wing walk or watch the Luminescent Longreach show, a 20 minute light and sound experience which takes place in the evening.
There is so much more to see in the Qantas Founders Museum and bookings are essential.
Visit Nogo Station – A unique Longreach experience
If you have ever wanted to find out what it is like to live on a station in the Queensland outback the Nogo Station Experience is a tour that you should not miss.
The tour briefly shows some of Longreach's heritages sites before being whisked to Nogo Station where a Kinnon family member will take you on a tour filled with outback humour and station stories. Here you will get an insight into station life and learn about merino wool in the stations historic shearing sheds.
Next, head out on a Nogo Station Safari onboard an open-top double-decker bus. Along the way you may see wedge-tailed eagles and other local wildlife. Cattle, stock horses and feral animals such as wild donkeys, desert camels and pigs are some of the animals you may spot on this tour.
Visit a recreation of Captain's Starlight's camp and relax with a home baked smoko under the gum trees.
Click here to find out more about this tour.
Drovers Sunset Cruise
If you are looking for unforgettable outback Aussie tours look no further than taking one of the Thomson River cruises at sunset, it is one of the best attractions in Longreach. This Longreach river cruise is fully licenced and offers a two course camp oven dinner under the stars at Smithy's Outback dinner and show.
Immerse yourself in the colours of an outback sunset as you glide down the Thomson River Longreach. Take in 360 degree views of the river and floodplains from the top deck of the Longreach Explorer.
The Captain will delight you with stories about the region's indigenous heritage, tales of the river and its wildlife. Enjoy an ice cold drink and nibbles while taking in the beauty of sunset bend.
As dusk turns to night it is time to dock at Smithy's Outback Dinner & Show. Relax under the stars and be entertained with songs and stories while enjoying table-service dining with modern camp-oven themed cuisine.
Click here to find out more about this tour.
Longreach Powerhouse Museum
The Longreach Powerhouse was operational between 1921-1985 and is now the largest preserved generating facility in Australia.
This museum is one of the most unique attractions in Longreach and not only tells the story of how power was generated throughout the shire but also has a display of machinery and historical exhibits throughout the museum and Nobo cottage.
Longreach Arts & Crafts Centre
The first thing you will notice about the Longreach Arts & Crafts Centre is that it was once the home of the Queensland Ambulance Service.
This elegant old building houses a gallery which showcases the artworks of local western Queensland artists, a workshop space and pottery shed. It is the perfect place to check out the local arts and crafts.
The Tropic of Capricorn Globe
Tropic of Capricorn runs through Longreach and the Tropic of Capricorn Globe marks the place where the temperate zone becomes the torrid zone reminding us that we are officially in the tropics.
It is a great place to take a selfie and check out the two different climates as you step in each zone.
Longreach Shopping
The Station Store – Kinnon and Co
When looking for a unique outback gift or Longreach souvenir look no further than The Station Store – Kinnon and Co. This store has a wide selection of country style hats, books, clothing and novelty items.
Western Emporium
The Western Emporium has an adorable range of baby wear, jewellery, bags, scarves and so much more. The shop features the work of Longreach artisans Outback Jack Designs Jewellery, Coola Cozzies, Essence of Soy Candles and JF Hides. You can find Western Emporium on Eagle Street Longreach.
Spinifex Collections
Right next to Western Emporium is Spinifex Collections. The shop sells an array of items including clothing, gourmet gifts, decorator items and jewellery. Here you will find a colourful collection of bird prints by artist Andi-Claire Pegler.
Barkers Newsagency
If you are looking for Longreach souvenirs the place to go is Barkers Newsagency. Here you will find a range of T-shirts, postcards, mugs and tea towels, a perfect memento of your trip to Longreach.
IGA Longreach
The IGA Longreach is the place to pick up all your grocery needs. If you are caravanning or camping you will find a great selection of meat, fruit and veg, frozen & canned goods and household items.
a
Longreach Accommodation
If you are looking for accommodation Longreach QLD has a range of styles from Longreach hotels & motels to Longreach cabins & camping grounds. Here are our top choices for where to stay in Longreach Queensland.
Longreach Motels
Saltbush Retreat Longreach Review
For a dash of country character, you cannot go past the Saltbush Retreat. Accommodation styles include the luxurious 4.5 star Homestead Stable and Pioneer Slab Huts which feature a private bath terrace. There are also a range of 3.5 star rooms that are available with access to the pool, BBQ area and laundry facilities.
Each homestead stable and slab hut rooms have a comfortable outback country décor with air-conditioning, a fully functioning kitchen with a microwave, stove, kettle and refrigerator. The rooms come with a seating area with flat-screen TV and private bathrooms that feature a shower and a hairdryer.
The Saltbush Retreat is a 3 minute drive to the Australian Stockman's Hall of Fame, Qantas Founders Museum and a 25 minute walk to central Longreach.
Longreach Motor Inn Review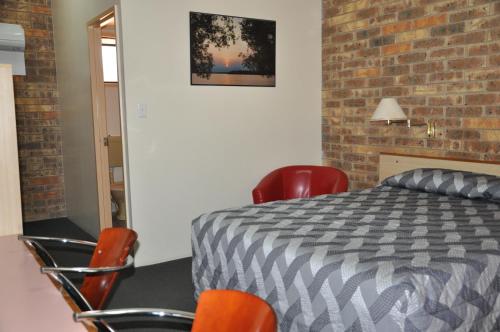 The Longreach Motor Inn is centrally located opposite the Longreach Railway Station which is convenient for those arriving by train on the Spirit of the Outback.
The Motor Inn boasts a range of rooms that include queen studio, deluxe queen room, king room with balcony, queen executive rooms, large family rooms and family two bedroom suites.
All rooms are air-conditioned and offer complimentary WiFi, tea & coffee making facilities, a refrigerator, hairdryer and ironing facilities. The Inn has a swimming pool, sauna, an onsite restaurant with a room service menu available.
Albert Park Motor Inn Longreach QLD
Offering twin, queen, king and family rooms the Albert Park Motel Longreach is set in an idyllic bush location and is close to many attractions in Longreach including the Australian Stockman's Hall of Fame and Qantas Founders Museum.
All rooms are airconditioned and have a flat screen TV, desk, a refrigerator, tea and coffee making facilities and the bathroom has a hairdryer and free toiletries.
The Albert Park Motor Inn boasts an onsite restaurant and bar, resort style pool with cold spa, kids pool and guests' laundries.
Check here for latest rates and reviews…
Abajaz Motor Inn Longreach Review
Located within a 10-15 minute walk to town the Abajaz Motel Longreach has a variety of rooms to choose from including deluxe queen, standard twin, economy triple and family rooms.
The rooms are comfortable and clean, come with microwave, tea and coffee making facilities, flat screen TV with cable channels, desk and private bathroom with free toiletries.
This 3 star motel boasts BBQ amenities, a seasonal outdoor swimming pool, a garden setting and free WiFi. The hotel has the reputation for being one of the friendliest motels Longreach QLD.
Check here for latest rates and reviews…
Jumbuck Motel Longreach Review
When staying at the Jumbuck Motel in Longreach you get a choice of queen room, a classic twin, family rooms with bathroom or interconnecting rooms.
All rooms are air conditioned and come with a flat screen TV, refrigerator, tea and coffee making facilities and the private bathroom has a hairdryer and free toiletries. The motel boasts a saltwater swimming pool, outdoor seating, laundry facilities and business centre.
The Jumbuck Motel is a 10 minute walk to the Qantas founders Museum and Australian Stockman's Hall of Fame.
Longreach Motel Review
The Longreach Motel is in the centre of Longreach and just a 5 minute walk to the shops and cafes of Eagle and Duck streets. The Qantas Founders Museum and Stockman's Hall of Fame are popular attractions in Longreach and are a short 10 minute drive from the motel.
The hotel offers both queen rooms or deluxe doubles and twins with free WiFi and onsite parking. All rooms are air conditioned, have a microwave, toaster and kettle and flat-screen TV with cable channels. Other motel amenities include BBQ facilities, a guest laundry, garden and luggage storage service.
Click here for latest rates and reviews…
Longreach Accommodation Cabins & Caravan Parks
Longreach Tourist Park Review
These days many people are setting out to discover Queensland in a caravan, RV, campervan or tent and looking for caravan parks Longreach QLD.
The Longreach Tourist Park mixes it up with a range of accommodation including deluxe villas and cabins, standard cabins and ringers' quarters as well as powered ensuite sites and powered and unpowered camp sites.
This Longreach caravan park has a fully-equipped camp kitchen, free BBQ areas, three amenities blocks with four laundries and boasts two swimming pools.
If you are looking for Longreach pet friendly accommodation the park is pet friendly for all onsite van accommodation.
Check here for reviews and latest rates…
Places to visit near Longreach
There are many interesting places to visit near Longreach and one of our favourites is the small town of Ifracombe in Queensland.
Ilfracombe Queensland
Ilfracombe is known as "The Hub of the West" and has a history founded on sheep and the railway. The town was the gateway to Wellshot Station which was once the largest sheep station in Australia covering a staggering 4,716 km2 at its peak.
As the railway slowly made its way west from Rockhampton railway towns sprang up along its route. What I found fascinating was that as the railway moved west the railway towns were dismantled and rebuilt at each new location. In 1891 the railway came to Ilfracombe which became the transport hub for Wellshot Station.
You can learn more about the region's fascinating history at the Wellshot Centre in Ilfracombe's main street.
Things to see in Ilfracombe
Machinery Mile
Machinery lovers will enjoy walking along Machinery Mile. Here you will find a huge range of buggies, trucks, farm implements and curiosities to admire.
Oakhampton Cottage
Oakhampton Cottage is located along Machinery Mile. The cottage was built around 1907 and is furnished as it would have been in the day.
The Wellshot Centre
The Wellshot Centre tells the story of Wellshot Station and the history of Ilfracombe. Make sure to watch the 20 minute film "A Rush for Grass" as it gives great insight into the sheep industry during its heyday.
Ilfracombe Memorial Park – Swimming Pool and Spa
When visiting the Ilfracombe Pool and Spa you have a choice of cooling off in the swimming pool or relaxing in an Artesian Spa. There are barbecue facilities and playground equipment which are provided free of charge.
How to get to Ilfracombe
Ilfracombe is 27km east of Longreach on the Landsborough Highway. If you are travelling from Barcaldine to Longreach, you will pass through the town.
Restaurants in Ilfracombe
The Wellshot Hotel
As soon as you enter this pub you will be immersed in history and character. Hauled in by bullock cart after making its way down the railway line the hotel finally found its permanent home in 1890 and was named after the famous Wellshot Station.
When you visit the hotel, you will be welcomed by the friendly atmosphere, delicious country style comfort food and relaxing outdoor area. For those needing a coffee fix or light snack you can visit the Coffee Hatch. Their savoury mince jaffles make a perfect breakfast for those on the run.
You will be surprised to find money on the ceiling, these are donations to the Black Dog Institute and upkeep of Machinery Mile. Launching your donation onto the roof becomes an event, it is a lot of fun and harder than you think.
While there you may get to meet animals that have been rescued from neighbouring properties. We had the pleasure of meeting Snowy the calf and a newborn lamb, both were abandoned by their mothers and have become local celebrities loved by adoring patrons.
Accommodation in Ilfracombe
To get the best of Ilfracombe you need to stay at least one night. There are a couple of places to stay in Ilfracombe and they are listed below.
The Wellshot Hotel
The Wellshot Hotel offers a range of accommodation including budget single, double and family rooms with shared bathrooms and single rooms with private bathrooms.
All rooms are air conditioned, have tea and coffee making facilities, a sitting area and access to guest laundry. The Hotel has an onsite restaurant, bar, a garden and terrace.
Click here for rates and information…
Caravan Parks in Ilfracombe
For those looking for caravan sites Ilfracombe will not let you down, caravanning and camping enthusiasts can still enjoy all that Ilfracombe has to offer. If you need a pet friendly park look no further than the Ilfracombe Caravan Park.
Ilfracombe Caravan Park
The Ilfracombe Caravan Park has a friendly atmosphere and is shaded by trees. The park has a range of deluxe and ensuite cabins, powered and unpowered sites for RV's, caravans, camper trailers and tent sites for those camping in Ilfracombe.
There is a choice of separate ladies and men's bathrooms or unisex ensuite bathrooms containing shower, toilet and sink. The caravan park has a camp kitchen and laundry facilities.
Click here for information and rates…
Quick facts on Longreach
What is the best way to travel from Brisbane to Longreach?
There are several ways to travel to Longreach from Brisbane the capital of Queensland. By far the quickest is by air, the most luxurious is an epic train journey on the Spirit of the Outback and there is also the freedom of a road trip by car.
Are there Brisbane to Longreach Flights?
Yes. Qantaslink flights from Brisbane to Longreach depart four times a week with a duration of 2 hours and 10 minutes.
Are there trains to Longreach?
Yes. Taking a trip on the Spirit of the Outback is a memorable train journey of a lifetime. There are two styles of travel first class and economy.

For those wanting luxury all the way first class provides customers with an exclusive lounge area, dining in the Tuckerbox Restaurant and a first class sleeper.

The train departs from Brisbane Roma Street Station and arrives at Longreach Railway Station after covering 1,325km in 26 hours.

More information on the Spirit of the Outback can be found here.

How far is Brisbane to Longreach by car?
The quickest route from Brisbane to Longreach by car is via the Warrego Highway and A2. The journey has a drive time of around 13 hours covering 1,179km. This route takes you through such towns as Chinchilla, Roma, Blackall and Barcaldine.
Is there car hire in Longreach?
Yes. If you are needing a car during your stay in Longreach car hire could not be easier.

Click here for car hire rates.
Last words on best attractions in Longreach
We thoroughly enjoyed our time in Longreach, we got to experience the generous outback hospitality and will never forget the friendliness of the locals.
The land around Longreach is harsh and often unforgiving but it has a beauty, for me the excitement of seeing native animals in the wild and the sight of clear night sky sparkling with stars has left me breathless.
This trip has opened my eyes to the hard working pioneers of this country, how they tried to tame this land and I wonder what they would think of us today. We will look back on Longreach with fond memories.
Come along with us as we say goodbye to Longreach and continue our journey to Winton Queensland.
Have you visited Longreach? What attractions in Longreach did you like the best?
PIN THIS TO YOUR TRAVEL PINTEREST BOARDS ↓