The top Sydney experiences is a guest post contributed by Kiran, from the Great Ocean Road Collective.
Sydney is a vibrant, busy city, but interspersed throughout are little pockets of peace, tranquillity and wildlife. From famous, impressive buildings to lively beaches perfect for surfing or sunbathing, the list is endless when it comes to things to do in Sydney.
We've compiled a list of the top Sydney experiences, grouped in categories which should make it easier for you to choose activities which suit your style of travel.
This post may contain affiliate links, which means we may receive a commission, at no extra cost to you, if you make a purchase through a link. Please see our full disclosure for further information.
Famous Works of Architecture
The Sydney Opera House
The Sydney Opera House is an icon which brings in tourists from all walks of life. Famously pictured during new years eve celebrations, the building actually comprises of a number of performance halls and venues.
Over 1,500 shows are performed here, and it's well worth booking to see one during your trip to Sydney. With performances by the Australian Ballet, the Sydney Symphony Orchestra and the Sydney Theatre Company taking place across the year, you won't run out of entertaining options. If you're more interested in the stunning architecture of the building, guided tours are available.
Sydney Harbour Bridge
The Sydney Harbour Bridge was completed in 1932, after eight years of construction. The unique facade coupled with the bridge's surroundings makes for a perfect picture. Known by locals as the 'Coat Hanger', the bridge is perfect for all travelers. Climbing the bridge is by far the best way to see the stunning views, but if climbing it doesn't appeal to you, there are footpaths which give you access to walk across the bridge.
For more information on the Sydney Harbour Bridge, head to the nearby Pylon Lookout, where there are displays documenting how the bridge was built. Venture to the top of the lookout and you'll be rewarded with uninterrupted views of the eastern part of the harbour.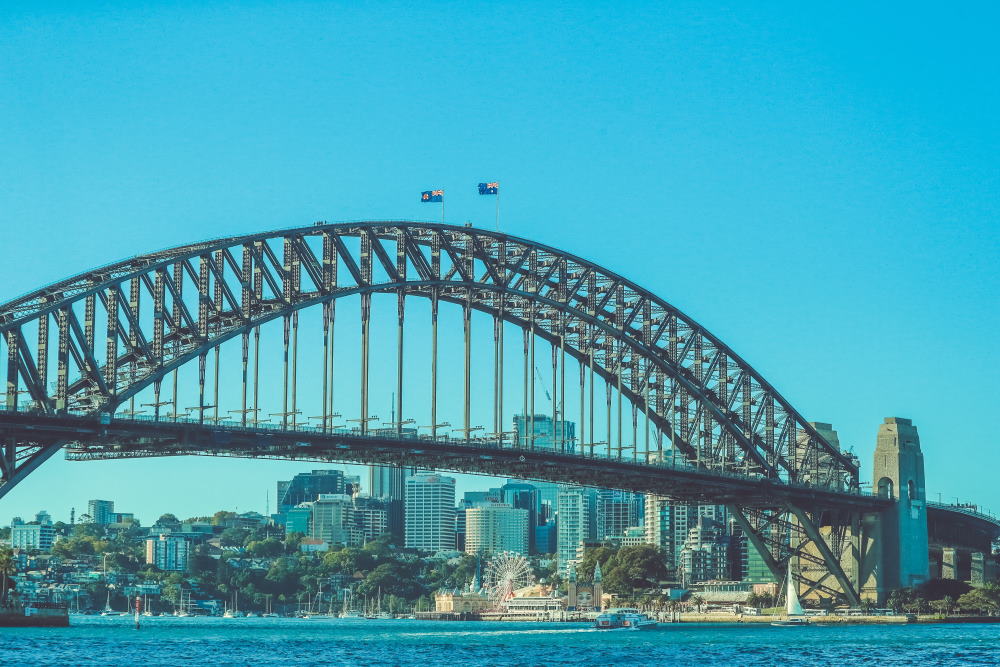 Queen Victoria Building
Locally known as QVB, this historical building is a sight you should definitely visit during a trip to Sydney. It's great for those who want to explore the quirky boutiques and cafes, and the architecture will surely keep you occupied. Aspects of the Romanesque architecture give the building a cathedral-like feel and there's plenty to look out for as you meander around, such as the two historical clocks, statues and domes.
The Sydney Tower Eye
For unparalleled views over Sydney, the Tower Eye is a must. 360 degree views over the city, beaches and the distant mountains ensure that you take home memorable pictures from the highest point above Sydney.
In addition, the Observation Deck offers an interaction experience which is perfect for families, or those who want to learn more about the iconic landmarks. High powered binoculars and touch screen panels talk you through some of the most important attractions in the city, and the ticket price includes a 4D cinema show, as well as a weather guarantee.
Stunning City Beaches
Bondi Beach and Coogee Walk
Bondi Beach, named after an aboriginal word which means 'noise of water breaking over rocks'. It's one of the most famous beaches associated with Australia, alongside other popular beaches like Bells Beach in Torquay. It's proximity to Sydney's CBD makes it easily accessible, and the relaxing surf and soft sand draws in everyone from young travellers to families and locals.
If you fancy a bit of beachside shopping, check out the local market which takes place every Sunday, and don't forget to take your sunscreen!
The Bondi to Coogee Walk is perfect if you want to get a bit of exercise in as you admire the stunning beaches with their sandstone cliffs. It's a popular route, so you can expect to pass plenty of cafes and restaurants which help break up the walk if you fancy a drink with an incredible view. If scenic coastal routes are on your list of things to do, Australia has no shortage of them. The Surf Coast Walk in Victoria is a popular trail for those looking to explore the coastline.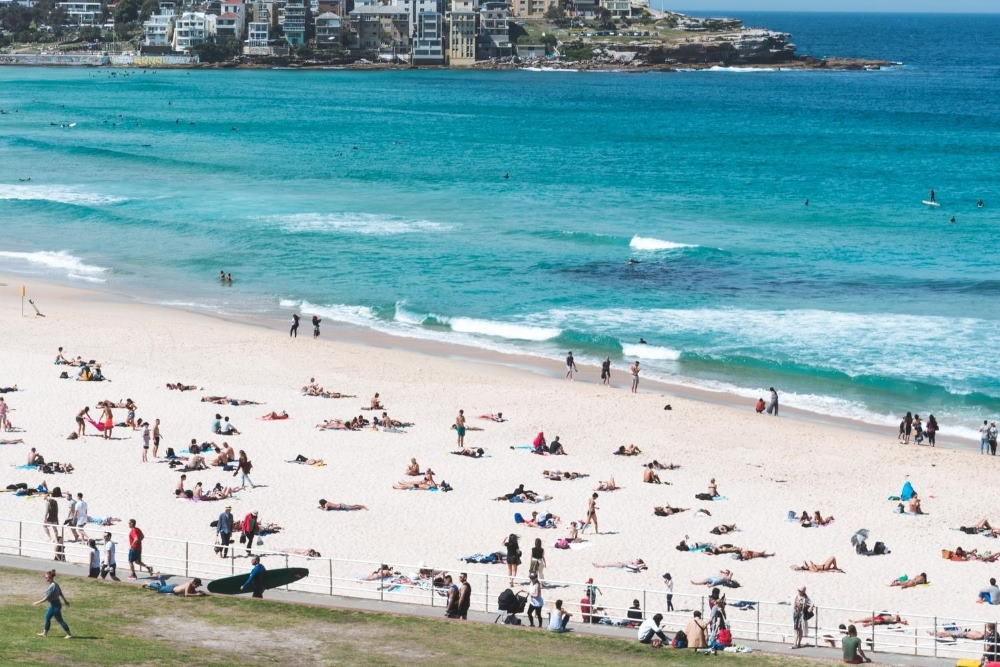 Manly Beach
After Bondi Beach, Manly beach is a popular beach and one which is definitely worth a visit when in Sydney. Less crowded than Bondi, Manly Beach has access to restaurants, shops and many activities, so it's easy to spend the day here. To make a full experience out of it, take a 30 minute ferry ride from Circular Quay, where you'll get fantastic views of the Sydney Opera House and Sydney Harbour Bridge.
Manly beach is also great for surfing, with many surf schools and board rentals located on the beach. If you prefer to stay out of the water, there are plenty of cafes to relax at and enjoy the view.
Balmoral Beach
If you're travelling with a family, Balmoral Beach is a great option. Offering calmer waters than Bondi and Manly, it's ideal for young children, and the addition of a shark net makes it even more attractive for those who fancy a swim.
There's a lot of water activities which can be done here, such as kayaking, scuba diving, windsurfing and stand up paddleboarding. Whilst in the area, it's worth checking out the Balmoral Bathers Pavilion, which is a heritage listed building which now features a restaurant and cafe.
Additionally, there's a park nearby with peaceful picnic spots, and plenty of cafes close by to refresh yourself after a long day of relaxing.
Palm Beach
Palm Beach is famously known for being filmed in Home and Away, and offers clean, clear waters and plenty of down time. There are plenty of watersports and activities to do on this beach such as surfing and fishing, and an ocean pool for kids means the whole family can join in.
Approximately 50 minutes from the city center, you won't be disappointed as the distance means Palm Beach has extremely good water quality, and with the picnic spots and upscale restaurants and cafes to eat in, you can easily spend an afternoon here.
Sydney's Beautiful Parks
Hyde Park
A true idyllic sanctuary, Hyde Park offers shaded lawns and picnic spots, beautiful fountains and a range of eye catching flora. It's common to see locals who work in the city head here to enjoy lunch, as well as tourists in search of some tranquillity within the city. Before you leave, make sure to check out the Australian Museum located on the east side of the park, which is home to the largest natural history collection in Australia.
Royal Botanic Garden
A trip to Sydney wouldn't be complete without visiting the Royal Botanic Garden. Not only will you experience gorgeous views of The Sydney Harbour Bridge, Sydney Harbour and the Sydney Opera House, you'll be able to admire the many species of animals and plants which inhabit the gardens. Keep your eyes peeled for fruit bats, water dragons and different bird species, and check out which exhibitions are on at The Calyx.
In addition, the Royal Botanic Garden has an Aboriginal Heritage Tour, which is 90 minutes long and guided. Here you can learn the fascinating ways in which aboriginal people used plants for traditional uses, and how they played a big part in their culture. You'll even get to experience some bush foods, but make sure to book well in advance to ensure you get a space on the tour for your travel dates. Admission to the park is free, and it's open daily from 7 am.
Centennial Park
Sydney's largest park is the perfect place to kick back and spend a few hours enjoying the peaceful, green environment. With plenty of statues, ponds and plants, it's a lovely place for families as well as solo travellers, as the relaxed vibe invites all types of people.
If you fancy being active, there's an outdoor fitness station, cycle routes and even range-led walks to partake on.
Wildlife in and Around Sydney
Taronga Zoo
Home to over 5000 animals and spanning 21 hectares, this enormous zoo can easily take a day to explore. An attractive element of the zoo is its proximity to the shores of Sydney Harbour, giving visitors a panoramic view over the harbour and city skyline.
Learn about the animals native to Australia as well as other exotic species, and check out the informative exhibitions that are on each day. With restaurants and cafes, you can also enjoy lunch here.
Australian Reptile Park and Wildlife Sanctuary
In the north of Sydney, visitors interested in seeing exotic reptiles such as alligators, pythons and tortoises. More friendly animals include koalas, platypus and kangaroos. The drive to the park takes approximately 1 hour, and there are numerous bus tours which visit the reptile park and sanctuary.
For the ultimate koala experience, you might be interested in the Kennet River Koala Walk, situated along the Great Ocean Road.
Featherdale Wildlife Park
Located 45 minutes from the city, Featherdale Wildlife Park is perfect for those interested in Australia's native fauna and learning more about the bush. There are also animals such as wombats, emus, wallabies, Tasmanian devils, kangaroos and much more.
The Featherdale Wildlife Park offers interactive experiences and lots of free animal presentations, which can be enjoyed by travelers of all ages.
Whale Watching
With various cruise options with differentiating time lengths and features, Sydney is not only a great place to view animals on land, but also out in the deep blue. Commonly found in the waters close to Sydney, orcas, southern right whales and pilot whales can be spotted during a tour, and you may even come across some dolphins along the way.
Most cruises offer the opportunity to rebook if no whales are sighted during your tour, so it's a good idea to book a whale watching experience early on in your Sydney Trip.
Sydney Sea Life Sanctuary
Sydney Sea Life is a fantastic way to get up close to some of the most fascinating sealife in the world. With more than 650 different species, adults and kids alike will be left in awe after a visit to the sanctuary, and armed with useful information about marine life and their habitats.
Take a walk through the glass tunnels and resist the urge to panic as sharks swim around and above you, or if you're feeling brave, take a dive with the majestic creatures and leave Sydney with unforgettable memories.
Last words on top Sydney experiences
Whatever you plan on doing in Sydney, there's so much to experience, and these unique experiences can appease any type of traveller. Whether it's nature or city life that you're interested in, Sydney has a little bit of everything to make the perfect travel destination.
Author Bio:
Kiran is of the Great Ocean Road Collective. A website dedicated to sharing the beauty of the Great Ocean Road in Australia with travellers far and wide. If you are planning your trip, need some inspiration or looking for authentic advice on Aussie travel visit our website The Great Ocean Road Australia or check us out on Instagram.
PIN THIS TO YOUR TRAVEL PINTEREST BOARDS ↓