What better way to enjoy a weekend of sun at the beach or in the bush than to take one of these weekend getaways near Brisbane, the state capital of Queensland.
We asked fellow travel bloggers for their favourite weekend trip away from Brisbane and here are their suggestions.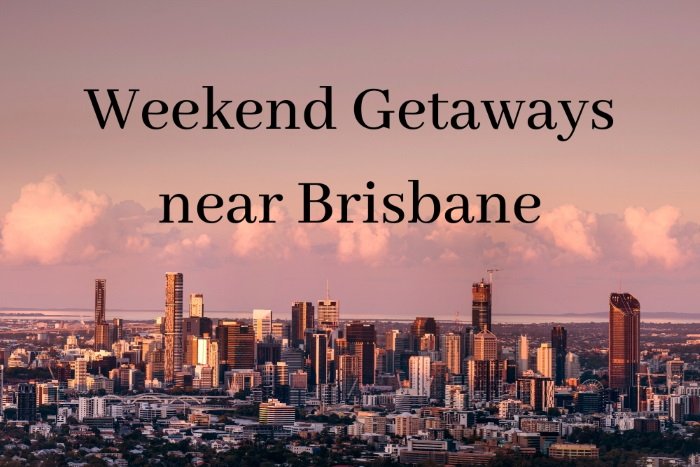 This post may contain affiliate links, which means we may receive a commission, at no extra cost to you, if you make a purchase through a link. Please see our full disclosure for further information.
Bundaberg
By Rosalind from Frequent Traveller
One of our favourite weekend getaways from Brisbane is Bundaberg. The city is home to endless sandy beaches and has a wide range of attractions that will please visitors of all ages. Combined with one of the sunniest climates in the world Bundaberg is one of the best weekend getaways near Brisbane.
Bundaberg is an easy 4 ½ hour drive from Brisbane via the Bruce Highway. When you visit Bundaberg, you will be greeted by charming old world buildings and breathtaking river vistas. For foodies, the city has a thriving restaurant and café culture that showcases the best of the regions local produce.
Visiting iconic Bundaberg attractions such as the Bundaberg Rum Distillery, the Bundaberg Brewed Drinks Barrel or taking a riverboat cruise on the Bundy Belle are a must.
You will also be staggered by the natural beauty of the region. Leafy green sugarcane fields and the deep red soil of the small crops glide past as you take the 15-minute drive out to the Bundaberg beaches. These pristine beaches are perfect for swimming, snorkelling, and surfing. Boating enthusiasts will love the local fishing.
Walkers and cyclists can enjoy a variety of natural habitats as they walk along the Turtle Trail coastal pathway from Kelly's Beach at Bargara to Burnett Heads.
For accommodation in Bundaberg we often stay at the Point Resort Bargara which feature ocean views and is a short walk to popular Kelly's Beach and the restaurants and shops of Bargara.
Kingscliff on the Tweed Coast
By Maureen from So Many Places! So Little Time!
Kingscliff is about an hour and a half drive from Brisbane on the coast, in the Northern Rivers Region of the Tweed, and very close to the Queensland border. The regular holidaymakers who come to Kingscliff from Brisbane like to keep Kingscliff a secret. In Kingscliff they can enjoy a great beach holiday without having to share the beach and cafes with the hoards of tourists, traffic, and high risers that the locals must compete with just up the road on the Gold Coast.
Kingscliff is a charming, coastal, laid back village. It is all about the beaches. No matter which way you go there are miles of magnificent surf beaches and at the southern end of town is the Cudgen Creek area that's a perfect spot for paddle boarding, fishing, and swimming.
The quaint village has boutique clothes shops, surf and sports shops and an excellent range of restaurants and cafes. Tucked away in an arcade in the main street it has an eclectic art house theatre serving food and drinks. A great way to enjoy a holiday movie. The local surf and bowls clubs are right on the beach and the historic renovated pub is well known for its weekend music.
There are some great weekend markets and there are plenty of interesting walks including a beachfront walk that goes for miles, and a walk to the local lighthouse. Enjoy your stay and find more information and tips at weekend getaway at Kingscliff.
For accommodation at Kingsliff NSW see these recommendations.
Ballina, New South Wales
by Phoebe from Your Green Grass Project.
Located a quick two-hour drive South of Brisbane is the small beach town of Ballina. Close to Byron Bay but not yet crowded with backpackers, Ballina is a great choice for a couple's weekend or family trip. Your weekend will be spent outdoors with plenty of activities on offer to suit all tastes.
Take your pick from coastal walks, an afternoon relaxing at the beach, surfing lessons, dolphin spotting, fishing. Or head inland and visit Summerland Farm, a macadamia and avocado farm. Why not visit the Victoria Park Nature Reserve, a refreshing sub-tropical rainforest.
Once you've had your fill of enjoying the great outdoors, there are plenty of local restaurants to choose from. Along the banks of the Richmond River you can watch the dolphins in the river while eating your dinner, before taking a post-dinner stroll for an ice-cream
Accommodation in Ballina
If you would like to stay in a hotel, then the Ballina Heritage Inn is the number one 4-star rated hotel in Ballina, known for its stellar customer service and friendly atmosphere. Conveniently located in the heart of the town so you can walk to the beach and all the nearby attractions. Airbnb is often a better choice for families wishing to stay in self-catered accommodation and Ballina has plenty of affordable options as well as gorgeous beachfront houses.
Gold Coast
by Suze from Survey Suze.
The Gold Coast needs little introduction. Located a 1-2 hour drive depending on your destination and traffic levels, this is an easy weekend getaway near Brisbane.
The Gold Coast has many attractions. To start with, there are its gorgeous beaches which line this coastal area. Next, there are the huge theme parks. Sea World, Movie World, Dreamworld and Wet N Wild are all easy to visit. With the latter three options being located on the highway between Brisbane and the Gold Coast, these can be a great way to break up your journey.
What can be even better is visiting the natural attractions in this area with a whale watching cruise or visiting Lamington National Park where you can find waterfalls or take a Tree Top Walk in the rainforest canopy. There are also many adventure and sporting activities from bungy jumping to surfing to kayaking.
For a meal with a difference, go to Draculas for an amusing stage show while eating top rate food
There are many great accommodation options on the Gold Coast and it can be easy to bag a last minute bargain if you aren't visiting during peak times. Our favourite choice is the QT Gold Coast which is a modern 5 star hotel in a handy location in Surfers Paradise close to the beach.
Stanthorpe
By Melissa from Queensland Camping.
Stanthorpe is a rural town, close to the NSW border around 2.5 hours drive from Brisbane. During the cooler winter months, Stanthorpe is a particularly a popular destination for people seeking a weekend getaway. With stunning little cabins with log fires, among gorgeous landscapes, this is the perfect place to relax with your loved ones.
The most popular thing to do in Stanthorpe of course is to visit all the wonderful wineries in the area. With its high altitude and cool climate, Stanthorpe produces international award winning wines. Visitors can taste these wines at the cellar doors as well as purchase a few bottles to take with them.
In addition to wine, Stanthorpe is well known for its delicious local produce. I highly recommend that you stop in and sample some of this produce including apple pie at Sutton's, cheese at Stanthorpe Cheese and olives and fudge from Mt Stirling Olives.
With all the local produce you brought, pack a picnic and head to Girraween National Park. Girrawaeen is gorgeous with its dramatic landscapes and granite outcrops and there is a range of great walking hikes for people of all different fitness levels.
There are numerous places to stay in Stanthorpe, but a favourite of mine is the Granite Belt Retreat. Here you will find gorgeous little cabins among 30 acres of natural bushland and they also have a brewery and restaurant on site too.
Moreton Island
By Ella from ManyMoreMaps.
If you're looking for remote beaches, crystal clear waters and a spellbinding national park, Moreton Island is one of the best weekend getaways near Brisbane for you!
One of the most popular things to do on Moreton Island is snorkel around the Tangalooma Wrecks, a cluster of ships which were sunk in order to create a safe place for small boats to dock on the island. Another one of the best things to do on Moerton Island is to head to 'The Desert' to try sandboarding!
An astonishing 95% of the island is designated National Park, so there are countless stunning and remote places to explore, such as the Cape Moreton Lighthouse or Honeymoon Bay. The Island is almost 72 square miles, and has around 300 inhabitants, so it's unbelievably easy to get off the beaten path.
The best way to experience everything Moreton Island has to offer is by camping, and there are numerous campgrounds scattered across the Island for you to stay at. If you're looking for something a bit less primitive, stay at the Tangalooma Island Resort or one of the other few guest houses on the Island.
To get there, drive 30 minutes from Brisbane to the Port of Brisbane, then catch the 90-minute ferry to the Island. Note that you'll need a 4wd to get to the Island as you'll be driving on sand.
Murwillumbah
By Rachel from Coffee Wise.
For outdoor lovers, a great weekend getaway from Brisbane is the small country town of Murwillumbah, located on the Tweed River on the Far North NSW Coast.
One of the highlights of a stay here is the hike to Wollumbin peak, better known as Mt Warning. Just 20 minutes from town, the 9km return trail is challenging, but rewarding, with 360-degree views to the coast and surrounding hinterland from the summit.
The hike is a 5 to 6-hour round trip with a difficult rock scramble to reach the top. For the truly adventurous, plan to start your hike at 3am and reach the summit for sunrise.
For a more relaxing day out, a visit to the Tweed Regional Gallery and the Margaret Olley Art Centre is a must. In addition to the display of many of Olley's artworks is the unique recreation of her home studio. With thousands of items relocated from her residence in Paddington to this gallery, it offers fantastic insights into the life of one of Australia's most celebrated Artists.
The gallery is surrounded by gardens and plenty of lawn for the kids to run around. The Gallery Shop has some beautiful pieces to take home. Enjoy an espresso on the deck at the onsite café and admire the stunning views out across the Tweed river and Wollumbin National Park.
Murwillumbah is an easy 1.5 hr drive from Brisbane and a great place to spend a weekend all year round. For a genuine country welcome, Mavis's Cabins at Uki is a great place to stay.
Bunya Mountains
By Jan from Budget Travel Talk.
The Bunya Mountains are located north-west of Brisbane with a drive time without stops of three hours.
Steeped in aboriginal history and a timber industry past, the mountain still has the largest stand of Bunya Pines in the world today.
A national park was declared in 1908 with walking tracks first appearing in 1939. Walking has endured as the most popular Bunya Mountains activity, followed by bird watching and relaxing by the campfire.
While the mountain has three campgrounds, those who prefer not to camp, will find an array of cabins and chalets available for rent in and around the township of Dandabah, the only village on the mountain.
Mountain weather dictates rain and cooler temperatures than on the coast. When looking for a cabin, place heating and preferably a fireplace on your list of requirements.
Dandabah is home to the National Parks Office, campground and the two cafes/restaurants. It is also trailhead for the majority of walks on the Eastern side of the Mountain. The Scenic Circuit walk is a good first time Bunya Mountains walk. The Bunyas Coffee Shop and Tavern is our go too place for morning tea, lunch and dinner, with a delightful deck that doubles as the highest Whisky Bar in Australia. Their Deck also has an inviting fireplace that I imagine draws a jovial afternoon crowd. Look for items on the menu made with Bunya Pine Nuts.
Sunshine Coast Beaches
By Christina from Travel2Next.
There are plenty of beaches on the Sunshine Coast to enjoy a getaway to feel the sand between your toes. The Sunshine Coast's beaches are some of the best in Australia and because the weather in this part of the world is often sunny and warm, getting away from Brisbane to go on a beach holiday is a real attraction. Sunshine Coast beaches are patrolled and safe for families, where you can swim between the flags or take a surfing lesson.
From the famous Noosa Beach, which is one of a handful of north-facing beaches in Australia, to Moffat Beach and Dickey Beach in the southern part of the Sunshine Coast, a beach-hopping weekend away is a fabulous way to spend a few days out of Brisbane.
There are excellent surf lifesaving clubs all along the coast, offering surfing lessons and bistros with great food. Mooloolaba Surf Life Saving Club has an excellent bistro almost right on the beach, where you can dine on fresh Mooloolaba prawns while gazing at a fantastic ocean view. Alexander Headland is another excellent beach, with comfortable public lounges where you can stretch out and enjoy the view of the ocean.
For an experience in nature, pack the family tent go camping on Woorim Beach in Bribie Island National Park.
The approximate drive time from Brisbane to Maroochydore is about one hour and fifteen minutes.
When visiting the Sunshine Coast for a beach holiday, you most definitely need to choose accommodation within a few minutes' walk from the beach. A favourite spot for families to stay is Mooloolaba, where you can choose from a range of seaside apartments, such as Mantra Mooloolaba Beach and Mantra Zanzibar.
Brisbane to Byron Bay Road Trip
By Matt from Exercises.com.au
A road trip from Brisbane to Byron Bay is a fantastic weekend getaway that can be made just about all year round, but particularly during the warmer months so that you can make the most of the beautiful nature.
From stunning beaches to mountains and rivers, it offers a number of physical activities for fitness or just for fun with your partner, kids or extended family such as hiking, running, walking, swimming or just relaxing.
Activities you can enjoy include kayaking with dolphins, sky diving, learn to surf, hiking the headland, snorkelling, hand gliding and bike riding tours.
A short 2 hour drive from Brisbane makes it an easy getaway including a border crossing into New South Wales.
The top attractions in Byron Bay include the lighthouse, main beach and the main street lined with restaurants, popular retail brand shops along with several shops offering local hand-made products.
One of the more popular hangouts is the Beach Hotel Byron Bay, set just back from the beach it offers basic meals and drinks as well as indoor and outdoor seating, pool tables and live entertainment.
For somewhere with a bit more style, try a meal or drink at the Balcony Bar & Oyster Co on Lawson Street at the main roundabout.
Click here for accommodation options and reviews in Byron Bay.
Rainbow Beach
By Pauline from BeeLoved City.
If you want relaxing weekend getaways near Brisbane, Rainbow Beach may be perfect for you!
Located about 3 hours drive from Brisbane, Rainbow beach is mainly known for its proximity with Fraser Island but the town itself is well worth a visit!
When you get there, head to the beach, you will discover beautiful coloured sands! It's a very unique thing to see. Australia is blessed with white sandy beaches like Hyams Beach in Jervis Bay. Rainbow Beach on the other hand offers a very different experience!
The beach itself is also a great place to go for a drive. If you have a 4WD, you will have heaps of fun! Make sure you go when the tide is low, that's the best moment to enjoy the scenery and colourful sand!
If you love watersports, you will be spoilt for choice! Kayaking, dolphin cruises… Rainbow Beach has it all!
Travelling with wee ones? Rainbow Beach is also a very family-friendly destination. You will find a lot of things to do with kids at Rainbow Beach. One of the best one is dolphin feeding in Tin Can Bay. The dolphin centre gives you the chance to feed wild pink dolphins. Unlike a lot of places, this one is very respectful of the animals and environment.
Camping at Rainbow Beach is a popular option and there are plenty of campsites along the beach, perfect for an adventure!
Click here for reviews of accommodation at Rainbow Beach with prices.
Maleny
By Erin from Australian Mountains to Sea.
Maleny is a town located on the Blackall Range overlooking the Sunshine Coast Hinterland, just one hour and 20 minutes from Brisbane. You can take most of the trip along the Bruce Highway, or alternatively turn off at Caboolture and enjoy a more scenic route between the Glass House Mountains and D'Aguilar National Park.
Maleny is a popular spot to visit for nature lovers, you cannot miss the Maleny Botanic Gardens and Bird Park; the Gardens being some of the most impressive we have seen. You can explore the extensive walking tracks through the Gardens with views of the Glass House Mountains the whole time.
The main street in Maleny is lovely; well maintained, oozing with character and most importantly boutique stores and great cafes. Our favourite is the Maleny Marketplace, where they serve organic coffee and guilt-free savouries and sweets.
For cheese lovers, you can take a tour at the Maleny Dairies farm itself, this is a great outing for families, as children are welcomed and encouraged.
Gardeners Falls is close by and worth a look. Other nearby towns to visit from Maleny are Montville and Landsborough. There is a great deal of history to explore in the Sunshine Coast Hinterland, including the Landsborough Museum.
There are so many lovely accommodation options in Maleny, to suit a wide range of budgets. Our family friendly recommendation is the Maleny Terrace Cottages.
Gold Coast hinterland
By James from The Travel Scribes.
When you think of the Gold Coast you're usually dreaming up long sandy stretches of beach, glittering high rise apartments and all the restaurants and bars dotted along the seaside. But the Gold Coast is also home to the Hinterland, a lush, green paradise boasting everything from 2,000 year old trees, many an odd mammal (like the small pademelon wallaby) and even bright neon blue glow worms.
Just 90 minutes out of Brisbane you can step into a wonderland, like the soaring hills of the McPherson Range, an extinct volcano, the incredible hiking trails of Springbrook or even the expansive subtropical rainforest of Lamington National Park, which is a UNESCO World Heritage site!
The entire area is a tonic after the busy suburbs of Brisbane, as you can spend days on end just wandering to the many gushing waterfalls, meandering along the various hiking trails or just relaxing in one of the luxurious rainforest retreats dotted amongst the villages and forests of the area. Avid hikers should definitely try and tackle the most famous walk in the area: the Warrie Circuit. A 17km walk in Springbrook, you'll see between 6 and 9 waterfalls on your journey, plus a number of lizards, incredibly beautiful birds and perhaps even a possum (or two!). You can reward yourself afterwards with a box of signature fudge at the town's resident Fudge Farm Shop!
And the best place to stay while in the area? Treat yourself to a weekend at the glorious Mouse's House, a set of fairy-tale inspired cabins (complete with names like 'Wicked Witch' and 'Snow White') nestled in the forest.
Coffs Harbour
By Ruma from The Holiday Story.
Spending a weekend in Coffs Harbour is an amazing experience and one of the best weekend gateways near Brisbane.
From Brisbane, it takes approximately 5 hours to reach Coffs Harbour by vehicle. The road distance is 390 km. Coffs Harbour is a great destination with stunning beaches and attractive themed parks.
Visit the big banana themed amusement park which cost $16 (adults), $14(children) for entry. Relax at Jetty Beach while adoring the view in Sealy Lookout. Have a gigantic view of the mountains from Forest Sky Pier, which is wheelchair accessible.
Dolphin Marine Conservation Park is loved by animal lovers and it is 7 minutes away. Here the visitors interact with the aquatic mammals especially Dolphins with a family pass which costing $105. Want to see a waterfall, visit Dorrigo National Park which is 1 hour away. The most interesting feature is the skywalk which provides an excellent view of the local bird life.
Having a walking trail for adventurous tourist is like a surprise gift. Take a walk from Bruxner Park Flora Reserve to Orara East State Forest. Have fun in Conns Harbour Butterfly House in the presence of various kinds of butterflies. Children will have real fun here.
Lastly, you can relax with a cup coffee from Nyanggan Gapi Cafe while walking down the Gumgali Track. Grab some Thai dishes from Memory Thai. If you want to taste the traditional rice and noodle dishes visit Suban Thai Restaurant. Enjoy your stay Coffs Harbour!
For places to stay when visiting Coffs Harbour, you can have a royal stay at the Pacific Bay Resort.
Coolum Beach
By Sinead from Map Made Memories.
Coolum Beach on the Sunshine Coast is a perfect weekend getaway from Brisbane as it is an easy 1 hour 20-minute drive from Brisbane city centre. We stayed in Coolum Beach for two weeks to recover from illness during our road trip along the east coast of Australia and could not picked a more perfect location for recuperation!
The main attraction in Coolum Beach is the expansive stretch of beautiful, pristine beach. Visitors can stroll for miles on Coolum Beach's soft, golden sand which looks particularly stunning at sunset. More active visitors could try a surfing lesson from Coolum Surf School or enjoy a thrilling day at Coolum Aqua Park.
Hikers should head to the nearby Mount Coolum National Park to walk to the top of the 25-million-year-old Mount Coolum for fantastic 360-degree views of the surrounding landscape. This hike to the top of the world's second largest rock is a short but challenging 1.6-kilometre walk. We also used Coolum Beach as a base to visit Australia zoo at Beerwah and the famous Eumundi Markets.
The small town of Coolum Beach offers cafes and restaurants to suit all tastes and budgets and in the summer season, visitors flock to Coolum's popular Twilight Markets. I would highly recommend staying at Coolum Beach Getaway Resort. The spacious, comfortable holiday houses provide the perfect base to explore the local area and are a short, five-minute walk to the beach. The friendly resort includes a relaxing heated pool, jacuzzi and tennis court.
O'Reilly's Rainforest Retreat
By Ngaire from Brisbane Kids.
Whether you are looking for a weekend of family relaxation or one that stretches the legs, Canungra in the Gold Coast Hinterland ticks all the boxes. Just 2 hours from Brisbane and minutes from the Gold Coast you will discover a world of rainforests, wineries, alpacas and country bakeries.
O'Reilly's Sky Lodges are a popular accommodation choice for families thanks to their 3 bedroom options and a location easily accessible by 2 wheel drive. These award-winning villas have been built into the side of a mountain offering a rainforest setting with expansive views of the Macpherson Ranges. Be prepared for a temperature drop; dress warmly, pack for rain and expect a rush of crisp mountain air as you drive up the mountain.
The sky lodges are a part of O'Reilly's Rainforest Retreat which offers a range of free and paid activities including a daily bird of prey show, their popular Tree Top Walk and school holiday programs that include flying fox adventures and wildlife encounters. Spend your days walking through ancient rainforests and marvelling at the numerous waterfalls and spend the night at the O'Reilly's Rainforest Bar for a pizza and hot chocolate. The resort has a store for supplies and a helpful reception desk to help you decide on what to do and where to go.
At the bottom of the mountain you will find Canungra Winery which sits alongside the Mountview Alpaca Farm. Enjoy a picnic paired with wine and a family-friendly alpaca experience where you can choose to walk and feed a gorgeous group of alpacas. To finish off your weekend make a stop at Flessers Bakery and enjoy one of their famous vanilla slices or bee stings to sustain you on the short drive home. This is a family-friendly weekend away guaranteed to reset the soul and revitalise the spirits.
Click here for accommodation rates and more information for O'Reilly's Rainforest Retreat.
Toowoomba
By Aleney from Boy Eats World.
Nestled in the picturesque Darling Downs on the edge of the Great Dividing Range, just over 90-minutes from Brisbane, Toowoomba is best known for its collection of picture-perfect cottage gardens and meticulously-preserved heritage buildings. But in recent years the town has also emerged as one of Australia's largest outdoor galleries, with a growing collection of more than 80 large scale street artworks by talented local and international artists adorning the town's walls.
When you're not ogling the artworks, you can step back in time on a self-guided walking tour along the main street, past Toowoomba's Regional Art Gallery and City Hall, to Russell Street and its historic homes dating back to the 1860s. While you're there, make a little history of your own with a stay in the heritage-listed Vacy Hall, one of Australia's great historic hotels. Or get hands on with history at Highfields Pioneer Village Museum, or the Cobb and Co Museum and its incredible horse drawn vehicle collection.
Toowoomba is also home to a thriving, and delicious, foodie culture. With some of the best local produce in Australia on their doorstep, there are speciality cafes, delis and amazing restaurants aplenty. Or grab a picnic and soak up the fresh country air at one of Toowoomba's 150 plus council parks and gardens, many of which are packed with state-of-the-art equipment for kids to climb, swing and slide on.
Make a stop at Picnic Point Lookout and Parklands, perched on the crest of the Great Dividing Range, for insane views over the range and and the Lockyer Valley. Or head a little outside of town to explore the lush rainforest of the Bunya Mountains and quaint country towns like Crows Nest, a 35-minute drive, where a national park walking trail leads to a waterfall and jaw dropping lookout over the Valley of Diamonds.
Click here for a accommodation options in Toowoomba.
Scenic Rim Trail
By Oksana & Max from Drink Tea & Travel
A great way to get active on a weekend getaway from Brisbane is to embark on the Scenic Rim Trail. Located just an hour south of the city, the Scenic Rim is a World Heritage region, known for its rugged mountainous landscape. The area incorporates the Gondwana Rainforest and mountains like the Great Dividing Range, the Border Range and Tamborine Mountains.
Hiking along the Scenic Rim Trail can be done in many different ways. Many locals opt to explore the region on day hikes, conquering one part of the trail after another, while avid hikers can set out on multi-day hikes, carrying all of their equipment and provisions with them.
We embarked on the classic 2 day walk with Spicers Scenic Rim Trail. Going with a tour operator meant 2 nights luxury glamping accommodation, all meals & beverages and two days of guided walks were all included. Plus, we loved their deep commitment to sustainability!
It's not a region frequented by many but that is part of its appeal. Taking a weekend getaway to the Scenic Rim is a great way to get off the beaten path and experience true Australian bushwalking. We would recommend it to who wants to get active in one of Australia's most scenic regions.
Summary of weekend getaways near Brisbane
This is a snapshot of some of the many places to visit for weekend getaways from Brisbane. There are of course so many more to explore in Southern Queensland and Northern New South Wales.
So, whether you're a local or visiting Brisbane, we hope we have inspired you with our list of weekend getaway options. Do you have a favourite getaway spot? let us know!
PIN THIS TO YOUR TRAVEL PINTEREST BOARDS ↓