Have you ever wanted to retire early and travel? Like many people we had dreams of a roving retirement which we eventually turned into a reality. Though the journey towards our roving retirement was a little bumpy, it led us to a lifestyle which has taken us to destinations across the world.
This post may contain affiliate links, which means we may receive a commission, at no extra cost to you, if you make a purchase through a link. Please see our full disclosure for further information.
Making the decision to retire early and travel, will probably be the most difficult lifestyle choice you will ever make. If you have the courage to take the first step, it can lead to a life of adventure, fulfilment and personal growth that will change your outlook on the world and its people.
Last year we gave a presentation on Roving Retirement at the International Living Conference in Brisbane Australia. Our talk was well received, and we were surprised by the number of people who were curious to learn more about our lifestyle. Here are our top tips for a roving retirement and how to make it happen.
What a roving retirement lifestyle looks like
We began our roving retirement lifestyle in 2015. I can't describe the excitement of boarding the plane knowing that we were taking the first steps into adventure and creating a life to suit our own timetable.
Since setting off into the unknown, we have visited Thailand, Cambodia, Vietnam, Singapore, Hong Kong, the Philippines, Japan, Malaysia, India, England, Scotland, France, Spain, Portugal, Holland, The Czech Republic, Greece, Croatia, Denmark, Finland, Switzerland, Germany, Italy, Morocco, Turkey, The United Arab Emirates, Qatar, Chile, Peru, Mexico, Honduras, The USA and Canada.
So about now you must be thinking that we must be rich to travel to so many places for so long. This couldn't be further from the truth; we are average folks who just happen to have a few tools that make long term travel achievable.
How to have a roving retirement
There are heaps of different ways to achieve a roving retirement lifestyle without breaking the bank. In fact, you may even find yourself saving money, stretching your travel dollar even further.
Popular choices are house sitting, travelling to cheaper countries, collecting frequent flyer reward points or taking along your laptop to work on the road. You can either try one of these options or mix them up as we do to get the best travel experience possible.
One thing for sure you won't be alone, you will be surprised by the amount of people enjoying a roving retirement lifestyle, including the many expats we have met in Thailand.
Ask yourself these questions
Experience made us realise how precious life is. Although we loved our jobs, we began to re-examine our lifestyle and found ourselves asking these four questions.
I believe that everyone should ask these questions from time to time as they are a way to get your dreams back on track, no matter what your dreams may be.
Making the decision
Travel has always been our passion and although we were years away from retirement, we began to look for ways to make a life of travel happen.
Making the decision to start a roving retirement lifestyle takes a lot of thought. There are so many things to take into consideration, family, downsizing your life and choosing which method of travel.
Leaving family and friends was the hardest decision, many thought we were crazy, but we decided that if we didn't give it a go, we would always regret it.
Downsizing your life
To supplement our travel, we rented out our house in Australia. To get the house ready we sorted through thirty years of clutter and set about downsizing all our worldly possessions.
It's not until you start this process that you realise how much junk you've collected. Garage sales, eBay and the local dump became our new best friends as we began the nightmare job of decluttering.
Sometimes we never thought we would finish and with our departure date fast approaching, we began to panic. Feeling tired and exhausted we worked well into the small hours until finally the last packing box was packed.
Our furniture and treasured items were put into storage ready to slot back into our life should we discover that the life of a roving retiree wasn't for us.
Ways to have a roving retirement
In this modern age travel couldn't be easier. Armed with WiFi, phone or laptop we can connect with family and friends in an instant. Through the internet the world has become a lot smaller, booking travel, applying for visas and transferring money is simpler than it's ever been. Add this to our travel styles and you will find that slow travel isn't just a dream but a viable option.
House Sitting
House sitting is a magical invention which benefits both homeowner and house sitter. It allows the homeowner to go on holiday knowing someone is looking after their house and pets, saving money on kennel fees.
The house sitter is provided with free accommodation and pet company in their home environment. We have stayed in stunning houses in fabulous locations and love being able to save extra money by cooking at home instead of eating out each night.
House sitting allows you to have extended stays while living like a local. Last year we spent five months house sitting across the United Kingdom and Europe. In that time, we only paid for 4 nights' accommodation. Imagine the savings to be had travelling this way.
We use the Trusted House Sitters website which features house sits from across the globe. If you would like to learn more about Trusted House Sitters click here.
Don't want to travel overseas but love the idea of house sitting? You don't have to travel internationally to take advantage of a house-sitting lifestyle. There are many house-sitting platforms that cater to local house sits, some of our favourites include Aussie House Sitters and Kiwi House Sitters. If you are interested in learning more feel free to contact us.
Travel to cheaper countries
One of the best ways to stretch your travel dollar is to spend time visiting countries with a low cost of living.
Asia, the former Eastern Bloc countries of Europe, Central and South America are popular choices as accommodation, transport and dining options are more economical than their wealthier counterparts. Many of these places are on a path less travelled making for unique experiences and adventures.
We have enjoyed long stays in both Thailand and Vietnam. We love living in these exotic worlds, not only is it cheaper to live but we have met so many lovely people. Living like a local has given us so many treasured memories.
With day to day living costs at a minimum saving money for travel is a lot easier. For Australians, another plus is that Asia is almost halfway to Europe which again saves on travel costs.
Travel off peak and shoulder season
Travelling off peak and shoulder season has always been an economical time to travel, flights and hotels are cheaper and the destination less crowded. We often travel off peak and have had some wonderful experiences but ultimately it comes down to personal preference.
Follow the sun
With flight baggage costs going through the roof many choose to follow the sun, taking less bulky easy-care clothing that fit into carryon luggage. Though we don't always follow the sun we are carryon luggage converts as lugging around full size luggage on a semi-permanent basis is a real drag.
Repositioning cruise bargains
Cruising is one of the most popular holidays' around, just board the ship, unpack, relax and let the ship lead the way.
You will often pick up cruise bargains on off peak and shoulder season, but the best cruise deal would have to be the repositioning Cruise. We recently took a 14 night repositioning cruise from Vancouver to Japan via Alaska. The cruise was cheaper than taking a flight and best of all I got to see Alaska and Japan, two places that have long been on my bucket list.
Collect frequent flyer reward points
Airline reward programs helped us travel further for longer. We have been a member of the Qantas reward program for many years and through maximising point collection we managed to collect enough points to enjoy many overseas flights. Read more about our frequent flyer travel. We are living proof that with careful planning you can make the seemingly impossible come true.
Visit dream destinations
Now that we've shown you ways to save money on travel, set aside time for those dream destinations. Even the most budget minded travel should be peppered with the occasional interlude of luxury, so make sure to include some of the places you've always longed to visit.
Become a digital nomad
Not ready to retire? You don't need to be retired to lead a roving retirement lifestyle. In this digital age we are no longer tethered to an office, if there is an internet connection and fast WiFi, you can put in a day's work while enjoying a nomadic existence.
Our website started as a hobby, a way to help people discover new destinations while imparting firsthand travel tips and advice. We also wanted something to keep our brain cells active while being retired. Little did we know that it would start a new career, a way to supplement our income.
Living the life of a digital nomad is exciting, you never know where your next office will be. My office has overlooked the canyons of skyscrapers in Hong Kong, had views of the mountains and sparkling blue waters of Lac Leman in Evian France and now I'm looking out across the islands and beaches of Nha Trang Bay in Vietnam.
Teach English online
During our travels we have met many people who teach English online. It's a fantastic way to earn money while travelling. It can be done from any location with WiFi which allows a lot of freedom.
To teach English online you will need to complete a TEFL (Teaching English as a Foreign Language) Course.
Tools for a roving retirement
Travelling for extended periods takes planning and there are many things to put into place before you leave home. Money, staying healthy on the road, travel insurance and visas are the most important and can be the most frustrating.
Here are some of the travel tools and tips we use, they have been invaluable and helped us out of quite a few scrapes.
Roving retirees money matters
Before we left Australia, we paid for everything with credit card. After all, why wouldn't we, it was the easiest way to collect Frequent Flyer reward points! Since travelling we have found that while many countries are happy to take credit cards there are just as many that believe cash is king.
Currencies, exchange rates and bank fees all come into play and it may seem like everyone is out to get their hands on your travel dollar. Fortunately, we have a few travel tricks up our sleeve.
Our favourite card for accessing cash when we travel is the TransferWise travel card. TransferWise is free to join and it allows you to set up borderless accounts for transferring and receiving funds in different currencies without the hefty fees charged by banks.
This is especially useful if you are a roving retiree or working remotely and being paid in foreign currencies. Because of the borderless account facility, you can essentially have bank accounts outside your home country to receive and send money quickly without the hefty foreign transfer exchange rates charged by the banks etc. TransferWise is fully regulated and we have been very happy with its ease of use. To read more and sign up for a free account click here.
The real game changer as far as we are concerned if the newly released TransferWise Travel card which you can get for free once you sign up. The card acts just like a regular debit Mastercard allowing you to purchase goods or access money from ATM's worldwide. However, the standout benefit is that you don't pay the hefty bank conversion fees.
Provided you have money in your account TransferWise will convert the currency at almost the official current exchange rate plus a small fee for the transaction. The TransferWise website and mobile App has a calculator which displays conversion rates and how much the transaction will cost compared to traditional banks. We have found the savings to be substantial.
For more information on whether the card is right for you click here.
Paying bills from overseas
No matter where you travel there are still bills to pay. Our advice is to have as many of these handled electronically. This also goes for bank statements and other commitments that are usually sent to you via traditional mail.
It also helps to have a relationship with your local bank manager or a contact in your local bank branch. Having direct access either by email or phone can help you out of any small glitches you may have while travelling.
Staying healthy during travels
Nobody wants to be sick when travelling. Make sure to research the health warnings of the countries you will be visiting and get vaccinated. Make sure to take a well-stocked first aid kit, which includes medication for vomiting and diarrhoea, sunscreen and insect repellent with DEET.
Our online store has a list of many great travel accessories including health and wellness products.
If you take medication make sure you have enough to last your journey. Take new prescriptions in case you run out. Ask your doctor about prohibited medications in the country you are visiting and always include a letter from your doctor with the list of medication you are currently taking.
Travel insurance
No matter how well you plan, it's a fact of life that even the most detailed plans can be disrupted in an instant. Click here to find out what happened to us recently.
When the unexpected occurs, access to pre-arranged travel insurance can be a life saver. We have all heard the horror stories of people being stranded overseas without adequate insurance and the heartache and stress caused by not being adequately covered. We would never travel without proper travel insurance as you just never know what's around the corner.
Our go to Travel Insurance company is World Nomads. What we particularly like about World Nomads apart from the competitive policy price is that they allow you to extend travel without the need to return to your home country. This is especially handy for anyone considering a roving retirement lifestyle.
We have made claims with World Nomads Insurance and they have always been dealt with fast and efficiently.
Click here for reviews and to compare prices.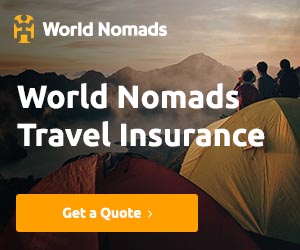 Will you need a visa?
Some countries offer visa free entry. However, many require a visa before entering. Getting accurate visa information can sometimes take a lot of research and the information provided is not always accurate.
The company we use and recommend for our visa information is iVisa. We have used them multiple times and always found they provide professional service, with competitive application fees for any visa's that are able to be arranged online.
Last words on top tips for a roving retirement
There you have it, those were our top tips for a roving retirement and how to make it happen!
There are so many ways to make a roving retirement work for you, these are just a few that have worked for us. Roving retirement is slow travel and stretching that travel dollar to last the distance can be as creative as you like.
If you have dreams to retire early and travel, consider a roving retirement lifestyle. It's a life filled with magical experiences and adventures that will keep you young at heart.
Do you lead a roving retirement lifestyle? We would love to hear about your experiences.
PIN THIS TO YOUR TRAVEL PINTEREST BOARDS ↓
Disclaimer: Frequent Traveller is a participant in the Amazon Services LLC Associates Program, an affiliate advertising program designed to provide a means for sites like ours to earn advertising fees by advertising and linking to amazon.com, amazon.com.au and its worldwide partners. Amazon and the Amazon logo are trademarks of Amazon.com, Inc. or its affiliates. If you chose to purchase through these links we will earn a small commission at no extra cost to you.