Have you ever wondered about the different levels of comfort between economy, premium economy, business and first class flights? Well over the last few years we have put these flight styles to the test and this is what we discovered.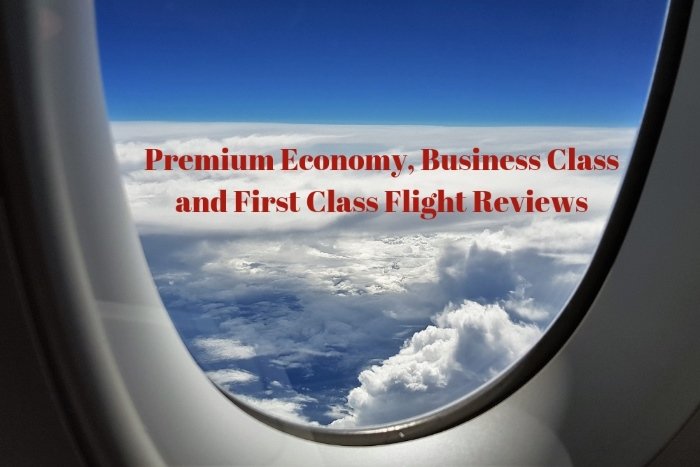 This post may contain affiliate links, which means we may receive a commission, at no extra cost to you, if you make a purchase through a link. Please see our full disclosure for further information.
Economy Class Past and Present Flight Reviews
Unless you are one of the fortunate few who only travel premium economy, business and first class, economy or cattle class as we fondly call it is the way most of us will experience flying from A to B.
Economy class has changed a lot over the last 35 years, I remember my first flight to Europe from Australia on Qantas in 1983. Economy seats were roomy, and I had to stretch to reach the footrest in front of me.
The meals were massive, and we were fed at least six times throughout the 24-hour journey. The drinks flowed as people stood in the aisle smoking and chatting.
You were given an amenities pack which contained, eye mask, toothpaste and toothbrush, comb, socks and earplugs.
Thankfully today the smoking is long gone but it has been replaced with smaller seats, tighter legroom, small infrequent meals, limited drinks and you no longer get an amenities pack.
Much of the fun has gone out of flying, as cramped quarters and security checks make travelling a little less glamorous.
British Airways Premium Economy Review
We chose to test drive premium economy by taking a BA 777 premium economy flight from Bangkok to London. BA premium economy benefits include a welcome drink of champagne or juice on boarding, amenities pack, better quality meals, larger seats and more baggage allowance.
The British Airways premium economy amenities pack included ear plugs, tooth brush and tooth paste, pen, socks, eye mask and noise cancelling headphones which were handed back at the end of the flight.
British Airways Premium Economy Meals
We were served a pre-lunch snack with wine of choice and all wines were served in a glass.
Lunch was silver service and included a starter of roasted chicken with potato salad, followed by a main of grilled Australian beef fillet with grain mustard sauce, potato mash, broccoli and carrots and a dessert of chocolate fudge cake with mixed berry compote.
Snacks were available throughout the flight and prior to landing we were served a light meal with juice, tea and coffee.
British Airways Premium Economy Seats
The BA premium economy seat pitch, is spacious with a retractable leg rest that gives support to your lower legs, allowing your legs to stretch out to the foot rest, this along with a generous seat recline makes for a more comfortable flight than economy.
Is British Airways Premium Economy Worth It?
In our opinion, yes, especially if you are on a long-haul flight, the added comfort allows you to arrive feeling less tired and more refreshed.
Finnair Business Class Review
We chose to fly business class with Finnair from Bangkok to Helsinki on an Airbus A350-900.
This was our second flight in business class with Finnair, this time we travelled on Frequent Flyer Reward Points but have found that often there are many unbelievable bargain business class flights through the Finnair website, so definitely make sure to check their website from time to time.
The Business Class Lounge
Flying business class gives you access to the business lounge which adds that extra touch to the business class experience.
The business lounge is the perfect place to relax before your business class flights. There are a range of delicious food and drink options to choose from and if you are on a transit flight, there are shower rooms to freshen up before setting off to your next destination.
Boarding Our Finnair Business Class Flight
Once you board the aircraft you will be helped by attentive airline staff to find your seat. The seats are wide, comfortable and fold down to a flatbed if you are on an evening flight.
We were welcomed aboard with a glass of Champagne and were given the inflight menu. For inflight comfort we were given a large pillow, quilt and amenities kit.
The amenities kit contained slippers, eye mask, ear plugs, toothbrush and toothpaste, Lumene Lahde intense hydration moisturiser and eye gel.
We had a large retractable TV screen and were given Bose noise cancelling headphones for watching the latest inflight entertainment. The headphones were handed back after the flight.
Finnair Business Class Food and Drink
Inflight service was wonderful, we were thoroughly spoilt by the friendly Finnair staff who served us a sumptuous range of Nordic dishes and award-winning wines with silver service.
We tried starters of salmon with salmon roe, egg salad and pickled cucumber and Thai style pomelo and coconut salad with grilled chicken. Our main meal was salmon fillet with lemon dill sauce, roast vegetable mash, asparagus and zucchini.
Other main meal choices included Stir Fried Beef in Oyster Sauce with fried rice and egg or Chicken Breast stuffed with sundried tomatoes, celeriac mash and bell pepper.
Throughout the flight we were served bar snacks, cheese and desserts. Just before landing we had a light meal of Chicken Caesar Salad and fresh fruit.
All this food sent us into a food coma, so we lay out the flat bed and slept the time away, waking up refreshed in Helsinki after our 11-hour flight.
Is Finnair Business Class Worth It?
If you can afford it or have reward points to spare, YES! No aches and pains from sitting in a cramped seat. No attitude from disgruntled airline staff, a trait we seem to be seeing more and more of in economy class.
Being able to lie down and sleep makes such a difference to how you feel when you arrive at your destination.
Emirates First Class Review
Flying first class has always been a bucket list dream, one that we thought would never be obtainable. Fortunately, we have been collecting Qantas Frequent Flyer points for years and when we realised we had enough points for a first class flight, we were over the moon with excitement.
Our first class flight was from London Gatwick Airport to Hong Kong on an Emirates A380 with a connecting flight in Dubai. If we thought that travelling business class was luxurious, first class took luxury to a whole new level.
Inflight service was wonderful, and from the moment we boarded the plane we were pampered by the Emirates staff who indulged our every need and treated us like royalty.
What is it Like to Fly First Class?
Our first class flight experience began with a complimentary limo ride from our hotel to the airport. We were fast tracked through security and customs and taken to the Emirates Lounge where we celebrated with a glass of champagne while sampling some of the delicacies on offer.
Boarding Our Emirates First Class Flight
Boarding the plane, we were taken to our Emirates first class cabin. We stored our carry-on bags in the luggage space within our cabin and settled into our plush armchair and were welcomed aboard with coffee, dates and a glass of vintage Dom Perignon Champagne.
Amenities Within Our Emirates First Class Cabin
The cabin was spacious and had doors that can be closed off for privacy. The room is decorated with wood panelling, has a full screen TV, lamp and a flowering orchid which adds a touch of class to the whole setting.
There is a food basket with a selection of snacks, soft drink mini bar which includes juice and bottled water, a mirrored amenities compartment containing moisturiser and lip balms and a small pull out writing desk. A large retractable tray table was hidden next to the mini bar.
The armchair has a massage feature and can be folded down into a flatbed at any time. There is a full-size pillow and duvet for comfort.
We had the use of Bowers and Wilkins noise cancelling headphones throughout our flight.
Emirates First Class Amenities Bag
We were given an Emirates First Class amenities bag which contained padded slippers, pyjamas, eye mask and a BVLGARI amenities kit filled with goodies. Watch our video to see what's inside…
Emirates First Class Food and Wine
Restaurant style meals were served on demand. The leather-bound menu held a large choice of canapes, appetisers, main courses, dessert and cheeses.
For dinner we chose an appetiser of Caviar served with chopped onion, grated egg, sour cream and lemon which was served with blinis and melba toasts. Alan tried the Mixed Grill and I sampled the Roasted Guinea Fowl for the main course.
For breakfast Alan had the Breakfast Omelette which also can with a selection of bread, pastries and jams. I chose a Continental Breakfast, a selection of cold cuts, cheeses served with fresh crusty bread, pastries and jam.
For lunch we taste tested the Arabic Mezze, all dishes were delicious and beautifully presented with white linen and silver service, like a 5-star restaurant in the sky.
With a large selection of award-winning wines to choose from, we enjoyed the Chateau Margaux 1998 and Dom Perignon Champagne.
Emirates First Class Cabin
What I loved about the Emirates first class cabin was the fact that you could be as social or private as you wanted.
You can enjoy a chat with other passengers and the lovely Emirates inflight crew or you could just close the door and luxuriate in the peace and quiet of your own personal cocoon.
Emirates First Class and Business Class Bars
When you fly Emirates First Class, you have a choice of bars, you can stay at the small first class bar or head down to the larger business class bar, with its relaxed seating area it is the perfect place to have a chat and make new friends.
Emirates First Class Shower Room
The Emirates First Class shower and bathroom is massive, a far cry from the cramped quarters of economy class. There is plenty of room to move and there are a range of beauty products to keep your skin hydrated and best of all you have your very own shower.
You can book the shower room for a 30-minute time slot. You have 5 minutes of hot water with good water pressure and it feels just wonderful to freshen up during a long-haul flight. There is a hairdryer, so you can look your best when you reach your destination.
Emirates First Class Lounge – Dubai
The Emirates First Class Lounge in Dubai is something to see, it is beautifully decorated in the Middle Eastern style and there is a choice of International restaurants to try. Of course, after all the wonderful food on our flight there was no way we could possibly eat another bite.
The lounge is an oasis of calm at what must be one of the busiest airports in the world.
Would You Fly First Class Again?
Yes, in a heartbeat! It would have to be one of the most memorable experiences of my life. One thing for sure, it has spoilt us for economy travel and we will always look lovingly towards the first class section of the plane every time we fly.
Travelling the World on Qantas Frequent Flyer Points
We love to travel, we had travelled extensively during our youth but there came a time when we had to settle down, buy a house, pay the mortgage, raise a family and become responsible adults.
Though happy and settled into our parenting lifestyle, we still had dreams of travel, a dream that we would have to put on hold until our children grew older, or so we thought until we discovered Qantas Frequent Flyer Points.
Earning Points Without Flying
Neither of our jobs involved flying, Alan was an IT Manager and I was a Disability Support Worker, all our points were earned through everyday living.
We earned points by paying for everything with our credit card, you have to be disciplined and be able to make regular payments to your credit card bill, but it worked for us.
We also shopped at Woolworths supermarket and used their Rewards Card to earn points from our groceries and Caltex fuel. With a growing family, we would often spend over $200 per week on food, so as you can imagine, our reward points grew at a rapid pace.
Our First Reward Flight
We had our first Qantas Frequent Flyer reward flight in 2005, it was our 20th Wedding Anniversary and Alan surprised me with a trip to Hong Kong, to say I was excited was an understatement and with willing Grandparents to look after our children, we had a memorable Anniversary.
Using Qantas Frequent Flyer Points
Since then we have used rewards points regularly, highlights have been the flight to England for my 50th Birthday, two world trips, one in Business Class and a First Class flight from London to Hong Kong for my 60th Birthday.
We swear by Frequent Flyer points because without them we would never have travelled as far or as grandly as we have.
Staying Loyal to Reap the Point Benefits
You must stay loyal to your chosen carrier and its partner airlines. Choosing the latest flight deals may be tempting but if you don't fly with your chosen carrier or partner airlines you will be throwing points away. Staying loyal is the key to collecting points.
Being Australian we are members of the Qantas Frequent Flyer Program and One World airline partners include British Airways, American Airlines, Finnair, Cathay Pacific, Japan Airlines, LATAM, Iberia, Malaysia Airlines, Qatar Airlines, Royal Jordanian, S7 Airlines and Sri Lankan Airlines.
Best Use of Frequent Flyer Points
Many believe that the best use of frequent flyer points is to buy a fare and use your points to upgrade to the class of choice. This stretches your frequent flyer points further, while allowing you to collect more points along the way.
Flight Reviews on Premium Economy, Business and First Class
We hope you enjoyed learning more about these Premium Economy, Business Class and First Class flight comparisons.
We are very grateful to have been able to experience these different flight styles. Looking back, I would never have dreamed that I would be flying Business Class or First Class in my lifetime.
Qantas Frequent Flyer Points started off as a way to make travel possible when it seemed an impossibility, now it is a lifestyle that has taken us well beyond our dreams and we are very thankful.
Do you collect Frequent Flyer Rewards Points? Where have your points taken you? We would love to hear your comments
PIN THIS TO YOUR TRAVEL PINTEREST BOARDS ↓