I have talked to many single women during my travels who say they would love to travel but feel intimidated by the thought of travelling alone. Especially Solo Female Travel in New York City
It is true that I travel the world with my husband Alan but when I began travelling so many years ago, it was as a solo female traveller, so I encourage anyone with dreams of travel to make them happen and don't let the thought of doing it alone stop you.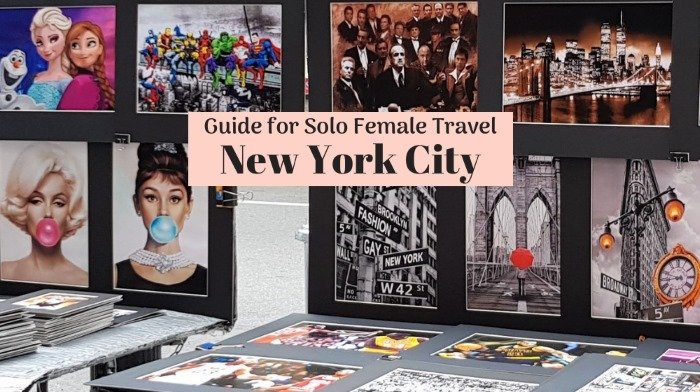 This post may contain affiliate links, which means we may receive a commission, at no extra cost to you, if you make a purchase through a link. Please see our full disclosure for further information.
Solo Female Travel New York City
Is New York safe for solo female travellers? I recently spent four days in New York City as a solo female traveller and I did this for two reasons, I love New York and because I wanted to prove that I could do it by myself.
When thinking of solo female travel, New York City may seem daunting, surprisingly it is a city I felt very safe in. As a female travelling alone, New York would have to be one of my most memorable travel experiences.
Movies and TV shows have heavily influenced our image of New York as a tough, gritty and unfriendly place but I found that to be far from the truth, New Yorker's are helpful, friendly and ready with a smile.
Travelling Solo to New York City
Getting to New York City by Bus
I started my solo trip to New York with a Trailways bus ride from Corning in New York State to New York City.
I enjoy travelling by bus, it takes me back to my travel roots when I travelled solo around Australia and it always fills me with a sense of freedom.
What I love about bus journeys are the little gems you see by just looking out the window. Travelling through New York State, I was charmed by the small towns. The sight of character filled Victorian homes with wide porches, rocking chairs and proudly draped American flags, gave me a glimpse of rural America.
Of course, the real thrill is when you get your first glance of the New York City skyline, that's when you realise this is not a dream, New York is going to be a reality.
Pretty soon the bus was pulling into the Port Authority Bus Terminal on 42nd Street and 8th Avenue and I was making my way to The Roosevelt Hotel, my home for the next four days.
Where to stay as a solo female in New York City
To get the best of New York City, I would suggest staying in Manhattan as it allows easy access to attractions. I like Midtown Manhattan, it is one of the best places to stay in New York.
Midtown Manhattan is a large area which starts just below Central Park on 59th Street and stretches all the way down to 14th Street, near Union Square Park.
During my visit to New York I stayed at The Roosevelt Hotel. The hotel is in a great location, just two blocks from Grand Central Terminal (perfect for catching the train and subway) and walking distance to Times Square, the Rockefeller Center and Radio City Music Hall.
The Roosevelt Hotel New York City
Walking into the foyer of The Roosevelt Hotel is like taking a step back in time to the 1920's, a prime example of the elegance and grandeur of New York's jazz age.
I stayed in a Queen room which had a desk and arm chair to relax in. The bed was one of the most comfortable I have slept in; the room was clean, and the linen changed daily by friendly staff.
The room decor was a little tired and the room didn't have a fridge or room service, but I think that is fairly common for hotels in New York.
One thing to be aware of is that though the hotel advertises free WiFi it is only free in the foyer, there was a $19 US charge per day for WiFi in the room. Luckily, I was able to use the WiFi on my phone during my stay.
The hotels Mad 46 rooftop bar is a great place to chill with a cool drink and a view after a long day of travelling around New York.
Click here for Roosevelt Hotel latest rates and information…
Grand Central Terminal
One of the things I love about the Roosevelt Hotel is its proximity to Grand Central Terminal.
Grand Central Station is huge and while many people are there to take the train and subway, even more visit to take photos of this stunning building.
Grand Central Station is so much more than just a train station, it is a piece of living history and one of the best places to visit in New York.
Grand Central Terminal is also home to food courts, just perfect for picking up that breakfast muffin and coffee before hitting the streets of New York.
The station is also home to Grand Central Market, which boasts a massive range of hot food, deli items, fresh fruit and salads. It's a great place to grab a takeout meal when you just want a break after a long day of exploring the city.
For a touch of tradition why not stop off at the Grand Central Oyster Bar, a place that has been pleasing the crowds since 1913.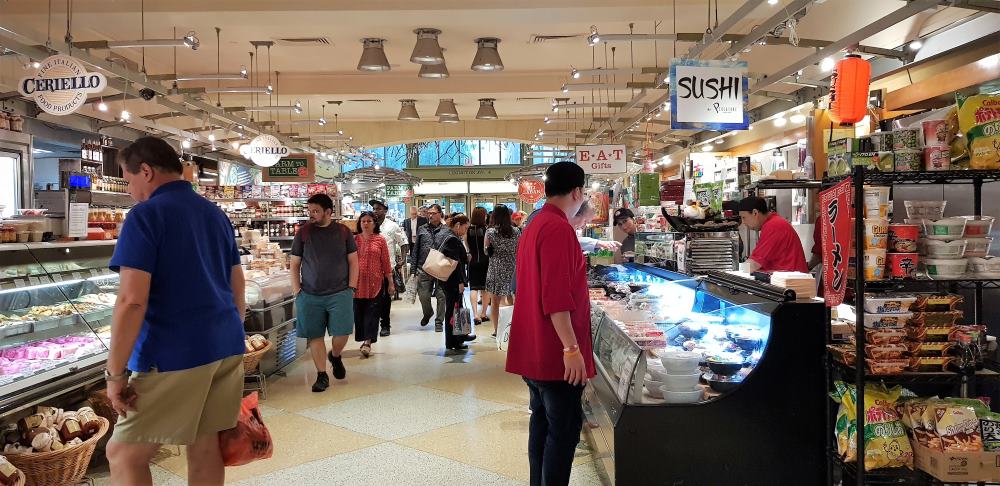 My time as a New York Solo Female Traveller
For those thinking of solo holidays to New York, there are quite a few options for getting around the city.
I like to try everything from walking, using the subway and taking the best New York City tours. I find this mix of styles perfect for getting the most out of the Big Apple.
With so much territory to cover, the first thing I head for is the Hop on, Hop off Bus Tour of NYC.
Hop on Hop off Bus – New York City
For a long time, I dismissed the Hop on Hop off bus as being touristy, until my first trip to New York. There was so much to see that I found it quite overwhelming, so I took the Hop on Hop off bus tour and have been a convert ever since.
To me, the New York Hop on Hop off Bus is the best way to get your bearings, while learning the history and culture of the city. I also discovered neighbourhoods that I would never have dreamed of exploring without first taking the Hop on Hop off bus.
The New York City Hop on Hop off bus has several itineraries, I chose the 2-day itinerary, which took in uptown and downtown Manhattan, Brooklyn and a New York Hop on Hop off Ferry ride past the Statue of Liberty which was brilliant!
Click here for Hop on Hop off Bus tour tickets…
Statue of Liberty – New York Harbour Cruises
The Statue of Liberty has been welcoming immigrants and visitors to New York since 1886. The first sight of Lady Liberty is enthralling, the sheer size will take your breath away as you see people the size of ants milling around its base.
There are a great range of Statue of Liberty tours, including ferry tours to Liberty Island and Ellis Island.
New York Harbour cruise options include New York luxury yacht tours, cocktail and New York dinner cruises and for the ultimate experience, a New York City helicopter tour. The choice is yours and there is something for every budget.
Click here for Statue of Liberty and New York Harbour Cruises…
Hop on Hop off Ferry vs the Staten Island Ferry
I chose to take the Hop on Hop off Ferry tour of New York Harbour which was included in my New York Hop on Hop off bus tour.
I really enjoyed this New York harbour cruise, not only did I get to see all the iconic buildings of the New York skyline but also had an entertaining commentary by a local guide. Throw in the strains of Frank Sinatra's New York, New York and you will find yourself in heaven!
The Hop on Hop off Ferry also stops at the Brookfield Place/Battery Park City Terminal. The ferry terminal is a short walk to the heart wrenching 9/11 Memorial and the towering One World Trade Center which dominates the Manhattan skyline.
You can enjoy a little retail therapy at Brookfield Place, or relax with the locals in Rockefeller Park on a sunny afternoon and watch sailboats glide across this picturesque stretch of the Hudson River.
The Hop on Hop off ferry leaves from Pier 78. The closest subway to Pier 78 is the 34th Street – Hudson Yards subway station.
The Staten Island Ferry is one of the few things in New York that is free and a bonus for any tourist as it sails past the Statue of Liberty.
While I love taking the Staten Island Ferry, just remember that it is a commuter ferry, there is no commentary, you will only see a small part of New York Harbour and you don't get as close to the Statue of Liberty as you do on the Hop on Hop off Ferry.
That being said, New York is an expensive city and it is a great alternative for those on a budget.
Getting to the Staten Island Ferry is easy, just take the subway downtown (red line 1) to South Ferry Station and walk to the Ferry Terminal.
Walking Around New York City
As a female travelling alone, New York would have to be one of the easiest cities to navigate, the streets are set out in a numbered grid system which make it hard to get lost. It's not until you head south of Houston Street in Lower Manhattan (Downtown) that the numbers change to street names.
What I love about walking is that you get a feel for the neighbourhoods you are exploring. While walking I discovered that New York isn't a soulless sprawling mass but instead a group of villages where people of the same ethnic background, social beliefs or artistic temperament meet with a sense of community.
There are so many interesting neighbourhoods in New York, a few of my favourites are East Village, Chelsea and SoHo.
East Village
I love the hip bohemian vibe of East Village. The area is full of interesting shops, street art, restaurants and bars, a great place to wander and get lost in.
Chelsea
New York City solo female travel is fun and if you're into art galleries, Chelsea is the place for you! You could spend days exploring the art galleries of Chelsea but make sure to take a break at one of the many restaurants in the area.
Chelsea is also the entry point to the High Line, a disused railway track which has been turned into a green space full of gardens and art. See more about the High Line below…
Soho
SoHo has a high concentration of cast iron buildings and is known as the SoHo Cast Iron Historic District.
I adore the ornate facades and scrollwork of these buildings and marvel that the ironwork was an early form of prefabrication, a much cheaper option to the marble and granite of the day.
SoHo is also well known for its shopping and is a must to visit for any shopaholic.
Taking the Subway in New York City
The New York subway can be confusing and many solo female travellers like to avoid it. I decided to give it a try and found that it wasn't as intimidating as I first thought and found myself getting across the city quickly and cheaply.
Of course, I can't pretend to tell you I know everything about the subway, but here are some things that you may find helpful.
There are ticket machines in the subway and single ride tickets cost $2.75 US. I chose a $19 US metro card which gave me multiple rides and could be topped up if it ran out. Swipe the card as you go through the turnstile and follow the signs to the platforms.
The New York subway routes are symbolised by numbers and letters and I must admit I had no idea where I was going, but I got around by deciding whether I wanted to go uptown or downtown and followed the signs in that direction.
Because many of the stations have the numbered street names (e.g. 42nd Street, 33rd Street and 28th Street) it was easy to figure out if I was going in the wrong direction. If I was heading the wrong way, I would just get off at the next stop and catch a train going in the opposite direction.
Hopefully that hasn't scared you off, taking the subway is part of the New York experience and a slice of New York life that I wouldn't have missed for the world.
4 Days Travelling Solo in New York
With only four days travelling solo in New York City, I knew I would have to hit the ground running to pack in everything I could. One thing for sure, I will be back to discover more of this dynamic city.
Here are just some of the best things to do in New York during a four day stay.
Iconic New York Attractions
9/11 Memorial and Museum
You can't come to New York City and not see the 9/11 Memorial and Museum.
Everyone has their story of what they were doing on September 11th, 2001. I remember being woken up in the early hours of the morning and being told to turn on the TV. I watched as people jumped from the buildings and looked on in disbelief and horror as the Twin Towers fell and crumbled to dust.
Visiting the 9/11 Memorial and Museum is an emotional day, seeing the faces of the victims and hearing stories of heroism puts a human face on this tragedy. An unforgettable experience and one that shouldn't be missed when visiting New York.
Times Square
Bright lights, big city! Times Square delivers New York's biggest light show. Bold, brash and colourful, Times Square is crowded, great for people watching and catching a Broadway show.
The High Line
The Highline will surprise you, what was once a historic freight rail line has now been rejuvenated into a public green space full of gardens and art.
I enjoyed walking along this elevated path, winding my way through the ever changing architecture and landscape, catching glimpses of the old railway lines through thick vegetation.
Such a perfect idea for bringing a touch of peace and beauty into a busy urban setting, one that would work in many cities across the world.
The Highline has many entry points and is wheelchair accessible. I entered at 30th Street and exited at 23rd Street but there are many more stops along the way.
Click here to learn more about the High Line…
Central Park – New York City
Central Park is big, really big! It's not until you start walking in Central Park that you discover the vast distance it covers.
So, get your walking shoes on because there's lots to cover, Strawberry Fields, Central Park Zoo and the Alice in Wonderland statue are just a few of the reasons to visit this iconic park.
To get the most out of Central Park, why not take a tour? There's lots to choose from including walking tours, bike tours and pedicab tours.
Click here for Central Park Tours…
The Metropolitan Museum of Art
I visited the Metropolitan Museum of Art on a rainy day and I wasn't alone. The MET is a fascinating museum, the place you could spend days exploring.
Luckily General admission tickets to the MET ($25 US for adults, $17 US for seniors) include visiting exhibitions and three consecutive days entry.
Choosing New York Views
When it comes to solo travel, New York City views, should be on top of your destination list. There are lots of choices, but the main thing is to get as high as you can.
The most popular locations would have to be the Empire State Building, The Top of the Rock and the One World Trade Center. All have spectacular views of New York, it's up to you to decide which one you like best.
The Empire State Building
Being a big fan of the movie Sleepless in Seattle and An Affair to Remember, my choice just had to be the Empire State Building.
With only four days to visit New York, I opted for the skip the line ticket to the Empire State Building and I am so glad I did. The lines were so long, I hate to think how much time would have been wasted if I had to wait in line.
Click here for skip the line tickets to the Empire State Building…
The Top of the Rock Observation Deck
The Top of the Rock has 360-degree panoramic views of Manhattan. Located on top of the Rockefeller Center, the Top of the Rock Observation Deck offer views that include the Empire State Building and One World Trade Center.
Click here for skip the line tickets to the Top of the Rock…
One World Trade Center
Standing out against the New York skyline, One World Trade Center, stretches towards the heavens and is the tallest building in the Western Hemisphere.
These dizzying heights aren't for the fainthearted, the Skypod speeds you to the 102nd floor in an incredible 47 seconds.
Click here for skip the line tickets to One World Trade Center…
Eating and Drinking in New York City
New York is a city of immigrants, so the choice of cuisines is endless. From fine dining to street cart, carnivore to vegan, there is something for every taste and budget.
To get the most out of the New York food scene, why not take a food tour? There are a large choice of tours including lunch and dinner tours, walking food tours and dinner cruises.
Click here for food tours of New York City…
If you love the nightlife, it's time to get out and mingle with a great selection of evening tours. Choose from rooftop lounge and club experiences, pub crawls, craft cocktail tours, jazz tours or finish your day with a beer tasting Clipper cruise past the Statue of Liberty.
Click here for New York evening tours…
Transport options from JFK Airport to Manhattan NYC
JFK Airport to Manhattan by Cab
This was my second trip to New York and I have experienced late night and early morning flights in and out of JFK Airport and would suggest if you have flights at these times, to take a cab.
New York cabs from JFK Airport can be expensive but there is a flat rate charge of around $65 US which includes tolls and tip, but for late night arrivals and early morning flights it's always comforting to know you are going to get to your destination safely and on time.
Private Transfers from New York Airports to New York Hotels
Another popular transport option is to book a private transfer from any New York Airport to New York hotels. It is a quick, convenient and worry free option.
Click here for Private Airport Transfer options and more information…
JFK Airport to Manhattan by Uber and Super Shuttle
Other transport options from JFK Airport to Manhattan include Uber and Super Shuttle. I haven't had the chance to try Uber in New York City but have heard good reports and it is cheaper than a cab.
We booked the Super Shuttle on our first trip to New York and I personally wouldn't take the Super Shuttle again. We waited for hours to be picked up from JFK Airport to be taken to Manhattan and didn't get to our hotel until 2 am.
JFK Airport by Airtrain and Subway
Taking the airtrain and subway is something I would definitely consider if my flights were at a decent hour.
I have spoken to fellow travel bloggers who have taken the subway into Manhattan and they say it is easy and cheap. The airtrain cost $5 US and a single ride subway ticket costs $2.75 US with a journey time of around 45 minutes.
If you would like to try this option, here are the directions…
Take the Airtrain from JFK Airport to Jamaica Station, exit and follow the signs to subway line E.
Take subway line E towards Manhattan (the blue line on subway map). Popular subway stations on line E are 42nd Street Port Authority Bus Terminal and 34th Street Penn Station.
Last Words on Solo Female Travel to New York City
When it comes to solo female travel, New York City is far easier to explore than you would imagine. So, if you have New York on your bucket list, my advice would be to just get out there and become a New York solo female traveller! Travelling to New York alone is not as daunting as it sounds.
For a list of New York Hotels click here.
New York is my favourite city (sorry Paris and London). Deep down we feel we know New York through the movies and TV series we grew up with. In a way we do, the yellow cabs, the iconic buildings and that gravelly New York accent are instantly recognisable.
It's not until you experience New York that you realise that you don't know New York at all. Yes, the stereotypes are there but it's nothing like you expected, it is so much more.
New York City will get under your skin and you will find that one trip is not enough. So, until next time New York, thanks for the memories!
PIN THIS TO YOUR TRAVEL PINTEREST BOARDS ↓