This post may contain affiliate links, which means we may receive a commission, at no extra cost to you, if you make a purchase through a link. Please see our full disclosure for further information.
My Love for Paris – First Impressions
I didn't always love Paris, my love for Paris came much later…
On my first visit to Paris in my early 20's we stayed outside Paris and although we had a lot of fun, it wasn't the Paris of the movies. Don't get me wrong, I caught glimpses of the Paris of my dreams during the short trips into the heart of Paris, when we visited the Louvre, Eiffel Tower and Notre Dame, but we didn't have the opportunity to "live" it.
I recall visiting Notre Dame and looking out over the River Seine, it was early morning and so lovely. I remember thinking "This is the Paris I wanted to see!" Of course we couldn't stop to take in its beauty, we had a bus to catch to rush us off to the next tourist attraction.
Leaving our tour, we decided to take a train from Paris to Brussels. We tried to buy a ticket but got into difficulty when the ticket seller refused to sell us a ticket because we couldn't speak French. Luckily we were helped out by another tourist, but I do remember thinking how difficult and unfriendly the Parisians were.
An opinion I would one-day change…
The Paris of my Dreams
Fast forward 24 years…I was reading the travel section in the newspaper, when I came across an article about renting apartments in the centre of Paris. It was a light bulb moment, the idea of living like a Parisian really appealed to me, even if it was only for a week.
I was turning 50 and I had been dreaming of going back to Europe for decades, so with some scrimping, saving and frequent flyer points I was about to get my dream.
Our Paris Apartment
We chose a studio apartment on the Rue St Honore in the 1st Arrondissement (suburb). We were one block from the Louvre and two blocks from the River Seine. The apartment was within walking distance to many of Paris tourist attractions and around the block from the Louvre-Rivoli Metro station, which is handy for visiting Sacre Coeur and Montmartre.
If you would like to stay at the same apartment Click Here…
We enjoyed early morning walks along the River Seine. Every turn capturing the beauty of Paris. We window shopped and visited the local boulangerie for our morning croissants and baguette. I was living the Paris of my dreams.
The beauty of renting an apartment in Paris, is that it feels more like home. You can save money by cooking your own meals. This doesn't mean you have to miss out on you morning croissant from local the boulangerie or miss out on dining at the cities restaurants it just means that if you are on a budget you can substitute a restaurant meal for something from one of the many small supermarkets scattered around the city. Also for those travelling with kids an apartment can be a much better option than staying in a hotel.
If you are budget conscious and want to dine in Paris, restaurant lunch time set menus are cheaper than an evening meal.
Learn Some French
I don't mean for you go and have a crash course in French but at least come armed with the basics.
Bonjour – Hello
Bonsoir – Good Evening
S'il Vous Plait – Please
Merci – Thanks
Combien – How Much
Madame – Married woman
Monsieur – Sir
When entering a shop, it is polite to greet the owner by saying Bonjour. We discovered that Parisians aren't as frosty as I first thought, just come armed with at least a few words of French and they will be friendlier to you for trying.
Paris Walks
The Parisians are very proud of their city, culture, fashion and culinary delights and they have every right to be it is one of the most beautiful cities in the world.
To me there is only one way to truly explore Paris and that is to walk. Here are few of my favourite walks, they showcase Paris' the spectacular architecture, style and ambience.
These walks can take a few hours but it is worth it, just remember you can always take the Metro (subway) if you get tired of walking.
Louvre to Arc de Triumph
Louvre
This walk starts at the Louvre on Rue de Rivoli. The arched passageways of Rue de Rivoli contain a treasure trove of antique and souvenir shops.
The Louvre is a former Royal palace and one of the largest museums in the world, housing a massive collection of art and artefacts.
There is so much to see in the Louvre, to save time, enter by the Louvre Carrousel entrance on Rue de Rivoli. Take the escalators downstairs and look for the ticket machines selling entry tickets. This is a quicker option than waiting in line at the Louvres famous glass pyramid.
Louvre Pyramid
The glass pyramid is a lavish glass construction, framed by the opulent buildings the Napoleon Courtyard at the Louvre. A marriage of old and new architecture that looks surprisingly elegant. A must see landmark for all fans of the Da Vinci Code, a book by popular author Dan Brown.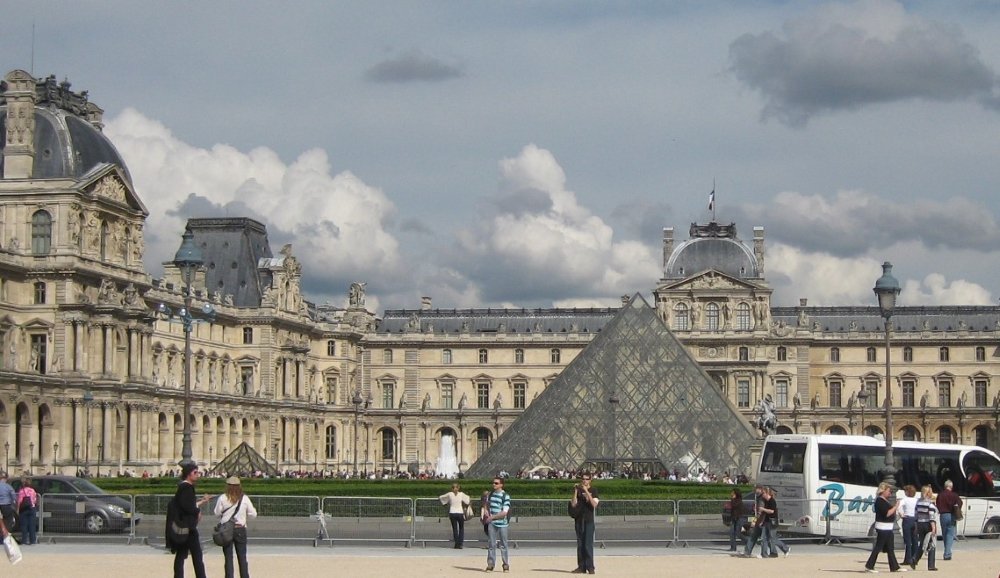 Tuileries Gardens
Continuing the walk up Rue de Rivoli, you will come to the Tuileries Gardens. Once a Royal garden, this public park features not only gardens but sculptures, ponds and fountains.
Place de La Concorde
Standing at the heart of this stunning square is the Luxor Obelisk. The Luxor Obelisk was a gift from Egypt to France and dates back to Pharaoh Ramses the II. Two magnificent fountains, the Maritime Fountain and the Fountain of the Rivers are just some of the pieces that decorate this square.
The Place de La Concorde is infamous for being the site where Queen Marie Antoinette lost her head during the French revolution.
Champs Elysees
The Champs Elysees is a fashion heaven. This long avenue is famous for its elegant designer stores, restaurants and cafes. We enjoyed sipping coffee while watching stylish Parisians walk by.
Arc de Triomphe
The Arc de Triomphe can be seen long before you reach it. A symbol of Paris, the Arc de Triomphe was built as a tribute to those who fought in the Revolutionary and Napoleonic Wars.
Arc de Triomphe to Eiffel Tower
If you still have energy for walking turn left at the Arc de Triumph into Avenue Kleber. Walk past the elegant town houses of this long Avenue down to the Palais de Chaillot and Trocadero Gardens.
Palais de Chaillot & Trocadero Gardens
The majestic buildings of the Palais de Chaillot frame the gardens, fountains and pools that overlook the Eiffel Tower standing across the river.
Eiffel Tower and Parc du Champs de Mars
Cross the river to the Eiffel Tower. Behind the Eiffel Tower you will find The Champ de Mars, a beautiful park, and the perfect place for that iconic photo of the Eiffel Tower. The best time of day to visit is late afternoon, when people come with blankets, bottles of wine and snacks to relax and watch the sunset.
Louvre to Notre Dame and Ile Saint Louis
From the Louvre walk along the River Seine until you come to Pont Neuf (bridge). Pont Neuf will take you to the Ile de la Cite, the Island where you will find Notre Dame Cathedral.
Notre Dame Cathedral
The Notre Dame Cathedral was made famous by the book "The Hunchback of Notre Dame" by Victor Hugo. The scene of many historic events, the Notre Dame Cathedral was completed in 1345.
The crypt of Notre Dame Cathedral is an interesting place to visit. Located under Notre Dame Cathedral, you will find construction from Roman times though to the 20th Century.
Ile Saint Louis
Attached to Ile de la Cite by the Pont Saint Louis (bridge), Ile Saint Louis feels like a little village in the heart of Paris. The Ile Saint Louis, is filled with quaint little shops and restaurants and is one of my favourite parts of Paris.
Notre Dame to Left Bank and Boulevard Saint – Michel
Boulevard Saint Michel
Cross the Pont Saint-Michel bridge from Ile de la Cite to the Boulevard Saint-Michel. I love the getting lost in the winding alleyways and streets and exploring the bohemian charm of the area.
The restaurants, and bistros of Rue Saint Severin and Rue de la Harpe are a great place to have a leisurely dinner before walking to one of Paris' the many bridges to watch the Eiffel towers glittering light show.
Getting Around Paris
Metro
The Metro is a fabulous way to get around the city. Most Metro stations have ticket machines that can switched to English for easy purchase.
A Paris Visite Pass is a swipe card that is handy for anyone staying in Paris for longer than two days and intending to use the Metro as their main form of transport. The Navigo Découverte card is cheaper than the Paris Visite Pass but I have heard that some venders are reluctant to sell it to foreigners.
The Metro is perfect for trips to Sacre Coeur, Montmartre and the flea/antique market at Porte de Clignancourt.
Batobus
Taking a boat ride along the River Seine is a must for anyone visiting Paris. The Batobus is a hop on hop off boat that stops at attractions all along the river. Set at a leisurely pace, a cruise on the batobus gives you time to discover the landmarks and bridges of the River Seine.
Another must is taking an evening dinner cruise. There are many different dinner cruise companies to choose from. I had an unforgettable Birthday celebration on a charming old barge called "le Calife."
Paris Shuttle
The Paris Shuttle makes getting to and from the airport super easy and I can highly recommend them.
Paris Tips
Don't go in August
We have visited Paris many times and have been told by friends not to visit during August. August is the time when many Parisians take their holidays. We had a chance to visit Paris in August so we decided to see what it was like.
We rented a lovely apartment near Invalides on the left bank. We found that many of the businesses and restaurants in the area were closed. It wasn't a problem for us, we had a supermarket around the corner and we used the Metro to go to other areas, but it would be very disappointing if it was your first trip to Paris.
If you do happen to visit Paris in August, the area around the Louvre appears to be open for business as usual.
Summary
My love for Paris never changes, with each visit I discover something new and am constantly reminded why my love affair with this city will never die.
I have only touched on the delights of Paris, there is so much more to see. If you have been longing to visit Paris, stay in the centre of this glamorous city and discover the Paris of your dreams.
Have you been to Paris? What do you like most about this spectacular city? Feel free to leave a comment.