Nha Trang was not always on our list of places to visit during our Vietnam travel, we had heard that it was a fast paced coastal city that catered mainly for Chinese and Russian tourists.
Thankfully, we decided to see for ourselves and what we found was a vibrant and picturesque beachside city, not only popular with Russian and Chinese tourists but with tourists from all over the world, including Australia. So, without further to do, here are our suggestions for a Nha Trang itinerary.
Enjoy the sun and sea on Nha Trang Beach
Grab a bargain at the Night Markets
Take the cable car to Vinpearl Land theme park
Visit the White Buddha at Long Son Pagoda
Go swimming and snorkelling at Mun Island
Take an Emperor Cruise of Nha Trang Bay
Explore Nha Trang's food scene
Map of Nha Trang
This post may contain affiliate links, which means we may receive a commission, at no extra cost to you, if you make a purchase through a link. Please see our full disclosure for further information.
The drive from the airport to Nha Trang
The first glimpse of the beauty of the Nha Trang region begins as you drive from Cam Ranh International Airport to Nha Trang. The airport is 35.5 km from Nha Trang, and the drive takes around 45 minutes.
From the road you pass the 5 star luxury resorts of Cam Ranh. Famous hotel brands include Radisson Blue Resort Cam Ranh and Movenpick Resort Cam Ranh. It is not until you drive up and around the mountain that you can see these grand resorts lining an endless sandy beach. The glistening azure waters of the bay offer a magical view that will leave you breathless.
Soon we could see Nha Trang in the distance, a busy resort city where large hotels hugged the shore all vying for the best views of beautiful Nha Trang Bay. That is when we realised that Nha Trang is a serious holiday destination and it was time to begin planning our Nha Trang itinerary.
What to do in Nha Trang Vietnam
Nha Trang is a typical seaside resort city, people come to relax, eat, drink, shop, and party. Happily, Nha Trang delivers all these things in abundance and so much more.
Everyone has their own individual idea of what they want their Nha Trang holiday to be. Here are a few of the things you should put on your Nha Trang Itinerary.
Nha Trang Beach Scene
Life in Nha Trang is centred around the beach. The days are spent soaking up the sun and unwinding under a beach umbrella on a sun lounger. Your holiday can be as busy or relaxing as you want, where choosing between a cooling dip in the water or experiencing the thrill of kitesurfing is only limited by your sense of adventure.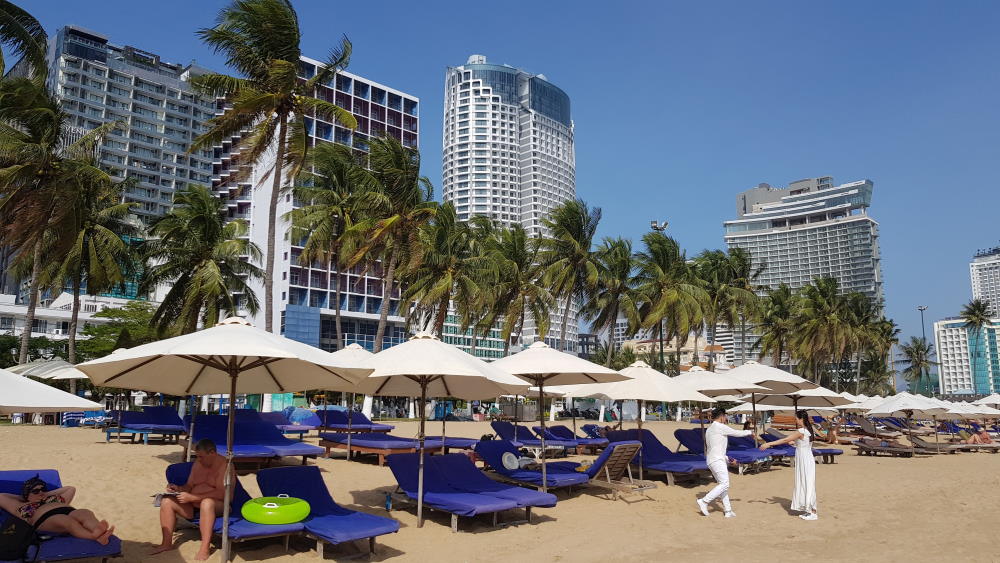 If you feel thirsty there is no need to go far, you can head to a beach stall for a drink and ice cream, cool down with an ice cold beer at the Blue Sea Beach & Bar or opt for a glass of wine and leisurely lunch right on the beach at the Sailing Club Nha Trang.
A wide palm tree lined pathway meanders its way along the beach. Shady well-tended gardens showcase a selection of interesting sculptures and there are exercise areas for those wanting to stay in shape during their holiday.
Across the bay you will see Hon Tre Island which is home to Vinpearl Land Sky Wheel and amusement park. In the distance you will see the cable car taking passengers from the mainland to the park. If you want a fun filled day a visit to Vinpearl Land should be on the top of your Nha Trang itinerary.
Thap Tram Huong
Thap Tram Huong stands tall overlooking Nha Trang Beach. The tower is the symbol of Nha Trang and while we never discovered the true meaning of the symbolism it is still a fascinating Nha Trang landmark.
From what I can gather, the Thap Tram Huong's pointed arches represent sails and the petals of a lotus flower. The upper tower symbolises agarwood, a fragrant wood used in incense while the top of the tower signifies an incense cage.
The tower is situated next to a large square which is used by locals for their morning exercises and often used for concerts.
Nha Trang Shopping
Shopaholics are well catered for in Nha Trang, there is a variety of shopping styles to choose from including small boutiques and shops, modern shopping malls and markets. Here are just some of our favourites.
A & B Central Square
A & B Central Square is across the road from Thap Tram Huong. The shopping mall is home to a mix of brand named stores, variety shops and boutiques selling locally designed clothing and crafts.
There are coffee shops, restaurants and a large supermarket which is handy for those staying in an apartment with cooking facilities.
Nha Trang Night Markets
If you are looking for things to do in Nha Trang at night, a visit to a Nha Trang night market might just be the place for you. One such market can be found across from Thap Tram Huong, just look for the colourful neon lights that lead the way.
Here you will find Vietnamese trinkets, clothing, craft, coffee, Vietnamese dried goods, and medicines. Within the market is a restaurant with a selection of stalls selling different dishes and drinks. Make sure to get there early as the restaurant can get busy during peak times.
Vincom Plaza Than Phu
The Vincom Plaza Than Phu is located across the road from the Sailing Club on Nha Trang beach. The shopping mall has an interesting selection of shops, restaurants, and coffee shops. Vincom Plaza also has a cinema and supermarket which caters to all your holiday needs.
Nha Trang Tours
There are many places to visit in Nha Trang, you can either explore them independently or save time by taking a tour.
These full and half day trips from Nha Trang will have you enjoying a fun of Nha Trang's Vinpearl Land theme park or cruising beautiful Nha Trang Bay. For a more cultural experience visit Long Son Pagoda and Po Nagar Cham Tower.
For sunseekers it is time to take to the water and spend the day swimming and snorkelling on Mun Island. To help you choose the top tours for your personal Nha Trang itinerary, here is our list of the best tours of Nha Trang.
Vinwonders Nha Trang Ticket
The Vinwonders Tour Nha Trang promises an action packed day at Nha Trang's famous Vinpearl Land amusement park.
To reach the park take the world's longest cable car ride from the mainland across the bay to Hon Tre Island. This massive park is home to a fairy-tale castle and the Sky Wheel, a landmark that can be seen from the beaches of Nha Trang.
Other attractions include Waterpark Beach, Underwater World, Kings Garden and much, much more.
Click here for more information on Vinwonders Nha Trang Ticket
Nha Trang City Half Day Private Tour
Head away from the beaches and explore the city side of Nha Trang. This tour takes you to the Institute of Oceanography to discover the 80,000 marine species at the Marine Creature Museum.
Next stop is the tranquil grounds of the Long Son Pagoda where you can marvel at the stunning 24 metre White Buddha statue. See the wonders of the ancient Champa Kingdom at the Po Nagar Cham Tower and learn the fascinating history of the area.
Visit the Nha Trang Stone Church, a French gothic masterpiece and reminder of Vietnams French colonial past.
Click here for more information on Nha Trang City Half Day Private Tour
Mun Island, Fishing Village, Tranh Beach and Aquarium Day Tour from Nha Trang
Nha Trang Bay is one of the most beautiful bays in the world and this full day Nha Trang boat trip will show you the highlights of the area.
The tour starts with a cruise of Nha Trang Bay before heading to the National Marine Conservation Area where you can either snorkel or take the glass bottom boat to meet a variety of fish and the other marine life of Mun Island.
Sample a delicious Vietnamese lunch at An Nam restaurant and take time to have fun swimming and enjoying the water activities of Tranh Beach. Take an ancient boat to Tri Nguyen Aquarium and marvel at the colourful schools of fish before returning to Nha Trang.
Click here for more information on Mun Island, Fishing Village Tour
Nha Trang Bay Day Trip by Emperor Cruise
If you are looking for a little luxury, consider exploring the Nha Trang coastline and islands on an elegant old junk with Emperor Cruises.
Sit back and relax with live music as you skim across the waters of Nha Trang Bay. Explore the nearby islands of Tam, Mot, and Hon Mieu. Have fun swimming, snorkelling, or kayaking within these crystal clear waters. Enjoy a delicious feast while taking in the beauty of Nha Trang Bay.
Emperor Cruises also offer a Sunset Cocktail & Dinner Cruise, both are perfect for getting the best out of your visit to Nha Trang.
Click here for more information on Nha Trang Bay Day Trip by Emperor Cruise
Where to eat in Nha Trang
The city features local favourites and cuisines from all over the world. When you visit a restaurant, it is not unusual to find the menu written in Vietnamese, Russian, Chinese, and English, a testament to the international flavour of this resort city.
Nha Trang is a culinary adventure, you can sit down with the locals at a street side stall, pop into one of the small restaurants that line the alleyways or try one of the many seafood restaurants that can be found throughout the city.
Looking for breakfast or brunch? Here are a few of our favourite Nha Trang restaurants and coffee shops
Alpaca Homestyle Café
Housed in a distinctive green building, the Alpaca Homestyle Cafe is a comfortable mix of cane chairs and pastel colours with a decor bordering on 1950's kitsch. Images of a friendly Alpaca pop up here and there adding to the ambience of this stylish café.
The café is open for breakfast, lunch, and dinner with a selection of breakfast dishes, salads, pasta, Mexican delights, and a choice of main courses.
We stopped in for breakfast, I ordered oatmeal and seasonal fruits and Alan chose the scrambled egg and fried ham which came with crusty bread and butter, cheese, olives, salad, and humus. A massive breakfast which was well presented, delicious and filling.
Alpaca Homestyle Café can be found at 10/1B Nguyễn Thiện Thuật Nha Trang.
Check here for Alpaca Homestyle Cafe reviews.
Iced Coffee
Not only does Iced Coffee make a good cup of coffee, but they also make a delicious ginger tea. Iced Coffee is a great place to stop off for breakfast, lunch, a light snack and of course for that coffee fix.
We tried their pho, a delicious noodle soup with all the trimmings. We were impressed by the size of the dish which was massive and delicious. After breakfast at Iced Coffee, there was no need for lunch.
Iced coffee can be found at 49 Nguyễn Thiện Thuật, Lộc Thọ, Thành phố Nha Trang, Khánh Hòa Vietnam.
Check here for Iced Coffee Vietnam reviews.
Deja Brew
Deja Brew is located down an alley which is home to small restaurants and bars. Deja Brew may be small, but it serves a mean coffee and a delicious bacon and cheese breakfast sandwich which is lip smacking good. Of an evening you can stop in for a beer or cocktail and try one of the best hamburgers in town.
Deja Brew can be found at 46 Hùng Vương, Lộc Thọ, Thành phố Nha Trang, Khánh Hòa Vietnam.
Check here for Deja Brew Vietnam reviews.
Rainforest
Walking into Rainforest is like walking into a green hideaway full of trees and plants. Once inside you will feel like you are in a towering treehouse full of intimate nooks and crannies.
The food at Rainforest is health focused with a great range of fresh juices and smoothies. Vegetarians are well catered for and there are a huge range of western and Asian favourites to try.
I chose a healthy red bowl, which was full of chickpeas, cherry tomato, peas, avocado, grilled capsicum, and olives served with noodles and dressing. Healthy never tasted so good.
Rainforest can be found at 146 Võ Trứ, Nha Trang, Khanh Hoa, Vietnam
Check here for Rainforest Nha Trang reviews.
MIX restaurant
Mix is a popular Greek restaurant which is always packed and often you will find people waiting their turn for a table. We only wanted a light lunch, so we ordered a bowl of hummus and Keftedakia, pork meatballs with Tzatziki dip.
It was not until we settled in that we notice the platters of seafood being served to the other guests and we instantly regretted our choice.
This succulent mix of prawns, calamari, fish fillets, basa, red snapper, shells, mussels, salad, Greek pita, and a selection of dips looked and smelled delicious. However, when our dishes arrived, they were tasty and perfect for a light lunch on the go.
Mix restaurant can be found at 77 Hùng Vương, P, Thành phố Nha Trang, Khánh Hòa Vietnam.
Click here for MIX restaurant reviews.
Where to stay in Nha Trang
There is a massive assortment of Nha Trang Vietnam hotels, apartments and Nha Trang beach resorts. What style of Nha Trang accommodation you choose will come down to personal preference and budget. Here are a few of our favourites.
LegendSea Hotel Nha Trang
The LegendSea Hotel Nha Trang is set one block back from Nha Trang Beach. The hotel has a variety of rooms and suites with city or ocean views.
Walking into our Club Luxury Ocean View Room we were delighted to find a massive picture window with beach view. The room was light and airy with a fresh clean décor. The bathroom was modern with dark and light marble features.
Watch our video below to see more of LegendSea Hotel Nha Trang.
The hotel has a spa, rooftop pool and bar area. Buffet breakfast is served in the Sirena Restaurant with a choice of egg station, Asian and western dishes.
The hotel is a short walk to the Sailing Club and Vincom Plaza Than Phu. The area is surrounded by restaurants and minimarts.
Panorama Nha Trang Hotel
We arrived at the Panorama Nha Trang Hotel amid renovations in preparation for the upcoming brand change to Eastin Grand Hotel Nha Trang in July 2020. While these renovations did not affect the lobby or our room the pool and restaurant area were closed.
We had an Ocean View Apartment which featured a wide balcony with sweeping views of Nha Trang Bay and Vinpearl Land. The view was spectacular, and we enjoyed watching cruise ships make their way into the harbour.
Watch our video below to see more of Panorama Nha Trang Hotel
The room was large with desk and comfortable sitting area. There was a small kitchen with a sink, microwave, and hotplate. The bathroom was clean and modern with a choice of standard and rainwater shower.
The hotel is steps from the beach, night market and surrounded by restaurants and coffee shops where we found many fantastic places to have breakfast or brunch. If you are looking for Nha Trang apartments style accommodation I can highly recommend this hotel for comfort and location.
Radisson Blue Resort Cam Ranh
If you are looking for peace far from the crowds of Nha Trang why not consider the larger Nha Trang beach resorts at Cam Ranh. One such resort is the Radisson Blue Resort Cam Ranh, which is a 30 km drive from central Nha Trang.
The resort offers the gleaming white sands of Bai Dai beach framed by deep green manicured lawns and shady palm trees.
From the moment you walk into the lobby your senses will be in awe of the exceptional style and elegance of the property. Large open spaces are filled with comfort and conjure an air of tranquillity and harmony.
The hotel has a selection of rooms, suites and villas with pool or beachfront views. Each room is decorated in a modern style with charming Vietnamese features. Luxuriate in sumptuous bathrooms and relax on balconies with uninterrupted views of Bai Dai Beach.
The Radisson Blue Resort Cam Ranh has an assortment of restaurants and bars to choose from. You can enjoy a delicious buffet breakfast in the opulent Sunrise Restaurant, sample Vietnamese food with a modern twist in The Blue Lobster or enjoy a drink as you relax by the pool at Get Wet.
Where is Nha Trang?
Nha Trang is located on the south central coast of Vietnam. The distance from Ho Chi Minh City to Nha Trang is 440 km, Hanoi to Nha Trang is 1,290 km, Da Nang to Nha Trang is 533 km, and Nha Trang to Dalat is a short 134 km.
How to get to Nha Trang
Nha Trang is serviced by bus and train from Ho Chi Minh City, Hanoi, and Da Nang. Vietnam travel by bus and train can take many hours. Flights are cheap within Vietnam and sometimes cheaper or comparable to train and bus.
Direct flight times from Ho Chi Minh City are around 1 hour & 15 minutes, Da Nang around 1 hour & 5 minutes and Hanoi around 2 hours.
Nha Trang is the gateway to Dalat and the most economical way to get from Nha Trang to Dalat is by bus. The Nha Trang to Dalat bus travels through spectacular mountain scenery and you can be enjoying the Dalat Vietnam attractions in approximately 3 hours.
click here for transport pricing and further information.
Nha Trang Weather
Nha Trang is perfect for a beach holiday as it has a tropical climate with a relatively short rainy season that lasts between September and December. The hottest months are between July and August with average temperatures reaching around 32 degrees Celsius.
The best time to visit Nha Trang is from February to April when the days are less sticky, and the average temperature is around 26 to 27 degrees Celsius.
Do you need a Visa for Vietnam?
Our preferred partner for a Vietnam Visa is iVisa. We have used them many times and have always been happy with professional and fast service. Our detailed guide on Australians Visa for Vietnam explains the steps involved with screenshots of the application process for the various visa's.
Click here for more information and visa pricing
Last Words on Nha Trang Itinerary Vietnam
As you can see there is a lot to pack into a Nha Trang itinerary. Nha Trang reminded me of Australia's Gold Coast and after hearing so much negative feedback we were surprised how much we liked Nha Trang.
Nha Trang is busy, loud and has everything you want for a vibrant beach holiday. So, if you have the time to spare come and visit Nha Trang and judge for yourself.
Have you been to Nha Trang? Did you love it or hate it? Let us know and feel free to leave a comment.
PIN THIS TO YOUR TRAVEL PINTEREST BOARDS ↓