We have always had dreams of visiting Lake Geneva, so when we had the chance to visit the town of Evian les Bains on the French side of the lake we jumped at it. Lake Geneva is split in two by the border of Switzerland and France, to the Swiss the lake is called Lake Geneva and to the French it is Lac Leman.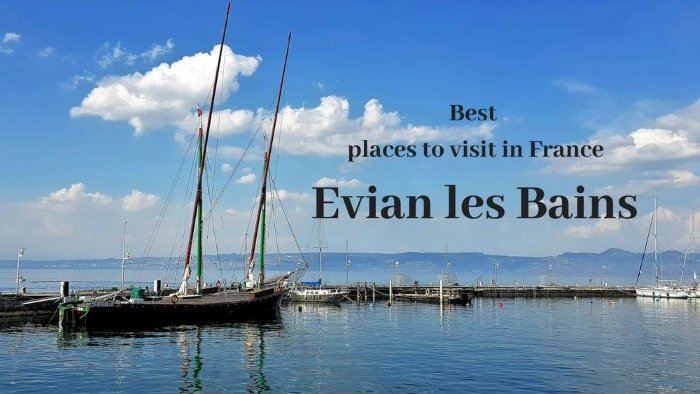 This post may contain affiliate links, which means we may receive a commission, at no extra cost to you, if you make a purchase through a link. Please see our full disclosure for further information.
Evian les Bains is a pretty lakeside resort nestled on the shores of Lac Leman and is famous for Evian mineral water. We were excited to be calling Evian les Bains home for the next 10 days.
What we discovered was a wonderland of picturesque lake and alpine landscapes, a multitude of attractions, friendly French hospitality and heavenly French cuisine and wine. What more could you ask for, one of the best places to visit in France, Evian les Bains!
Things to do in Evian les Bains France
Evian Mineral Water
Before being bottled, Evian mineral water makes a 15-year journey through a geological filter which was created under glaciers more than 50,000 years ago.
In 1878 the French academy of medicine recognised the benefits of Evian mineral water and the rest is history. Evian les Bains became a fashionable spa town where the rich and famous came to take the waters and treatments.
The Buvette Cachat and source Cachat
The Buvette Cachat (the refreshment-pump room) was built in 1903 and is a gorgeous example of art nouveau splendour. The Buvette Cachat is now home to the Evian mineral water information hall which is well worth a look when visiting Evian les Bains France.
If you want free Evian mineral water, the source Cachat fountain is the place to be. Locals and tourists come to drink or fill up their empty bottles with pure Evian mineral water from its source. Be prepared to wait as it's a popular place for a photo opportunity.
The source Cachat is located directly across from the Buvette Cachat and is close to the Buvette Cachat funicular stop.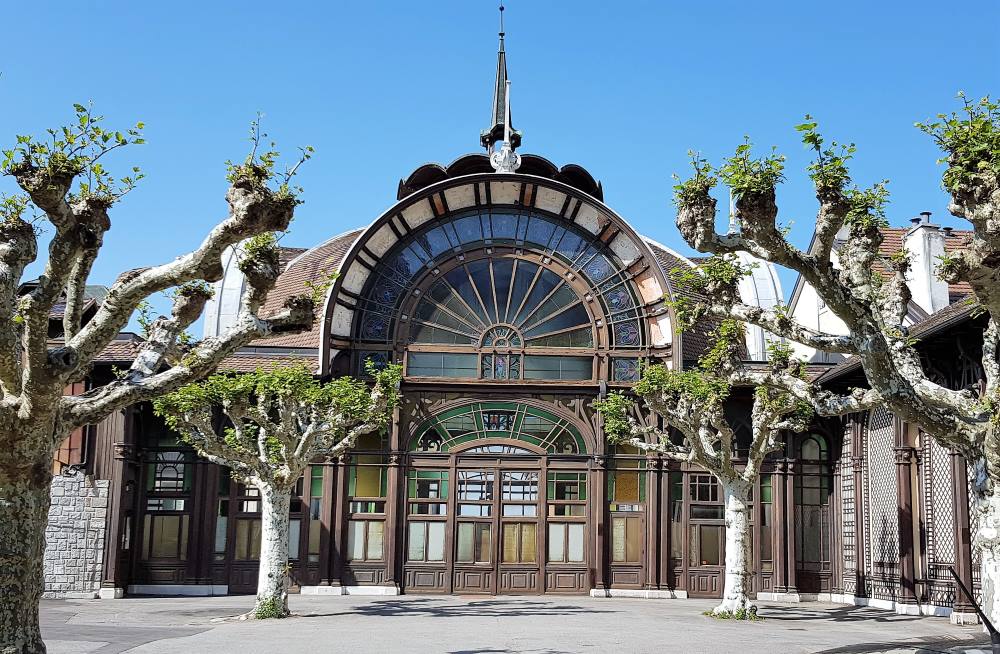 The Evian Funicular
The Evian Funicular starts on top of the mountain at the village of Neuvecelle and stops at stations along route to central Evian (the entrance is behind the Palais Lumiere). It's a fun way to travel up and down the mountain and best of all, it's free! The Evian Funicular runs every day between May and September.
Things to do around Evian
Evian is framed by natural beauty; the dazzling lake views and spectacular mountain scenery of Evian will charm you with every turn.
The Lake
There is nothing better than taking an early morning or late afternoon walk along the lakeshore. The 2 km walk from the swimming pool to the marina showcases the quayside restaurants, cafes and the tranquil waters of the lake.
I love watching sailboats zigzag their way across the water, their colourful sails catching the sun as they drift down the lake. Holiday makers sit lazing in the sun while children clamber for ice cream at the local glacier, the perfect lead up to summer.
Evian Lake Cruises
Getting out onto the lake is easy, you can hire a canoe or boat, take a ferry or sail on a barque, the choice is yours.
Evian Ferries
Ferries run between Evian and the Swiss city of Lausanne daily and takes 35 minutes to complete a one-way journey. Timetables and tickets are available from the CGN office on the Evian promenade.
Cruise connections to other Swiss cities of Geneva and Montreux can be made from Lausanne while lunch and dinner cruises on charming Belle Epoque style paddleboats cruise between Lausanne and Geneva.
The Barque La Savoie Evian les Bains
The La Savoie is a replica of a barque, a traditional sailboat that sailed the waters Lac Leman in days gone by. Cruising on La Savoie will give you a glimpse into the life of a boatman, the history of the lake and a chance to view of the majestic Alps and Switzerland. La Savoie offers cruises through May until September.
L'Agrion Evian les Bains
For an environmentally friendly cruise, take a 30 or 45-minute tour of Evian Bay on the solar powered L'Agrion. Tickets be purchased from casino pontoon between April and September.
The Mountains near Evian les Bains
Evian is set on the foothills of the Chablais Alps, in the winter a short drive will have you skiing the slopes of Bernex ski resort and in the summer, you can be walking and hiking the many trails around Evian les Bains.
Bernex
Not far from Evian is the village of Bernex. As you drive toward Bernex you will see sweeping views into the valley below. Small villages dot the valley floor which is cradled by tall mountains, a scene that is simply breathtaking.
The village of Bernex is like something out of a movie, decorated chalets blend into deep green pastures that are sprinkled with wildflowers. Craggy mountains disappear behind misty clouds and spring time ski slopes lay bare of snow.
Bernex – Distillerie Artisanale de la Dent d'Oche
We stopped off at this small working distillery in Bernex. The lovely shopkeeper was friendly and made us feel welcome. Although we couldn't speak French and she couldn't speak English we muddled through and had a good laugh.
The distillery has an extensive range of fruit liqueurs and cremes for sale, we bought the Liqueur de Framboise, a raspberry liqueur which was full of flavour.
Saint Ours de Bernex Catholic Church
Saint Ours de Bernex is a beautifully decorated church in the centre of Bernex. While I couldn't find anything about the age or history of the church in English, it is worth a look when visiting Bernex.
L'Ormeau Restaurant Bernix
L'Ormeau has a reputation for delicious French cuisine, whether having a long leisurely lunch or just stopping off for coffee, it's the perfect place to sit in the sun and take in the grandeur of the mountains above.
Lac de La Beunaz
Halfway between Evian and Bernex is Lac de La Beunaz a natural mountain lake and wetland. The area has pleasant walking trails and during the summer is transformed into a leisure park which is open daily during July and August. Some leisure park activities include swimming and treetop adventures.
Historical Evian les Bains
When walking along the spa town's waterfront, the term Belle Epoque often crops up. The Belle Epoque or beautiful era in English, refers to the time between 1871 – 1914 and this is reflected in many of the charming buildings that line the lakeshore.
Palais Lumiere Evian les Bains
The Palais Lumiere would have to be a jewel in the crown of the Belle Epoque era and art nouveau style. Built in 1902, these former thermal baths are now the Evian Cultural Congress Centre and have a range of exhibitions on show throughout the year.
The impressive central glass dome of the Palais Lumiere allows natural light to shine softly over a foyer decorated with exquisite art nouveau leadlight windows and intricate wall paintings. Eye catching sculptures of maidens representing the water sources of Evian, make the Palais Lumiere a must to visit.
Church of Our Lady of the Assumption of Evian les Bains
With origins in the 12th and 15th Centuries, the Church of Our Lady of the Assumption of Evian les Bains is the heart of the community. Not only is the church used for religious services but it is also a popular venue for concerts.
Evian Markets
Each Tuesday and Friday markets are held in the squares around the church. It's the place for locals to meet and catch up for a chat while buying fresh fruit, vegetables, cheeses and meats, there is also a selection of clothing and bags for sale and a great place to pick up a bargain.
Eating Out in Evian
Evian has so many top-quality restaurants, bistros and cafes to choose from. The best value meal of the day is lunch, a plat du jour menu can have you dinning on a three-course meal for as little as 11 Euro.
Le Muratore Restaurant Evian les Bains
Le Muratore Restaurant is an elegant bistro in the heart of Evian. We decided to do as the locals do and tried a refreshing glass of Rose wine with our lunch.
We chose off the menu, I had fish with spelt biscuit, parsley and lemon emulsion and Alan had roasted chicken fillet with tarragon and mashed potato, delicious food and a lovely way to spend an afternoon in France.
Evian Shopping
I adore shopping in Evian, there are so many interesting boutiques, souvenir and jewellery shops, designer chocolate and sweets shops, all of them individual and charming, a rare quality when most High Streets offer the same goods worldwide.
Evian Resort Golf Club
For golf enthusiasts, you can't go past the Evian Resort Golf Club. This stunning golf course takes in spectacular views across Lac Leman and hosts the Evian Championship in September.
The Evian Resort Golf Club is just metres from the Hotel Royal and Hotel Ermitage and was voted "Europe's Leading Luxury Golf Resort" in 2015 at the Luxury Travel Awards.
Where to stay in Evian
For 5-star luxury you can't go past the Hotel Royal in Evian les Bains. This luxury hotel is within easy reach of the Evian Resort Golf Club and has breathtaking views overlooking Evian and Lac Leman (Lake Geneva).
Hotel Royal
Set within a 47-acre private park, the Hotel Royal is the ultimate in Belle Epoque style, the grandeur of yesteryear adds a touch of elegance while incorporating modern design.
Hotel Royals rooms and suites have park or lake views and are pet friendly. The hotel has 3 restaurants including the Michelin star Les Fresques.
For more information and latest prices click here…
Getting to Evian les Bains
Geneva in Switzerland has the closest International Airport to the town of Evian les Bains, from there you can either hire a car or take the train to Lausanne and catch the ferry across to Evian les Bains.
Last thoughts on visiting Evian les Bains
We have fallen in love with France on many occasions, when we visited Paris, Marseille, Cherbourg and the World War One battlefields, now it was time to fall in love with Evian les Bains. The stunning beauty of the area, friendly, welcoming locals and abundance of activities make Evian a place that everyone should visit.
There are so many activities we missed and wouldn't hesitate to visit this region again. Have you visited Evian les Bains? Have you visited Lake Geneva or Lac Leman? Feel free to leave a comment we would love to hear your take on this stunning area.
PIN THIS TO YOUR TRAVEL PINTEREST BOARDS ↓