We began house sitting Scotland and England in late February, this was our second year of house sitting abroad and it gave us the opportunity to visit places that aren't usually on the tourist radar.
We enjoy house sitting and using this mode of accommodation has allowed us to explore the United Kingdom and Europe for longer than we ever thought possible.
We documented the first part of our adventure in House Sitting London and Beyond. We continue our journey exploring the places we visited while house sitting England and Scotland.
This post may contain affiliate links, which means we may receive a commission, at no extra cost to you, if you make a purchase through a link. Please see our full disclosure for further information.
House Sitting Inverness Scotland
Housesitting in Scotland is an attractive option for those wanting to save money. Long term house sitting Scotland assignments can be found on house sitting sites such as Trusted HouseSitters. Home owners looking for house sitters Scotland reach out to sitters via adverts submitted on the house sitter wanted section of this site so it's a good starting point for anyone considering house sitting.
Click here to learn more about membership of Trusted Housesitters
We returned to the Black Isle near Inverness in Scotland. This was our second visit as cat and dog sitter to a lovable gang of four cats and a dog. The Black Isle of Scotland is in a rural setting and the perfect place for adventurous pets.
Maudie the dog loved her walks, chasing rabbits and playing in the garden. Ossie was a gentle puss who loved to join us for our walk with Maudie, watching them together always made me smile, I've never seen a cat enjoy a walk with a dog before.
After a busy day of hunting Raggie would to snuggle up close and purr. Smeagle liked to keep us company, showing off her computer skills and being rewarded with regular cuddle breaks. Scarlett loved napping in the greenhouse and of an evening would stretch across my legs to be pampered.
What to see near Inverness
Inverness is the gateway to the stunning beauty of the Scottish Highlands.
There are so many things to do around Inverness. Nothing can prepare you for the mystical mood of Loch Ness, the bloody battlefields of Culloden, the spectacular scenery of Cairngorms National Park and the rolling fields and rocky shores of the Black Isle.
Around Inverness you will find areas of rich history, unique cottage industries and a thriving arts and entertainment scene, all reasons to fall in love with the Scottish Highlands.
Learn more about The Things to do Around Inverness Scotland and Visiting the Scottish Highlands
House Sitting in Worthing
At Worthing, we met the very handsome Tom. Tom had super soft fur, an easy-going nature and one of the loudest meows I have ever heard. Tom was an inside cat and we spent many hours snuggling up and spoiling this tall sleek charmer.
What to see in Worthing
We arrived in Worthing and were dazzled by the warmth of the sun, captivated by Worthing's Art Deco pier and enchanted by the turquoise water of the English Channel.
There are so many things to do in Worthing. A visit to Worthing is fun for the whole family, this seaside resort has everything you need to make your holiday complete, water sports, arts and entertainment, shopping and a thriving dining and pub scene.
Worthing is surrounded by the sweeping hills and lively markets towns of the South Downs National Park and within easy reach of Brighton, Portsmouth and London.
Learn more about The Things to do in Worthing West Sussex
House sitting in Enfield
We were house sitting London suburb of Enfield. Here we met a sweet little puss called Ellie. Ellie was a little aloof to begin with but was soon hanging out with us, exploring the garden and enjoying the sun. Ellie's loved being stroked and brushed.
What to see near Enfield
Enfield is the perfect location for visiting London. Just 16 kilometres from the heart of London, Enfield has good rail links that will take you to central London in around 30 minutes.
Piccadilly Circus
We took the Piccadilly line tube to Piccadilly Circus where we relaxed and people watched while sitting at the base of this famous statue.
We walked along Shaftsbury Avenue passing the Apollo, Gielgud and Queens Theatres, their banners advertising the latest stage shows reminding us that we were in London's celebrated West End.
We came to London's Chinatown where we explored the exotic shops and restaurants that lined the streets.
Harrods Department Store
Getting back on the Piccadilly line tube we headed to Knightsbridge and the legendary department store, Harrods!
When you enter Harrods, you step into a world of luxury. Most of us will walk around in wonder admiring all that glitters from afar, envying the few that make this department store their lifestyle.
So why do we put ourselves through this torture? Because it's simply one of the most beautiful department stores in the World.
Kensington Gardens
The sun was shining as we walked up Kensington Road. We crossed the road and entered a haven of green. People relaxed in green meadows watching friends play football, others walk the tree lined pathways sprinkled with flowers.
We come to the impressive Albert Memorial, an outpouring of grief from Queen Victoria's to her late husband Prince Albert. Across the road from the Albert Memorial is the Royal Albert Hall, the venue for the BBC Proms, films and some of the most memorable concerts in history.
Where to eat around Piccadilly Circus
The Comedy Pub
The Comedy Pub is a cosy Victorian pub, a lovely place to unwind after a full morning of sightseeing. We dropped in for a lunch and tried the Steak Focaccia Melt and the Chicken Breast Burger, both were delicious. The Comedy Pub also hosts live stand-up comedy shows.
London Chinatown Restaurants
Walking around Chinatown you will be spoilt for choice when it comes to Chinese restaurants. Most have their menus on display outside the restaurant. Many feature lunchtime Dim Sum menus and some tempt you in with the delicious Cantonese style roast ducks that hang in their windows.
Attractions outside London
Hatfield House
We visited Hatfield House by accident, instead of taking our train to Enfield we hopped on the train to Welwyn Garden City and it wasn't until we got to Hatfield Station that I realised we were on the wrong train.
I have a love of English history and have always wanted visit Hatfield House, the childhood home of Queen Elizabeth I.
Before becoming Queen, Princess Elizabeth's hold on the throne was unstable and for a time was held under house arrest at Hatfield House.
For me the chance to walk the halls of Hatfield House was a dream come true. With its rich history and grandeur our visit to Hatfield House was unforgettable.
A short trip Valencia Spain
We had four days free from house sitting assignments so we decided to take advantage of the cheap flights between the United Kingdom and Europe.
Looking at destinations we decided to visit Valencia in Spain. Because we had such a short time in Valencia we chose not to take any tours, instead we just wanted to soak up the atmosphere of this stunning city.
Valencia is an easy city to get around, it has an efficient Metro system with stress free connections from the Airport. Walking around the city is a breeze with most attractions centrally located.
We stayed near the historical centre and explored the small laneways and charming shops filled with colourful pottery, traditional clothing and artefacts.
Shaded avenues lead to ornate churches and the charming historic buildings that give Valencia so much character.
Delicious aromas drift out of small cafes and restaurants that line the streets and stall owners sold their exotic produce at the decorative Mercat Central (Central Market).
We fell in love with Valencia, there are so many things to do in Valencia and would jump at the chance to visit again in the future.
Where to eat in Valencia
Valencia is a foodie's dream, café's and bistro's sell small dishes of tasty morsels called Tapas, which are perfect to share while having a drink.
You can't come to Spain without trying their signature dish "Paella" this savoury rice dish comes in many flavours, chicken and rabbit or the more popular Seafood Paella. Valencia is by the sea and you will find a great selection of seafood dishes on the menu.
For breakfast, you can't go past Tostada Con Tomate, toasted bread drizzled with olive oil, covered in freshly ground tomato and sprinkled with salt, a simple and delicious breakfast. Tostada Con Tomate is served with freshly squeezed orange juice and Café Con Leche (coffee with milk).
There are cafes, bistro's and restaurants all over the city, we enjoyed the small street side bistros on Calle Cerrajeros, a small laneway off Carrer de Sant Vincent Martir.
Where to stay in Valencia
One Shot Palacio Reina Victoria Hotel
I loved everything about this Hotel, from its elegant façade to its history and links to author Ernest Hemingway.
The rooms are large and modern, with comfortable bedding. The bathroom is modern, clean and bright with a choice of spray and power shower. The Staff are warm and welcoming.
The One Shot Palacio Reina Victoria Hotel is located in the heart of Valencia close to Old Town attractions and within walking distance to the Colon Metro station with direct links to Valencia Airport.
Click here for One Shot Palacio Reina Victoria Hotel latest rates and more…
House sitting in Hartlepool
Our last house sit was Hartlepool, here we had the pleasure of meeting TC and Leila.
TC was a big puss who looked like a tiger but had a heart of gold. This handsome boy loved his tummy rubbed and his cuddles.
Leila was scared of strangers and hid for the first couple of days, we soon became good friends and were rewarded with lots of leg rubbing and purrs.
What to see in Hartlepool
Hartlepool is an industrial city in the North East of England. Here we stayed in a gorgeous apartment overlooking Hartlepool Marina, a lovely place to watch sailboats glide through the water.
If you're looking for things to do in Hartlepool, here is what we found.
The National Museum of the Royal Navy Hartlepool
The National Museum of the Royal Navy Hartlepool is a must see for anyone planning a visit to Hartlepool. The museum takes you through a range of life like displays showing life on the HMS Prosperity around the time of the Battle of Trafalgar.
Docked outside is the HMS Trincomalee a 19th century frigate. The HMS Trincomalee is the oldest warship still afloat in the United Kingdom. Exploring below decks you will astounded by the living conditions and cramped quarters that housed these brave sailors.
Around the dock you will find printing, tailor and provisions shops and a family home set up in the style of the times.
The National Museum of the Royal Navy Hartlepool also gives cannon and pistol demonstrations. Here you can feel the weight of an 19th century pistol and hear the ear-splitting boom of a small cannon. It makes you wonder how loud the massive cannons on the HMS Trincomalee sounded.
The Museum of Hartlepool
I enjoyed the Museum of Hartlepool, it had an extensive display of artefacts and characters portraying Hartlepools long history. I found the changes in fortune and industry over the ages fascinating and a testament to the spirit of the people of Hartlepool past and present.
The museum also houses cartoons by Hartlepool's famous son Reg Smythe the creator of Andy Capp.
The passenger ferry PSS Wingfield Castle served the River Humber from 1934 to 1974. You can explore the decks and engine room of the ferry or take a break in the cafe.
The Museum of Hartlepool is located next to the National Museum of the Royal Navy Hartlepool.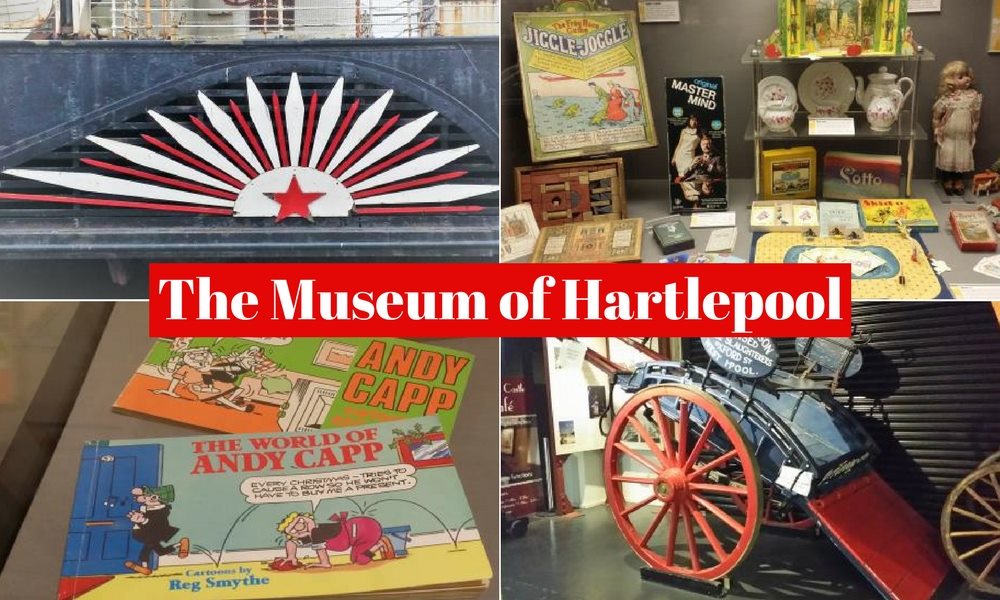 Where to eat in Hartlepool
Hartlepool Marina is picturesque location with views overlooking colourful boats and the tall masts of the HMS Trincomalee.
The Hartlepool Marina has a large range of restaurants and cuisines to choose from and is especially popular on the weekends, the place to sit back and relax. The Marina includes a mixture of Spanish, Turkish, Indian, Caribbean and English cuisines.
Last thoughts on house sitting Scotland and England
The last 4 ½ months have just flown by and in that time we have made a lot of new friends, fallen in love with a fantastic bunch of pets and explored the changing landscapes of the United Kingdom.
We are so thankful to have had the opportunity to discover the beauty and diversity of Scotland and England, something that wouldn't be possible without house sitting.
House sitting has changed the way we see the world and we will continue long term house sitting as a lifestyle choice.
If you have ever considered housesitting there are many house sitting websites to choose from, we use and recommend Trusted HouseSitters.
Click here to learn more about membership of Trusted Housesitters
Have you considered house sitting? If you would like more information please feel free to comment.