We grew up with Bristol, through stories of smugglers and pirates. Bristol was home to anti-heroes such as Long John Silver from Treasure Island and Blackbeard the Pirate, a place full of excitement. So, with these romantic visions in mind, we set out to discover the real Bristol, to explore this modern city and search for fun things to do in Bristol.
What we found was a city with a rich history of hardworking, enterprising people, a vibrant arts and entertainment scene, stunning historical houses and buildings, a foodie's paradise and a wealth of shopping options to keep any shopaholic at bay. We soon discovered why so many people fall in love with Bristol.
This post may contain affiliate links, which means we may receive a commission, at no extra cost to you, if you make a purchase through a link. Please see our full disclosure for further information.
Getting Around Bristol
Getting around Bristols city centre couldn't be easier. Bristol is a superb city for walking and we found the bus system to be efficient with some buses leaving at 10 minute intervals. Buses are a great way to get to attractions further afield.
For an introduction into Bristols tourist attractions, the red Open Top Bus is ideal for those visiting Bristol for a short time and a great way to orientate yourself to the city. The Open Top Bus's first stop is behind the "Watershed" in the Harbourside area of Bristol.
Also, located at Harbourside are Bristol Ferry Boats. Bristol Ferry boats give you the chance to explore Bristol from the River Avon. The ferry service takes you along Bristol's famous floating harbour to Brunel's SS Great Britain or take a trip in the other direction to Brunel's Elizabethan inspired Bristol Temple Meads railway station.
During the warmer months, enjoy cruising Avon Gorge and view the Clifton Suspension Bridge from its most impressive angle. Take a lazy Sunday cruise and spend a day in the sunshine with a cider and a delicious Sunday roast at Beese's Bar and Tea Gardens. Don't miss Beese's Beer, Cider and Music festival.
Bristol Points of Interest
A trip to Bristol wouldn't be complete without a visit to the ss Great Britain and Clifton Suspension Bridge. Both iconic Bristol landmarks were designed by the famous Victorian engineer Isambard Kingdom Brunel.
ss Great Britain
The ss Great Britain, is full of history and family fun.
The ss Great Britain was launched in 1843 and at the time was the largest, most luxurious ship in the world. The ss Great Britain is considered the forerunner to modern shipping and was the first ocean going steam ship to have an iron hull and screw propeller.
We enjoyed many hours exploring the ss Great Britain. We gained an insight into what life was like for both first class and steerage passengers, during their long journey to the Australian gold fields.
Other fun activities include climbing the ships rigging for spectacular views of Bristol or having a photo taken dressed as a Victorian lady or gentleman.
ss Great Britain is wheelchair accessible.
Clifton Suspension Bridge
Designed by Brunel, the Clifton Suspension Bridge was completed in 1864 and has been a tourist attraction ever since.
Spaning the picturesque Avon Gorge and Avon River the Clifton Suspension Bridge has stunning views overlooking Bristol and the surrounding countryside.
The area is famous for its bird life and attracts Peregrine Falcons during the summer months and is home to rare plants that bloom during spring and autumn.
The White Lion terrace at the Avon Gorge Hotel is a popular place to sit and enjoy afternoon tea or a beer while taking in magnificent views of the Clifton Suspension Bridge.
Fun Things to do in Bristol – Arts & Culture
Bristol Street Art
Bristol is famous for its street art. As you ride the bus around the city you will see many works of art by these talented artists. Nelson Street in the city centre, showcases works from the See No Evil project and is within easy reach for anyone without transport. One of the most famous artists is the elusive Banksy and you will find one of his works (Well Hung Lover) on the side of a building on Park Street.
If you are interested in street art, Bristol history and walking the Blackbeard to Banksy: the Ultimate Bristol Walking tour is a fun, informative way to learn more about this exciting city.
Bristol Hippodrome
Opening its doors in 1912, this grand old lady has been entertaining Bristolians for generations. A teenage Archie Leach worked there before running away with the Circus and later transforming into the debonair actor, Cary Grant.
The Hippodrome stages concerts, opera and stage shows such as Funny Girl, Singing in the Rain and Grease. We were fortunate enough to see the stage show Sunny Afternoon, the story of one of our favourite bands The Kinks, it was a brilliant show in a historic atmosphere.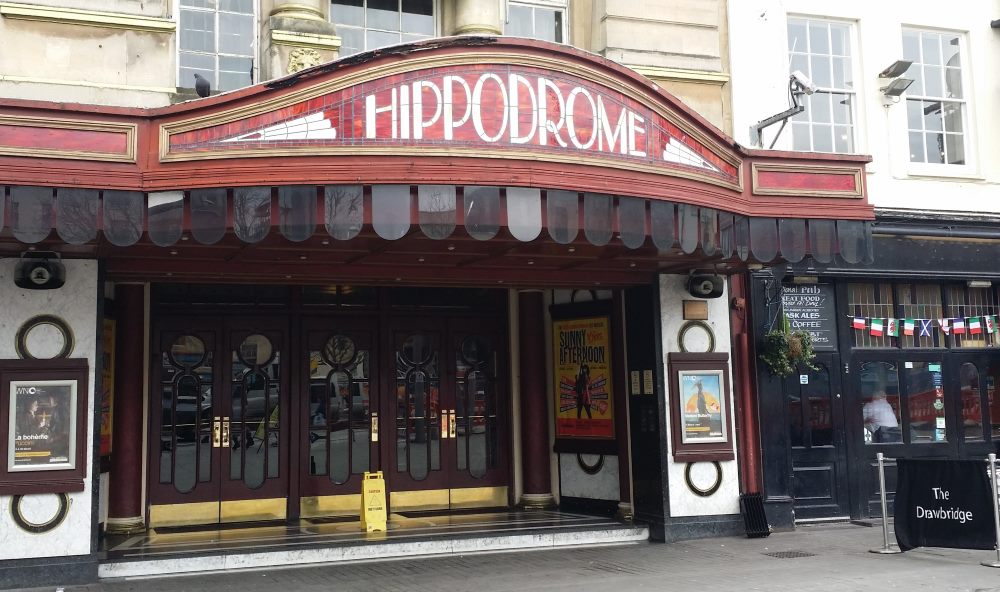 Bristol Museum and Art Gallery
Bristol has many museums, one of my favourites is the Bristol Museum and Art Gallery. The museum contains a collection of artefacts from the natural and ancient world. Gallery artworks include artistic styles from old master Italian and Dutch paintings to modern and contemporary art.
I was excited to find that Warrior Treasures: Saxon Gold the Staffordshire Hoard is one of the visiting exhibitions and thrilled to see these treasures in person. The Warrior Treasures exhibition is on until the 23rd of April 2017. Free Entry
Watershed
Located in historic Harbourside, this arts & cultural cinema screens independent home grown and foreign films. The Watershed Café and Bar serves a selection delicious dishes with vegan and vegetarian options. The Watershed is wheelchair accessible.
M Shed
Another Harbourside treasure is the M Shed. The M Shed is a social history museum, the place to learn more about the places, life and times of Bristol's residents past and present. Free Entry
Bristol Tourist Attractions
Bristol Aquarium
The Bristol Aquarium is located at Harbourside. The aquarium is split into different habitats, UK waters, Coral Seas and the Mighty Amazon and showcases species from each of these vastly different ecosystems.
My favourites are the deadly piranha, the beautifully coloured but highly poisonous Amazonian frogs and seahorses. The larger aquariums display stunning range of marine fish and plants. Bristol Aquarium is wheelchair accessible.
At-Bristol Science Centre
Next door to the Bristol Aquarium is the At-Bristol Science Centre. The science centre is lots of fun for anyone from ages 8 – 80, the place to go for the young and the young at heart.
At Bristol Science Centre has hundreds interactive science exhibits, science shows and planetarium shows. A place to have fun while learning. At-Bristol Science Centre is wheelchair accessible.
Bristol Zoo
Bristol Zoo was opened in 1886 and is the fifth oldest zoo in the world. The zoo is home to many different species of animal but is famous for its Gorillas.
For children, zoo activities include ZooRopia, an adventure rope course or getting crafty at the Zoo's Activity Centre. For adults there are a range of zoo experiences to choose from, become a zoo keeper for the day or get up close and personal with a Gorilla during the VIP Gorilla Experience.
Shop till You Drop in Bristol
Bristol is a shoppers' paradise, from high-end shopping to flea market, Bristol has it all.
Bristol's shopping quarter is massive and consists of two covered shopping malls Cabot Circus and The Galleries which are connected by a shopping street of independent shops and department stores such as Marks & Spencer and Debenhams.
St Nicholas Market's Old City charm make it a joy to explore. Small shops selling anything from vintage records to hand made arts and crafts, all tempting you to come in and buy. St Nicholas Markets are a hive of activity during lunch hour with small food stalls selling local and international dishes.
Clifton Village is one of the prettiest areas of Bristol. Surrounded by Georgian architecture you feel like you have been transported back in time. Clifton village and Clifton Arcade are full of small designer boutiques, jewellery shops and antique shops. A place to get lost and explore.
Bristol Flea Market is held every Saturday on Corn Street. You will find a mixture of vintage clothing, bric-a-brac, antique silver and trinkets. The place to pick up a bargain.
Harbourside Weekend Market
On the weekend Harbourside is a popular meeting place for locals. Harbourside has a busy weekend market that sells clothing, jewellery, books and art & crafts. Sit back relax and enjoy a drink or a bite to eat from one of the many food stalls that pop up on the weekends.
Eat, Drink and be Merry in Bristol
Bristol is an international city and this is reflected in its cuisine, from food stall and cosy café to award winning restaurants, Bristol has so many excellent dining options. It is impossible to mention them all but here are a few of our favourites.
Boston Tea Party
Exploring Clifton Village, we dropped into the Boston Tea Party for a reviving coffee and light lunch. Our sourdough sandwiches were delicious, the Staff super friendly and we were impressed by the local art on display.
The Mall Deli Café
This Clifton village deli sells a great selection of cheeses, meats, salads and baked goods. A lovely place to drop in for tea and cake or grab a Glazed Sausage Bap on the run, Yum!
The Ivy Clifton Brasserie
Breakfast at the Ivy in Clifton Village was a treat, such a beautiful restaurant, great service and we enjoyed a delicious breakfast of Eggs Benedict and Ham and Cheese Omelette.
The Cowshed
We were just passing the Cowshed on White Ladies Road and decided to check it out. We loved the relaxed atmosphere and chose a set Lunch Menu of Beer Battered Fish and Chips and Cowshed Pie, comfort food for two cold Australians.
Three Brothers Burgers
Three Brothers Burgers is hamburger heaven. There is a large choice of designer hamburgers including vegetarian hamburger options. We tried the Smokey "Bro" Burger and Veggie Mountain Burger. Delicious!
Bristol Cider Shop
The West Country is renowned for its cider and a great way to sample these ciders is to book a cider tasting session at the Bristol Cider Shop. Make sure you book as places get snapped up quickly. The Bristol Cider Shop is located at Wapping Wharf.
EatWalkTalk Bristol Food Tours
The EatWalkTalk Bristol Food Tours are a fun way to discover Bristol's 1,000 year old history while enjoying Bristol's flourishing food scene. The tour includes at least 10 different food and drink tastes. Book early to avoid disappointment.
Old World Bristol
Bristol is full of old world charm, with every turn you will discover buildings of interest and beauty. Here are a few of our favourites.
St John the Baptist Church
This fourteenth century church more commonly known as St John's on the Wall. Originally five churches were built into the Old Cities medieval walls, St John's on the Wall is the only one that survives.
Friendly Volunteers from The Churches Conservation Trust are on hand to give a glimpse into church history and the lives of some of the churches more colourful parishioners. Well worth a visit.
Llandoger Trow
I love the history of this pub, built in 1664 it's rumoured to be a haven for pirates and said to be the inspiration for the Admiral Benbow Inn in Treasure Island. The Llandoger Trow serves pub food and is the place to sit and relax with a beer and cider.
Georgian House Museum
The Georgian House Museum is a window into daily life in 1790. The house was originally built for John Pinney, a sugarcane merchant and slave plantation owner and shows the differences between Upstairs and Downstairs living. Free entry
Arnos Vale Cemetery
Arnos Vale Cemetery may be an unusual choice for a tourist attraction, but it's one that shouldn't be missed.
Arnos Vale is a Victorian Garden Cemetery. Magnificent memorials showcase the splendour of the Victorian age. With a mixture of well tendered lawns, meadows and woodland it is a haven for wildlife.
Its peaceful beauty attracts people from all walks of life, whether walking the dog, taking the baby out for a stroll, sitting in the sunshine reading a book, or relaxing with coffee and cake at Kate's Kitchen café, Arnos Vale Cemetery enjoys a community feel.
Arnos Vale Cemetery is just outside of Bristol on the A4 Bath Road. Getting there was easy, we took the No. 1 bus from Bristol city centre and got off at Paintworks. free entry
Where to stay in Bristol
Bristol Harbour Hotel
Housed in the lavish façade of a former bank, the Bristol Harbour Hotel offers luxurious hotel, a perfect mix of old world splendour with contemporary design.
Relax in style and enjoy a cocktail in the Gold Bar, dine at the award winning Jetty Restaurant or walk down to the former bank vaults and indulge yourself in the hydrotherapy pool, sauna or pamper yourself with a spa treatment at the Harbour Spa.
Stay at Bristol Harbour Hotel
For the ultimate urban escape in Bristol, we recommend the Bristol Harbour Hotel. Check out the latest prices and more details.
Paintworks Apartments
For a different style of accommodation, escape the city to Paintworks. Enjoy modern loft style apartment living within easy reach to Bristol Temple Meads railway station with connections to Bristol via No. 1 bus.
With a choice of different styles and sizes, the apartments are suitable for families and couples. Enjoy your stay with dining and entertainment at the BocaBar.
Stay at Paintworks
Feel like home in modern loft style living, we recommend Paintworks Apartments. Check out the latest prices and more details.
Summary
We have only scratched the surface of the fun things to do in Bristol. Bristol is a vibrant city full of life, charm, and friendly people. We loved our time in Bristol and hope we can visit again in the future. Next stop Oxford. You can read our guide on what to see and do in Oxford here.
Have you visited Bristol? Leave a comment and tell us about it.