After arriving at London's Gatwick Airport, we quickly hopped on a train to the town of Guildford in Surrey. Travelling through the English countryside, we caught a glimpse of a grand manor house, its lush green meadows decorated with a sprinkling of wild flowers, the perfect place for cows to sit lazing in the sun. A magical introduction to Surrey.
We had never been to Guildford so once we arrived we set out to explore the things to do in Guildford town centre. What we discovered was a town with its roots firmly linked to the River Wey.
This post may contain affiliate links, which means we may receive a commission, at no extra cost to you, if you make a purchase through a link. Please see our full disclosure for further information.
Guildford tourist attractions
The beauty of Guildford's historic buildings, ancient castle and gardens, the picturesque countryside, sleepy villages and the scenic pathways of the River Wey, are all reasons why Guildford should be on your list of places to visit in England.
What to do in Guildford Surrey
There is so much history in Guildford, just walking through the small laneways will have you discovering hidden treasures, here are our top picks for what to see in Guildford.
Guildford Castle
Guildford Castle's great tower has stood watch over Guildford for almost a thousand years. The castle was built by William the Conqueror soon after he invaded England in 1066. The moat that once surrounded the castle is now beautifully manicured gardens, the place to sit and relax on a summers day.
For a small price you can enter the castle tower and museum. Surprisingly the Kings rooms look less than luxurious by today's standards and it had me wondering how the common folk lived, one thing for sure our ancestors were a tough bunch.
With narrow windows and walls are metres thick, the tower has stood the test of time, a testament to the engineering of what was more a fortress than a home.
Guildford Guildhall
I fell in love with this building, the intricately carved wooden mantles that support the portico, the decorative town clock and dome roof and terrace, take pride and place on the High Street. Viewed from the street the Guildhall frames St Nicholas Parish Church and green fields and forests in the distance.
We arrived amid pomp and circumstance, Guildford had a new Mayor and we were delighted to catch a glimpse of the swearing in ceremony. We met and had a chat to the town crier and mace bearers, all looking handsome dressed up in full regalia.
From May to September the Guildhall offer self-guided tours every Sunday between 11am and 5pm. Guided tours are held on Sunday between 2.30pm and 3.30pm.
River Wey Navigations
In these days of fast trains and lorries, it's easy to forget that river and canal networks of the United Kingdom where once the life blood of the nation. These networks linked the country and made it rich through trade and commerce.
The River Wey was the first opened to barge traffic in 1653, a feat made possible by the River Wey Navigations, manmade waterways that linked Guildford to London.
Images of heavy laden barges being towed by sturdy horses come to mind as you walk along these former towpaths, where cityscape turns to a landscape filled with an abundance of wildlife.
Dapdune Wharf
If you head to Dapdune Wharf you can learn more about the building of the River Wey Navigations, the life of the bargemen or take a short cruise down the River Wey and discover the landmarks of Guildford from a river perspective.
Dapdune Wharf also holds a series of events throughout the year such as guided walks and orientation weekends. I would have liked the Urban Foraging walk as I'm curious about the vegetation growing along the towpath, unfortunately I missed it by a couple of days.
Dapdune Wharf is owned by the National Trust and charges a small fee to enter. For more places to go in Guildford and tourist information on Guildford Surrey, head to the Guildford Tourist Information Centre on the High Street.
Free things to do in Guildford Surrey
If you come looking for free things to do in Guildford, you won't be disappointed. Here are some of Guildford's things to do for free.
Town Walks
There is no better way to get a feel for a new city or town than by taking a guided walking tour, it's the best way to learn more about Guildford's colourful history and cast of characters.
There are a range of free walking tours in Guildford between May and September. Some of the walks on offer include a stroll through Guildford's past from Saxon times to the 20th Century, Guildford's pubs and inns, or you can a walk in the footsteps of Guildford's famous residents, past and present.
The walks are held on most days and best way to join them is to meet at the Tunsgate Arch on High Street at 2.30pm. For more information on the walking tours head to the Guildford Tourist Information Centre at Guildford House on the High Street.
Self-Guided Walks
The Guildford Historic Trail map will take you on a journey to 23 of Guildford's most famous and interesting landmarks.
A mixture of old and new, you can explore the great tower of Guildford Castle or visit the Alice and the White Rabbit statue, a tribute to Alice in Wonderland author Lewis Carroll, who lived part of his life in Guildford.
You can get your map from the Guildford Tourist Information Centre at Guildford House on the High Street and follow the trail from the first disc at the Tunsgate Arch on High Street.
Guildford Shopping
Guildford has shopping at its heart and will satisfy even the most ardent shopaholic amongst us. Guildford has everything from shopping malls, small boutiques, curio shops and you can even grab a bargain at the markets.
Street Markets
If like me you love markets, head to North Street on Friday and Saturday. Stalls include freshy picked fruit and vegetables, flowers, artisan breads and a selection of jewellery and bags. Great value for money.
The Friary
For those who love shopping malls The Friary has everything you could ask for, with brands such as Mango, Zara and Topman, there is something that will please every member of the family.
Tunsgate Arch
If you are walking up to Guildford Castle through Tunsgate Arch, make sure you take the time to stop at the black and gold exterior of Cry for the Moon. This charming jewellery shop sells stunning collection of antique and modern jewellery, that is sure to put a smile on any woman's face.
A little further up the road you will find Ben's Collectors Records. Anyone who grew up with records or is into the vinyl revival will be in heaven, you will find all your favourite classic albums. We even got to listen to a first pressing of the Beatles Revolver album, a real trip down memory lane.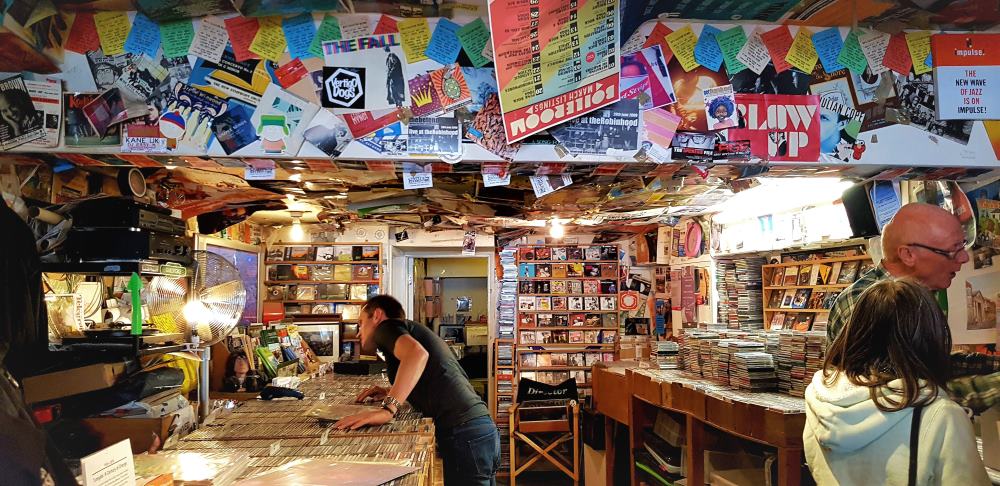 Things to do in Guildford at night
What's on in Guildford at night you may ask, plenty! There is a large choice of things to see in Guildford, comedy shows, clubs and pubs, here are just a couple.
The Ghost Tour of Guildford
For those who like things a little spookier, make sure you keep Friday nights free between April and November.
The Ghost Tour of Guildford is just one of the fun things to do in Guildford by night (and just a little bit scary). This walking tour will introduce you to all things paranormal while discovering the shocking history of Guildford.
The tour begins at 8pm outside the Holy Trinity Church on Guildford's High Street.
G Live Guildford Surrey
For a fun Guildford night out, look no further than the G Live entertainment venue on London Street. G Live's upcoming visiting acts include circus, music, theatre and comedy acts, all the makings for a great night out.
My favourite event would have to be the Hellfire Comedy Club which host a night of curry and comedy once a month, make sure you book as tickets sell out fast.
Fringe Festival
Make sure you don't miss the Guildford Fringe Festival, a multi-arts festival which is held every July. The festival has a vast range of entertainment including comedy, music, theatre and workshops, best of all, many of them are FREE!
Restaurants and Pubs
Rumwong Thai Restaurant Guildford
We spend a large portion of the year in Chiang Mai in Thailand, so we couldn't go past trying a little taste of Thailand in Guildford. Walking through the elegant décor of the Rumwong Thai restaurant we were instantly transported back to Thailand.
We feasted on Ped Yang, a roast duck dish that was served with soy sauce, pickled ginger and Chinese cabbage and Kai Pud Bai Horapa, chicken stir-fried with bamboo shoots, onions, green beans, chilli and sweet basil.
The meal was perfectly cooked, delicious and served by Rumwong Thai Restaurant's friendly and gracious staff.
Rumwong Thai Restaurant can be found at 16-20 London Road Guildford.
The Three Pigeons Pub Guildford
We were lured in to the Three Pigeons Pub by its charming façade, once inside we were even more charmed by the cosy style of this traditional English pub.
The Three Pigeons is a great place to sit with a quiet cider or craft beer or enjoy a leisurely pub lunch or dinner. The Three Pigeons is at 169 High Street Guildford.
Things to do near Guildford
Many people want to know what to do near Guildford, if you are hiring a car, you'll be surprised of the number of the things to do around Guildford.
Places to visit near Guildford include Hatchlands Park, a gorgeous Georgian mansion and parklands or why not stop off for a wine tour and lunch at Denbies Wine Estate, both are perfect for days out near Guildford.
Farncombe and the River Wey and Godalming Navigations
One of my favourite places near Guildford is the peaceful village of Farncombe. Just one train stop from Guildford, Farncombe is easily accessible from Guildford town centre.
What I love about Farncombe is its proximity to the River Wey and Godalming Navigations, a National Trust walking towpath that connects the nearby village of Godalming to Guildford, Weybridge and the River Thames.
Visit Farncombe Boat House
The first thing you notice when you come to Farncombe Boat House are the colourful narrow boats moored along the waters edge.
What made me even more excited was the fact that you can hire these narrow boats for short breaks, weekly holidays or if you are pressed for time you can hire a narrow boat for the day.
Visit Godalming Navigations
The Godalming Navigations were opened in 1764 and extended the River Wey Navigations down to the village of Godalming. These days the 32kilometres (20 miles) of towpaths are walking trails and areas of outstanding natural beauty.
We enjoyed many early morning and late afternoons exploring the Godalming Navigations. We were enchanted by swans drifting majestically through the early morning mist and welcomed to a brand-new day by the birds serenading us from the trees and shrubs of the woodland. Simple things that gave so much joy!
We discovered an abandoned WWII bunker and watched as families gathered together for a picnic on the river bank enjoying a Sunday afternoon relaxing in the sun.
Guildford Accommodation
The Mandolay Hotel Guildford Surrey
We stayed in Guildford on two occasions, both times at the Mandolay Hotel and would recommend it to anyone visiting Guildford.
The first time we stayed in an executive room on the ground floor, the room was beautifully decorated, the bed a dream to sleep in. The room had tea and coffee making facilities and we were supplied with Molton Brown toiletries.
The second time we stayed at the Mandolay Hotel we were upgraded to a junior suite which was located on the top floor. The suite was huge and tastefully decorated with a sitting area and dining table which made our stay very comfortable.
The bed was comfy, and we enjoyed a good night sleep. The room had a Nespresso machine and pods which were complimentary.
The Hotel has an onsite restaurant and bar and we spent a lovely afternoon sitting on the sunny terrace with a beer and glass of champagne.
The Mandolay Hotel is a short walk to Guildford town centre and London Road railway station. London Road Station has connections to central London via London Waterloo Station.
Click here for the Mandolay Hotel rates and further information
Getting to Guildford from London
There are direct train connections from London Waterloo Station to Guildford daily. The journey takes around an hour.
Direct train connections from Gatwick Airport to Guildford are also available.
Last word on things to do in Guildford Surrey
We thoroughly enjoyed our stay in Guildford, it is an attractive town with an ancient heart and modern outlook. Would I visit again? In a heartbeat! There is so much more to experience and see in this beautiful corner of England.
Have you been to Guildford? Have you visited Surrey? We would love to hear about your experiences, feel free to leave a comment.
PIN THIS TO YOUR TRAVEL PINTEREST BOARDS ↓