Well it's that time of year again, the holiday season is upon us and we are all surprised at how quickly the year has gone.
We look back over a year of lifestyle travel that has taken us to 10 countries (Wow! Was it really that many?!). Over the past year we have explored so many different landscapes, learnt a lot about ourselves and experienced acts of kindness that will always be remembered.
This post may contain affiliate links, which means we may receive a commission, at no extra cost to you, if you make a purchase through a link. Please see our full disclosure for further information.
Here are the Highlights of our Year of Lifestyle Travel
New Year's Eve Chiang Mai Thailand.
Our year of lifestyle travel was ushered in by the sound of fireworks, rock music and the glow of lanterns floating high in the sky above the Bus Bar in beautiful Chiang Mai Thailand.
The Bus Bar is popular venue for both Thai's and Farangs (foreigners) who enjoy the casual open air atmosphere, colourful lights of the Iron Bridge and the gentle waters of the River Ping (Mae Ping).
Due to its closeness to the River Ping, the Bus Bar is a perfect spot to celebrate the Loy Krathong and the Yi Peng Lantern Festivals which are held in November.
Click here to learn more about Chiang Mai Festivals…
Pai Northern Thailand
While celebrating New Years, we spoke to a group of young backpackers, who suggested we visit the town of Pai.
Pai is a small town in Northern Thailand's Mae Hong Son Province, made famous as a former hippy hangout, Pai is about 3 hours' drive north west of Chiang Mai.
The road to Pai can be a challenge, with 762 turns it's not unusual to feel a little queasy, but it is an adventure and should be experienced at least once.
Pai's slower, more relaxed pace gives you a chance to see a more rural way of life. Mountains, rice paddies, waterfalls, canyons and small villages are just some of the sights to see in this beautiful area.
Singapore
We live part of the year in Chiang Mai using it as a base while we do house sitting assignments all over the world.
Click here to learn more about House Sitting…
Two assignments took us to Singapore where we had the pleasure of sharing an apartment with an adorable rag doll cat.
The first time we met this beautiful little miss, she was very sick and needed lots of medication. Being sick did not take away from this girl's lovely nature, we made sure she had lots of love and cuddles. On our second visit, we found a healthy happy cat, who still loved to snuggled up for a cuddle.
House sitting not only saves on accommodation, it allows us to live like a local and gives us the chance to enjoy pet company, something we miss now that we live a location independent lifestyle.
Click here to learn more about Location Independent Lifestyles…
We enjoyed our time in Singapore, it is a sleek modern city with efficient public transport and superb attractions. Singapore's rich multicultural mix transform this city into a landscape of contrasts.
See our trip to Singapore here…
Bundaberg Australia
Our next destination was my home town of Bundaberg in Australia.
Bundaberg is the gateway to the Great Barrier Reef. Bundaberg's mild subtropical climate and pristine beaches make it a perfect holiday destination.
The Turtle Trail from Kelly's Beach to Burnett Heads, is one of my favourite places in the Bundaberg region. With changing scenery of beach, wetland, bush, cliffs and rocky foreshore, you will discover something new at every turn.
Along the Turtle Trail at Mon Repos Beach is the Mon Repos turtle rookery. The turtle nesting and hatching season is between the months of November and March, tours to witness this exciting event are held nightly during this time.
Other famous attractions are the Bundaberg Rum factory, Hinkler Hall of Aviation and True Brew Experience Tour at The Barrel.
Read more about our Bundaberg trip…
Copenhagen Denmark
This was our second visit to Copenhagen, this time we used it as a stopover on the way to London.
Coming from Thailand we enjoyed the chill against our skin and the novelty of rugging up.
Copenhagen is fairy tale city with an old world feel. We enjoyed the multi coloured houses and boats of Nyhavn, shopping on cobblestone streets, the excitement of Tivoli Gardens and the impressive parks and Museums.
Read more about our trip to Copenhagen…

London England
London is one of our favourite cities in the world. Walking the streets is like walking in a history book with a list of attractions that is endless. London is a great city for walking and the Tube (London Underground) makes it easier to cover longer distances.
This trip we were house sitting a lovable kitten and a very handsome cat. We had so much fun with the kitten she followed us everywhere. The older cat took time to become friends as he was a rescue cat who had been badly treated by his former owners and stayed hidden for days.
All we could do is make him feel safe and make sure he had plenty of food and water. Thankfully by the time we left he was out and about and letting us pat him. It was a shame to see such a gorgeous cat so traumatised.
Our house sit was in the outer London suburb of Chiswick. Chiswick is like a village in the heart of London. It has everything you need, a tube station, a huge array of shops, restaurants and bars. Chiswick is a half hour tube ride from central London attractions.
We loved our time in Chiswick, it was our taste of living like a Londoner.
Click here for London Hotel rooms…

The Black Isle Scotland
Another house sit, this time looking after 4 glamorous cats and a Scottie dog, on the Black Isle in Scotland.
The Black Isle is just outside of the city of Inverness. We were in a rural location overlooking the Cromarty Firth and the snow-capped mountains above. We called it Gods country!
It was a wee bit chilly, snow-flakes fell from the sky only to melt before hitting the ground and we absolutely loved it. We took the best dog in the world for walks along country lanes with superb views overlooking farms and the water of the Cromarty Firth.
After going out for a few hours to explore this wonderful country, we returned home, lit a fire and snuggled up with our cats and dog and watched the sunset over the Firth, a perfect way to end a day.
Click here for our trip to the Black Isle Scotland…


Berlin Germany
We stopped off to visit our son in Berlin Germany. This was our second visit to this exciting city. Staying in a different area than last time, we discovered that Berlin is a city of contrasts.
Berlin has always had a reputation for the Avant Garde, it is edgy, alternative city full of art, music and nightlife. Just when you think you know Berlin, you will find a city proud of its history and culture, with elegant buildings, churches and museums.
Berlin is a city to visit at least once in your life.
Read more here about our trip to Berlin…

East Side Gallery – Berlin Wall
Back to Chiang Mai
Landing back in Chiang Mai was like coming home. Chiang Mai has a laid-back charm that keeps people coming back year after year. Chiang Mai is a modern city that embraces its traditional past. There is so much to do in Chiang Mai, here are some examples of how to spend 5 days in Chiang Mai.
Click here to see how to spend 5 Days in Chiang Mai…
Manila Philippines
Off to Manila in the Philippines for a short house sit looking after two sweet natured cats who loved lots of cuddles.
We explored the streets and shopping malls of the Chinatown area and toured the beautiful monuments of Manila's historic past. We learnt about Manila's turbulent history and struggle for independence and came to admire the courage of their national hero Dr Jose Rizal.
Because of our short time frame, we missed out many of Manila's ultra-modern attractions such as the massive Mall of Asia.
See what to do during 4 days in Manila…
Macau
We took a short breather between house sits in Macau.
Macau is full of casino's and though we don't gamble we still had so much fun. Many casinos offer free entertainment and dining options that you can access without stepping into the gaming area of the casino. The casinos are luxurious, stunningly decorated and worth a visit.
My favourite part of Macau is the Historical Centre. The Macau Historical Centre is a UNESCO World Heritage site of colonial Portuguese buildings, and winding Chinese streets, where East meets West.
Read more about what to see and do in Macau…

Hong Kong
Another of our favourite cities, Hong Kong has gone through many changes since we first visited in 1979.
Our house sit was on Hong Kong Island in the mid-levels. We looked after two laidback cats who loved to play and sneak into our bed.
There is so much to do in Hong Kong, with the first-class MTR system (Metro) it is easy to get around the city.
Check out our story on Hong Kong to discover why we keep coming back to this dynamic city.

Vietnam
We always wanted to go to Vietnam and now was our chance. We purchased a Visa on arrival which made entering Vietnam much easier.
Hanoi's Old Quarter was a surprise to us. Arriving early in the evening our senses were assaulted by the sounds of horns blaring, crazy traffic, the cries of stallholders selling their brightly coloured wares and the smell of cooking and we absolutely loved it! Hanoi is a must for any traveller.
See how we spent our 3 Days in Hanoi…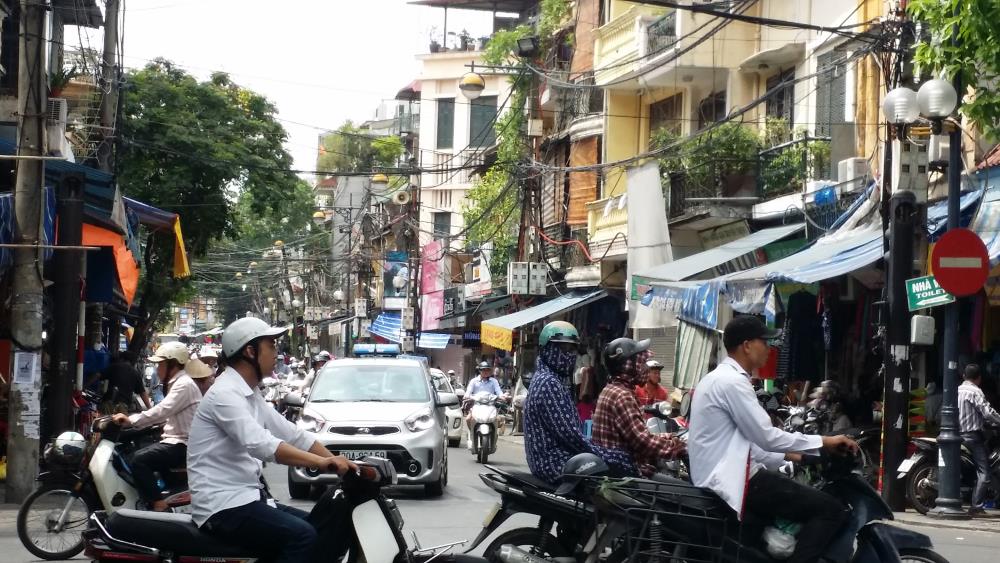 Halong Bay is a 4-hour bus ride from Hanoi. Halong Bay is famous for its towering limestone formations and peaceful inlets. This UNESCO World Heritage site, is stunning and no trip to Vietnam would be complete without a visit to this beautiful part of the world. There are many types of cruises in Halong Bay, day cruises, one night cruises and two night cruises, the choice is yours.
Click here to see our trip to Halong Bay…
Hoi An is not far from the port city of Danang. Hoi An's ancient town is home to small shops, coffee shops, restaurants and bars. Hoi An's slower more relaxing pace makes it a popular holiday destination.
Click here for our trip to Hoi An…
Ho Chi Minh City is formerly known as Saigon. This city is steeped in history, especially the Vietnamese War. For those interested in the Vietnamese War there are many places to visit in and around Ho Chi Minh City.
Read more about our trip to Ho Chi Minh City…
Return to Chiang Mai
We were happy to be back in Chiang Mai, living a more settled life. Deep into low season it is a much quieter city. Chiang Mai is a popular hangout for world travel bloggers, we have made many friends who also enjoy lifestyle travel.
Mixing with our more permanent friends, we discovered more about the Thai culture and hints for living long term in this city.
Click here for helpful hints for living in Chiang Mai…

Northern Thailand Tour
Recently we were chosen to join a group of Expat Ambassadors for a 4-day tour of Northern Thailand. Our tour was hosted by a group of Thai Government and Non- Government agencies to promote Northern Lanna Long-Stay.
This jam-packed tour took us to the Chiang Mai, Lumphun, Lampang and Mae Hong Son Provinces.
We discovered tourist attractions, health facilities, homestays and areas of astounding beauty while experiencing friendly Northern hospitality.
We were so glad we were chosen for this tour, as we were introduced to destinations we would never have found on our own.
See our Northern Thailand Tour…
Christmas in Australia
Well it's almost time to leave Chiang Mai and go home to Australia. We are looking forward to catching up with family and friends and spending time at the beach, relaxing in the summer sun.
We are excited to be returning for Christmas celebrations and can't wait for a traditional Christmas of prawns (shrimp), ham, turkey and of course, a glass of Champagne.
New Year's Resolutions
As you can see we had a busy year of lifestyle travel, one that we will never forget. We look forward to our future world travel and wish everyone the best for the coming year.
Happy and safe travels to all.