Do you have an interest in ethnic and religious tattoos? Did you know that Chiang Mai in Thailand is one of the best places to discover the mystique of Sak Yant Thai temple tattoo's?
We recently had the honour of observing this fascinating ritual and it gave us the opportunity to learn more about Buddhist beliefs and the traditions of the Sak Yant Chiang Mai Buddhist Tattoo.
This post may contain affiliate links, which means we may receive a commission, at no extra cost to you, if you make a purchase through a link. Please see our full disclosure for further information.
What is a Sak Yant tattoo?
A Sak Yant is a traditional Thai tattoo that is performed and blessed by Buddhist Monks. Sak Yant derives from the Thai words Sak – tattoo and Yant – spiritual or magical.
The Sak Yant has a long history and can be dated back thousands of years and has its origins in tribal, Hindu and Buddhist beliefs.
A Sak Yant is a mix of Thai spiritual tattoo and Thai protection tattoo and is performed in the traditional Thai tattoo method. Thai temple tattoos are works of art and created by tapping ink into the skin with a long rod called a "Khem Sak".
Because Monks bless Thai Buddhist tattoos they are believed to hold special powers and are often used by Thai boxers for protection, for success and good fortune by businessmen, charm and charisma for those looking for love and influence.
Many celebrities have Sak Yant tattoos, Angelina Jolie Sak Yant tattoo has inspired women to consider Thai design tattoos because of their spiritual meaning.
How is Sak Yant performed?
Sak Yant tattoos are crafted by Buddhist Monks, men's tattoos will take place on Buddhist Temple (Wat) grounds, women will have their tattoos done by Monks outside the temple grounds.
Because this is a Buddhist ritual, you must be respectful at all times, a Sak Yant tattoo is not for adornment, they contain Buddhist mantra's, prayers and symbolism that should be believed and revered.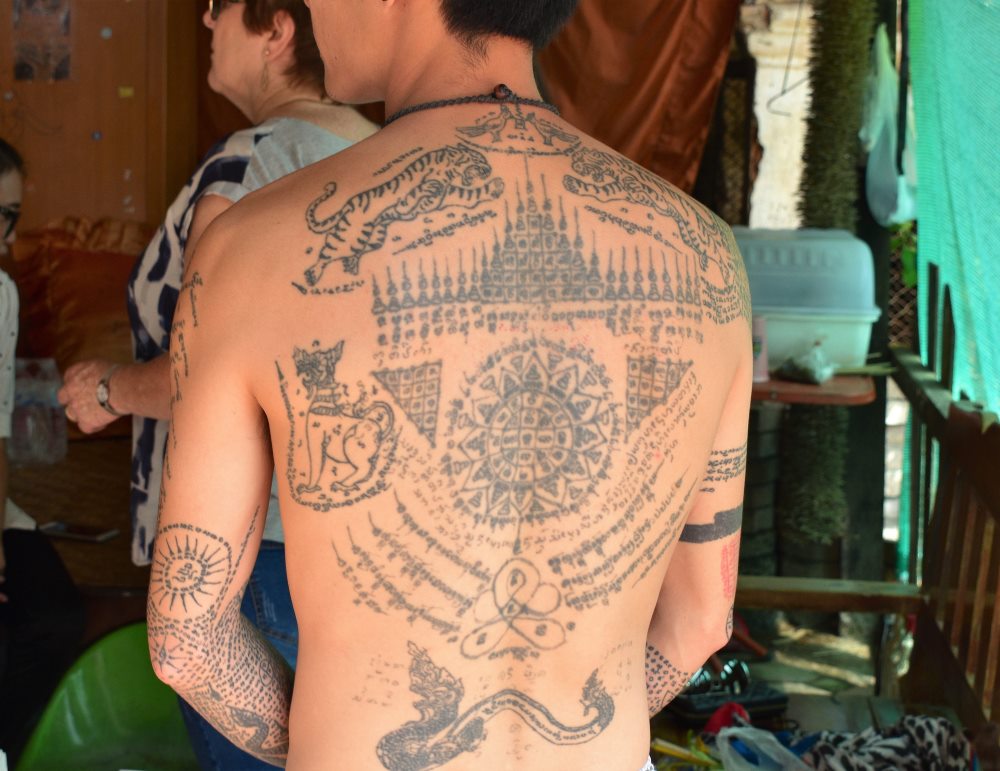 Once you arrive at the Buddhist temple for your Chiang Mai Sak Yant Tattoo, you will greet the Monk with a "Wai" a bow with hands pressed together as if in prayer. This is a way of showing respect to the Monk as you would any religious leader. You then give the Monk a "Spirit offering" of flowers, incense and other small gifts.
The Monk will talk to you through an interpreter and through this consultation the Monk will choose the Sak Yant tattoo design he believes is right for you.
The Monk also has Sak Yant designs books that show examples of spiritual tattoos that have been in use for generations. Sak Yant protection, Thai style tattoo images and Buddhist scripture tattoos are known for their beauty and spiritual power.
The Monk will attach a sterilised single use Sak Yant needle to his Khem Sak and will begin tapping out the tattoo design by hand. The Monk chants a silent mantra as he infuses the blessing or protective power into the design.
The Sak Yant is less painful than a Western tattoo. Because the tattoo is done by hand the needle doesn't penetrate as deeply as a Western tattoo and the slower pace gives time to recover from the discomfort.
Once the Sak Yant is finished the Monk chants softly and blows onto the tattoo sealing the power of the blessing and protection into the design.
The Sak Yant ritual is completed with a bow and Wai to the Monk and a donation to the temple. These donations are used to help the local community and for renovations to the temple buildings.
A Monks life
Monks live in a working temple and devote their lives to studying the words of Buddha and serving the needs of the local community.
Monks can start their religious life as early as 8 years old and are called Nain, once a Nain reaches the age of 20 years old he can become an ordained Monk.
Once a Monk is ordained he is reborn into a celibate life. Because a Monk has chosen a celibate lifestyle, devoting his energy to Buddha and the community, strict rules are to be observed.
One important rule is that a woman cannot touch a Monk, if a Monk is touched by a woman he must go through a lengthy cleaning ritual. This is something women should be aware of when visiting Buddhist Temples.
Sak Yant tattoos for Men
As with any religious place of worship men are asked not to wear tank tops or singlets but to opt for a full T-shirt as a sign of respect.
Sak Yant tattoos for Women
A Buddhist temple is a place of worship, women visiting a Buddhist Temple should dress modestly. Women's chest, back and shoulders should be covered and legs covered to below the knee, skimpy clothing is a sign of disrespect.
Where to get the best Chiang Mai Sak Yant
The script of your Sak Yant tattoo will depend on the region you visit. When getting a Sak Yant Chiang Mai the script should be that of the Lanna people of Northern Thailand.
For those are looking for Buddhist tattoo ideas, the ancient Lanna script Sak Yant tattoo, one of the most authentic and traditional experiences can be found by taking a Lanna Sakyant tour in Chiang Mai.
Lanna Sakyant Tours
We recently joined a Lanna Sakyant Tour with our friends Mary and Steve and although we weren't getting a tattoo we were curious to witness this fascinating Buddhist ritual and were excited and honoured to be included in this tour.
Our lovely tour guide Mo drove us out of Chiang Mai, along the way we passed rural villages, lush tropical fruit trees and flowers, village schools, small shops and food stalls as we snaked our way along the River Ping. It was a window into daily village life and only a short drive from the heart of downtown Chiang Mai.
During our journey Mo explained the temple rules, Sak Yant tattoo ritual, Sak Yant rules and answered all our questions about the ritual Mary and Steve were about to take part in. Steve would have his Sak Yant tattoo performed on temple grounds while Mary would have her Sak Yant tattoo performed by the Monk in a village house not far from the temple according to Buddhist rules.
Steve and Mary presented their Spirit Offerings to the Monk. Mo worked as an interpreter for the Monk and the consultation between the Monk, Steve and Mary began.
The Monk chose a "Paed Tidt" for Steve, a Sak Yant that pulls in good luck and protection from the 8 points of the compass.
The Monk hand drew a Sak Yant for Mary, he chose the "Yant Dork Bua or Lanna Lotus Flower" this Sak Yant gives the power of charisma and draw others to form peace and friendship.
Watching the Sak Yant ritual from a distance I admired the skill of the Monk and was surprised to learn that he had been practising Sak Yant since the age of 12 and has been a Sak Yant Master since he became an ordained Monk five years ago.
When I asked Steve and Mary if the Sak Yant tattoo was painful, they both agreed that it was a lot less painful than a Western tattoo because the needle doesn't penetrate as deeply.
I was honoured to be able to watch the monk as he chanted and weaved the blessing into the Sak Yant tattoo design, it was a memorable experience.
After the Sak Yant ritual, Mo took us on a tour of the surrounding area. We came upon another Buddhist temple that depicted unusual statues that I had never seen before. The temple grounds were peaceful and the main temple housed two large Buddha's.
The ceiling was crisscrossed with white strings that lead to the sitting Buddha, Mo explained that worshippers believe that holding the string brings them closer to Buddha, such a beautiful belief!
Lanna Sakyant Tours can be booked by appointment, for more information Click Here.
Other Chiang Mai Day Tours
Chiang Mai has a massive choice of day tours, popular tours include Elephant Parks, Night Safari, Thai Cooking Classes and Ziplining. Here are some more ideas on What to see in Chiang Mai.
Chiang Mai Hotels
Chiang Mai has a huge range of hotel options for every budget, one of our favourite hotels in Chiang Mai is the Ping Nakara Boutique Hotel and Spa, we recently stayed at this gorgeous hotel and you can read our detailed review here.
Sak Yant Chiang Mai Summary
We were fascinated by what we discovered about Sak Yant Tattoo Thailand. We fell in love with the Sak Yant designs, symbols and script that are unique to this part of Thailand and enthralled by the spiritual meaning of the Sak Yant ritual.
A big thank you to Lanna Sakyant tours and Steve and Mary Hambley for allowing us to take photos of their Sak Yant ritual and tattoos.
Do you have a Sak Yant? Was it performed in Chiang Mai? We would love to hear your Sak Yant Chiang Mai reviews and experiences.
PIN THIS TO YOUR TRAVEL PINTEREST BOARDS ↓
Save