We have been living in Chiang Mai Thailand on and off for years and decided that it was time to compile the ultimate Chiang Mai itinerary. One of the first questions many people ask us how many days they should spend, where to go or what to do. My answer is always the same, to experience all the top things to do in Chiang Mai you should allow yourself at least 3 days in Chiang Mai.
Keep reading to see our suggestions for the best Chiang Mai itinerary on where to go and what to do during those 3 Days.
This post may contain affiliate links, which means we may receive a commission, at no extra cost to you, if you make a purchase through a link. Please see our full disclosure for further information.
Chiang Mai Travel Planning Facebook Group
Check out our Chiang Mai Travel Planning Facebook Group – you are welcome to join and it's a great resource to enable you to ask any questions about visiting Chiang Mai Thailand. Many experts are on hand to help.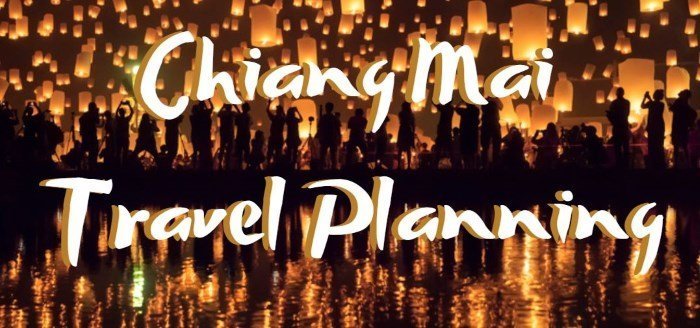 Where is Chiang Mai located?
Chiang Mai is approximately 700km North of Bangkok in the Chiang Mai Province of Northern Thailand. Located in a fertile valley surrounded by some of the highest mountains in Thailand, Chiang Mai is the gateway to the most spectacular mountain scenery in Asia.
Looking for where to stay during your visit? Click here to see our hotel reviews.
Popular places to visit – The Old City
Chiang Mai is a city where the ancient and modern coexist, you will find the ancient walls of the Old City (Town) standing alongside modern high-rises.
Visit Chiang Mai Old City, here you can walk the streets and discover why Chiang Mai's laid back friendly lifestyle makes it a popular destination for tourists.
The Old City is enclosed by a water filled moat and can be entered by five gates the main gate being the Thaphae Gate. Tourists flock to the Thaphae gate and it is one of the places to visit during your 3 days in Chiang Mai itinerary.
Chiang Mai Sunday Night Walking Street Markets
The Sunday Night Walking Street Markets are famous and we have watched this seemingly endless market grow to massive proportions in the time we have been here.
Held every Sunday evening, the market begins at the entrance to Thaphae Gate and branches out into the surrounding streets. Some of the items for sale include Northern Thai arts and crafts, jewellery, clothing and much, much more. If you are hungry street carts selling local delicacies are there to tempt you. Make sure to get there early because it gets crowded.
North Gate Jazz Club
North Gate Jazz Club is for the Jazz enthusiast and located across the road from the Chang Puak Gate (North Gate of Moat). Get in early as seats are limited and be prepared to be blown away by the Chiang Mai's talented Jazz musicians. Grab a quick bite to eat at the market stalls across the road from Chang Puak Gate
Chiang Mai Gate Market
Chiang Mai Gate Market is located at Chiang Mai Gate, the southern entrance of the moat. I love this a traditional Thai food market, it's a glimpse into the hustle and bustle of day to day local life.
Each morning Buddhist Monks gather to receive breakfast offerings in exchange for blessings. Pots of exotic dishes bubble while delicious crispy chicken and fish tempt you to buy this unique Thai style take out. If you want to cook at home there is a large range of fresh fruit, vegetables, noodles and spices for sale.
Chiang Mai Historical Centre, Chiang Mai Arts and Cultural Centre, Lanna Folklife Museum
These three museums can be found at the Three Kings Monument in the Old City. Chiang Mai has over 700 years of history and if you are interested in learning more about the history, customs and culture of the region a visit to these museums is essential during your Chiang Mai itinerary planning.
Wat Chedi Luang Worawihan and Wat Phan Tao
Located in the heart of the old city is Wat Chedi Luang Worawihan and Wat Phan Tao, these stunning Buddhist temples are among some of the oldest in the city.
You can learn more about Buddhism by joining in Monk Chat. Sit down with local Monks for an informal discussion about this peaceful religion. This is a way of giving back to the Buddhist community by exchanging Buddhist knowledge while improving the Monks English language skills.
Where to eat in Chiang Mai – Old City
The Old City is full of wonderful restaurants catering to most cuisines. It would take years to try them all but here are a few of our favourites. For early risers looking for a hearty breakfast see our guide on some of the popular places to enjoy breakfast.
Dash Restaurant
Dash is hidden away on Moon Muang Lane 1. Dash is a local favourite with Thai's and Expats alike. This traditional teak Lanna style house has been transformed into a charming restaurant. The atmosphere is welcoming and invites you to sit, relax and while away the hours with good company and exceptional food. Dash offers a range of Thai and Western cuisine, favourites include Crispy Tamarind Chicken and Phad Kee Mao – flat noodles with a spicy home made sauce.
Ugo's Restaurant
Ugo's is a small restaurant just south of the Thapae Gate. Dining is casual and serves a range of Thai and Western cuisines. There is a choice of airconditioned or outdoor dining options. Favourites include Mango Shake, Vegetarian Pizza and Khao Soi a Northern Thai specialty.
DaDa Café
DaDa Cafe is a small café on Ratchamanka Road. Dining is casual and serves a range of healthy vegetarian, vegan, Thai and Western cuisines. The food is delicious, served in massive portions and the staff are friendly and welcoming.
Chiang Mai Hotels – Old City
Tamarind Village
Tamarind Village is in a superb location just down from Thaphae Gate on Rachadamnoen Road. This charming Boutique Hotel is in the heart of Chiang Mai's Old City. If you love shopping it's just a step from the action of Chiang Mai's famous Sunday Night Walking Street Market. You will be spoiled by the choice of spa's, restaurants and bars in this vibrant area.
The Tamarind village is a contemporary hotel that is complimented by traditional elements giving it a modern Thai style. Facilities include pool, The Village Spa and The Tamarind Boutique, the place to buy those uniquely Thai designed artefacts, clothing and jewellery.
The well-appointed Ruen Tamarind Restaurant serves both traditional Thai and Western dishes. The Tamarind Village is our top choice for hotels in the Old City.
Chiang Mai places to visit – Nimmanhaemin Road (Nimman)
Nimmanhaemin Road or Nimman as it is fondly known, is a trendy area full of boutiques, cafes, galleries, speciality coffee venues, restaurants and bars. Nimman is the place to be seen and is a popular area for young Thai's and Westerners. Nimmanhaemin Road is close to the shopping hubs of Maya and Kad Suan Kaew shopping Malls.
Places to eat in Chiang Mai – Nimmanhaemin Area
The Nimmanhaemin area is full of top quality eateries and you will have so much fun trying them all, here are a few of our favourites.
Why Not?
Is an Italian restaurant and wine bar with a relaxed atmosphere. Why Not? serve a selection of cheeses and antipasti. Their pizzas are huge, the pasta and mains meals are delicious and best of all they have an extensive list of Italian wines.
Popular Hotels – Nimmanhaemin Area
Siri Condominium
Located on Siri Mangkalajarn Lane 1, Siri Condominium is perfect for those who want to enjoy the charms of Chiang Mai for a longer period of time.
We once called Siri Condominium home and love it because it is close enough to Nimmanhaemin Road without the noise of the areas nightlife. In saying that, all of Nimman is under a flight path, fortunately with the doors and windows closed you can hardly hear the planes.
Siri Condo has light airy one-bedroom apartments. The apartment is equipped with a kitchen hob, microwave, full size fridge and washing machine. Some linen and kitchen equipment are supplied. The apartment has a small balcony and we were fortunate enough to have spectacular views of Doi Suthep mountain.
The apartment block is very secure with key cards only giving access to your floor and the shared residence rooftop entertainment area. The rooftop is the perfect place to relax, watch the planes take off while enjoying sweeping views of the city and Doi Suthep mountain. The Siri Condominium's other facilities include well equipped gym and pool
What to do in Chiang Mai at night – The Night Markets
The Night Market stalls line the sidewalks of Chang Klan Road. Winding your way through these tightly packed stalls it would be easy to miss the larger Night Bazaar, Kalare Night Bazaar and Anusarn Markets. These Markets open up and branch out from the street stalls and offer a larger variety of merchandise, spas, restaurants and bars.
The Night Bazaar
The Night Bazaar specialises in the traditional arts, wood carvings, paintings, Hill Tribe arts & crafts and clothing. The Night Bazaar is a shopping wonderland.
The Kalare Night Bazaar
The Kalare Night Bazaar has a fabulous food court and an assortment shops. The popular music venue Boy Blues Bar can be found upstairs, a great place to rock the night away.
The Anusarn Market
The Anusarn Market will be astound you with its range of souvenirs, clothing, textiles, arts and crafts and jewellery. It also has a huge choice of restaurants and cuisines on offer. You can relax with a massage or try a fish spa. There is no way to describe the sensation of tiny fish nibbling at your skin but it is a lot of fun.
Chiang Mai Cabaret Show
This ladyboy show that is located at Anusarn Market. Here you will find glitz and glamour as you watch this talented group of artists sing, dance and entertain you. A thrilling, raunchy and cheeky night out.
Thai European Restaurant and Bar
The Thai European Restaurant and Bar showcases many of Chiang Mai's musical talent but the highlight of the night is always the local rock band. These gifted musicians play a range of classic 70's, 80's and 90's Rock which always makes for a great night out.
Selection of available Chiang Mai Tours. Book yours now!
Dining out in Chiang Mai – Night Market Area
Nakara Jardin Bistro
A short walk from Ping Nakara Boutique Hotel and Spa, the Nakara Jardin Bistro sits on the River Ping amid lush tropical gardens and the place to enjoy a delicious lunch or traditional afternoon tea.
Le Meridien Hotel – Sunday Brunch Buffet
Le Meridien Sunday buffet is a Chiang Mai favourite. The place to get together with friends to enjoy a mouth-watering array of International dishes. Spend a leisurely Sunday in the relaxing atmosphere of Le Meridien Hotel. Bookings are essential.
Where to stay in Chiang Mai – Night Market Area
Ping Nakara Boutique Hotel & Spa
The Ping Nakara Boutique Hotel and Spa is a colonial style Boutique Hotel in the Night Market area of Chiang Mai. We stayed at the Ping Nakara Boutique Hotel after a long-haul flight and enjoyed a relaxing massage and body scrub from the Ping Nakara Spa and cocktail on the colonial inspired verandah by the pool. The perfect place to stay in Chiang Mai.
Things to do in Chiang Mai in November – Loy Krathong & Yi Peng Festival
The best time to visit Chiang Mai is during the festival season between November and March. The most famous of all Chiang Mai festivals is the Loy Krathong and Yi Peng Festivals that are held every November.
During the Loy Krathong & Yi Peng Festivals, Chiang Mai comes alive with colourful parades, beauty and lantern contests that lead up a spectacular lightshow as thousands of lanterns are released into the night sky. An unforgettable experience.
Other Places to Visit in Chiang Mai
Add a Thai Cooking Class to your Chiang Mai itinerary.
Learning the art of Thai cooking is a popular Chiang Mai tourist activity. There are cooking schools all over Chiang Mai, just waiting for you to discover the secrets of this fascinating cuisine.
Most cooking schools will take you to a local market where you will discover the range of exotic vegetables, herbs and spices that are the heart of Thai cooking. Learn the art of preparing and cooking Thai style while having fun trying these authentic Thai dishes.

Borsang Umbrella Making Centre
Borsang is home to the art of paper umbrella and fan making. Here you will discover the intricate step by step process required to make these beautifully decorated umbrellas and fans. The Borsang Umbrella Making Centre sells a range of hand crafted umbrella's, fans and Northern Thai arts and crafts. While there explore the small shops in the surrounding streets for clothing and gift wares.
Other attractions in the area include Shinawatra Thai Silk, The Gems Gallery, Oriental Artefacts, P Collection Silver Store and Baan Celadon a showroom featuring the famous green stoneware pottery that is unique to Thailand.
The Borsang Umbrella Making Centre is 6km from central Chiang Mai and can be reached by TukTuk or Songthaew. If you plan to visit the other attractions hire a Songthaew for the day, negotiate a price with the driver and pay on your return.
Chiang Mai Zoo
Chiang Mai Zoo is famous for its Panda enclosure, here you can watch Pandas relaxing in their climate controlled habitat. The zoo is also home to Giraffes, Flamingos and Hippopotamus.
The zoo is spread out over a large area so if your time is limited make sure to take the Zoo shuttle buses that stop at various points around the Zoo. Chiang Mai Zoo can be reached by TukTuk, Songthaew or Grab.
Wat Phra That Temple – Doi Suthep Mountain
Sitting on Doi Suthep mountain, Wat Phra That looks out over the city of Chiang Mai. The road twists and turns on the journey up the mountain to this stunning Buddhist temple complex. Once there you will be rewarded with panoramic views that stretch out to the horizon.
Walk up the 300 steps of the Naga serpent staircase. Temple bells ring as you walk around these peaceful terraces shaded by flowers. Temples glitter as they lead you to the magnificent golden Phra That Chedi that shimmers in the sunlight.
Orchid Jade Factory – Doi Suthep Mountain
The Orchid Jade Factory is across the road from Wat Phra That Doi Suthep Buddhist temple. There is a mini jade museum and short film which delves into the history of jade and distinguishes the quality of the different jade minerals of nephrite and jadeite.
If you are interested in jade it is the place to pick up that perfect piece of jewellery or carving. You will be surprised that jade comes in a variety of colours which include green, lavender, blue, black, red, yellow and white.
The factory has a shaded sitting area to relax with a coffee after exploring Wat Phra That Buddhist temple, the colourful market stalls and tiny restaurants that surround the area.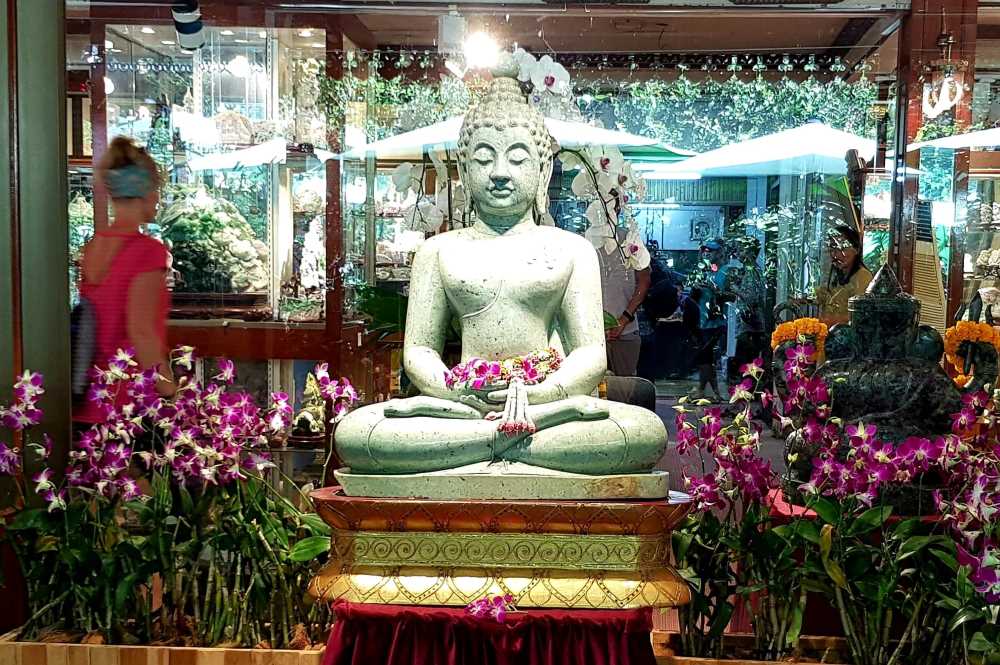 Bhubing Palace
A short 4 km (2.5 mile) drive from Wat Phra That Doi Suthep is Bhubing Palace, the home to the Thai Royal family during their visits to Chiang Mai.
The Royal residence is built in the Northern Lanna style and is famous for its spectacular rose garden and exotic plants from Thailand and the world over.
When visiting the palace make sure to dress respectfully, covering your knees and shoulders. Bhubing Palace may be closed if the Royal family are in residence.
From Bhubing Palace take the twists and turns onward 3.2 km (2 miles) to the Hmong hilltribe village.
The village is located on Doi Pui Mountain and there are spectacular views of the mist shrouded mountains along the way.
You will see many of the villagers walking around in their colourful hand-woven clothing. Winding your way through the street markets, you will find silver and tribal jewellery, hand woven shoes, traditional tribal costume, fruit and vegetables, herb and trinket shops as well as a selection of restaurants.
After visiting the market take time to explore the village, you will fall in love with the children who look adorable in their traditional dress and admire the handsome roosters that can be seen wandering around the village.
Chiang Mai City Guides – Nancy Chandler Map
One item that I have found invaluable during our time in Chiang Mai is the Nancy Chandler Chiang Mai tourist map. This highly detailed map shows the places to visit, hotels, restaurants and so much more, a helpful resource for anyone visiting Chiang Mai.
Things to do around Chiang Mai
There are many attractions just outside of Chiang Mai, some of these include Orchid and Butterfly Farm, Maesa Snake Farm and Maesa Waterfalls.
Here are my favourites for the ultimate Chiang Mai itinerary.
Baan Tawai Handicrafts Village
Baan Tawai Handicraft Village is the place to visit for exquisite handicrafts, furniture, paintings, clothing and lighting. Baan Tawai Handicrafts Village showcases a large range of homewares from traditional Thai teak carvings to modern furnishings and accessories. Baan Tawai Handicrafts Village is a homemaker's dream.
Baan Tawai Handicrafts Village is in Hang Dong, around half an hour's journey (longer during peak hour) from central Chiang Mai. Due to the distance, it is advisable to hire a Songthaew or Taxi from the day, negotiate a price with the driver and pay on your return.
Tiger Kingdom
To have a close encounter with a tiger the place to visit is Tiger Kingdom. Here will find tigers and lions of different sizes, the most popular being the baby tigers. Walking into a tiger's den is not for the faint hearted but if you do you will be humbled by these majestic creatures, it's an experience of a lifetime.
Tiger Kingdom is further out of town but from Chiang Mai, travel to the Tiger Kingdom by hiring a Songthaew (red bus).
Top Tip: Make sure you get your Songthaew driver to stay, as it may be hard to get transportation back to town, then pay the driver on your return journey to Chiang Mai.
Maesa Elephant Camp
Maesa Elephant Camp is outside of Chiang Mai in the Mae Rim area. You will find lots of attractions in this area and you can either hire a Songthauw (red bus) or hire a car and driver. The Maesa Elephant Camp is set within picturesque forest and streams and is the place to discover how intelligent these beautiful beasts are.
Pongyang Zipline and Jungle Coaster
Set high in a canopy of lush tropical forest, Pongyang Zipline and Jungle Coaster is the place to come for adventure. There are range of zipline choices and include the jungle coaster and aerial trishaw.
Visit Mon Jam in Northern Thailand
Mon Jam is surrounded by spectacular mountain views. Take the winding mountain road until you reach Mon Jam or Mon Cham as it is sometimes known.
The mist shrouded mountains overlook the terraced farms of the fertile valley. Open air huts play host to friends and families who come to relax over lunch to enjoy the view. Watch as traditionally dressed Hill tribe children run and play in their brightly coloured clothing.
Chiang Mai day tours – Chiang Dao – Pai – Mae Hong Son
I have only touched on Chiang Mai sightseeing, there is much more to do and experience. For those who have more time in the region here are just some of the Chiang Mai attractions that should be included on the ultimate Chiang Mai itinerary.
Visit Chiang Dao
Chiang Dao is a 1 ½ hour drive from Chiang Mai. Chiang Dao is a small Northern Thai town that is shadowed by the breathtaking beauty of Doi Chiang Dao mountain. Here you will find the attractions of the Chiang Dao Caves, or you can walk up a mist clouded mountain to visit the Wat Tham Pha Plong Buddhist monastery.
Check out the town of Pai
Pai is a dizzy 3-hour bus ride from Chiang Mai. The tight curves of the Chiang Mai to Pai road can lead to motion sickness but the journey is well worth the experience.
Once you arrive at Pai you will find a laid-back hippy hangout with lots of relaxed restaurants and bars. Pai attractions include, mountain scenery, waterfalls and canyons.
Discover Mae Hong Son
Mae Hong Son is around 3-hour drive from Pai. There is a lot to see on the road to Mae Hong Son, sacred fish caves, thermal mud beauty spas and stunning mountain lookouts. The town of Mae Hong Son will charm you and it is a must to see if you have the time.
Thailand's currency is the Thai Baht and exchange rates fluctuate daily. For the latest rates Click Here
You will find that most of Thailand is a cash society and though credit and debit cards are accepted in larger establishments they are not always accepted by smaller vendors who prefer to deal in cash. If you need cash ATM's are widely available in major cities.
Transport options in Chiang Mai
Getting around Chiang Mai couldn't be easier, Chiang Mai transport options include Taxi, TukTuk, Songthaew, and Grab Taxi.
Taxi kiosks are located at the airport for a pre-paid Taxi vouchers to your selected Hotel. Taxis can be hired for day tours, the cost to be negotiated with the driver.
TukTuks are a fun way to get around the city. TukTuk's are motorcycle taxis that can be hailed if needed. Prices to destinations are negotiated with the driver and payment is paid at the destination.
Songthaew (red bus) are the open backed shared taxis that can be seen all over the city.
To get a Songthaew just hail one off the street, tell the driver where you want to go (it helps if you have a landmark in mind), sometimes the driver will say no but that is because he is heading in another direction so try another. Just remember that Songthaew's are shared taxis, the driver will take the closest passenger home first and sometimes it can take time to get to your destination, if you are in a hurry call a Taxi or TukTuk.
Songthaews cost 30 Baht around the city more for other destinations, payment is made once you reach your destination. Songthaews can be hired for the day to explore tourist attractions. I love travelling by Songthaew, it's a great way to see day to day life in the city.
Grab is new to the city and we are so glad it's here, it makes life easier for those late nights out and trips outside the city centre. Just download the Grab app and you are on your way.
For those who want more freedom to explore Chiang Mai and the surrounding area, motorbike and car hire is widely available.
Northern Thailand Weather
Chiang Mai has a cooler, milder climate than Southern Thailand making it a more comfortable city to visit for those not used to the tropical heat. Chiang Mai will still be hot but you won't experience the blistering heat of the south. Be prepared for tropical storms by making sure you pack a good quality travel umbrella.
The best time to visit Chiang Mai is during the cooler months between November and February, the days are still hot but the temperatures drop in the mornings and evenings making for a pleasant stay.
If you are visiting during the cooler months make sure to bring a light jacket, we have experienced days where we needed to rug up against the cold.
The Ultimate Chiang Mai Itinerary Summary
I hope you enjoyed our suggestions for the ultimate Chiang Mai itinerary, as I said there is so much to see and do in Chiang Mai I'm sure it will be the beginning of your love affair with this beautiful part of the world. What is your favourite place to visit in Chiang Mai?


PIN THIS TO YOUR TRAVEL PINTEREST BOARDS ↓
Chiang Mai Travel Planning Facebook Group
Check out our Chiang Mai Travel Planning Facebook Group – you are welcome to join and it's a great resource to enable you to ask any questions about visiting Chiang Mai Thailand. Many experts are on hand to help.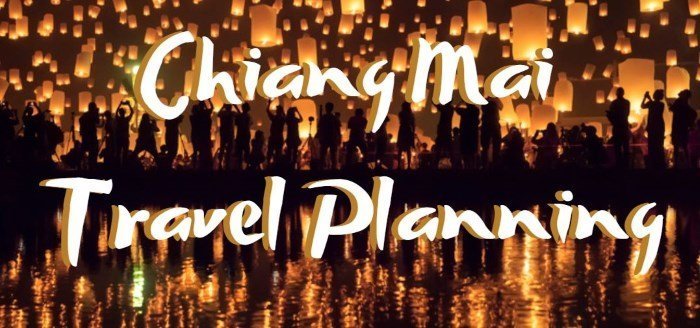 Save
Save
Save
Save
Save
Save