There are so many things to do in Chiang Mai Thailand, wash an elephant at one of the many elephant parks, fly like a bird while ziplining through ancient forests or explore the tranquil beauty of the Buddhist temples, these are just some of the Chiang Mai attractions on offer when you visit this beautiful part of the world.
When the sun goes down, the city comes alive and Chiang Mai nightlife begins to shimmer. One of the most popular things to see in Chiang Mai is the Chiang Mai Cabaret Show. This stunning Ladyboy show in Chiang Mai promises a night of dancing, singing, feathers, sequins, beauty and fun and should be counted as one of the best things to do in Chiang Mai Night Market area.
This post may contain affiliate links, which means we may receive a commission, at no extra cost to you, if you make a purchase through a link. Please see our full disclosure for further information.
When and where is the Ladyboy Cabaret Chiang Mai
The Anusarn Market is home to the Chiang Mai Cabaret Show, one of the best Ladyboy show in the Chiang Mai Night Bazaar area.
I have had the pleasure of watching the Chiang Mai Cabaret Show many times and never tire of it, the show is continually evolving, full of energy and begins each night at 9:30pm. If you are visiting the Anusarn Markets (and you should), you will see the Ladyboys walking around before the show. You can't miss them, they are simply gorgeous in their stunning costumes. It's a small taste of the glitz and glamour of the show.
Anusarn Market has a wide range of stalls selling traditional arts, craft, clothing, and is surrounded by small restaurants and bars that host live entertainment.
The Ladyboy Show Chiang Mai begins
Sitting down with a drink, the velvet stage curtains shine bright as the spotlights change colour. The lights dim, and the musical introduction lets us know that the show is about to begin, an air of excitement fills the room.
Linly, the MC walks out on stage, looking cute in her short pink pearl and crystal encrusted dress, her tall tiara and chandelier earrings twinkle in the light as she welcomes us to the show.
The music begins in the glow of cool blue light that quickly brightens to a warm red, the spotlight catches the swish of feathers and the glitter of sequins, the show has begun.
Throughout the performance these beautiful Ladyboys shine, the Ladyboy costumes are exquisite, tall feathered headdresses glitter with rhinestones and it makes me wonder how they can hold their head so effortlessly while carrying the weight. They are consummate performers who fill the show with energy, comedy, a touch of naughtiness and laughter.
All the acts are breathtaking, but one stood out and left the audience in silence as we watched a Ladyboy become a man to the tune of "My Way" by Frank Sinatra, it was a moving glimpse into the life of a Ladyboy.
We watched in awe until we came to the finale, all the girls come on stage, to the tune of Abba, the room was electric as we gave a standing ovation to these wonderful performers.
It was another outstanding performance by the Chiang Mai Cabaret Show, and that is why the Ladyboy cabaret show is always on the top of my list of what to do in Chiang Mai.
What is a Ladyboy
Many people ask, "What is a Ladyboy?" The answer I give is that Ladyboys are men who dress as women, a simple answer to a complex question, one that is as individual as the Ladyboys themselves. Every Ladyboy has her story, and yes, I refer to a Ladyboy as female because that is the way they see themselves.
Interviewing the Ladyboys
I am fortunate to know someone who is good friends with the ladies of the Chiang Mai Cabaret Show and when I was asked to meet and interview them I jumped at the chance (thank you Charmae). I have been fascinated with these gorgeous performers since I first laid eyes on them.
What fascinates me about the Ladyboys?
Well, just look at them, they are stunning! They take femininity to a whole new level, their makeup is flawless, they walk elegantly in 6-inch heels, carry themselves with an air of grace and they are so strikingly beautiful you quickly forget they are men.
I am quite envious, I would love to know how they seem to have unlocked the secret to feminine beauty while those of us born to the gender sometimes appear clueless by comparison.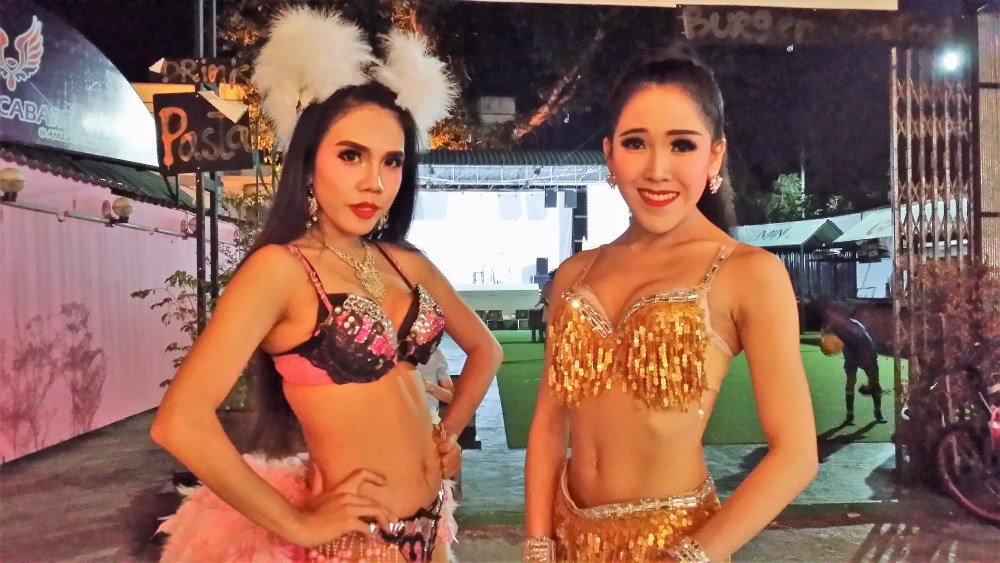 Introducing the Ladyboys
I had the pleasure of interviewing Linly, Nataly and Dreammi, my first question to them was, "How long have you been a Ladyboy?" each one gave the same answer, "since I was a baby", they all grew up identifying as female.
Linly
I was honoured to meet Linly, she is the General Manager of the Chiang Mai Cabaret show. Linly does an extraordinary job, not only is she in charge of the 38 – 40 performers, waiters, electricians and seamstresses that keep the show running, she is the resident MC and comedienne of the troupe.
Linly is gracious and poised, a complete contrast to the wickedly funny performer that appears on stage. She has been performing for 20 years and has worked in Ladyboy shows in Pattaya, Koh Samui and Japan but of all these places she likes Chiang Mai the best because it is fun and cheaper to live.
Linly's day starts at 4pm when the group gets together to rehearse the show, this lasts for around an hour. The day usually finishes around 11pm, unless there is a new routine to learn, these rehearsals can last into the small hours of the morning.
The show is constantly changing, songs vary from day to day and different routines are performed though out the week.
Nataly
Nataly is one of the most beautiful people I have ever met, your eyes are drawn to her and you can't stop looking at her, so I was surprised to learn that she has been working in Ladyboy shows for 20 years (she doesn't look a day over 20).
Nataly started her career as a boy dancer before performing as a Ladyboy. Nataly has worked in Koh Samui and spent 14 years in Italy as an entertainer. Nataly says that you get more attention in Europe and has a dream of working in Ibiza in Spain. Not only is Nataly a talented artist she also makes her own costumes, her jewel encrusted dresses are exquisite.
Nataly said that aging isn't easy for a Ladyboy, you have to compete with the younger performers and staying in shape becomes harder. Nataly limits herself to one meal a day and works 7 days a week.
Nataly dreams of a time when she can eat 3 meals a day and work less but with no sick pay or benefits and nobody to support her, she must keep working to live.
Dreammi
Dreammi is young, sweet and elegant and says she has always played like a lady even when she was a child.
Dreammi studied dance and dramatic art before starting as a boy dancer. Dreammi has been working in Ladyboy shows for 7 years and has performed in Japan, China and Phuket and has dreams of going to Australia.
Dreammi's stage act is dynamic, her love of performing can be seen with every dance move.
Backstage at the Ladyboy Show Chiang Mai
I've always wanted to go backstage to find out what goes on behind the scenes and I wasn't disappointed.
The frantic energy before the start of the show was framed in a rainbow of colour and sparkle as 500 Ladyboy dresses gleam. Boxes of makeup sit on the benches and a multitude of wigs hang around the room. Jewellery and silver dance shoes glitter in an air of excitement as the show gets ready to begin.
CHECK OUT THESE CHIANG MAI TOURS ↓
Ladyboy Show Chiang Mai Summary
I'm so glad that I had the chance to learn more about the Chiang Mai Cabaret Show and the Ladyboys who perform in it. It was a huge honour for me and I would like to thank Linly, Nataly and Dreammi for allowing me to tell a little of their story.
If you are visiting Chiang Mai, it is an absolute must that you catch this show, its just one of the many delights of the Anusarn Market in Chiang Mai.
Have you seen the Chiang Mai Cabaret Show? Have you visited Anusarn Market? What is your favourite entertainment venue in Chiang Mai Thailand? Feel free to leave a comment.
Click here to see our other guides to Thailand attractions.


PIN THIS TO YOUR TRAVEL PINTEREST BOARDS ↓