Vietnam! It's a country with a rich history that is rapidly powering into the 21st Century. While nobody can deny the beauty of the sleek modern skyscrapers of Ho Chi Minh City, many want to unearth the Vietnam of old.
For those wanting to explore Vietnams historical side, look no further than the Ancient Town of Hoi An. Located just outside the city of Danang, Hoi An is a UNESCO World Heritage Site, a unique time capsule which will take you on a journey into Vietnams past. Get ready to unlock a charm filled world as you discover the things to do in Hoi An Vietnam.
Join the Hoi An Travel Planning Facebook Group
You are welcome to join the Hoi An Travel Planning Facebook Group – it is a great resource to enable you to ask questions about planning a trip to Hoi An Vietnam. Please join us to help you prepare for your future trip.
This post may contain affiliate links, which means we may receive a commission, at no extra cost to you, if you make a purchase through a link. Please see our full disclosure for further information.
Hoi An First Impressions
Vietnamese lanterns bathe the gold hued buildings of Hoi An Ancient Town with a radiant glow. Locals and tourists watch street performers sing traditional Vietnamese songs. Their music drifts off into the night, filling the streets and adding to the ambiance of this enchanting city.
We join the crowds crossing the brightly lit Cau An Hoi Bridge (Bridge of Lights) and look down into the waters of the Thu Bon River. Small boats glide beneath us creating a fairy-tale world as reflections from colourful lanterns shimmer and swirl across the water.
Welcome to Hoi An Ancient Town, a once thriving trading port that had its heyday between the 15th and 19th Century. Admire the charming timeworn teak interiors of the antique houses, marvel at the beauty of the temples and assembly halls and get ready to continue your love affair with Vietnam.
Top Tips for travel to Hoi An Vietnam
There are a few things to consider when planning a visit to Hoi An Vietnam. To help we have compiled a list of useful travel tips, information and tools to make planning your trip easier.
Do you need a Vietnam Visa?
Vietnam Visa requirements vary from country to country. Before you leave home, you will need to check if you need a Visa to enter Vietnam. This should be top priority when planning your trip. Look into visa requirements before booking your flight as visa processing time needs to be taken into consideration.
Vietnam Visa on Arrival
Some countries are eligible for a Vietnam visa on arrival. If you belong to one of these countries and are arriving on an International flight into Danang, Hanoi, Hai Phong, Ho Chi Minh City or Nha Trang airports, there is an alternative to obtaining a full visa stamp from the Vietnamese Embassy in your home country.
We found the e-Visa which can be processed 100% online or the visa on arrival to be a simple and cheap options. We have used the visa on arrival option twice, as we stayed on both occasions longer than 30 days and all we had to do is download and fill in the paperwork and provide passport photos which were handed in for processing on arrival.
You can find more in depth information about Vietnam Visas here.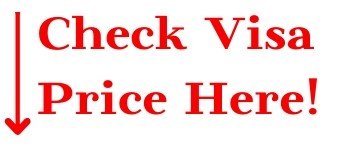 How to get to Hoi An Vietnam
There are a choice of travel options to Hoi An Vietnam which include flights, train and bus. All transport options enter the region through the nearby city of Danang. When booking transport be aware that Danang is also referred to as Da Nang, the Vietnamese version of its name.
Flights to Danang
Although you can't get a direct flight to Hoi An, there are regular international and domestic flight services from the nearby Danang (Da Nang) International Airport.
There are a few international carriers that fly direct to Danang, but you will find most visitors arrive on domestic flights from Hanoi, Ho Chi Minh City and Nha Trang.
Click here to book flights within Vietnam.
Trains and Buses from Ho Chi Minh City to Danang
There are train and bus services from both Ho Chi Min City and Hanoi to Danang. Trains from Ho Chi Minh City to Danang can take between 16 to 20 hours and there are a selection of seating and sleeper cabin options. The bus from Ho Chi Minh City to Danang takes around 21 hours to complete the journey.
Trains and Buses From Hanoi To Danang
Train from Hanoi to Danang takes between 16 to 18 hours. Laman Express has a good reputation for service and cleanliness. The bus from Hanoi to Danang takes around 16 hours. Be sure to check flight prices as sometimes flight deals can end up being cheaper than the train.
For train and bus bookings and reviews click here.
What is the Danang to Hoi An Distance
The distance from Da Nang to Hoi An is around 30 kilometres (18 miles), a short drive that will have you enjoying the city of Hoi An within 45 minutes of leaving Da Nang International Airport.
Danang to Hoi An Transfer
The journey from Danang International and Domestic Airport to Hoi An Ancient Town can take around 45 minutes and be quite expensive. We found that the cheapest and easiest way to get from Danang International Airport to Hoi An is to book a Danang to Hoi An hotel transfer.
When travelling, seeing a friendly face as you walk into the arrival hall is always a comfort, especially if it's your first visit to the city. Choosing a hotel transfer takes the bother out of trying to figure out transport options. This leaves you free to quickly get to your hotel, drop off the bags and head out to enjoy all that the city has to offer.
Click here to book a Danang to Hoi An hotel transfer.
Sim card for Vietnam
These days sharing your experiences with family and friends back home is part of the holiday fun. Vietnam has a first rate internet service which is quick and cheap, so staying in touch couldn't be easier.
Buying a Sim card can sometimes be difficult with a language barrier, so we were happy to find that you can purchase a Sim Card before you leave home and pick it up at Danang International Airport. It's an easy and cheap option, one less thing to worry about when you arrive.
If you are wanting a sim card, Hoi An ancient town is one of the most difficult places to find a shop that sells one. Unlike many cities in Vietnam once you leave the Da Nang Airport and venture into the Hoi An ancient town you will have a very hard time buying a sim card.
To buy a sim card from home click here.
Best time to visit Hoi An
The region has two seasons a wet and dry season. The best time to visit Hoi An is between February and April, when Hoi An weather is at its most pleasant. This falls during the dry season which lasts between February and July. You will find this time of year to be a less sticky more comfortable climate.
Temperatures soar between May and August, which is perfect for those wanting to take advantage of the Hoi An beaches. There are a few popular beaches in Hoi An Vietnam, including the village of An Bang Beach. The village has a laid back vibe and is the place to experience authentic village life.
We have visited during July and August and found the sweltering heat to be draining, especially if you are exploring the city in the middle of the day. Best time to be out and about during this period is in the morning and evening when the day is cooler.
Hoi An's rainy season is between October and February and as the name suggests the wettest time of the year. We have visited during rainy season and while there can be days where it rains in showers throughout the day, you may also find times when the sun shines for a few days at a time.
Hoi An Shopping
If you love shopping Hoi An is the place for you. Throughout the city you will find a treasure trove of shops selling anything from traditional Vietnamese arts and crafts to the quirky banana shirts that seem to be all the rage. Shopping in Hoi An is a real treat and there are many interesting shops to discover, here are just a few of my favourites.
Memory Jewelry Design
I love this shop, it's just a short walk across the Japanese Covered Bridge. Living out of a suitcase, I use jewellery to dress up and change my basic wardrobe. For the jewellery lover Memory Jewelry Design is like a shining beacon. The boutique sells a fantastic range of jewellery with styles from classic to contemporary. If you love jewellery make sure to set aside time to visit this shop.
AVANA Boutique
If you are into avant-garde fashion the AVANA Boutique is well worth a look. Walking past the store I was drawn in by the burst of colour and unique designs of the clothing. These garments are designed to make a woman of any age and size feel youthful and modern, fun designs to show off your personality.
With the slogan Global Designs, Locally Produced and Artisan Inspired, it's good to know that part of your purchase goes back into the local community.
Reaching Out Arts & Craft Shop
Buying one of the traditional arts and crafts from the Reaching Out Arts and Craft Shop is another way to support the local community. Reaching Out was founded to integrate persons with a disability into society. While there make sure to visit the onsite workshop to watch these beautiful crafts being made by this talented group of men and women.
Reaching Out Teahouse
The Reaching Out Teahouse can be found a block away from the Reaching Out Arts and Crafts Shop. This stunning teahouse is run by a group of hearing impaired workers and serves a unique range of teas, drinks and light snacks. The waiters serve you in silence and everything is lovingly presented in pretty earthenware china. Reaching Out Teahouse is a haven of peace and serenity from the busy streets of Hoi An.
SoVa Embroidery
SoVa Embroidery is one of the most intriguing shops I have ever been in. On the shop walls are the most exquisite photos of Vietnamese landscapes and life. It isn't until you get up close that you realise that these lifelike photos are all embroidered. The craftwork is mesmerising and a visit to SoVa Embroidery should be on everyone's list of what to see in Hoi An.
Art Galleries
When you explore the city you will find many art galleries. Each sells a striking collection of artworks by local and international artists. With a choice that extends from modern themes to those distinctly Vietnamese, choosing that unique souvenir or gift is a breeze.
Tailor Shops
The city is well known for its quality tailoring and it's a popular thing to do in Hoi An during a visit. You will find tailor shops all over the city. To find the best tailor in Hoi An check with the hotel or homestay for recommended places.
Leather Shops
Hoi An is also well known for its leather goods, whether you are after a new leather bag, leather jacket or a handcrafted pair of leather shoes, Hoi An's leather shops have it all for you.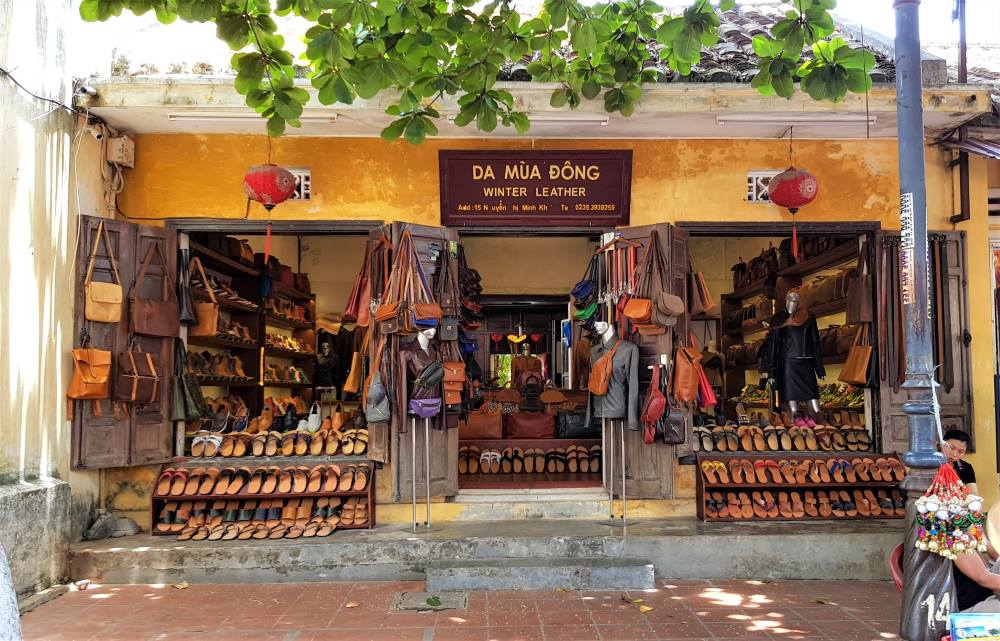 Things to see in Hoi An Vietnam
There are a huge range of things to do in Hoi An. For those wondering what to do in Hoi An, we have put together a list of Hoi An attraction's and a selection of Hoi An activities.
It's up to you to decide whether to take a tour to discover the history of Hoi An Ancient Town or explore on your own. Many people visiting Hoi An like a combination of tour and independent exploration. This is a great choice as it gives a new understanding of the city and helps to see Hoi An through a local eye. No matter what option you choose this city will weave its magic.
Hoi An Central Market
Hoi An Central Market sits on the banks of the Thu Bon River and is the place to come for an authentic slice of Vietnamese life. The market is a hive of activity and the best time to visit is early in the morning to see the fishermen drop off their catch.
I love markets, there is something about the smell of the herbs and spices, the interaction between stall holders and customers and the curious displays of produce that attracts me.
Central Markets is a fantastic place to try authentic Vietnamese food. While there make sure to try Cao Lau Hoi An's signature dish. This comforting bowl of noodles is satisfying and delicious, you will find yourself quickly becoming a Cao Lau addict.
Hoi An Ancient Town
A visit to the Ancient Town is considered one of the best things to do in Hoi An. One thing for sure, when you visit you won't be alone, you will be just one of the many tourists visiting this beautiful city.
Consider visiting the Ancient Town early in the morning, before the heat of the day and before it gets busy with tourists. It's my favourite time to visit and you see a very different more peaceful side of the city.
Walking the banks of the Thu Bon River it's not hard to imagine Hoi An in its heyday as a famous trading port. This once thriving port was home to an international group of seafarers and merchants who created a cosmopolitan city and whose mark has been left on the Hoi An you see today.
The Japanese Covered Bridge
The Japanese Covered Bridge is Hoi An's most recognisable landmark. As you cross over the bridge you will notice the doors to a small shrine in the middle of the bridge. Entering the shrine, you will find a beautiful alter decorated with offerings of fruit, flowers and incense. Around the walls of the shrine there are plaques and photos that tell the history of the bridge.
Crossing over the bridge you step into shady tree lined streets which are a little more peaceful than the hustle and bustle on the other side. I love this area, there are lots of coffee shops, old houses and temples to see.
Tours and Activities Around Hoi An
Hoi An is a great city and one of the best ways to see it is by taking a tour. We have included some of our favourite Hoi An tours and activities, a selection of Hoi An tours that are not only informative but fun.
Lantern Making Class
When you walk through the streets of Hoi An you can't help but be captivated by the colourful silk lanterns that decorate the streets. The lanterns were brought to Hoi An by the Chinese and over time have evolved from a boxy heavy wooden shape to the sleek bamboo framed lanterns you see today.
My daughter and I took a Lantern Making Class and we had so much fun. We chose the full class which was an 11 step lesson into making our very own silk lantern. Making the lanterns was an intricate process which included choosing the fabric, threading and shaping the bamboo, making the frame and gluing the fabric onto the frame.
My daughter and I both agree that it was one of the most enjoyable activities in Hoi An and we got to take home our lanterns, a souvenir of our special time together in Hoi An.
To find out more about Hoi An lantern making classes click here.
Hoi An City and Countryside Tour
Imagine riding a bike through rice paddies, observing life in a traditional Vietnam village, riding a water buffalo and exploring the river in a bamboo basket boat.
Or maybe you would rather delve into Hoi An history by taking a step back in time to the 15th to 19th Century. Entering the character filled homes, assemblies and temples will give you a glimpse of the city's illustrious past.
Join an evening tour and watch the picturesque streets of Hoi An glide by as you drift quietly down the Bach Dang River in a rowboat. Shop for a bargain at the vibrant Night Markets. Play a traditional game of Bai Cho or bliss out with a foot massage.
The choice is yours with this selection of half day, full day or evening tours of Hoi An.
To find out more about these tours click here.
Hoi An Walking Tours
There are so many wonderful things to see in Vietnam and one of the best ways to experience the real Vietnam is to take a walking tour. Hoi An is a great city for walking, it's flat and most attractions are within a short walk of each other.
Hoi An Street Food Walking Tour
One of the most popular things to do in Vietnam is to take a food tour. I believe that you can learn a lot about a region from its cuisine. Food brings people together and a way to put a smile on a local's face is to enjoy their food.
One of the top ways to learn the story behind this cuisine is to take a food tour. Head off on a food adventure as you discover the best street food Hoi An has to offer. Try a range of dishes that include the famous Banh Mi and Hoi An's signature dish of Cao Lau.
For Street Food Tour information and reviews click here.
Hoi An Cooking Classes
Taking a cooking class is a way to discover the secrets of Vietnamese cooking. If you are looking for the best cooking class in Hoi An look no further than the Hoi An Walking and Cooking Class Tour.
Hoi An Walking Tour and Cooking Class
This tour combines a walk through the ancient streets of Hoi An with the fun of a cooking class. Take an early morning walk and see the beauty and history of this picturesque UNESCO World Heritage Site.
Stop off at the local market to buy ingredients and marvel at the diverse range of produce on sale. Head to a local family run restaurant to join in the cooking class.
For Walking Tour and Cooking Class information and reviews click here.
Escape IQ Hoi An
Escape rooms are quickly becoming a growing entertainment trend. If you love puzzles, the Escape IQ is the place for you. This was our first time in an escape room and even though we didn't manage to escape we had a lot of fun trying. Now that we know how they work we will be visiting an escape room again!
Things to do in Hoi An at night
Hoi An comes alive at night as it turns into a fairyland of lights. Boats drift lazily up the river and taking to the river is a popular way to discover Hoi An's magic. It's an experience that shouldn't be missed and one made easy by the many locals selling boat rides.
Hoi An Sunset Food Tour
Wander down hidden alleyways to discover the best food and drinks in Hoi An. From Hoi An Central Market and other secret locations, you will taste a variety of traditional Hoi An food including white rose dumplings and chicken rice.
Finish the evening with dessert in a local home and enjoy coffee near Hoi An's most famous landmark, the Japanese Bridge.
For Sunset Tour information and reviews click here.
The Hoi An Night Markets
After your tour head across the Cau An Hoi Bridge (Bridge of Lights) to the Hoi An Night Markets. Here you will find a vibrant area with a heady mix of souvenirs, clothing, jewellery and trinkets.
The area is beautifully lit with multi coloured lanterns and it's a great place to people watch. If you are still hungry sit down at a food stall and try some of the local delicacies.
Hoi An Day Trips
Hoi An is close to so many beautiful places. If you have time, make sure to spend a few extra days to take day trips from Hoi An. There are several Hoi An day tours to choose from, here are two that should be on everyone's wish list.
Cham Islands Day Tour with Fishing in Hoi An
One of the best tours from Hoi An is to the nearby Cham Islands. These eight islands are recognised as a UNESCO World Biosphere Reserve, a diverse ecosystem which is home to a large variety of marine life including clownfish and sea turtles.
Take a speedboat across the water to an island fishing village and try your hand at fishing. Snorkel and swim along with fish in the crystal clear water before relaxing on the beach and enjoying a seafood lunch.
For Cham Islands Day Tours with Fishing information and reviews click here.
Hai Van Pass and Lang Co Beach Private Sidecar Tour From Hoi An
Sit back and get ready for an adventure as you take a sidecar ride along one of the most scenic coastal drives in the world. Look down over deserted beaches and venture through misty mountains as you make your way to Hai Van Pass.
Stop off at the picturesque Lang Co Beach, considered one of the World's most beautiful bays. Head back to Hoi An, and along the way take time for photos of the Marble Mountains.
For Hai Van Pass and Lang Co Beach Private Sidecar Tour information click here.
Hoi An Coffee Culture
Vietnam is the second largest coffee producer in the world and has some of the most delicious coffee you will ever taste. Hoi An has a fantastic coffee culture and is the perfect place to try some of Vietnam's more unique coffee flavours including Egg Coffee and Coconut Coffee. Here are a couple of our favourites.
Hoi An Roastery Bistro
There are a few Hoi An Roastery's scattered around Hoi An, we tried three, the Hoi An Roastery Espresso and Coffee House, Hoi An Roastery 3 and Hoi An Roastery Bistro.
Here we got to try egg coffee and chocolate with orange and ginger. The egg coffee was sweet, thick and creamy while the chocolate was infused with an orange and ginger zing.
The Hoi An Roastery sell their own range of arabica, robusta and espresso blends of coffee which are sourced from farms in the Central Highlands of Vietnam.
11 Coffee House (11 Ca Phe)
Another popular Hoi An coffee is Coconut Coffee. We got to try this delicious mix of coffee and coconut ice cream at 11 Coffee House. I would never have thought of putting coffee and coconut together, but the flavours work, a must try when visiting Hoi An. With views overlooking the river 11 Coffee House is the perfect place to relax and watch the world go by.
Where to eat in Hoi An
With restaurants, coffee shops and bars all over the city you will feel like you've landed in a foodie's heaven. From Vietnamese delights to Western favourites you will be spoilt for choice when it comes to eating in Hoi An. There are so many food stalls and good restaurants in Hoi An, here are just a few of our favourites.
The Best Banh Mi in Hoi An
When you come to Vietnam you need to try a Banh Mi, it's a national staple and one of the most delicious sandwiches in the world. Hoi An has three Banh Mi venues vying for the crown of the best Banh Mi in Hoi An, they are the Banh Mi Phuong, Madame Khanh – The Banh Mi Queen and Phi Banh Mi.
Celebrity chef Anthony Bourdain put Banh Mi Phuong on the map and it's now one of the most popular Banh Mi places. Madame Khanh – The Banh Mi Queen and Phi Banh Mi are also gaining reputations for their delicious Banh Mi's and there is much debate on which Banh Mi is the best.
My advice is to try them all and if you've tried any of these Banh Mi venues, I would love to know which one you liked the best. Leave a comment and let's settle the debate once and for all!
Street Food at the Night Markets
There are so many street food stalls and small restaurants in and around Hoi An's Night Markets. Here you will find street stall vendors cooking up simple but delicious snacks. It's fun to try some of these weird and wonderful morsels and best of all they are cheap.
The small family run restaurants get better the further you go from the river. The owners are welcoming, and you will find the dishes to be more authentic. These are the places to try the local favourites Cao Lau, Crispy Wontons and Lemongrass Sticks with Pork.
Traditional Hoi An Restaurants
If you are looking for something a little more traditional, head into the backstreets of Hoi An Ancient Town. Here you will find authentic Vietnamese food at bargain prices.
Long Com Ga Garden
Long Com Ga Garden is hidden down a small alleyway which has signposts leading off Le Loi Street. This small family run restaurant features Hoi Ans famous Chicken Rice and favourite the Char Siew Chicken drumstick.
We chose the Chicken Rice which was a simple meal of chicken, rice, fresh herbs, salad and a zingy sauce which is served separately. A delicious and filling meal at a price that won't break the bank.
Old Garden Restaurant (Vuon Xua)
The Old Garden Restaurant has its menu placed at the entrance of an alley next to the Sunday in Hoi An. Just walk up the alleyway and you will come to this cosy hideaway.
Here we tried Banh Xeo, a crispy omelette which is split into small portions and wrapped in rice paper with fresh herbs and salad vegetables. This small parcel is then dipped in a tangy sauce, a tasty combination of flavours and textures. Though Banh Xeo can be a little messy (especially for a beginner), it should be on your list of dishes to try during your Vietnam travel.
Hoi An Vegetarian and Vegan Restaurants
Finding vegetarian or vegan options can often be challenging. For its size Hoi An has a surprisingly large number of good quality vegan and vegetarian restaurants.
Tofu Restaurant and Coffee
One of our favourite restaurants is Tofu Restaurant and Coffee. This restaurant has something for everyone, carnivores, vegetarians and vegans are all catered for in this small friendly restaurant.
The restaurant is located outside the Ancient Town but well worth the trip. Being a mixed group, we were pleased to find a choice of delicious options for every dietary need.
Hong Phuc 2 Restaurant
Like most Hoi An restaurants, Hong Phuc 2 gives a choice of Vietnamese and Western cuisine. This was lucky because Alan was in the mood for pizza and I wanted to try a local dish.
I chose the Set Menu for one, a sampler of Cao Lau, White Rose, Vegetable Spring Roll, Fried Wonton, Grilled Fish in Banana Leaf and Fruit Salad. It was a great way to get a taste of the local delicacies and I got to try possibly the best Cao Lau in Hoi An.
Alan enjoyed his pizza too, he watched it being made and it came out fresh from the woodfired oven.
Chez Cesar French Restaurant
Chez Cesar is one of the best restaurants in Hoi An for French cuisine. This small restaurant is located near the beach at Cua Dai.
I love this restaurant it has a friendly atmosphere, so you immediately relax and settle in for a memorable food experience. The interior is decorated with vibrant French movie paintings which have a charming back story, which the owners Cesar and Fanny will be happy to tell you.
Alan had the Crispy Chicken with Semolina and I had the Duck Magret and both dishes were delectable. Chez Cesar use locally sourced produce and make their own sausages, pate and bread on the premises. If you love French cuisine you really do need to visit Chez Cesar French Restaurant.
While there try one of their delicious rum cocktails which are made from the local Sampan Rhum. My favourite was the Cocopan which was made with fresh coconut juice, Sampan rum and served in a freshly cut coconut.
Best areas to stay in Hoi An
When considering where to stay in Hoi An Vietnam, it's important to choose the best area to stay in Hoi An. A popular choice is Hoi An Ancient Town or the old town as it is sometimes known. Staying in the old town enables you to immerse yourself in the history of Hoi An while having all the activities of this vibrant city on your doorstep.
Hoi An Accommodation
There is a choice of hotels in Hoi An old town, which one you choose will depend on your personal preference and budget. To help you decide which type of accommodation to choose, we have put together a list of reviews for some of the best accommodation Hoi An has to offer. From budget to 5 star hotel, Hoi An has an option for everyone. Here are a few of our favourites.
Hoi An Resorts Vietnam
Resorts are a popular choice of accommodation as they contain everything you need, onsite restaurants, resort activities, spas and wellness centres. You can explore Hoi An in your own time knowing the resorts peaceful ambience will be waiting for you to recharge from your busy lifestyle.
Hoi An has many resorts, when looking for the best resort in Hoi An, you will find a selection of boutique resort, Hoi An luxury resorts and a fabulous selection of beach resorts in Hoi An's nearby beaches.
Click here for the best Hoi An Resort prices and reviews.
Anantara Hoi An Resort
Sitting on the banks of the Thu Bon River and set amid lush tropical gardens, the Anantara Hoi An Resort is one of the best resorts in Hoi An. Unlike many resorts in the area the Anantara is within walking distance, less than a kilometre away from the Ancient Town.
The Anantara Hoi An Resort has a range of rooms and suites with balcony or terrace views of the river or gardens. The rooms are decorated in a tropical bungalow theme with teak furnishings and teal accents.
Bedrooms and sitting rooms are split level providing a feeling of separation and space. Crisp white linens are adorned with teal and tropical patterned pillows. The sitting room looks out onto a comfortable balcony, the perfect place to relax with a morning coffee.
The Anantara has a choice of restaurants including riverside dining in the picturesque Hoi An Riverside Restaurant. There are a range of spa treatments on offer at the Anantara Spa and the Resort has a selection of activities and tours, including cooking classes and Thu Bon River cruises.
For Anantara Hoi An Resort information and reviews click here.
Best Luxury Hotels in Hoi An
There are lots of Hoi An 5 star hotels so there is no need to limit yourself on luxury. If you prefer beach holidays you will find many Hoi An luxury hotel scattered along Hoi An's beaches.
Most people like to stay in Hoi An Ancient Town to immerse themselves in the history and unique beauty of the city. This area has limited 5 star accommodation but there are a few favourites and one of them is the Hotel Royal Hoi An – MGallery by Sofitel.
You can check for the best Hoi An Luxury Hotel prices here.
Hotel Royal Hoi An – MGallery by Sofitel
I love the Accor brand of hotels, we have been using them for years and they never disappoint, the level of luxury and service is always spot on.
The Hotel Royal Hoi An – MGallery by Sofitel sits proudly on the Thu Bon River, a short stroll from the delights of the Ancient Town. One word comes to mind when you think of the Hotel Royal and that is style! The hotels Art Nouveau inspired exterior and the subtle fusion of the Japanese/Vietnamese interiors are stunning, an understated elegance that blends well with old world Hoi An.
Chic white room interiors are splashed with touches of turquoise and red. The décor is modern with delicate Asian accents. There is a selection of rooms, some have private balconies and access to the Royal Executive Lounge. The Hotel boasts two swimming pools and a variety of onsite bars and restaurants.
For Hotel Royal Hoi An – MGallery information and reviews click here.
Hoi An Vietnam Hotels
Hoi An hotels are plentiful and choosing the right one can be time consuming and confusing. When picking the best hotels in Hoi An, consider staying as close to the Ancient Town as possible, this gives easy access to all the excitement of this vibrant area.
Vinh Hung Heritage Hotel
If you have ever wanted to stay in a Hoi An historic hotel, look no further than the Vinh Hung Heritage Hotel. This authentic ancient house steps right into the heart of the Ancient Town.
The Vinh Hung Heritage Hotel is a character filled hotel bursting with original wooden features and teak furniture. The pretty courtyard cools the open spaces which are richly decorated in the Vietnamese style.
Spending a night at the Vinh Hung Heritage Hotel is a unique experience that will make you feel like you've walked into Hoi An of old.
You can check the Vinh Hung Heritage Hotel prices and reviews here.
Hoi An Homestays
I love homestays, they are a wonderful way to get to know the locals and learn more about the Vietnamese way of life. The Vietnamese people are warm, friendly and happy to welcome you into their home. You will find most of the rooms are just like hotel rooms and include a private bathroom.
Check best Hoi An Homestay prices here.
Ngo House Villa
Ngo House Villa is in the centre of Hoi An Ancient Town, steps from the Hoi An Night Markets and the Bridge of Lights. Set on a small island the area is surrounded by small shops, restaurants and tiny alleyways that lead to the river.
The Homestay is quiet, has a pool and rooms with modern bathrooms. The beds are comfortable and there is a small balcony that overlooks the pool. The breakfasts are served at the nearby Ngo Homestay and there is a choice of delicious Western and Vietnamese dishes.
For Ngo House Villa information and reviews click here.
Hoi An Airbnb
More and more people are turning to Airbnb, it's not only a way to save money when travelling but also a fantastic way to meet the local people. With a selection of houses, apartments and rooms, Airbnb has a style for everyone, giving you that choice to be as private or social as you like.
Best Hoi An Hostels
These days hostels are used by people of all ages. They are a great place to meet likeminded travellers and a perfect way to stretch your travel budget. When looking for the best hostel, Hoi An won't disappoint, there are many to choose and styles range from basic to boutique.
Click here for Hoi An hostel reviews and prices.
Be prepared with Travel Insurance
How many times have you heard horror stories about tourists not taking out adequate travel insurance coverage. Accidents can and do happen anywhere and Asia is certainly no exception. Without insurance medical bills can add up quickly.
We always ensure we have travel insurance and think it should be top of your list of things to do before travelling, right after purchasing your flight tickets and accommodation.
We have partnered with World Nomads Insurance and have been using them for many years and can highly recommend them.
Click here for a free quote from World Nomads travel insurance.
Quick facts on Hoi An Vietnam
When is the Hoi An rainy season?
There are two seasons in Hoi An. The wet season is from approximately October to February when rain is common on most days. The dry season is generally from March till September and the best time to visit is considered to be February to April with dry weather and hot days.
What is the distance from Danang to Hoi An?
Danang to Hoi An distance is approximately 30 km or 18.6 miles and takes between 30 to 45 minutes by vehicle depending on traffic conditions.
Where do i find a money exchange in Hoi An?
It's very easy to exchange currency in Hoi An. Most travel agents will exchange major currencies into the official currency Vietnamese Dong. Gold / Jewellery shops will also exchange currency and will often offer the best exchange rates.
Does Hoi An have a beach?
Yes, Hoi An has a great beach scene. Popular beaches include An Bang Beach and Cua Dai Beach. Both beaches are a short drive from the centre of Hoi An.
Last Words on things to do in Hoi An Vietnam
Hoi An Vietnam is one of my favourite places in Asia. I love its charming gold hued buildings. I love the way it transforms into an enchanting city of lights in the evening and I love walking in the footsteps of the seafarers and merchants of old.
The city has so much to offer, history, a great food and coffee culture and the regional treasures of its nearby beaches, islands and of course the nearby Da Nang attractions. Come and visit once and I promise you will come back time and time again.
Have you visited Hoi An Vietnam? If so, we would love to hear about your favourite things to do in Hoi An Vietnam. Please feel free to leave a comment below.
Join the Hoi An Travel Planning Facebook Group
You are welcome to join the Hoi An Travel Planning Facebook Group – it is a great resource to enable you to ask questions about planning a trip to Hoi An Vietnam. Please join us to help you prepare for your future trip.
PIN THIS TO YOUR TRAVEL PINTEREST BOARDS ↓