Vietnam is a fascinating country and it's quickly becoming a favourite tourist hotspot. Many people who visit Vietnam like to take a flight to Hanoi in the north and work their way down to Ho Chi Minh City in the south. Travelling this way gives a good overview of Vietnam's changing landscape, history, food and of course, the people.
If you choose to travel this way you may need to sacrifice time in Hanoi but don't despair, there are plenty of things to do during 2 days in Hanoi Vietnam, it's just a matter of choosing your favourite Hanoi attractions.
You may choose to explore Hanoi on your own but with a shorter time frame taking a Hanoi city tour is the best option to get the most out of your time in Hanoi Vietnam. In this article we have put together important tips, advice and recommendations for places to stay and things to do in 2 days in Hanoi Vietnam.
This post may contain affiliate links, which means we may receive a commission, at no extra cost to you, if you make a purchase through a link. Please see our full disclosure for further information.
Hanoi First Impressions
Walking from the quiet of my hotel, I stepped out into a scene of bedlam. A sea of motorbikes flashed past, blaring horns united in a chaotic melody. The bright colours of the streets stalls, the cries of stallholders and the sight of strange things cooking assaulted my senses.
Overwhelmed by Hanoi's frenetic energy I found it hard to focus. The thrill of visiting such a vibrant city filled me with excitement and that was the moment I realised I was in love with Hanoi Vietnam.
Top Tips – Before You Leave Home
When planning your Vietnam travel, there are a few things you should consider before you leave home. Here is our top travel plan tip for your next Vietnam holiday.
Do you need a Vietnam Visa?
Visa requirements vary from country to country so finding out whether you need a Visa to enter your chosen destination should be top priority when planning your trip. Look into visa requirements before booking your flight as visa processing may be lengthy and you will need to take that extra time into consideration.
Most people visiting Vietnam will need a Vietnam Visa for entry into the country, to find out more on Vietnam Visa requirements Click Here.
Vietnam Visa on Arrival
There is a selection of countries that are eligible for a Vietnam visa on arrival. If you belong to one of these countries and are arriving on an International flight into Hanoi, Danang, Hai Phong, Nha Trang or Ho Chi Minh City airports, there is an alternative to obtaining a full visa stamp from the Vietnamese Embassy in your home country.
The e-Visa or visa on arrival are simple and cheap options. Each type has advantages and depend on how long you will be staying in Vietnam and if you need single or multiple entry. We choose the visa on arrival as we stay longer than 30 days. More information on the visa types and how to apply can be found in our extensive guide to Australians visa for Vietnam.
We have used this option twice and it was easy, we just downloaded and filled in the papers and took along passport photos which were handed over for processing on arrival.
For more information on Vietnam visa's and eligibility click here.
Vietnam sim card
These days part of the holiday fun is sharing your holiday with family and friends back home. It also adds peace of mind should anything go wrong. Vietnam has a first rate internet service which is quick and cheap.
Buying a Sim card can sometimes be tricky when dealing with a language barrier. When we found a service that allows you to purchase a Sim Card before you leave home and have it delivered to your hotel, we were thrilled! It's an easy option, one less thing to worry about when you arrive in Hanoi.
Click here to order your sim card for Vietnam.
Where to stay in Hanoi
The most popular place to stay in Hanoi is the Old Quarter. The area is full of character and as you explore you will find many of the streets divided into individual crafts and trades. These streets are known as the 36 Streets and you will find them dedicated to silk, silver, shoes, bamboo and brass to name a few.
With so much going on, walking these streets is like a wonderland for the senses. There is so much to see and finding your way to your chosen street can be tricky, thankfully most hotels give out a Hanoi Old Quarter Map to help navigate your way.
The Old Quarter has an interesting architecture, the buildings are thin, deep and tall with a timeworn charm that is uniquely Vietnamese. These days many of these family homes have been turned into hotels, restaurants and businesses, offering a glimpse into old Hanoi.
Hanoi hotel reviews
Whether you stay 2 days in Hanoi or longer there is a great range of Hanoi hotels to choose from. From budget to 5 star hotel, Hanoi has an option for everyone. Here are three of our favourites.
We use Hotels Combined for our hotel bookings, it's a well-respected booking site which allows you to compare hotel prices on the major booking sites.
You can check for the best Hanoi Hotel prices here.
La Beaute De Hanoi Hotel review
We have stayed at the La Beaute De Hanoi Hotel twice in the last few years and have always enjoyed our stay. During our last visit the hotel was doing renovations and we were lucky enough to stay in one of the renovated rooms. The room was decorated in a subtle French style with rich blue accents.
The bed and pillows were comfortable and there were modern bathroom fittings. The hotel is now fully renovated and while we liked the old décor the new style is a chic modern twist on an old world charm.
The boutique hotel is in a small lane and is a quiet retreat from Hanoi's chaotic traffic. From the moment we walked in the door the hotel staff were attentive, sitting us down and giving us information about the city and they continued to make us feel welcome throughout our stay.
We use Hotels Combined for our hotel bookings, it's a tried and true booking site.
Check La Beaute De Hanoi Hotel prices and reviews here.
La Siesta Premium Hang Be review
Stepping from busy Hang Be street into the La Siesta Premium Hang Be is like stepping into a sleek modern world. The foyer is decorated with chic black, white and grey furnishings with just a splash of turquoise.
Welcome to the style and comfort of the La Siesta Premium Hang Be! There are a selection of rooms including the luxurious junior suite with balcony and studio with its own terrace. Rooms and bedding are comfortable, and facilities include room service and spa.
My favourite feature of La Siesta Premium Hang Be would have to be the roof top Lighthouse Sky Bar, it's the perfect place to enjoy Happy Hour with a Hanoi sunset and views overlooking the city and Red River.
The La Siesta Premium Hang Be is in a perfect location, walking distance to Hoan Kiem Lake, The Trang Long Water Puppet Theatre and the Huc Bridge.
We use Hotels Combined for our hotel bookings; it allows you to compare hotel prices on a selection of hotel booking sites.
Check La Siesta Premium Hang Be Hotel prices and reviews on Hotels Combined here.
Sofitel Legend Metropole Hotel review
For the ultimate in luxury you can't go past Hanoi's Sofitel Legend Metropole Hotel. Although this grand old building is in the French Quarter it is still within walking distance to the Old Quarter.
The Sofitel is a historical landmark that has been hosting guests since 1901. With famous guests such as actor Charlie Chaplin and authors Graham Greene and Somerset Maugham the hotel has a reputation for delivering only the finest.
Walking into the foyer is like taking a step back in time. The mix of Vietnamese accents and French Neo Classical style is charming. You can choose to revisit the past by staying in the historical wing or choose the style of the opera wing.
The hotel boasts 4 restaurants, bars and world class spa. Hotel includes Club Metropole benefits for selected rooms and Lanvin or Hermes bath products.
For those wanting to spoil themselves during their trip to Hanoi, the Sofitel Legend Metropole Hotel is the ultimate experience.
We use Hotels Combined for our hotel bookings, a fair and honest booking site that allows you to compare prices.
Check Sofitel Legend Metropole Hotel prices and reviews on Hotels Combined here.
Crossing the Street in Hanoi
Like many Asian countries, crossing the street in Vietnam is tricky, motorbikes and cars pass in an endless stream and even though there are crossings most traffic won't stop at them. Many tell you to just step out and start walking, the traffic will go around you, but this isn't altogether true, bikes do tend to go around you, but cars often won't.
My advice is to be aware that traffic doesn't stop at crossings and if possible cross with a local. Step out into the traffic, walk slowly keeping an eye on the traffic, most motorbikes will avoid you but judge the cars by their speed, if they are going to fast let them pass.
If a car or motorbike are beeping their horn they are not going to stop, let them continue before walking on. Pay attention when walking on the sidewalk as motorbikes often drive along it. I know it may sound daunting but after the first time it becomes a lot easier and you feel a real sense of achievement every time you cross the road.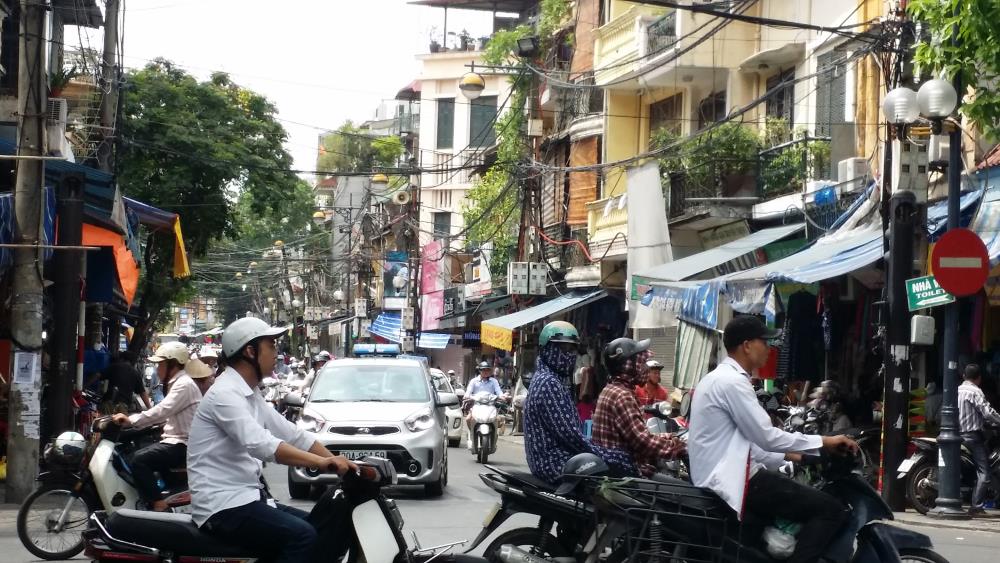 Things to do in Hanoi Vietnam
There are a huge range of things to do in Hanoi, so if you are wondering what to do in Hanoi, we have put together a list of Hanoi tourist attractions. There are plenty of things to see in Hanoi on 2 days 1 night stay.
Hoan Kiem Lake
Hoan Kiem Lake is in the centre of Hanoi's Old Quarter. This peaceful oasis is the heart and soul of Hanoi. Surrounded by trees, visiting Hoan Kiem Lake is a pleasant way to escape the heat, relax and people watch.
Of a weekend the busy streets around the lake are closed and the area comes to life. Hanoi residents begin their day with early morning rituals of Tai Chi, dancing and relaxing with family and friends. Of an evening the weekend night markets hum as people flock to the streets in search of a bargain.
One of the best things to do in Hanoi at night is to get up high to watch the sunset over the lake. There are a selection of restaurants and bars which have views of Hoan Kiem Lake, including the Twilight Sky Bar in the La Siesta Premium Cao Go Hotel, the Avalon Café Lounge and the Cao Go Restaurant.
Hoan Kiem Lake is magic by night, the ruby lit spans of the Huc Bridge reflect a shimmering red pathway across to Ngoc Son Temple.
Ngoc Son Temple
Ngoc Son Temple (The Temple of the Jade Mountain) sits on Jade Island in Hoan Kiem lake. The Ngoc Son Temple can be reached by crossing the iconic red Huc Bridge for which Hoan Kiem Lake is so famous. The Temple is dedicated to General Tran Hung Dao who defeated the invading Mongol army in the 13th century.
As you walk through the ornate red doors of the temple complex you are immediately transported to a haven of serenity. Peaceful gardens with views overlooking the lake play host to the richly decorated Ngoc Son Temple. Large brass incense burners are framed by the opulent red temple structure and the gleam of golden lacquer work shines from within the dark interior.
Trang Long Water Puppet Theatre
Trang Long Water Puppet Theatre is not far from the Ngon Son Temple and one of the most popular places to visit in Hanoi. Vietnamese water puppetry is a traditional art form that has been part of Vietnamese culture for over 1,000 years.
To be truthful I wasn't sure if I wanted to see the Water Puppets, it wasn't until our second trip to Vietnam that I decided to go and see what all the fuss was about. All I can say is that it was so entertaining, the music and singing were strikingly beautiful, and the story lines were funny, sad and historical.
While the show is in Vietnamese the emotions translate across all ethnic backgrounds. A fabulous show by a troupe of talented entertainers.
Check here to purchase water puppet tickets and evening tour.
Hoa Lo Prison (The Hanoi Hilton)
Hoa Lo Prison or the Hanoi Hilton as it is sometimes known, became infamous during the Vietnam War. The Hanoi Hilton held American POW's that had been captured during the conflict. A notable detainee was Senator John McCain who was imprisoned here between 1967-1973.
During our visit to Hoa Lo Prison I was surprised to learn that the prison was originally built by French colonialists in 1896 to house political prisoners fighting for independence. The prison shows examples of the harsh punishments endured by the prisoners, including the guillotine which was used on many occasions.
I found the prison to be a sobering experience and one that should be seen by everyone visiting Hanoi. My visit made me realise that in history sometimes there is more than one truth.
Ho Chi Minh Mausoleum
Ho Chi Minh Mausoleum is the resting place of President Ho Chi Minh. Nestled amid beautiful gardens this imposing structure demonstrates the love and respect the Vietnamese people have for their departed leader.
Queues to view President Ho Chi Minh lying in State are long. Waiting in line is hot, so make sure to bring a hat and fan to keep cool. Photography is not allowed inside the Mausoleum and show respect by dressing appropriately.
Dong Xuan Market
Dong Xuan Market is a wholesale market full of shoes, children's toys, clothing and textiles. If there is anything you need you will probably find it at Dong Xuan Market!
Outside there is a wet market full of stalls selling dried herbs and spices, fruit and vegetables and a variety of seafood. The isles aren't wide so it can be a squeeze, but it is a must for anyone who loves the excitement of the markets.
Hanoi Old Quarter Tours
The streets of Hanoi's Old Quarter are full of character and with such a short visit there are loads of tours to take advantage of, it's up to you to choose your favourite.
Hanoi Hop-On Hop-Off Tour
With so much to see why not take a Hanoi Hop-On Hop-Off Tour. This tour is one of my all-time favourites and packs so much in. The Hop-On Hop-Off bus stops at the Ho Chi Minh Mausoleum, Hanoi Opera House, The Hanoi Military Museum and the pretty Frog Garden to name a few. With 24 hour and 48 hour tickets to choose from it's one of the best options for those on a tight time frame.
Click here for Hanoi Hop-On Hop-Off bus tour and reviews
Old Quarter Food Tour
With only 2 days in Hanoi, one of the best ways to try the local cuisine is to take an Old Quarter food tour. This is your chance to get an authentic Hanoi food experience as you try local delicacies such as Pho and egg coffee while eating out with the locals.
Click here for Old Quarter Food tours and reviews
Hanoi Sightseeing Motorbike Tour
Ever wondered what it would be like to whizz through the streets of Hanoi? Here's your chance to find out with a Hanoi sightseeing motorbike tour. Visit such places as the Ho Chi Minh Mausoleum, Hanoi Opera house and take a ride through the 36 streets of Old Hanoi and so much more.
Click here for Hanoi Sightseeing Motorbike tour and reviews
Vietnamese Cooking Class and Market Tour
Love Vietnamese food? Why not try making it yourself by taking a Vietnamese cooking class. This is a great way to explore local culture. First visit a local market to learn about the ingredients before heading back to discover the secrets of Vietnamese cooking.
Click here for Vietnamese Cooking Class and Market tour and reviews
Hanoi Instagram Private Tour
Whether you want to get that perfect Instagram worthy shot or are just wanting to take a memorable holiday snap, this private tour will have you taking that shot to remember. The tour visits a selection of scenic hotspots including the Huc Bridge, St Joseph's Cathedral and Train Street.
Click here for Hanoi Instagram Private Tour and reviews
Things to do in Hanoi at night
Hanoi by night is alive and beckoning you to join in the fun. For some just walking the streets of Hanoi is entertainment enough, dropping into small restaurants and bars to watch the world go by.
For those who like more structure, here are a range of tours that will help you get the most out of Hanoi by night.
Hanoi Evening Street Eats Tour
This is a great way to discover local food while learning more about Hanoi life. Try noodles and snacks at the pop up restaurants, sample local brews and visit a popular ice cream parlour while soaking up the Hanoi nightlife.
Click here for Hanoi Evening Street Eats tour and reviews
Special Hanoi night out tour
This is your chance to see the Hanoi's famous water puppet show which has been a Vietnamese tradition for 1,000 years. Top off the evening with a dinner of Hanoi's favourite dishes before walking through the Old Quarter and finishing the night with a local tea.
Click here for Special Hanoi Night Out tour and reviews
Hanoi Day Trips
Halong Bay (Ha Long Bay)
Halong Bay is one of the most beautiful places in the world. Jagged limestone islands jut out of the emerald green waters to form a picturesque landscape shrouded in myth. These islands are said to be formed by dragons and are the realm of hidden caves and secluded coves.
Today Halong Bay is a UNESCO World Heritage Site and the area attracts visitors from around the world.
Halong Bay Day Trips
One of the most sort after day trips from Hanoi is to Halong Bay. If you are planning on how to get from Hanoi to Halong Bay, look no further than one of these Halong Bay tours.
Choosing Your Halong Bay Cruise
During our last visit to Hanoi we chose to take a Halong Bay 2 day 1 night cruise and can highly recommend it. We have also spoken to people who have taken the Halong Bay cruise day trip and the Halong Bay 3 day 2 night cruise, and they were also happy with their choices.
Booking a Halong Bay tour from Hanoi is easy you just need to decide which cruise suits you. Cruises comprise of a choice of activities which will vary from the Halong Bay day tour, the Halong Bay 1 night cruise and the Halong Bay 2 night cruise.
Halong Bay cruise activities include kayaking, caving, swimming, cooking classes and squid fishing. On the 3 day 2 night cruise you can visit a pearl farm and floating village. All cruises have a selection of delicious Vietnamese meals. Each activity will depend on what Halong Bay cruise you choose.
Click here to see what activities are included in your Halong Bay Cruise
How to get to Halong Bay
The trip from Hanoi to Halong Bay takes around 3.5 hours. Driving through the Red River Delta is the perfect chance to see a more rural Vietnam.
Locals in conical Non La hats work in rice fields which stretch out in a patchwork to the horizon. Passing through small towns you can watch locals going about their daily life and if you are lucky (as we were) you may even see a wedding.
Travel within Vietnam
To travel in Vietnam by bus and train our preferred booking website is 12GoAsia. They have a comprehensive booking system where you can purchase discounted travel within Vietnam and South East Asia
Click here to plan your Vietnam travel.
Don't forget Vietnam travel insurance
There have been many horror stories about tourists not taking out travel insurance before leaving home. Accidents happen anywhere and Asia is no exception. Without insurance medical bills can add up quite quickly.
We always take out travel insurance and think it should be third on your list of things to do before travelling, right after purchasing your flight tickets and accommodation.
We partner with World Nomads Insurance and have been using them for many years and can highly recommend them.
Click here to learn more about World Nomads travel insurance.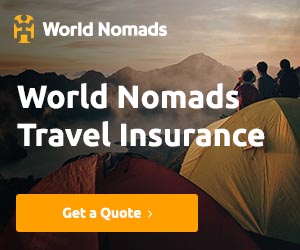 Quick facts on Hanoi
Can I get a Vietnam visa on arrival?
Yes a Vietnam visa on arrival is available if you are arriving on an International flight into Hanoi, Danang, Hai Phong ,Nha Trang or Ho Chi Minh City airports.
Is Hanoi safe for solo female travel travellers?
Hanoi is considered safe for solo female travellers. Crime against foreigners is rare and you will not feel out of place walking around the main tourist areas of the Old Quarter day or night. Naturally as in all cities it's wise avoid dark side streets late at night.
When is the best time to visit Hanoi?
The best seasons to visit Hanoi are September to November which is Autumn and February to April which is Spring. The weather is pleasant with milder temperatures during this time.
What is the best currency to use in Vietnam?
Vietnamese Dong (VND) is the official currency in Vietnam. US dollars are also accepted by many large hotels and large shops. Currency exchanges are widely available throughout Vietnam.
How far is it from Hanoi to Halong Bay?
The trip from Hanoi to Halong Bay takes around 3.5 hours. Halong Bay tour operators will arrange transport from your Hanoi Hotel to Halong Bay and transport will be included in the cost of your tour.
Last Words on 2 Days in Hanoi Vietnam
We hope you enjoyed our article on 2 Days in Hanoi Vietnam! It's a fascinating city, one that we fell in love with and I'm sure you will fall in love with Hanoi too.
Vietnam is a captivating country and as you make your way from Hanoi to Ho Chi Minh City make sure to spend time exploring the Da Nang attractions together with in the ancient town of Hoi An. There are so many things to do in Hoi An we suggest staying in that region for at least 5 days.
While in Hoi An you should also visit the nearby seaside village of An Bang beach Vietnam. We spent a month in that part of Vietnam as there was so much to see and do.
Have you visited Hanoi Vietnam? If so, we would love to hear about your favourite things to do in Hanoi. Please feel free to leave a comment below.
PIN THIS TO YOUR TRAVEL PINTEREST BOARDS ↓