This post may contain affiliate links, which means we may receive a commission, at no extra cost to you, if you make a purchase through a link. Please see our full disclosure for further information.
Hoi An host's millions of visitors each year and it is one of the most popular tourist destinations in Vietnam. This UNESCO World Heritage site is famous for the enchanting golden hued architecture and waterways of its Ancient Town.
While Hoi An has a captivating old-world charm, many also take advantage of Hoi An's nearby beaches. Though there are a few Hoi An beach resort districts to choose from, my favourite is An Bang Beach Vietnam.
An Bang Beach – First Impressions
An Bang Beach Vietnam was voted one of the 25 most picturesque beaches in Southeast Asia in 2018 by TripAdvisor readers.
If you are looking to immerse yourself in local Vietnamese culture while having a relaxing beach holiday, An Bang Beach may just be the place for you.
Traditional basket boats dot the tropical tree lined beach that stretches 4 kilometres into the distance. Restaurants and bars hug the seashore waiting for the day to begin in one of the best beach resorts in Vietnam.
Beach lounges shaded by thatched umbrellas face views overlooking the Cham Islands and the nearby city of Danang.
Unspoiled by development, An Bang Beach is a peaceful village and the local villagers are warm and welcoming, free with a friendly hello and smile. The beach side community is perfect for catching a glimpse of Vietnamese village life.
Where is An Bang Beach Vietnam?
An Bang Beach is in the Quang Nam Province of central Vietnam. The beach is approximately 5km from Hoi An and around 25km from the city of Danang. An Bang Beach is easily accessible through Danang International Airport.
Danang Airport to An Bang Beach Vietnam
Driving along the highway from Danang to An Bang Beach you can't help but be awestruck by the size and grandeur of the Danang beach resorts.
The Sheraton Grand Danang Resort, Furama Resort Danang and Hyatt Regency Danang Resort and Spa are just a few of the famous hotel chains that stretch along the road for miles.
While I love luxury as much as the next person, I couldn't help but feel curious about the traditional Vietnamese villages that peek out in small pockets along the highway.
I was interested to see what the area looked like before the developers made their mark on the landscape. I wanted to look through a window into Danang's past and An Bang Beach gave me that opportunity.
An Bang Beach Attractions
After our late-night arrival, we were surprised to walk out of our homestay into the cacophony of a bustling morning market. The air was filled with the twang of Vietnamese music that played in the background as people haggled for the best price.
Women in conical Non La hats and brightly coloured Ao Ba Ba pyjamas sat next to baskets of fish, their character lined faces lit up as they beckoned us to buy their wares.
Locals greeted us with a warm hello and smile as we made our way through the market. Such a wonderful welcome to village life, a snapshot of everything I imagined Vietnam to be.
Walking down the main street we dodge cars, motorbikes and bicycles as we pass an interesting assortment of spas, minimarts and restaurants. We quickly learn to get out the way when we hear the blast of a horn.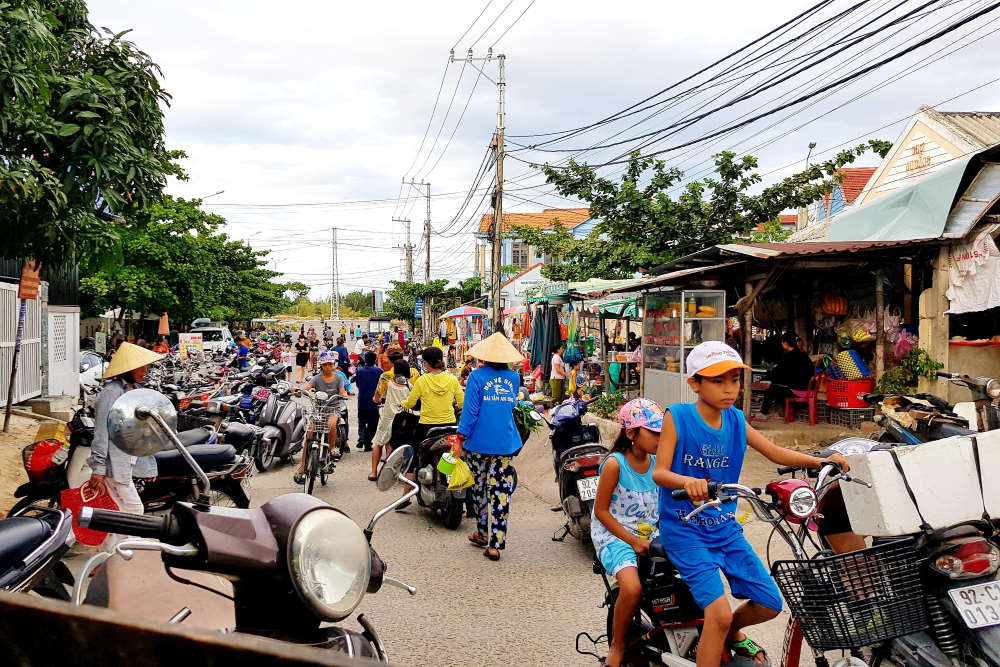 Turning off the main road we set off to explore the rabbit warrens of sandy laneways that lead down to the beach. Locals wish us a hearty good morning as we pass their houses and chickens ignore us as they chase each other up the lane.
We stroll past secluded homestays, restaurants and bars before stepping onto the seemingly endless sands of An Bang Beach. Round basket boats dot the beach and children laugh and have fun playing in the water. The sun shimmers brightly across the water which has views of the Cham Island and the city of Danang in the distance.
Tourists spend the day relaxing under umbrella shaded beach lounges. Cold drinks, meals and massages are within easy reach and can be delivered to your lounge without lifting a finger.
When you have had enough of the beach, walk up to the beachside restaurants and bars and sample a range of Vietnamese and Western dishes. In the evening sit back and chill out with local live entertainment.
An Bang Beach has a charming village atmosphere that is a welcome break from the full-on tourism of Hoi An and big city life of Danang and Hanoi.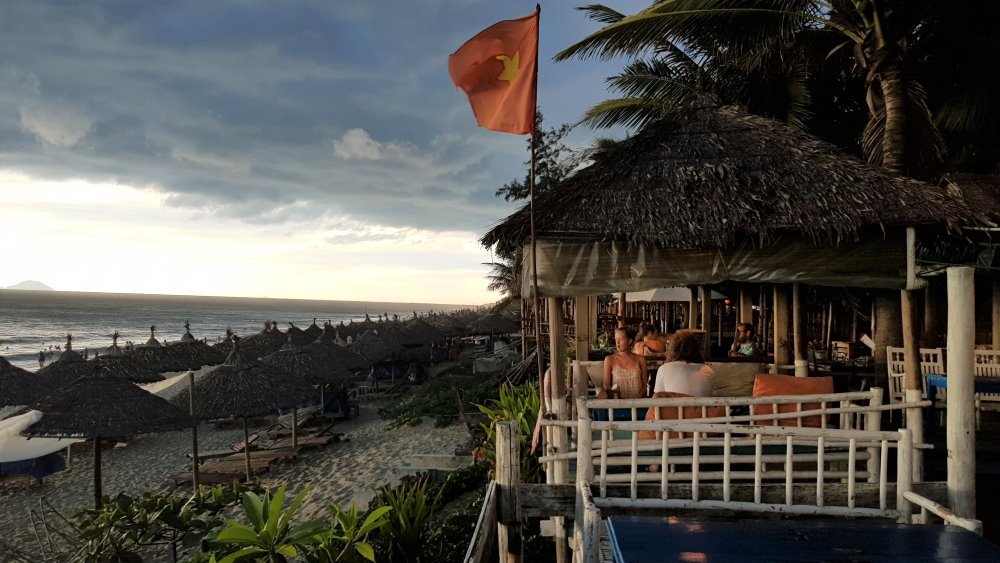 An Bang Beach Accommodation
Vietnam Beach Resorts – An Bang Beach
If you are looking for accommodation, Vietnam beaches have a surprising mix of homestays and villas to choose from. An Bang Beach is a quiet location free of large high-rise hotels, making for a more intimate and friendly beach holiday.
An Bang Beach Homestays
An Bang Beach Dolphin Homestay Review
Homestays are small family run hotels which vary from the basic to the outstanding. Our favourite homestay in An Bang Beach is the An Bang Beach Dolphin Homestay.
From the moment you walk through the door, Vui and her staff welcome you with their warm Vietnamese hospitality and you immediately feel at home.
The rooms are bright and airy, and the beds and pillows are comfortable. The bathroom is clean and modern with a choice of regular and rainwater shower.
The home stay has a small pool and free use of bicycles to get around the village. Breakfast is a choice of Vietnamese and Western cuisines and always ends with fresh fruit which is a lovely touch.
The location couldn't be better, with a morning market across the road, 2-minute walk to the beach and walking distance to restaurants and bars. The homestay has an arrangement with Phuong's Beach Restaurant for free use of their beach lounges.
An Bang Beach Dolphin Homestay is a 5 minute walk to the main An Bang Beach restaurants, bars and beach entertainment and a 4 km drive to central Hoi An. An Bang Beach Dolphin Homestay is a perfect getaway from the hustle and bustle of Hoi An.
Click here for An Bang Beach Dolphin Homestay latest rates…
An Bang Beach Villas
An Bang Superior Villa Review
A little further down the road you will find the An Bang Superior Villa. Warm friendly staff will welcome you to this newly built hotel which is a quiet modern oasis set amid the village of An Bang Beach.
The An Bang Superior Villa rooms have a crisp modern décor and all the creature comforts of home. The beds and pillows are comfortable, there is a work desk and the bathroom have a choice of standard and power shower fittings.
The hotel stretches over two separate buildings and is surrounded by tropical gardens. The small indoor pool is the perfect place to escape the heat of the day.
There is a choice of room styles available including balcony rooms, two story family rooms and suites. The breakfast buffet serves continental and Vietnamese dishes, has an egg station and there are vegetarian options.
The An Bang Superior Villa is a 2 minute walk to the beach. The Villas have an arrangement with the Moon Restaurant An Bang for free use of their beach lounges.
The Villa is a 7-minute walk to the main An bang Beach restaurants, bars and beach entertainment and a 4 km drive to the Ancient Town of Hoi An.
Click here for An Bang Superior Villa latest rates…
An Bang Beach Beachside Boutique Hotels
Aira Boutique Hoi An Hotel and Villa Review
The Aira Boutique Hoi An Hotel and Villa would have to be one of the best choices for relaxing Hoi An beach accommodation.
The hotel and villas are located steps from the beach, has two outdoor swimming pools, hosts the well-appointed Aira Garden Restaurant & Bar and has an onsite wellness spa.
The hotels décor is modern, beds and pillows are comfortable and there is a choice of standard and power shower fittings in the bathroom.
There are a selection of accommodation types including rooms and suites, modern 3-bedroom villa and family rooms with a choice of balcony or terrace.
The Aira Boutique Hoi An Hotel is footsteps to restaurants, bars and has private beachside sun lounges and umbrellas. The main An Bang Beach restaurants, bars and beach entertainment is a 2 minute walk away and Hoi An Ancient Town is a 4km drive.
Click here for Aira Boutique Hoi An Hotel and Villa latest rates…
Things to do in An Bang Beach
An Bang Beach has a range of seaside activities, all you have to decide is how active or relaxing you want your holiday to be. Whether you choose to relax with a massage and cocktail on the beach or take to the skies parasailing, the choice is only limited by your budget and your adventurous spirit.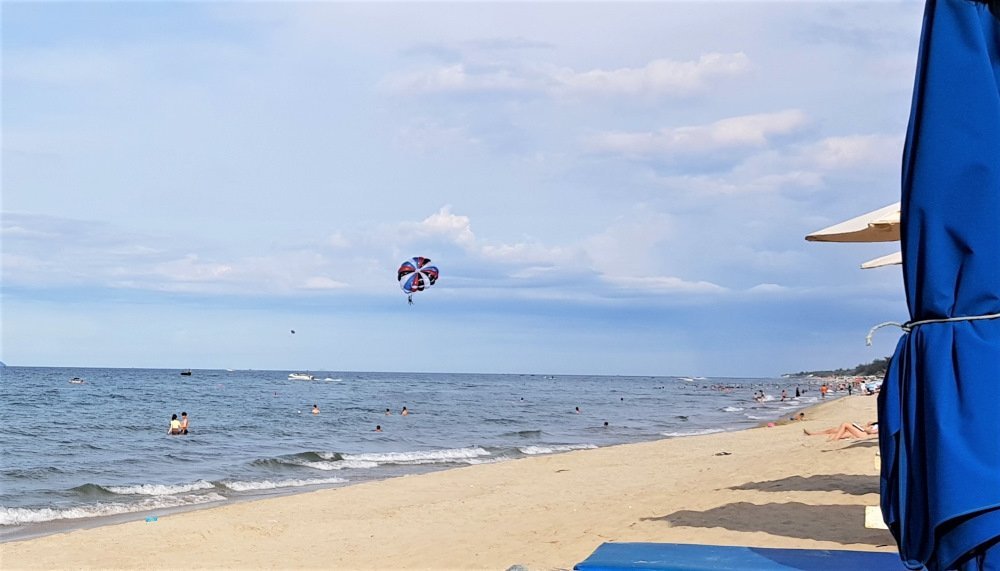 Here are just some of the top things to do in An Bang Beach Vietnam.
Visit a Spa
Learn to Paddleboard
Go Parasailing
Visit Hoi An
Where to Eat and Drink in An Bang Beach
There are plenty of places to eat in An Bang Beach, whether you want to try the local cuisine or stick to western favourites the choice is yours.
An Bang Beach has possibly the freshest seafood, with local fishermen selling their catch to the restaurants each morning fresh from the boat. You can also try regional favourites such as Cao Lau, fish wrapped in banana leaf, crispy fried wontons and white rose dumplings.
The area has many beachside restaurants and bars which are perfect for watching the sun set while sipping a cocktail and listening to live music.
If you are looking for something quieter, take a step back from the beach and enjoy the small family run restaurants that serve delicious food for a smaller price than their beach side buddies.
The French Bakery and Restaurant
This little restaurant is well off the beachfront hub, but it turned out to be our favourite restaurant. The owners are lovely, and the food is delicious, well cooked and presented.
We dined here regularly, and each dish was better than the last. We enjoyed many dishes, but the one that stood out is the Grilled Snapper with lemongrass, ginger, garlic and chili. You really do need to try this dish when you visit An Bang Beach!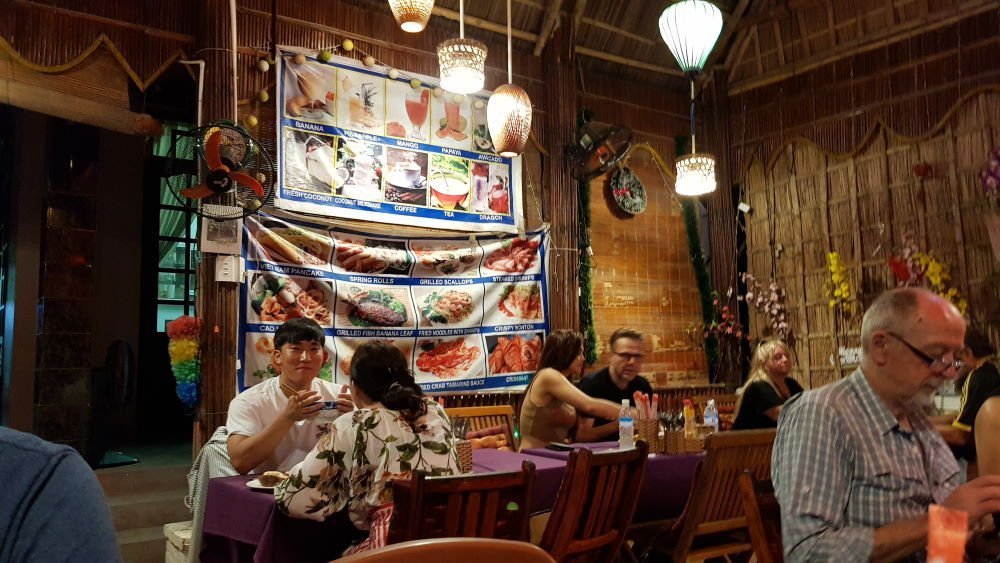 The Shore Club
The Shore Club has a lot to offer, spectacular views overlooking the Cham Islands, some of the tastiest food in An Bang Beach, VIP Cabanas and a selection of water sports that includes parasailing and jet skiing.
The shore club has an interesting mix of cuisines that include sushi, pizza, seafood, Asian and Western dishes. You can also enjoy live music at the Shore Club several nights a week.
La Plage
La Plage overlooks the main beach area of An Bang Beach along a pathway of adjoining restaurants. The restaurant serves a range of Vietnamese, French and Western dishes and specialises in seafood.
We tried the Sole Meuniere (Sole with steamed potatoes) and Tartine du Pecheur (Red Snapper on a toasted baguette) both were delicious. The restaurant has beach views and has a small play area for children.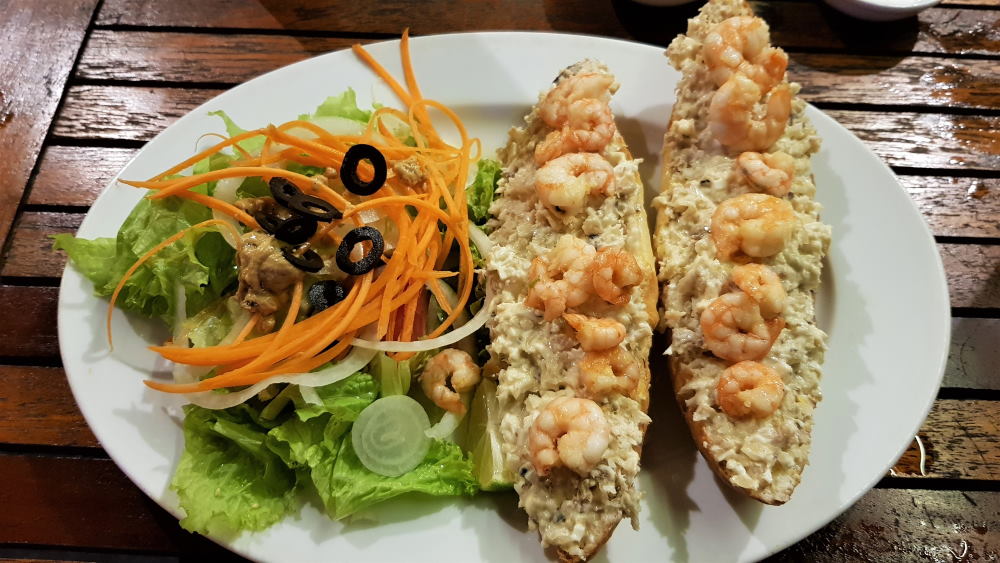 Best Time to Visit An Bang Beach
The best time to visit An Bang Beach is during the dry season between March and September. Of the dry season, February and April are the most pleasant months as temperatures soar through May to September. When visiting during the dry season prepare for calm waters and hot days.
See our video
The least popular time to visit An Bang Beach is during wet season which lasts from October to February. During this time, you can expect wet weather, cooler days and rougher seas.
Getting to An Bang Beach
Danang International Airport is the closest airport to An Bang Beach, the airport is serviced by a selection of domestic and international carriers.
For latest flight deals from Australia to Danang click here
Danang International Airport Transfers
Hotel Airport Shuttle Transfers
When travelling, knowing that you will see a friendly face as you walk into the arrival hall is always a comfort, especially if you have just disembarked from a long-haul flight.
Feeling tired and dishevelled all you want to do is get to the hotel and freshen up before heading out to enjoy all that An Bang Beach has to offer.
We found the easiest way to get from Danang International Airport to An Bang Beach is to book an airport shuttle through the hotel. All hotels mentioned in this article have an airport shuttle service. Be sure to check for airport shuttle options when booking your hotel.
Taxi Transfers from Danang International Airport
The green MaiLinh taxis are a familiar sight around the Danang, Hoi An and An Bang Beach area. We have spoken to many people and found mixed reviews about their service.
We have taken MaiLinh taxis from An Bang Beach to Hoi An and haven't had a problem, but we have spoken to others that have. As with any taxi ride in the world make sure the meter is running and in working order.
Getting a Vietnam Visa
Do you need a Visa to enter Vietnam? Many countries need a Vietnamese Visa to enter Vietnam and iVisa will let you know if you are one of these countries.
Australians need a Visa to enter Vietnam, we used our partner iVisa to obtain ours and were happy with their fast and efficient service.
Click here to learn more about iVisa…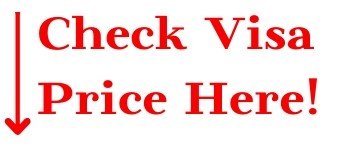 Travel Insurance – Don't Leave Home without It!
Living in Thailand we hear our fair share of horror stories about tourists not taking out travel insurance before leaving home.
We would never travel without travel insurance and think it should be third on your list of things to do before travelling, right after purchasing your flight tickets and accommodation.
We partner with World Nomads Insurance and have been using them for many years and can highly recommend them.
Click here to learn more about World Nomads Insurance…
Last Words on An Bang Beach
We chose An Bang Beach as a last minute add on to our Hoi An and Danang itinerary. Little did we know that we would fall in love with this charming beach and return to spend extra time there.
During our time in An Bang Beach we spoke to many people who felt the same way, one in particular decided to make An Bang Beach his base for his visit to Hoi An. Staying at An Bang beach allowed him to spend his day in busy Hoi An and evenings in this quiet seaside village.
My advice would be to spend time in both Hoi An and An Bang Beach, both have so much to offer, so do yourself a favour and visit beautiful An Bang Beach on your next trip to Vietnam.
One thing for sure a holiday at An Bang Beach will leave you refreshed and energised, free of daily stresses and that is why I consider An Bang Beach to be one of the best beaches not only in Vietnam but Southeast Asia .
Have you been to An Bang Beach? We would love to hear about it!
PIN THIS TO YOUR TRAVEL PINTEREST BOARDS ↓