During our travels we often use house and pet sitting as a one of the ways to see the world, this saves on accommodation costs and allows us to enjoy pet company, something we miss while travelling. Many of our house sits involve looking after cats and one topic of conversation we have had many times with pet owners is what is the best cat carrier?
Click here to see the Best Cat Carrier now
If you own a cat, you will definitely need a carrier for transporting the cat to the pet groomer, Vet, or when travelling. However, you may have already noticed that cats don't naturally like being moved around against their will. They are not particularly fond of car rides and airline flights as these makes them overly suspicious and nervous.
This post may contain affiliate links, which means we may receive a commission. Please see our full disclosure for further information. As an Amazon associate, we earn from qualifying purchases (if applicable).
Why do a need a quality cat carrier?
Sure, there are some cats that love going for walks and are fine with the harness and leash, and some even love car rides, but these types are very few and far between. Unlike dogs, cats prefer not to be crated or tethered, so when travelling with your cat or taking it to the vet, consider investing in the best cat carrier you can get to ensure comfort and peace on your way.
The best travel cat carrier must be sturdy, right-sized and easy for you to handle. You also need to choose the right type of a carrier for your cat. For instance, if your cat has a laid back peaceful character and never fights when being placed into a carrier, then a mesh cat carrier can do just fine.
However, if your cat becomes aggressive and tries to escape or claw you when being placed into the carrier, then a hard-sided plastic lockable carrier is crucial. Below are our top 5 best cat carriers for 2020 travel that we thought you would like.
Comparison chart for the best cat carrier 2020
Finding the right cat carrier to suit your needs with all the different options available can be challenging . Whether your looking to find the best carrier for the short trip, a larger carrier suited for longer journeys, or perhaps the best cat carrier for Airline travel.
To help you choose, we've listed the best cat carriers available for easy comparison along with the main options they provide. To sort the table, click the column heading.
What to look for in a quality cat carrier
Cat carriers come in different sizes and materials. The hard plastic cases are best suited to long distance travel, especially airline transport. Cat Carriers should be strong, comfortable, with openings for ventilation and visibility, making sure there is enough room for movement during the long journey ahead. Soft sided carriers are perfect for shorter journeys, with padded sides and floor for comfort, mesh visibility and ventilation panels and pockets for storing all those cat necessities. Cat carriers should be easy to clean and durable.
Some of the cat carriers listed here are approved for transportation onto aircraft. For more information check the TSA official website for requirements regarding the transportation of small pets.
Best cat carrier for car travel
If you are looking for the the best cat carrier for car travel we would suggest you consider one that allows plenty of room for the pet to move around, especially if your taking a long journey, and one that offers your pet plenty for vision of the surroundings. Our experience travelling with cats in a vehicle is that cats being inquisitive like to see what's going on around them including other passengers. Naturally for safety of all passengers ensure the carrier is securely fastened with a seat belt.
Cat carrier product reviews
Petmate Two Door Top Load Kennel Review
The Petmate Two-door Top Load Kennel is an ideal cat carrier for travel that offers easy access for your lovely pet. The plastic and steel wire construction combine to create a sturdy carrier with great ventilation, visibility, and safety that you will find attractive and convenient. This kennel is also a great tool for crate training and house-training when you are not on the move.
Features:
Some other features include a secure wing-nut and bold design, comfort carry handle, steel front door with a secure latch and a water cup. The sturdy and yet stylish steel wire and heavy-duty plastic offer the ventilation and safety that meet most airline travel requirements. The fashion forward pet parents will also love this modern design and the variety of metallic colours. The kennel is available in two sizes that can accommodate pets ranging from 5 to 20 pounds.
Click here for the current price, reviews, and more information.
OxGord Airline Approved Pet Carriers w/ Fleece Bed For Dog & Cat Review
Many cat and Dog carriers are not allowed on airlines due to safety issues. The OxGord carrier is an FAA airline approved foldable cat carrier that can allow you to have your cat right under your seat. This is awesome because you can be with your lovely pet the whole flight. The OxGord is designed to offer maximum comfort and safety for you and your pet for a great pet-carrying experience.
Features:
It has a removable fleece bed that provides ultimate comfort and is also easy to wash. The mesh is made of a very strong material that cannot be chewed or clawed through. The added outside pockets come in handy for storing treats, toys, documents, etc.
· Safety belt buckle that allows the carrier to be restrained with your vehicle seatbelt
· Padded shoulder strap for enhanced comfort
· Superior ventilation provided by the mesh material
· The "Unwind and Bind" feature ensures that your cat does not escape when you open the carrier
· Zippered sides that open to allow access to your pet
. Airline approved pet carrier
Click here for the current price, reviews, and more information.
Soothing soft sided carrier Review
This elegant cat carrier is a perfect option if you are looking for sturdy, plush and comfortable carrier with a sense of style. The carrier features a durable and light-weight steel frame that easily folds down for ease of storage. The water resistant heavy duty Deluxe sleep pillow and nylon both machine and hand washable, which makes it easy to keep your cat carrier clean, hygienic and free from unpleasant odors.
The soft sided carrier is also made of premium quality fabric with double stitching and enhanced corners; you can bet it will be around to serve you for all the "nine lives" of your cute kitty.
Features:
Provides ultimate comfort for your cat during travel and for Cat-Naps" and resting when indoors
Large enough to hold 2 cats with a combined weight of up to 60 pounds; a perfect alternative to the traditional bulky boxy crates that often cause cat anxiety.
Easy cat access provided by zippered front, back and both side panels
Ventilated mesh doors for panoramic views, visibility, and ultimate ventilation.
Click here for the current price, reviews, and more information.
Premium Airline Approved Expandable Pet Carrier by Pet Peppy Review
This Expandable Pet Carrier is very comfortable and expandable from both sides. All you need to do is unzip them and fold them down to get three times the space and comfort as well as improved ventilation for your kitty. The top is also ventilated, which offers additional ventilation and gives your cat the feeling that it is not enclosed or trapped.
Features:
The carrier also features a strong wire frame that lines the entire structure to make it sturdier. Its inside mat is removable, fur like and completely machine washable for your convenience. You will also appreciate the side pockets as a storage option for food, medication, treats and toys. The adjustable shoulder straps are designed for both carrying the case and securing it in your car.
Click here for the current price, reviews, and more information.
Next Level Pet Soft Sided Carrier, Premium Leather, Small Dog & Cat Approved Review
The Next Level Pet soft sided Carrier is a premium leather case which makes it one of the most durable best cat carriers on the market. The inner bed is removable and can be easily washed. It features the side and top entry for ease of access. The top material can be rolled back to expose the netted mesh that offers extra ventilation and lighting. If your cat has travel anxiety, simply keep the top closed.
Features:
This carrier is also TSA approved, so feel free to use it during your flight travel adventures. It also features a padded shoulder strap, removable leash, and a name ID badge. The best part is that it also folds back for ease of storage.
If your cat is particularly large, you may want to first measure it before buying this back, however, if wouldn't worry much about that; this carrier measures a generous 10.5 x 18 x 11 inches. I general, the heavy duty support, strong mesh ventilation and durable material keeps your cat safe and comfortable throughout the journey.
Click here for the current price, reviews, and more information.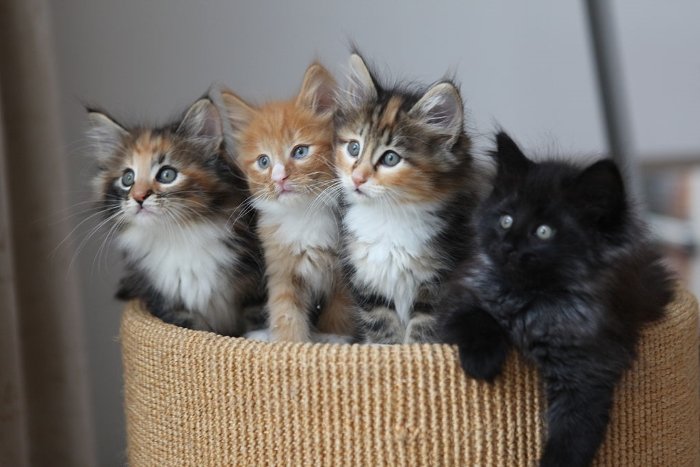 Storing your Cat Carrier
Most people store their cat carriers in the garage or shed. Cats associate the cat carrier with trips to the Vet, cattery or are a tip off that "Mum and Dad" are going away. The sudden appearance of a cat carrier will often lead to stress, anxiety and in worst case scenarios disappearing cats. Leaving the cat carrier out in plain sight for the cat to sleep and play in will relieve some of this anxiety. When not in use make sure your cat carrier is thoroughly cleaned and all bedding washed.
Best Cat Carrier summary
We hope you have found our choices for top five best cat carriers informative and relevant to your travelling needs. Travelling with your cat doesn't have to be difficult, as long as you have a cat carrier that guarantees safety, comfort, and convenience for both you and your cat. If any of our above-listed pet carriers for cats catch your eye, they are all available online and you can be on the way to your destination knowing that your pet is comfortable and secure.
You may also be interested in our other travel product guides including the Best travel backpack, Best travel iron.
Disclaimer: Frequent Traveller is a participant in the Amazon Services LLC Associates Program, an affiliate advertising program designed to provide a means for sites like ours to earn advertising fees by advertising and linking to amazon.com, amazon.com.au and its worldwide partners. Amazon and the Amazon logo are trademarks of Amazon.com, Inc. or its affiliates. If you chose to purchase through these links we will earn a small commission at no extra cost to you.
Save