Most photographers never use the strap supplied with their cameras. I personally don't either. These straps are often weak with little consideration to style and comfort. What you may not notice is that most of these straps are just meant to advertise the manufacturers camera with no actual benefit to you. So if your strap screams "NIKON" or "CANON", chances are you stand out in a crowd to potential criminals, something you do not want to do.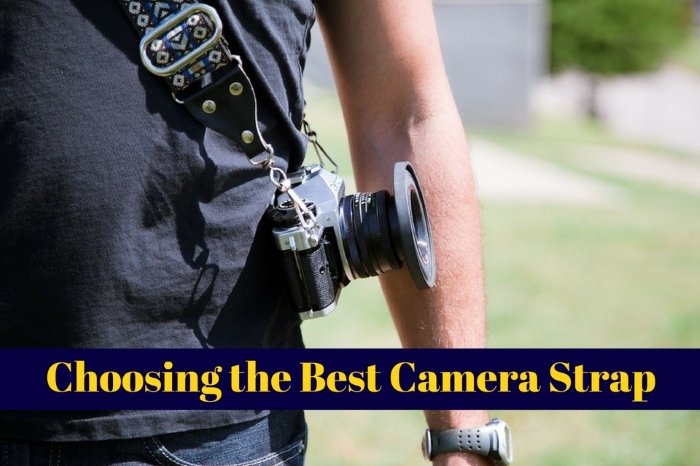 This post may contain affiliate links, which means we may receive a commission. Please see our full disclosure for further information. As an Amazon associate, we earn from qualifying purchases (if applicable).
Why upgrade your Camera strap?
Upgrading to a great quality aftermarket camera strap comes with lots of unrivalled benefits, and places you on a whole new level of professionalism as a pro or adventure photographer. Aftermarket camera straps have in the recent years undergone radical transformation with an impressive array of fabrics, styles, features, designs and technology.
High-quality camera straps often come in handy for photographers who travel without a bag, for instance, but still need increased protection and comfort. Quality straps offer security, flexibility and peace of mind especially for pro photographers operating high-end, large and heavy lenses.
Fabrics such as ballistic nylon and neoprene will not only secure your camera but also prevent it from jumping around as you walking. The kind of strap you choose will largely depend on the type and environment of shooting as well as the type of camera gear you have. However complicated your needs may be, you can always be sure to find something out there that will suit your needs and budget. Here is our top 5 selection of the best custom camera straps to get you started.
Comparison chart for the best camera strap 2019
Finding the right camera strap to suit your needs can be difficult. To help you choose, we've listed the best camera straps available for easy comparison along with the main options they provide. To sort the table, click the column heading.
How to choose the best custom camera strap
Camera weight
Before you decide to upgrade your camera strap, consider not just the weight of your camera but also the overall weight of all equipment attached to your camera. Some camera straps have weight recommendations that can guide you when making this decision. Generally, choose a strap that can comfortably withstand the weight of your camera and still feel comfortable around your neck.
The type of camera strap
People hold their cameras in many different ways; around their necks, hand-held, across their body, over their shoulders and so on. There are however three primary types of straps that can be used depending on the shooting situations and your camera type, i.e. neck strap, wrist strap and camera sling.
Neck strap
These come in different lengths, widths, thickness and material, so you have plenty of options. However, bigger or wider is not always better, because this can make you sweat or even pull on your neck. Go for straps that are medium width, preferably an inch and half wide. Consider selecting options that have great breathability so that they can allow heat to escape from your neck.
Don't necessarily opt for straps that gradually get thicker towards the top, because chances are you will end up wearing the strap across your body anyway. Neck straps are best when you need lots of hands-free moments; this could be outdoor adventures or shooting adventures that require lots of multitasking such as biking.
Wrist strap
Wrist straps are suitable for securing relatively smaller sizes of cameras around your wrist as you work. When selecting a wrist camera strap, focus on ones that are not too thin as these may easily cut into your wrist. There are hundreds of different models and makes of wrists straps in the market. Breathability is not as important here since our wrists aren't great heat conductors. Wrist straps do not however offer you the luxury of hands-free, and this may not be suitable for events such a mountain climbing or Kayaking.
Camera sling
A camera sling is specifically made for those who prefer to "sling" their cameras over their shoulders or across the body. The main difference between a sling and a regular neck strap is that it allows you to raise your camera to your eye without taking off your shoulders. The camera simply slides up and down the sling using a metal fastener. Camera slings are good for those snappy moments that don't give you enough time to adjust yourself.
The different Strap materials
Camera straps also come in different kinds of materials, each with its own pros and cons. Common material include leather, nylon, silk, knit cloth, and scarves. If you are a hobby photographer who does short shoots once in a while, you can be comfortably with silk, nylon, or knit cloth. You will also find these to be generally kind on your budget due to their limited durability.
On the other hand, if you regularly do full-day, hard-core shooting with a heavy DSLR, you may want to consider more durable options such leather. Pro photographers operating high-end cameras are also advised to go for leather options that offer more security and assurance.
Length of strap
There is no standard length for a camera strap; it all depends on your personal preferences. Ideally, your strap should be long enough so that your camera hangs at a height where your hand can easily reach it from a relaxed position. You should be able to grab your camera and raise it to your eye with no hassle.
Having said that, there are some situations that require different lengths of straps to navigate around barriers, obstacles, prevent the camera from being knocked and so on. It is therefore important to buy an adjustable camera strap that you can first, adjust to your personal preferences, and secondly, adjust to adapt to different restraining conditions.
Camera strap product reviews
BlackRapid RS-7 Camera Strap Review
The black RS-7 camera strap is a lightweight, right-handed custom camera strap designed to comfortably fit around your shoulder and across your chest. It distributes the weight of your camera to your shoulder instead of around your neck. It has attachment points that allow you to customise the strap with an option of storage and other features. The strap is designed to work with Black Rapid's MODS system which further allows to you to customise your strap system to meet your specific needs.
When it comes to durability, the RS-7 may not last as long as their leather counterparts, but the ballistic nylon material puts it on a whole new level of durability. You, therefore have no concern that the strap will ever break or wear down. The durability gives you the confidence knowing that once you strap your camera around your neck, it's not going anywhere. The camera will simply twirl around in circles when dangling from your neck, but will never develop enough tension that can unscrew the fastener from your camera. The threading on the fastener as well as on the camera remains still, and so the threads won't loosen or wear down over time.
In terms of comfort, the RS-7 offers the highest level of comfort that you can possibly get in a strap. The strap nicely distributes the weight of your camera around your shoulder and hangs at your side where you can easily reach from a relaxed position. Additionally, it's much easier to walk around with your camera since it doesn't get in the way of your arms. The polyester base and a 1 cm thick TPE underside foam padding add more to the comfort by providing extra cushioning and breathability.
The fastener is a stainless steel locking FastenerR3 that connects to the tripod socket located either on the lens or the camera body. Once connected, the strap can be easily adjusted at the rear of the shoulder to your preference or as the situation dictates.
BlackRapid RS-7 strap also features clips on each side known as bumpers. They simply clamp on the strap and prevent your camera from moving up and down the strap as you move around. The front bumper holds your camera from moving around while the back bumper keeps your strap in place while shooting for extended hours.
In conclusion, the BlackRapid RS-7 strap is just awesome. Once you get your hands on this cleverly engineered strap, you will have absolutely no hesitation to attach thousands of dollars worth of camera gear on this strap and confidently let it dangle from your body.
Click here for the current price, reviews, and more information.
ONA Presidio Leather Camera Strap Review
ONA is known in the industry for their top quality handcrafted leather products. Perhaps their most renowned leather product is their camera bags, which boasts of excellent design, quality, and functionality. Same thing goes for their Presidio Leather Camera Strap.
The Presidio Camera Strap is designed to be worn across your body and can hold a camera and gear combination weight of up to an impressive 6 pounds. Previous users say it can handle even more, but I haven't tested this personally as yet. The Presidio strap is 63" long and is made of top-grain leather connector belts with an adjustable range of 19.5" to 23.5". With this length, you can wear it not only on your shoulders or around the neck but also across your chest. Additionally, you get to enjoy the peace of mind when your camera is not hanging in front of you or only hanging off one of your shoulders.
Generally, this strap is handcrafted with Italian tanned leather that couples with Neoprene-padded neckline to offer not only beauty but also ultimate comfort. It features simple and clean chrome hardware accents that perfectly ride on the "Less is More" ideology. Connecting the strap to the camera is very easy. You simply pull the strap through the camera clips and strap buckles, and once you have adjusted to your preferred length, you can loop back and tighten the buckles.
The ONA Presidio is available in five different colour choices i.e. Dark Truffle, Smoke, Black, Field Tan and antique cognac. This means if you're very fashion conscious, you can't miss something that will go with an item or two in your wardrobe. My personal favourite is the antique cognac, which happens to match with most of my footwear.
Did I mention something about durability? Well, like most leather camera straps, the ONA Presidio speaks for itself when it comes to quality and durability. With some good care and proper use, you can be sure that this camera strap will definitely outlive your camera.
With the combination of style, functionality, comfort and durability the ONA Presidio Leather Camera Strap is a perfect choice for those who value simplicity, comfort, and durability.
Click here for the current price, reviews, and more information.
Luma Loop 3 – Hard-mounted, Premium Camera Sling Strap Review
The Loop 3 from Luma Labs' is their latest release of their overwhelmingly-loved sliding camera slings. Their original Loop, which was extremely popular had to be withdrawn from the market due to copyright infringement issues back on 2011. A few years later, Luma Labs released the Loop 3 with some major improvements in durability and comfort of the sling. You can literally walk around all day with this strap around your neck and never fill the irritation and mild pain that comes with some leather camera sling straps.
Design
The Loop 3 is designed ready to take on the rigors that come with travel and outdoor shooting. It might not be the most beautiful strap out there, but it makes up for this with its high-quality material that will sure outlive your camera.
The Loop 3 features a unique shoulder pad made of high-quality custom leather and comes stamped with the Luma Labs logo. The leather padding conforms nicely to the shape of your shoulder to offer ultimate comfort. The pad is extremely tactile and grips to your shoulder firmly and stays in place without sliding up and down. To provide stronger attachment, the pad is strongly stitched and riveted to the nylon strap
Like most nylon straps, the Loop 3 comes prepared for anything. The ballistic nylon is well known to be tough, durable and there is no chance that it can break on you. I must mention that this strap won't pull apart no matter how much weight you hang on it (within reasonable limits of course) unless you deliberately cut it with a sharp knife.
The Loop 3 features two sliders on the nylon strap that allow for adjustability and comfort, as well as quick release if you need to take a quick shot on the front side. Use this to instantly lock down your camera as well when you are on the move. Basically, the loop 3 goes from securing your camera at the hip to ready-to-fire in less than one second, which in my opinion offers the next best alternative to a camera in your hand.
The mount has a large dial that easily screws into the camera's tripod mount socket that can be unscrewed or screwed in less than 4 seconds. This is far much secure compared to smaller and a little flimsy metal of the neck/wrist rings.
In general, the overall design of the Luma Loop 3 is perfectly executed. The leather shoulder pad offers the much-needed comfort when slung over your shoulder, while the nylon strap promises reasonable durability. Additionally, the strong aluminium mount and carbon fibre sliders provide maximum security.
Click here for the current price, reviews, and more information.
Black Rapid RRS-1BB Sport Shoulder Sling Review
RRS-1BB Sport Shoulder Sling is another impressive custom camera strap from BlackRapid that lives to their standards and reputation. The sport comes with a particularly nice feature that provides additional stability; a second strap that nicely wraps around your underarm.
The sling was primarily targeted at active crowds, but it also comes in handy when you need to do something with both your hands or for those who have relatively heavy bodies. The RRS-1BB features a movable cam buckle on both sides of the connector that firmly holds the fastener. The buckle also helps to prevent the camera from sliding too far along the sling. The second strap loops under your arm to prevent the strap from sliding off your shoulder, if you need to slide, you can simply release the connector in one flick.
The main strap is 63" long while the shoulder pad goes a little over 3" at its widest. You can purchase the optional underarm strap (BRAD) to use with other BlackRapid straps. The shoulder padding offers extra comfort with the nicely curved ballistic nylon and polyester cushioning.
If by any chance you are worried about the fastener mount bolt snapping, that is already taken care of. The guys at BlackRapid assure their customers that they have done rigorous tests with several pounds of force than you will ever need to carry. In all their test's, they have never heard of the FastenR breaking. They claim that this sling is capable of carrying any professional camera/lens combination. They, in fact, go ahead to offer you an extended 5-year warranty if you register your purchase.
Click here for the current price, reviews, and more information.
Peak Design Black Slide Camera Strap SL-2 Review
The Slide Camera Strap SL-2 is an adjustable strap that you can wear as a sling, neck or shoulder strap. So basically, by purchasing SL-2, you are getting three straps in one.
Sling strap
To use the SL-2 as a sling, connect the slid to the anchors on tripod socket and strap lug and you can wear it as a simple sling strap.
Neck strap
To switch to neck strap configuration, simply attach the slide to the two strap lugs and you've got yourself a classic neck strap.
Shoulder strap
This is my favourite. All you have to do to use the SL-2 is to flip it over to expose the silicon grip that allows you to hang your camera over your shoulder. The flip side has a gripped surface that holds in place when using the strap as a neck strap or shoulder strap. The smooth side is reserved for when you want to use the strap as a sling strap.
Away from the three configurations, the SL-2 features a unique anchor system that lets you swiftly attach and detach the strap from the camera. The inner sheath of the anchor is red, the middle sheath is yellow and the outer sheath is black. These colours serve as indicators to let you know when to replace you anchors; when you start seeing yellow, plan to replace your anchors.
Quick adjustability is another clever feature that Peak Design banked in the SL-2. It comes with two durable aluminium latches that allow you to quickly adjust the strap's length to your preferred height between 39" and 54". The 45mm wide seatbelt-style webbing is padded to offer low profile cushioning and yet still so comfortable.
The Peak Design Black Slide Camera Strap SL-2 is thought to be the most versatile strap in the market with strong anchors that can easily hold over 90kg each, quite impressive.
Click here for the current price, reviews, and more information.
Price comparison chart for the best DSLR camera strap
Benefits of custom camera straps
There are various photography tutorials and blogs that focus on cameras, lenses, lighting and camera bags, but very little attention is given to one very important camera component; the camera strap. Most cameras came supplied with a neck strap; however, these offer very little functionality with no attention to style or comfort.
Well, you can easily improve this situation by purchasing the best custom camera strap that is functional, comfortable and better looking. And the good news is; you don't have to break the bank. There are options to fit any budget –from casual shooters looking for the best camera strap for travel to high-end pros looking for premium camera straps. Here is a quick look at some of the benefits of buying the best camera strap for your camera.
Comfort: Straps supplied with cameras are notorious for the discomfort they cause around your neck. Custom camera straps on the other hand are conveniently designed and tested to offer ultimate comfort even with heavyweight cameras.
Fail safe: A quality camera strap is a worthwhile precautionary investment especially if you are shooting in precarious locations. You do not want to shoot downward from a balcony with your camera unsecured, do you?
Security: A good camera strap will keep your camera safe during accidental knocks, especially in some environments such as markets or crowded streets.
Anti-theft: A good quality aftermarket camera strap will lessen the chances of someone taking away your camera. Unlike straps supplied with your camera, the best camera straps are embedded with a tough material such as metal wire that prevents slashing.
Multiple cameras: Aftermarket quality straps have universal fastening features that make them easy to use with multiple cameras. So you don't have to worry about buying a piece for each of your cameras, unless they are significantly different in design and size.
When choosing a camera strap, personal choice will ultimately decide which brand is best depending on what you consider the more important options. All the straps reviewed are excellent and will perform well. We are currently using the Luma Loop 3 – Camera Sling Strap and highly pleased with our choice.
Custom camera strap summary
The bottom line is that the strap that comes with your camera is only a functional necessity with no style, comfort or durability that matches your camera. It is therefore very critical to upgrade this strap to the best camera strap available in the market that caters for functionality, comfort, safety and still flows with your fashion preferences.
It is also important to understand the factors to consider when choosing your camera strap. The strap length, camera weight, types of strap, and material of the camera strap are just a few things to consider. If you are still not sure about how to select the best camera strap, contact your camera manufacturer or local camera enthusiasts club and describe your type of camera, and they will be able to offer recommendations.
You may also be interested in our reviews of choosing the best travel accessories to make that journey easier and our detailed review of the best travel irons, and best travel backpacks.
Disclaimer: Frequent Traveller is a participant in the Amazon Services LLC Associates Program, an affiliate advertising program designed to provide a means for sites like ours to earn advertising fees by advertising and linking to amazon.com, amazon.com.au and its worldwide partners. Amazon and the Amazon logo are trademarks of Amazon.com, Inc. or its affiliates. If you chose to purchase through these links we will earn a small commission at no extra cost to you.
Save
Save