Most people travelling from Chiang Mai Thailand to Siem Reap Cambodia fly via Bangkok, this is the quickest and easiest way to get there. Chiang Mai to Siem Reap flights operate daily and if you're looking for the fastest route this is a convenient option.
For those looking to mix it another option is to take the train from Chiang Mai to Bangkok before joining Bangkok to Siem Reap flights. While they are both convenient options we often like to take a journey into the unknown and that is why we decided to try the bus from Chiang Mai to Siem Reap, it also gave us a chance to see more of the Thai and Cambodian countryside.

This post may contain affiliate links, which means we may receive a commission, at no extra cost to you, if you make a purchase through a link. Please see our full disclosure for further information.
How to get from Chiang Mai to Siem Reap?
We wanted to prove that it's possible to get from Chiang Mai to Siem Reap by a bus. It's not for everyone, there are border scams and travel time is long but it is an adventure and considerably cheaper than flying from Chiang Mai to Siem Reap.
We spend a lot of time in Asia and have learnt that life runs at a slower pace. If you need something it may not come instantly and sometimes things don't go as planned. It's just the way it is, you accept it as a way of life and it has made us more patient people. Living in Asia has taught us to always have a plan B up our sleeve and it has worked well for us so far.
We were visiting Siem Reap in Cambodia because of its proximity to Angkor Wat. We had dreams of watching the sun rise over this magnificent 12th Century temple complex. Here are some helpful hints for planning a journey from Chiang Mai to Siem Reap by bus.
Planning our trip from Chiang Mai to Angkor Wat
When buying bus tickets from Chiang Mai in Thailand to Siem Reap in Cambodia, the easiest option is to use a website like 12Go.asia We spend a large portion of the year living in Chiang Mai and there are travel agents around every corner. However, rather than trying to deal with travel agents we prefer to purchase online ourselves as we find that always works out cheaper for us.
Buying a Chiang Mai to Cambodia bus ticket with 12Go.asia is straightforward and convenient.
How much is a Cambodian Visa?
A visa on arrival into Cambodia is $30 USD per person. You need to have a least 6 months validity on your passport and 2 passport photos.
We had heard about visa scams on the Thai/Cambodia border involving bus companies. However, we took that information on board and hoped for the best, after all we were going on an adventure.
As you will see below the visa on arrival at the border crossing does have a few challengers so if you have plenty of time the easiest option is to obtain your Cambodian visa before you travel. To check if you need a visa for travel to Cambodia see below.
Bus and travel plan from Chiang Mai to Siem Reap
We were excited about our trip from Chiang Mai to Siem Reap. What we had researched made it sound glamorous, the red double decker bus had luxury reclining seats, in seat entertainment, it came with a meal and had an on-board bathroom, what more could you want?
We had prearranged to be picked up from our apartment between 6-7pm taken to the bus station, our bus would arrive at the VIP office in Bangkok at 7am and the bus from Bangkok to Siem Reap would leave from the same office at 8am the same day.
Our travel from Chiang Mai to Siem Reap
At 6:15pm were picked up from our apartment and whisked away to catch our bus from Chiang Mai to Bangkok. We were given our ticket, attached was a map showing where we were to connect with our next bus from Bangkok to Siem Reap.
We were taken to an office on the top right-hand corner of Chiang Mai's moat, we were expecting to be taken to the bus station but when I asked I was told we were in the right place.
The room was filled with backpackers and older travellers, a bus arrived and sat in the car park. We looked at each other for answers but it was clear nobody knew what was going on.
We sat there for around an hour when we noticed a trickle of people boarding the bus, there were no announcements, everyone just followed the crowd, I asked the bus driver if this was the Chiang Mai to Bangkok bus, he looked at our ticket and nodded yes.



Chiang Mai to Bangkok Bus
Boarding the bus, we noticed that it wasn't as glamorous as described, there wasn't any in seat entertainment and the meal was a cheese sandwich, biscuits and water, but we were happy to settle in and start the first leg of our journey. We found the seats to be comfortable, reclining for a decent night's sleep and there was a lot of leg room for stretching out.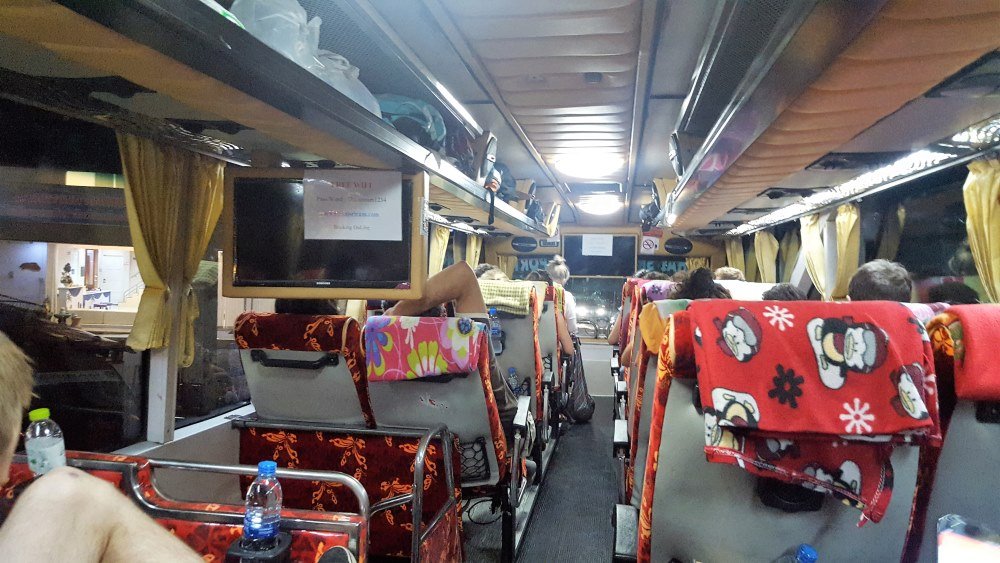 We travelled through the night, driving through Chiang Mai's busy streets, looking out the window I watched as the lights of the city receded into the distance as we entered the darkness of the open highway.
With the rocking of the bus we were quickly asleep, we woke around midnight for a bathroom stop. It was a small roadhouse, but the bathrooms were clean, and it gave us a chance to stock up on drinks and snacks for the journey.
We arrived in Bangkok at around 5:30am, the streets were dark and everything was closed. Our bags were thrown off the bus, Alan's landed in the water that was lying in the gutter. Nobody knew where they were, we asked the driver where to catch the next bus and he pointed across the road.
Passengers drifted off in every direction, we waited outside the closed ticket office, a note taped to the security door told us we were in the right place to catch our connecting bus.
After hanging around for half an hour, we decided to go for a wander, we discovered a 24-hour Burger King and most of our fellow passengers, it was good to see these familiar faces, we all smiled and there was a feeling of comradery amongst us.
Bangkok to Siem Reap Bus
We were waiting for the Bangkok Siem Reap bus when a man came along and told us to follow him. We were rushed through the streets dodging people, tuks tuks and cars until we came to the waiting minivans double parked on the street.
We clambered on board, our luggage stacked high on the front seat. We were squashed in like sardines, the mountain of luggage kept falling on the young German girl sitting in the front. We thought we could put up with the discomfort for the ride to Bangkok bus terminal where we would be connecting with our luxurious VIP bus.
The journey kept getting longer and longer, after 1 ½ hours it suddenly struck us that maybe we weren't going to Bangkok bus station and that this sweltering tin can might just be our Bangkok to Cambodia bus and we would all be staying put for the 5-hour journey to the Cambodian border.
Our drivers didn't give us any information about our bus trip and couldn't answer any of our questions, none of us knew what was going on.
The Cambodian Border Scam (the fun begins)
Just before we reached the Cambodian border town of Poi Pet the minivan pulled into a driveway. A friendly young man asked us to take our luggage as we were being transferred to a bigger bus (about time!). This lovely young man told us that we would be taken into the room in small groups to explain the Cambodian visa process.
We were escorted into the room, on the desk where a pile of completed paperwork and the passports of our fellow travellers.
We sat down and were told that they were going to help us with the Visa paperwork and that it was going to cost $45 USD each. We mentioned that the price of a Cambodian visa on arrival was $30 USD each and told them that this sounded like a scam, we were then quickly ushered out of the office into a waiting minivan (presumably so others wouldn't hear).
He told us he was taking us to the border and we could get the visa ourselves. Along the way he decided to go for a second scam, by taking us to the Cambodian Immigration office.
Once at the Cambodian Immigration office he told us to give him our passports and money (the price had now dropped to $40 USD), we told him we weren't giving him our passports or money and that we would go with him into the Immigration office. At this point he became angry and told us that we weren't allowed in. He then called us idiots and took us back to the minivan and drove us to the border.
As we exited the minivan he told us we had 1 hour, or the bus would leave without us. I asked him which way to go and he spat out "Find it yourself!" I have to say, in that moment I could feel the blood drain from my face.




Getting a Cambodian Visa on Arrival
The area was crowded but it wasn't long before we found Thai Immigration, the lines were short, staff were friendly and we made it through quicker than we expected.
We crossed the road and followed the signs to Cambodian Visa on Arrival Office where we were given the Visa application form to complete, we paid $30 USD to the Immigration Officer and our Cambodian Visa was processed.
We exited the office and followed the line to get our passports stamped for entry in Cambodia. We found the whole process to be easy and it took less than half an hour as the lines were relatively empty.
There is no need to fall for the bus company border crossing scam, the process is easy, immigration staff are friendly and there are signs in English. Just remember these 3 steps.
Step 1. Go through Thai Immigration to exit Thailand
Step 2. Cross the road to apply and pay for Cambodian Visa on Arrival
Step 3. Follow the path to get your processed visa stamped
The border crossing from Thailand into Cambodia has to be done on foot, buses drop you on the Thai side and pick you up on the Cambodian side.
Waiting for the bus Cambodia Border to Siem Reap
So, we made it through with heaps of time to spare, now that we had a moment to breathe it suddenly struck us that all the passengers we left behind would have to go through the same process, we could have taken our time because we now had to wait for everyone else.
In the end we had to wait another 2 hours, this gave us plenty of time to grab Cambodian sim cards and have a bite to eat before starting our 4-hour journey to Siem Reap.
The Bus Journey to Siem Reap
Our bus arrived on the Cambodian side of the border, we were happy that it was a bigger bus, though we still had no in seat entertainment, on-board bathroom or meal, we were just glad to be taking the final leg of our trip.
The journey to Siem Reap was long, the bus painfully slow, stopping many times along the way. As the bus ride stretched into 5 hours passengers became more and more frustrated.
The bus stopped on the outskirts of Siem Reap where we were told that a free tuk tuk would take us to our hotel in Siem Reap. Thinking it was another scam we checked with the tuk tuk driver to make sure it was free, it was and 25 hours after our journey began we finally made it to Siem Reap.
We made it to our hotel without any hassle and quickly made our way to the delights of Siem Reap's Pub Street, but that's another story.
Looking for a hotel in Siem Reap? Click here to search great deals now.
Bus from Chiang Mai to Siem Reap Summary
Would I take the Chiang Mai to Siem Reap bus again?
Yes, I would, even though it was a long bus trip we did get to see some wonderful things, rural Cambodian villages, small towns, Buddhist temples and rice paddies. Enduring the border scams may have been unpleasant but it was an adventure and we had a lot of fun.
We decided on our return journey to Chiang Mai that we would take the bus from Siem Reap to Bangkok then the train from Bangkok to Chiang Mai. To read more on getting a bus and train from Siem Reap click here.
Have you beaten the scam at the Thai/Cambodian border? What scams have you seen while travelling the world? We would love to hear your story.


PIN THIS TO YOUR TRAVEL PINTEREST BOARDS ↓