Chiang Mai is one of my favourite places in Thailand. Surrounded by magnificent mountains, Chiang Mai is a vibrant modern city with a colourful culture and history.
One such history can be discovered at 137 Pillars House Chiang Mai. Considered one of the best luxury boutique hotels in Chiang Mai, 137 Pillars House embraces the 19th century teak industry that much of Chiang Mai was founded on.
At its heart you will find a charming teak Thai Lanna style house that harks back to those far off days when a group of foreign adventurers made Chiang Mai their home.
This post may contain affiliate links, which means we may receive a commission, at no extra cost to you, if you make a purchase through a link. Please see our full disclosure for further information.
Where is 137 Pillars House Chiang Mai
137 Pillars House is located in the city of Chiang Mai, the largest city in Northern Thailand. The Rose of the North as it is often called, is a short flight from Bangkok.
The hotel is nestled within a quiet lane and a short walk to Wat Ket Karam, a 15th century Buddhist temple. Steps away is the Chansom Memorial Bridge, a pedestrian bridge that will take you across the River Ping to the bustling Warorot Market, Night Market area and the moated Old City.
First Impressions of 137 Pillars House
We had the pleasure of staying two nights at 137 Pillars House Chiang Mai. We were looking forward to discovering the history of the hotel and were happy that we were within walking distance to so many popular Chiang Mai attractions.
What we found was a stunning hotel in a tranquil setting, with exceptional fine dining and a choice of bespoke experiences. A peaceful haven from busy streets of Chiang Mai.
Butler Service
Our stay began with an email from our private butler 5 days prior to our stay. In the email our butler Pui introduced herself and gave us details on tours, amenities, dining and confirmation on arrival time and pickup details.
Upon arrival Pui gave us a tour of our room, property and made sure the restaurant and spa were booked. Pui put her contact details into our phone and was contactable for the duration of our stay. A private butler service is included with each room when you stay at the hotel.
A Brief History of The Hotel
What sets 137 Pillars House apart from other luxury Chiang Mai hotels is its stunning Lanna style teak house and its intriguing history.
The house was once owned by the Borneo Company, a teak trading company that had its heyday in the 19th Century. Once run down and overgrown with foliage it has now been lovingly restored to its former glory to the beauty you see today.
One former resident and superintendent of the company was Louis Leonowens, the son of Anna Leonowns the tutor to the Royal Court of Siam (Thailand). Anna's life at court was the inspiration for the musical the "King and I". Louis grew up in the Siamese royal palace and was schooled by Anna alongside the other royal children.
When building Lanna style houses, importance was always placed on the number of pillars that supported the house, the larger the number of pillars the higher social standing and wealth of the owner.
The house was recorded on an old map as 137 Pillars House (Baan 137 Sao). Today the hotel honours its past and the name remains the same.
The Rajah Brooke Suite
From the minute you open the door you will discover why 137 Pillars House is one of the best 5 star hotels in Chiang Mai. The hotel has 30 suites in five different styles ranging from the 70 sqm Rajah Brooke Suite up to the 135 sqm Louis Leonowens Pool Suite that boasts its own private pool.
Our Suite
The Rajah Brooke Suite has a delightful mix of old world elegance infused with modern luxury. Historical black and white photos line the walls, scenes that capture old Chiang Mai and the teak trading days of the Borneo Company.
Taking centre stage is the four poster bed, the dark timbers enhance the bright freshness of the crisp white 400 thread count sheets. The large fluffy pillows of the pillow menu rest against the rattan headboard which adds a tropical feel to the room. The room has views overlooking the large airy verandah, the gardens and 137 Pillars House.
The sitting area has a comfortable chair and lounge, throw cushions are decorated with elephants, a recurring theme which can also be found in the bottle opener and curtains. The coffee table holds a welcome fruit basket and there are a range of brochures explaining the history of the hotel and the pleasures of Chiang Mai.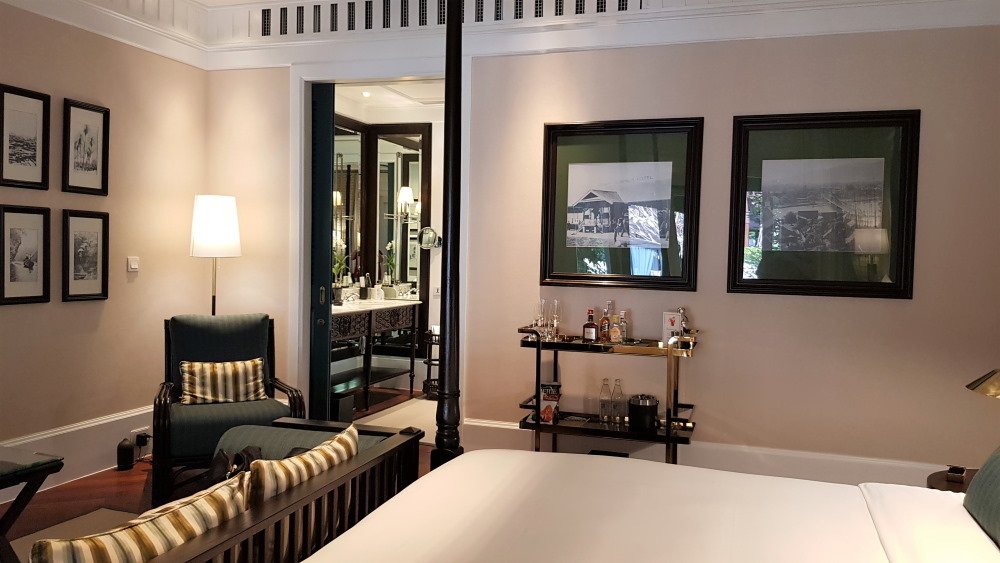 A pay as you go drinks trolley has a selection of spirits and includes a recipe for cocktail of the week. Mixers can be found in the well-stocked fridge which also holds a range of sweet and savoury snacks. The room has an espresso machine and kettle for tea making. Other features include an in room music system, humidifier and large flat screen TV.
The Bathroom
The real treasure of the Rajah Brooke Suite is the bathroom. Historical photos continue throughout the bathroom and large mirrors reflect a pleasing light over the marble vanity and double basin. The bathroom features ecofriendly bamboo toothbrushes and a range of Panpuri bath products in a Thai Jasmine & Mint scent.
Across from the vanity is a dressing room with a rocking chair, luggage storage, room safe, slippers and robe. Sliding doors separate this room from the bathing area beyond.
Taking pride and place in the centre of the bathroom is an old fashioned claw foot bath. Behind the bath there are doors that can be opened into the private garden. The bathroom also has a choice of inside rainwater shower or an outside rainwater shower for bathing under the trees and sky.
Suite's verandah
After a day of sightseeing there is no better place to rest than on your own private verandah. A large divan and rocking chair invite you to relax and unwind with views of the garden and 137 Pillars House.
Inside 137 Pillars House
The 137 Pillars House will give you a glimpse into the world of the teak traders of Chiang Mai in the 1800s.
As you enter you will see that the outer walls are made of folding teak shutters and open scroll worked balustrades. This allows light and cool breezes to flow freely through the house. The room is filled with comfortable armchairs, rocking chairs and cosy lounges swathed in gossamer drapes.
A grand piano sits proudly in the middle of the room and in the evening, you can be entertained by local pianists playing a selection of favourites.
Off to the sides of the building you will find the charming dining room of Palette restaurant, hidden sitting areas, the comfy haven of Jack Bain's Bar and a shop selling an exquisite range of jewellery and curios.
At the back of the house is the Dining Room which has a striking Thai inspired décor. A joining the Dining Room is the deck which is popular for al fresco dining.
The Hotel's Restaurant & Bar
Whether dining in the award winning Palette restaurant or sampling the best of Thai and Lanna cuisine in the Dining Room, 137 Pillars House has a dining experience for you.
Start the day with a hearty breakfast al fresco style on the deck or treat yourself to a little indulgence with a signature afternoon tea in the parlour or garden. Create memories of your own design with bespoke private dining and wine tastings.
Fine Dining at Palette restaurant
Stepping into 'Palette' is like stepping back to a time of elegance and grace. Intricate wooden scroll work decorates the windows which open to views across the garden. Wooden shutters add a touch of romance as delicate light fills the room highlighting the crisp white tablecloths and deep red flowers.
The restaurant has a reputation for fine dining and has been awarded the Michelin Plate by the Michelin Guide. You have a choice of dining a la carte or you can try Palette's Michelin Plate Tasting Menu.
The restaurant can also be booked exclusively for private functions and special occasions. During our stay we chose to sample the Michelin Plate Tasting Menu.
APPETISER
Blowtorched Tiger Prawns & Salmon
The appetiser comprised of blowtorched tiger prawns and salmon, heart of baby cos lettuce, semi dried tomatoes with a spicy Thai chili vinaigrette.
The smoky flavours of the prawn and salmon married well with the spicy hit of the Thai chili vinaigrette. The spice level of the vinaigrette wasn't overpowering, the flavours turning the humble lettuce into a culinary event.
SOUP
Mushroom Soup with Truffle Oil
The soup was a mix of local shitake and button mushrooms. The dish was thick and creamy with the truffle oil and shitake mushrooms infusing the soup with a rich savoury flavour.
SALAD
Rocket Salad
The Rocket Salad was a mixture of apple, cucumber ribbon and orange segments lightly tossed with olive oil and served with a zesty dressing. With crisp fresh flavours, the salad had a harmony that could turn a salad critic into a salad lover.
PASTA
Truffle Capellini
The pasta dish of the evening was capellini in truffle cream sauce and crispy Parma ham. This tasty pasta featured perfectly cooked enoki mushrooms and the decorative slither of crispy Parma ham imparted a delicious salty element to the dish.
*We were served mint sorbet to cleanse the palate.
MAIN COURSE
Roasted Veal Angus
Alan enjoyed his main course of pan roasted veal angus served with baby vegetables, whipped potatoes and port wine jus. The beef was mouth wateringly tender and the dish beautifully presented.
Seared Tuna
My choice was the pan seared tuna loin with lemon whipped potatoes and baby carrots served with warm tomato-caper-basil vinaigrette. The warm tomato-caper-basil vinaigrette gave a Mediterranean feel to the dish with the lemon whipped potatoes pulling the dish together.
DESSERT
Heavenly Peach Pie
Dessert was heavenly peach pie, a classic dessert served with vanilla ice-cream. We finished our meal with the hotel's signature 137 Blend Organic House Coffee or Tea.
Jack Bain's Bar
The warm muted glow of the soft lights reflected off the rich patina of the teak walls and colourful bottles that line the bar. Portraits of Louis Leonowens and Uncle Jack Bains take pride and place, while historical photos and paintings line the walls.
Welcome to Jack Bains Bar, a place reminiscent of the gentleman's clubs of the 19th century. These days everyone can enjoy a beer, wine or cocktail while reliving the ambience of yesteryear.
Cocktail snacks are served with your drink and there are a range of bar bites if you are feeling a little peckish.
137 Pillars Chiang Mai Afternoon Tea
Relax in the garden or parlour and take part in the age old tradition of afternoon tea. Discover why this is one of the best boutique hotels in Chiang Mai for their signature afternoon tea selection.
Have an afternoon of indulgence with a choice of savoury and sweet delights and 137 Blend Organic House Coffee, Tea or for that special occasion, why not add a glass of bubbly.
Breakfast at 137 Pillars House Chiang Mai
Breakfast is a hearty mix of western and Asian fare. Whether you like fresh fruit and yoghurt, omelette and bacon, pastries, waffles and pancakes or congee and Asian favourites, you will find your style of breakfast at 137 Pillars House.
You can take breakfast in the beautiful Thai style Dining Room or enjoy the morning sun in the open air on the patio.
Pool & Spa
The hotel's pool is framed by a hanging walled garden which cascades down to meet the crystal clear water of the pool. The 25 x 5.5 metre pool is the perfect place to unwind with a cocktail, juice or light refreshment. After your swim continue your fitness program at the 137 Pillars House gym.
The Nitra Spa & Wellness offer a select range of face and body therapies that embrace Thai cultural disciplines.
We decided to take the opportunity to discover these principles by taking a couple's spa. We were greeted by the Spa's gracious staff with a refreshing pandan drink and wet towel before beginning our hour long couples massage.
Within minutes we began to feel relaxed and in my case pain free. After an hour we felt rejuvenated and floated into the reception area ready to enjoy a ginger tea and dates. I have had many massages, but I would have to say that this massage was the very best.
137 Pillars House Chiang Mai Tours
Whether you are visiting Chiang Mai for the first time, celebrating romance, a honeymoon or a special anniversary, 137 Pillars House has a variety of tours and experiences to choose from.
Float and Flutes
Discover the breathtaking scenery of Chiang Mai by taking a romantic hot air balloon ride at dawn. Float over a picturesque mountain landscapes and enjoy a champagne breakfast upon landing. A truly memorable occasion.
Chiang Mai Discovery Package
Chiang Mai has a rich cultural heritage and you can learn more about this fascinating city by taking this tour. Climb the 300 steps of the Naga staircase and be awestruck by the gleaming gold Chedi of Wat Phra That Doi Suthep Buddhist temple, the most sacred temple in Chiang Mai.
Take a trip out to the Mae Tang district to try Assam Tea at the Araksa Tea Garden, the oldest tea plantation in Thailand. Learn the secrets of Thai cooking and discover the unique ingredients by taking a Thai cooking class and market tour.
These are just some of the experiences you can have when you stay at 137 Pillars House Chiang Mai.
**For a tour of 137 Pillars House Chiang Mai, click our video below.
Getting to Chiang Mai
Travelling to Chiang Mai couldn't be easier, flights from Bangkok to Chiang Mai take around an hour and leave from both the main Suvarnabhumi Airport or the low cost Don Mueang International Airport.
One thing to keep in mind when booking your flight is that these airports are 48 km apart. Although there are times when it takes around 33 minutes to get between these airports, quite often it will take much longer due to Bangkok's notorious traffic. Make sure to give yourself plenty of time to get between airports.
The best option is to make sure you book your ongoing flight from the same airport you are arriving into. There are direct flights to Chiang Mai from the popular tourist destinations of Phuket and Krabi. Perfect for those wanting to enjoy both the beach and mountains of Thailand.
Click here for current pricing and reviews of 137 Pillars House
Last Words on 137 Pillars House Chiang Mai
If you are planning a trip to Chiang Mai Thailand, I can highly recommend staying at 137 Pillars House Chiang Mai.
From the butler service to the beautifully appointed rooms, unique history, gourmet dining and therapeutic spa treatments, you will be treated like royalty. All services are delivered with Thai smiles and graciousness. We had an unforgettable stay and would return in a heartbeat.
If you are planning a visit to Bangkok you may also be interested in our review of 137 Pillars Suites & Residences Bangkok. Click here to read our detailed review of this luxury Bangkok hotel.
PIN THIS TO YOUR TRAVEL PINTEREST BOARDS ↓
Contact Details:
137 Pillars House Chiang Mai
2 Soi 1, Nawatgate Road,
Tambon Watgate,
Muang Chiang Mai
50000 Thailand
137pillarschiangmai.com
[email protected]
T +66 (0)53 247788
Disclosure: We were hosted by 137 Pillars Chiang Mai who provided 2 nights accommodation, Spa treatment and dinner for 2 people. As usual all opinions are our own.